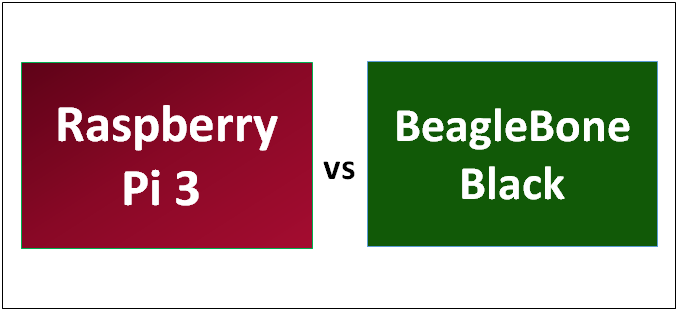 Difference Between Raspberry Pi 3 and BeagleBone Black
Raspberry Pi is not a pie that is created from some scrumptious raspberries, and Beaglebone is not any Beagle breed's bone in a computer fanatic's world. Raspberry Pi 3 is a series of small single-board computers. They are usually used for markets involving robotics. Beaglebone black, on the other hand, is a low power open-source single-board software. It is not a full development platform, as many features cannot be accessed from onboard support. Though both Raspberry Pi 3 vs BeagleBone Black are single-board computers, there are differences between them.
Head To Head Comparison Between Raspberry Pi 3 and BeagleBone Black (Infographics)
Below is the top 4 difference between Raspberry Pi 3 vs BeagleBone Black

Key Differences between Raspberry Pi 3 and BeagleBone Black
Both Raspberry Pi 3 vs BeagleBone Black are single-board computer systems.
Ease of Setup: Raspberry Pi does not have a micro USB cable and also does not have a pre-installed operating system. An SD card needs to be obtained to boot the system. On the other hand, Beagle comes with a mini cable which helps to supply power to the system. It can boot from the onboard storage.
Connections: Raspberry Pi provides 26 points for various interfaces while Beagle provides 92 points.
Processor: Beagle has a 1 GHz processor, while Raspberry has a 700MHz processor. The architecture of Raspberry is ARMv6 which is an older version, while Beagle uses ARMv7.
Raspberry Pi 3 vs BeagleBone Black Comparison Table
The primary Comparison are discussed below
The basis of Comparison 
Raspberry Pi 3
Beaglebone Black
Basic difference and history
Raspberry Pi 3 consists of single board computers, which were developed by the Raspberry Pi Foundation in the UK. The sole purpose to build this was to teach basic computer science in schools and developing countries. The processor speed ranges from 700MHz to 1.4 GHz. The first generation was released in February 2012.
Beaglebone black is a low power, open source single-board computer which was developed by Texas Instruments. It was sold to the public under a Creative common share like license. This was developed as an educational board that could be utilized in colleges so that everyone could get the knowledge of hardware and software capabilities.
Specifications
The specifications of Raspberry Pi are as below:
Chip– Broadcom BCM2835 SoC full HD multimedia applications processor
CPU– 700 MHz Low Power ARM1176JZ-F Applications Processor
GPU– Dual Core VideoCore IV® Multimedia Co-Processor
Memory– 512MB SDRAM
Ethernet– onboard 10/100 Ethernet RJ45 jack
USB 2.0– Dual USB Connector
Video Output– HDMI (rev 1.3 & 1.4) Composite RCA (PAL and NTSC)
Audio Output– 3.5mm jack, HDMI
Onboard storage– SD, MMC, SDIO card slot
Operating system– Linux
Dimensions– 8.6cm x 5.4cm x 1.7cm
Price– 35$
The specifications of Beaglebone Black are as below:
Chip– TI AM3359
CPU– 1 GHz ARM Cortex-A8
GPU– PowerVR SGX530
Memory– 512 MB DDR3
Pins– 2x 46 pin headers
USB 2.0– 2x 46 pin headers
Video output– microHDMI
Audio Output– microHDMI
Onboard storage– 2 GB 8-bit embedded MMC on-board flash versionmicroSD card 3.3 V Supported (No Card Supplied)
Operating System– Linux, Android, Cloud9 IDE on Node.js w/ BoneScript library, plus more
Dimensions- 86.40 × 53.3 mm (3.402 × 2.10 in)
Price– $45
Advantages
The advantages of this single board system are as below:
Built-in Wi-Fi: The Raspberry Pi model 3 version has 2.4GHz 802.11n Wi-Fi, which works very well with the latest version of any default operating system.
Easy Setup: This single-board has an easy setup. The documentation has all the details on installing this and is known as Raspbian. The steps involved are so easy that even a beginner can follow them.
It can act as a complete multimedia center: Using Raspberry Pi, you can easily create a fully functional home media streaming station. All a user needs to do is to get Model B up to a Full HD monitor with good speakers. The Bluetooth present on this board will enable wireless sound continuously. Post this; you can download your favorite applications like Youtube, Netflix, etc. Once this is done, your multimedia system is ready for use. Once all the setup is done, this can be accessed from Android and iOS applications.
GPIO functionality: This chip enables 28 GPIO pins plus 12 power and ground pins to be used in a project. There are a few special protocols that Raspberry supports. These include IIC (Inter-Integrated Circuit), SPI (Serial Peripheral Interface) and UART (Universal Asynchronous Receiver-Transmitter). This functionality enables Raspberry to connect with various devices, which results in better functionalities.
New Version provides good Chromium browser: The new browser provides a web browser that comes with flash and pdf handling services. It does not require much RAM, like 1 GB, and it will work fine.
The advantages of Beaglebone are as below:
Extendable hardware: Beaglebone provides 92 expansion pins with 46 pin female connectors on both sides of a board. It also provides 6 serial pins which can be used for debugging.
GPIO Real-time units (Programmable): Embedded systems allow real-time coprocessors. They ensure system control and fast communication.
Onboard storage: Beagle bone provides the onboard storage of 4GB.In addition to this, it also provides an SD card, which will provide integrated storage and can boot from withering onboard storage or SD card.
Analog inputs: The user is provided to give analog inputs. There can be 71.8V analog inputs.
Huge community availability: If a user faces any issues, Beagle being an open-source system, lets you get all the help online. There are communities that are very helpful.
Connections
Raspberry Pi 3 has a 26 pin header which is useful in making connections with the below interfaces:

8 GPIO pins
1 UART interface
1 SPI bus
1 I2C bus

Beagle bone provides 92 connection points. The list of interfaces that can be connected are:

3 I2C buses
CAN bus
SPI bus
4 timers
5 serial ports
65 GPIO pins
8 PWM outputs
7 analog inputs (1.8V max 12-bit A/D converters)
Conclusion
In this comparison of these two, the selection depends on the user. While Raspberry provides better documentation, Beagle enables a user to choose their own hardware. When such hardware is not required, you can go with Raspberry, while Beagle can provide you with extra GPIO pins. The decision depends on the usage an individual wants.
Recommended Article
This has been a guide to the top differences between BeagleBone Black vs Raspberry Pi 3. Here we also discuss the Raspberry Pi 3 vs BeagleBone Black key differences with infographics and a comparison table. You may also have a look at the following articles –