Updated April 10, 2023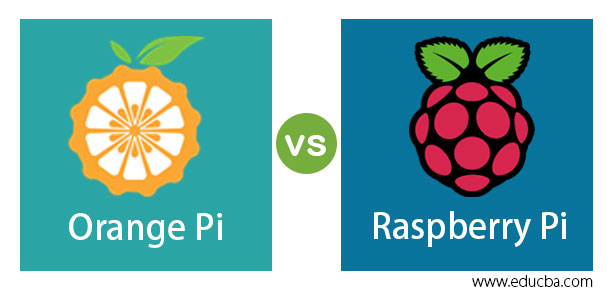 Difference Between Orange Pi vs Raspberry Pi
An open-source computer with a single board powered by Linux is called Orange Pi. There is onboard internet connectivity that allows 4 CPU cores to be used. An adapter is not needed in the system as Wi-Fi is in-built. It can run in any operating system and performs well with the system at a low cost. Small single-board computers developed by Raspberry foundation are called Raspberry Pi. It was developed to teach computer science in schools for the students' benefit. It uses a MicroSDHC slot for storage, and the memory is 1.2 to 4 GiB RAM.
Head to Head Comparison between Orange Pi vs Raspberry Pi (Infographics)
Below are the top 7 differences between Orange Pi vs Raspberry Pi:

Key Differences between Orange Pi vs Raspberry Pi
Following are the key differences between Orange Pi vs Raspberry Pi:
While comparing both, Orange Pi performs better than Raspberry Pi. For the higher range systems concerned, Raspberry uses 1.4 GHz quadcore and Orange uses 1.6 GHz quadcore processors. The memory capacity is the same for both as 1 GB, but Orange uses DDR3 and Raspberry uses LPDDR2. The graphics used are slightly better in Orange as it uses Mali400MP2 GPU and Raspberry uses Broadcom Video core-IV GPU. Orange uses only one ethernet as 10/100 Ethernet RJ45 while Raspberry uses ethernet and Wi-Fi such as Gigabit Ethernet and 2.4GHz and 5GHz 802.11b/g/n/ac Wi-Fi.
For the I/O services, both uses HDMI and 3.5 mm analog audio-video jack, but Raspberry uses Camera Serial Interface and Display Serial Interface. Orange does not use any interface but has one USB 2.0 OTG in the system. Also, the OS in Raspberry is Linux-based, and the OS in Orange is both Linux and Android-based. Thus Android 4.4 works well with Orange and does not work with Raspberry.
Orange Pi can run in different operating systems and is good in performance when compared with Raspberry Pi. Core speed, RAM, and video performance is better when compared with Raspberry Pi but only in nominal modes. Both, in many terms, are similar in specifications and capabilities due to the operating systems used.
The community support for Raspberry is really good because it was developed way before Orange Pi. Online information and support provided for Raspberry are huge. Dedicated followers on the internet support Raspberry Pi for its new release, and the community followers give several projects to help the system. Whereas the community support for Orange Pi is not good and is growing the community on the internet. Users should find the solutions for the issues as they cannot find them online or any documentation is not available.
The price of Orange Pi is less when compared with Raspberry Pi. But Raspberry Pi is good in support, stability, and various projects due to the online community support. This advantage is lacking in Orange Pi. Orange Pi helps to run different applications and uses different operating systems, and behaves like Android. This helps the users to try different projects in the system.
Raspberry pi has a faster CPU than Orange Pi, and it uses thermal management to manage the heat of the CPU. The clock speed is good, and there is better voltage regulation than Orange Pi, which makes to work full-fledged in the system. Also, the system applications are faster and work well with all the applications than Orange Pi.
Orange Pi vs Raspberry Pi Comparison Table
Let us discuss the top comparison between Orange Pi vs Raspberry Pi:
| | |
| --- | --- |
| Orange Pi | Raspberry Pi |
| The single-board computers are offered at a really low price which users wonder about. It also works well with more than one operating system with a low-price processor, which makes a major difference. | Price is not low for Raspberry Pi, and it does not work with different operating systems. Linux box is not offered even though the high price is given for the single-board system. |
| The software support is not really good though Orange Pi supports the operating systems used in Raspberry Pi. | The software support is really good and is always up-to-date with all the processors and kernels used in the system. |
| The network capabilities of Orange cannot be compared with Raspberry, and it works differently. It is not faster, and there are chances of bugs in the system. There is no Wi-Fi used in Orange Pi. | Raspberry's network is such that it can support wireless chip and is faster up to three times with its competitors. Bluetooth used in the system is stable and works well in all conditions. |
| As there is no Wi-Fi and the network sharing is not good, bandwidth is not a problem in Orange Pi, and the system works well with the available resources. The controller used is different and does not create any problems. | Bandwidth is shared in USB and Ethernet, and this affects the performance in the system. The controller used is the same in both cases, and though the performance is better, the user should be careful about its working. |
| There are heating issues in Orange Pi, and the system can get shut down if all the cores are used, and the system is used up to its threshold level. Cores can get locked up if the system is not shut down when the heating occurs. | The system has good thermal management, and it does not get shut down by itself even if all the cores are used. The heating in the CPU is managed well. |
| The microSD cards are very slow, and it takes time to copy and to store the data in the system. It is due to the fact that Orange Pi is produced massively, and SD cards are not updated to their extent. | MicroSD cards work well with the system, and there is no issue with the storage of the data in the single-board computer. |
| There is no video connector used in the system by itself, and we should connect an external video connector for our usage. | There is a video connector, and it helps to record the programs run in the system. |
Recommended Articles
This is a guide to Orange Pi vs Raspberry Pi. Here we also discuss the Orange Pi vs Raspberry Pi key differences with infographics and comparison table. You may also have a look at the following articles to learn more –