Banking Sector & Online Banking Exams
Banking has been considered the most significant career development sector. A career in banking is stable, high-paying, and full of opportunities. There is no other strong alternative to banking careers. 
It requires the candidates to pass specific exams to get into banking jobs. Many banks conduct online banking exams for particular banking roles. All those banking exams have specific eligibility criteria as well. 
Key Takeaways
The banking sector is an all-time growing sector. It is an industry full of opportunities and stable careers. It is also a desirable career option to a majority of Indians. 

Online banking exams are essential for applicants to get a banking job. IBPS conducts the common exam (CWE) for numerous banks. Simultaneously, other exams are SBI Clerk/SO/PO Exam and RBI Assistant and Grade B officer Exam.

The eligibility for the exams may vary for each role. However, the candidate must have graduated with a degree from a university and should be at least 18 years old.

The subjects for both preliminary and main exams are alike for most bank exams. They are English, Computer and Quantitative Aptitude, Reasoning, Awareness of Banking, Finance & Economics, General Knowledge, and Data Interpretation.

To prepare for the banking exam, study for the syllabus, try solving previous question papers, take mock tests, and practice giving interviews.
Why Banking as a Career Option?
A banking career provides many benefits than private or other multi-national companies. The benefits are a good amount of money, dignity, high career growth, gratuity, security, pension funds, provident fund, and many such. In addition, a banking career helps develop analytical and financial skills. It also provides knowledge about investment, trade, remittances, etc.
The growing sector of India
The Indian banking sector has seen numerous changes since independence and after the liberalization of 1991. However, India's banking sector is relatively underdeveloped compared to the international banking sector. Furthermore, the introduction of new amendments & regulations can be seen. All this increases the chances for the growth of the Indian banking sector.
Perks & financial rewards
Indian banking industry offers the best pay packages as compared to other industries. Even at an initial stage, one with a good qualification (graduate or postgraduate in management) can fetch more than Rs.3.5 lacs per annum. Moreover, the banks also offer other perks & benefits like medical insurance and pension.
Better working conditions
The banking sector is known to have the most favorable environment among other corporate sectors. It is because there are hardly any late-night or late-hour shifts in the banking industry. Thus, it also provides a better corporate and professional environment.
Opportunities for various backgrounds
The banking sector is amongst those few sectors that employ people from different backgrounds. It provides opportunities even to candidates without a finance background. It hires people from marketing, human resources, legal, IT, and operations backgrounds.
Type of Online Banking Exams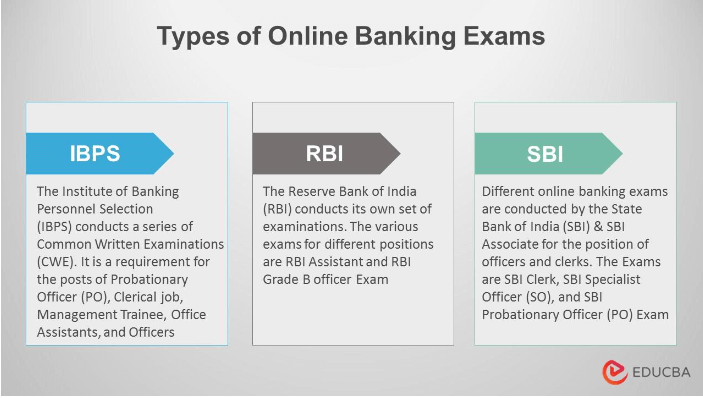 Following are the types of online banking exams conducted in India,
To apply for 20 Public Sector Banks and 82 Regional Rural Banks,

The Institute of Banking Personnel Selection

(IBPS) conducts a series of Common Written Examinations (CWE). It is a requirement for the posts of Probationary Officer (PO), Clerical job, Management Trainee, Office Assistants, and Officers. The exams are IBPS Specialist Officer (SO), Regional Rural Bank (RRB), Probationary Officer (PO), and Clerk Exam.

Different online banking exams are conducted by the

State Bank of India (SBI)

& SBI Associate for the position of officers and clerks. Some exams are

SBI Clerk/SO/PO Exam.

Similarly, the

Reserve Bank of India (RBI)

conducts its own examination for different positions. A few exams are RBI Assistant and Grade B officer Exam.

Private Sector Banks also conduct exams for the recruitment of officers and clerks. Some private banks, i.e., Karur Vysya Bank (KVB), Tamilnad Mercantile Bank (TMB), and Federal Bank, have started considering IBPS CWE scores.
Online Banking Exams Eligibility Criteria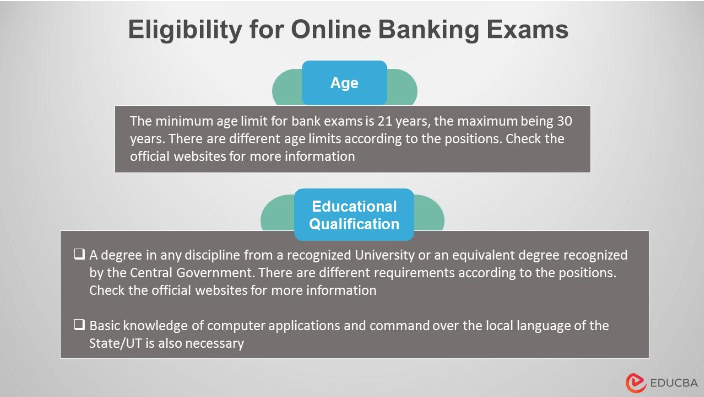 1. Public Sector Banks
Probationary Officer (PO): between 20 – 30 years
Clerical: between 20 – 28 years
Minimum Education Qualification:
PO and Clerical: A degree in any discipline from a recognized University or an equivalent degree recognized by the Central Government.
2. Regional Rural Banks
For Office Assistant: Between 18 – 28 years
For Officer Scale-I: Between 19 – 30 years
For Officer Scale-II: Between 21 – 32 years
For Officer Scale-III: 21– Below 40 years
Minimum Education Qualification:
Office Assistant and Officer Scale: A degree in any discipline from a recognized University or an equivalent degree recognized by the Central Government.

Officer Scale-II: A degree with a minimum of 50% in any discipline from a recognized University or its equivalent. Along with two years of work experience in a Banking Institution as an Officer.

Officer Scale-III: A degree with a minimum of 50% in any discipline from a recognized University or its equivalent. Along with five years of work experience in a Banking Institution as an Officer.
3. State Bank of India (SBI) or SBI Associates:
For PO: between 21 – 30 years
For Clerical: between 20 – 28 years
Minimum Education Qualification:
PO: A degree in any discipline or equivalent from a recognized University.
Clerical: A diploma course with a minimum of 50% marks after 10th standard OR 
12th pass with minimum 50% marks or its equivalent OR
A degree in any discipline from a recognized University with a minimum of 50% marks or its equivalent.
4. Reserve Bank of India (RBI):
For Assistant (Clerk): Between 20 – 28 years
Minimum Education Qualification:

 
A candidate must possess a graduate degree in any discipline with a minimum of 60% from a recognized University.
Computer Literacy:
A candidate must possess a minimum knowledge of computer proficiency. In addition, they must have a valid diploma in computer science (basic applications). Practical word processing skills will be advantageous.
Language known:
Recruitment for the clerical department happens on a State-wise basis. Thus, the candidate must possess proficiency in the official language of the State or Union Territory. The applicant should know to read, write, speak, and understand the local language of the state/UT where the banks are located.
For the position of Office Assistant and Officer Scale-I, a candidate must have passed the local language subject in 10th standard or Matriculation. 
Online Banking Exam – Syllabus
All banking exams that the IBPS, SBI, RBI, and other banks conduct share almost the same syllabus. There are two part exams, preliminary and main exams. The subjects for most of the exams are similar in both parts. These are a few topics under each subject that the candidates must prepare.
Preliminary:
1. English language: 
Reading comprehension and answering questions.

Detecting and correcting errors.

Cloze test.

Reframing jumbled phrases and sentences.

Rewriting sentences for improvement.

Vocabulary-based questions
2. Quantitative Aptitude 
Data interpretation

Solving quadratic equations

Number series

Mensuration, 

Calculating average, ratio, percentages, speed, distance, and time.

Mixture & allegations, permutation & combination, and simplification & approximation.

Probability

Age problems
3. Reasoning Ability
Coding-decoding

Puzzles

Syllogism

Venn diagram

Verbal & non-verbal reasoning

Direction and distance, 

Blood relations

Data sufficiency
Main Examination:
Reasoning & Computer Aptitude:
Most of the topics are similar to the preliminary round for the reasoning subject. In addition, seating arrangement, alphanumeric problems, logical reasoning, and order & ranking are a few.
An applicant must be well-versed with computer fundamentals and essential applications for computer aptitude. Topics like MS office, operating system, DBMS, privacy & security, internet, memory, software & hardware devices, computer networking, and shortcut keys are also important.
General/ Economy/ Banking/ Financial Awareness 
As the name suggests, the exam entrees should have General Knowledge, Financial & economic awareness, and an understanding of Banking. Learning the basic terms, being up to date with the news, having interests in current affairs, schemes & policies, and the general knowledge about the world & the relevant industry.
It has topics similar to the subject in the preliminary exam. Students must fine-tune their grammar, vocabulary, reading, and writing skills. Some questions can be regarding passage making, sentence formation, phrases and idioms, synonyms & antonyms, one-word substitution, filling the blanks, and matching the columns.
Data Analysis & Interpretation 
The questions will be related to data interpretation, trigonometry, algebra, and geometry. Upon that, fundamental problems like number series, simplification, averages, percentage, and ratio & proportion can also be asked.
English Language (Letter Writing & Essay) 
Besides the main subjects, banks also test applicants' writing proficiency through descriptive tests. The candidate has to attempt letter writing & essay. The test might be corrected by automation. 
RBI Grade B – Main Exam
The syllabus for the RBI Grade B main examination includes different subjects. One is English (writing), similar to the other syllabus. The other two are as follows,
Economic and Social Issues:
These are topics the candidate needs to prepare for: growth & development, employment generation, economic reforms & social structure in India, inequality, human resource & sustainable development, insurance & capital marketing, and globalization.
Finance and Management:
The topics for this subject are budget, inflation, corporate governance, risk management, monetary policy, the role of information technology & incentives nature, career planning, and scope management.
How to Apply for Online Banking Exams?
The candidates must check if they are eligible for the respective online banking exams. Eligible candidates can then register online through the banking exams application Forms. The candidate needs to submit their photograph and signature scanned copy online. The applicants can follow the links below to apply for the corresponding online banking exams. 
One of the upcoming bank exams is IBPS Probationary Officer/ Management Trainee XII Exam. The exam is in October 2022. The last date to apply for this online banking exam is 22nd Aug 2022. Let us guide you through the registration process for this exam.
1. Be ready with a scanned copy of:
The candidate's photograph and signature are in lower cases. 

A clear impression of the candidate's left thumb.

A hand-written letter by the candidate in English. It should state the following,
"I, _______ (Name of the candidate), hereby declare that all the information submitted by me in the application form is correct, true, and valid. I will present the supporting documents as and when required."
2. To apply:
Visit the official

IBPS website

and click the "CRP PO/MT" link on the homepage.

Choose "Click Here To Apply Online For CRP Probationary Officers/ Management Trainees (Crp-Po/Mt-XII)" and then select "Click Here For New Registration."

Enter your basic information in the window. The site will generate a provisional registration number and a password. Make sure to note down both things.

Next, upload all the scanned documents.

Before clicking on the "complete registration" button, the applicants should first recheck all the information they have entered. Use the "Save and Next" button to verify the entered details. Candidates cannot make changes after completing the registration. 

You can make the payment through the site's integrated payment gateway. Candidates can use internet banking, credit or debit cards, IMPS, and mobile wallets.

An e-receipt will be generated after the successful payment. Applicants should take a printout of the receipt along with the filled application form.
The candidates will receive their registration number and password in a mail and an SMS on the registered mail ID and mobile number, respectively. If that does not happen, it means the registration was unsuccessful. Candidates can use the provisional registration number and password to log in and resubmit the form.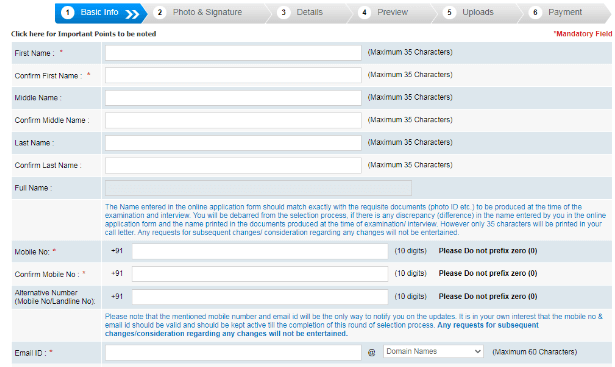 Online Banking Exams Preparation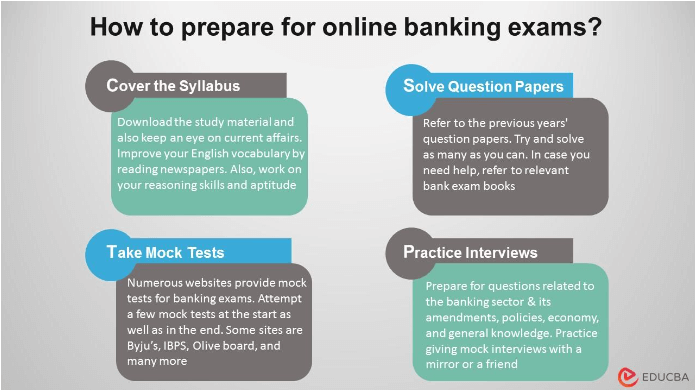 1. Cover the Syllabus:
With the introduction of online banking exams, it has become quite competitive & challenging to clear the written test. Candidates must start practicing reading articles and passages to score good marks in the English Language. Download the relevant study material and also keep an eye on current affairs. Also, work on your reasoning skills and aptitude.
2. Solve Question Papers:
As limited time is given to clear the sections, the candidate must understand the pattern and prepare beforehand. Keep practicing the earlier test papers to increase your confidence in clearing the common exam. Try and solve as many as you can. 
In case you need help, refer to relevant bank exam books. Previous years' solved banking exam question papers, guides & workbooks are available at the local bookstores. It will help you to understand the difficulty level of common exams & also will help you prepare well. 
3. Take Mock Tests:

Even when you feel prepared with the syllabus, giving the exam can be stressful. Thus, always try cracking a few mock exams. Numerous websites provide mock tests for banking exams. Attempt a few mock tests at the start as well as in the end. Some such sites are Byjus, IBPS, Oliveboard, and many more.
4. Practice Interviews:
After clearing the written test, Group Discussion & Personal interview is a deciding factors in the selection of a candidate for final allotment.
For the interview process, the interviewers may ask questions related to the banking sector. Prepare for banking questions about amendments, policies, economy, and general knowledge. Practice giving mock interviews with a mirror or a friend. 
FAQs
1. Is there any bank exam in 2022? Is the banking exam tough or easy?
Ans: IBPS, SBI, and RBI conduct bank exams once every year. In total, almost 80 exams take place for banking roles. The exam IBPS conducts is considerably the toughest to crack. Every year the number of students who fail is significantly more than the ones who pass. Although, the SBI exam is comparatively easy.
2. What is the qualification for a bank job? Can I give a bank exam after the 12th or graduation?
Ans: The applicant should have a degree from a recognized university as eligibility criteria. A graduate with a degree in any discipline can apply. However, a few banks allow 12th pass candidates to attempt the exam. Exams for clerical roles accept candidates who are 10th or 12th pass.
3. How can I apply for the online banking exam 2022?
Ans: You first need to check the role you want to apply for. Visit the bank website you want to join and check if you are eligible. The eligible candidate can then apply through the bank websites for respective exams. Check this article's "How to Apply for Online Banking Exams?" section.
4. What is the syllabus for the bank exam?
Ans: Most bank exams follow a similar pattern for the exam syllabus. There are two phases of exams, preliminary and main exams. 
The subjects for preliminary are English language, Reasoning skills, and quantitative aptitude. 
For the main exams, the subjects are English (reading & writing), Reasoning skills, Computer aptitude, Data Analysis & Interpretation, and General awareness of finance, banking & economics.
5. How many attempts are allowed for the bank exam? Can I clear the bank exam in the first attempt?
Ans: The applicant can attempt the exam numerous times. There is no limit on the number of attempts. However, the only requirement is that the candidate is eligible and passes the criteria. As bank exams are considerably tough, clearing in the first attempt is difficult. Nevertheless, with constant efforts and preparation, it is possible.
Recommended Articles
For more details about a Career in banking, visit the following links.