Updated October 23, 2023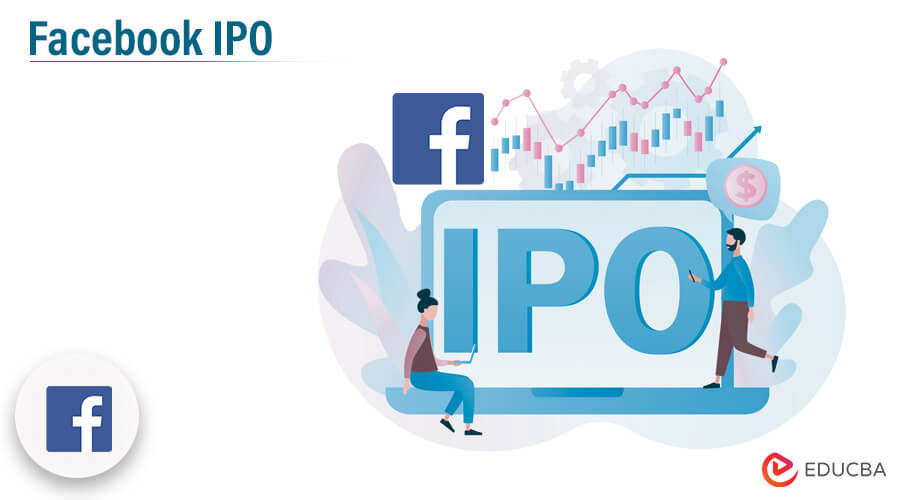 Facebook is where people spend most of their time compared to any other internet property.
Facebook, an online social networking site founded on February 4, 2004, by Mark Zuckerberg with his college roommates and fellow Harvard University students, held its initial public offering on May 18, 2012. With 845 million active users and 2.7 billion daily likes and comments in just 8 years, Facebook IPO undoubtedly became one  of the biggest IPO in technology and internet history, with the value of the issue of $16006.9 Million
In early May, the company aimed for a stock price ranging from $ 28 to $35 per share, leading to a valuation ranging from $77 billion to $96 billion, respectively.
However, with strong demand in the market, especially from retail investors, Facebook chose to increase the number of shares issued to the public by 25% and increase the target price per share. So, Facebook issued 421 million shares at a price of $38. This price valued the company at $104 billion.
Since some investors showed a keen interest in Facebook as they thought they had missed out on the gains Google saw in the wake of its IPO, Facebook's IPO brought inevitable comparisons with other technology company offerings.
Why Did Facebook Go Public?
For the past 8 years, Zuckerberg tried to keep Facebook as a private company, but Facebook was becoming too big, leaving little choice to Zuckerberg.
According to the rule set by the Securities and Exchange Commission (SEC) in 1964, any private company with more than "500 shareholders of record" must adhere to the same financial disclosure requirements as public companies. That means filing detailed quarterly and yearly financial reports and dealing with all the scrutiny that comes with a powerful company opening its books.
Facebook, which was growing big, was crossing the shareholder's requirements as per SEC, i.e. 500, which became the key reason for Facebook to go public.
Facebook IPO Stock Price Graph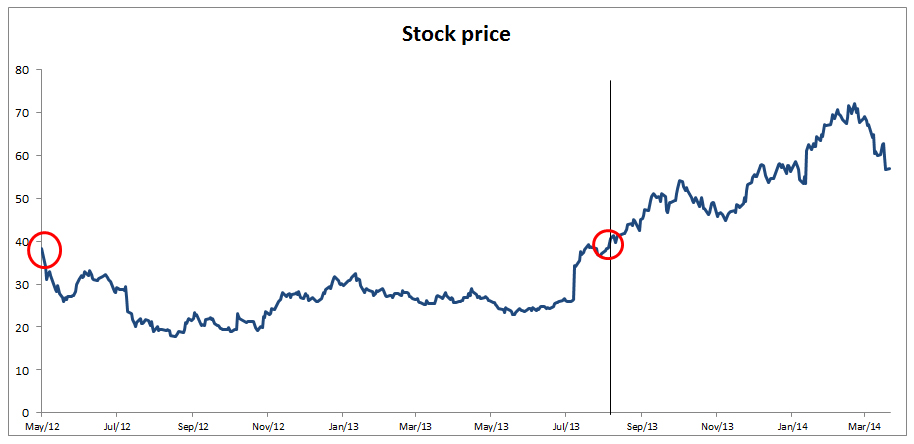 Source: Yahoo Finance
Facebook had issued its shares at $ 38 per share. But do you really think the stock traded at $38 per share? Facebook launched its IPO at $38 but did not reach the $38 trading mark until August 2013.
The graph shows that from May 2012 till August 2013, Facebook's IPO stock price was trading below $38.
There are 4 major problems because of which Facebook IPO was trading below $38.
They are:
Bad Valuation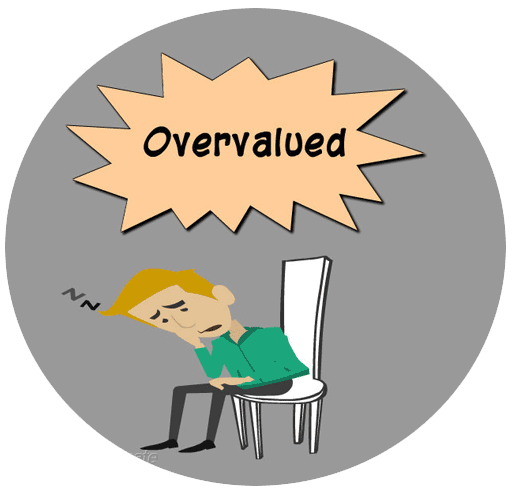 The lead investment bank of Facebook, Morgan Stanley, valued the company at $104 billion. Experts believed that Facebook was overvalued due to its ability to generate revenue.
Facebook generates money in 2 ways:
1. Advertising
2. Others
Facebook generates around 80% of its yearly revenue by giving ads on its site. Other sources generate the remaining 20% of the revenue.
Facebook earns revenue from the companies who own the games we play on their site, as these companies pay Facebook to display their games on the platform. This represents another source of Income for Facebook.
As numerous experts have noted, the click-through rate on Facebook ads averages a dismal 0.051% or roughly one click per 2,000 viewers. In other words, as dozens of other websites have already discovered, customers respond poorly to online advertising and prefer to shop via sites they find on their own. Due to this, many advertising companies may withdraw their money from the Facebook site, e.g., General Motors announced to withdraw $ 10 million in advertising buy from the site just before the IPO.
The fact is that Facebook has not yet been able to find an ad model that generates revenue proportionate to its revenue.
Facebook had set its price at $28 – $35 per share. However, just before the launch of the IPO, the company raised the share price to $38 per share. After the negative disclosures and insider trading, it became clear that Facebook shares were not perfectly priced.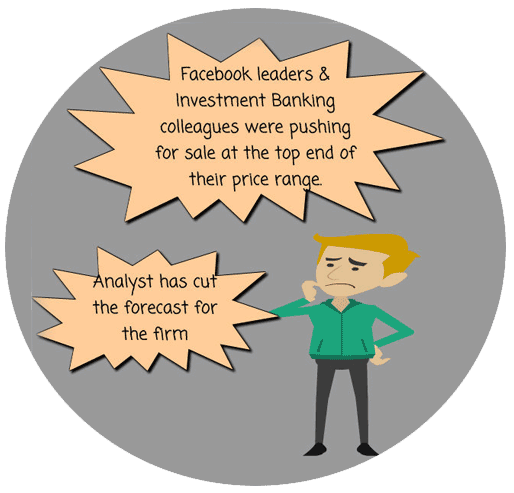 Bad Execution of Facebook IPO
This was also a reason for the share price decline of Facebook. Despite the shares being overvalued, Facebook increased the number of shares by 25%.
When the quick profit failed to materialize a couple of days after the IPO, The investors who received more shares than they wanted effectively became forced sellers.
The timing of the key activities makes you wonder what signal the company was sending out. For example, the IPO analyst had cut the firm's forecasts after the IPO filing update. At the same time, Facebook leaders and their Investment Banking colleagues pushed for sales at the top of their price range.
Bad Timing and Lawsuits Faced by Facebook

Facebook faced many lawsuits following its IPO. Just before the IPO, Morgan Stanley, along with many other analysts, reduced Facebook's earnings expectations, a disclosure that was not included in Facebook's S-1 filing.
Many users have started using the Facebook app on mobile. Facebook is finding it difficult to shift its ad sales to mobile platforms, where the company admitted it does not generate any meaningful revenue. Facebook repeatedly warned in the IPO filing about their challenges in mobile advertising. Just before the IPO, Facebook faced challenges with mobile advertising, which led the company to realize that its 2Q 2012 revenue would be lower than previously estimated in its IPO statements. Large investors were verbally communicated with, while small investors were kept in the dark. As a result, large investors made huge profits by betting against the company, and many others avoided major losses by backing out of the IPO just in time, while small investors were left with overpriced shares.
Since 57% of the shares sold in the Facebook IPO came from Facebook insiders, investors lacked confidence in the stock.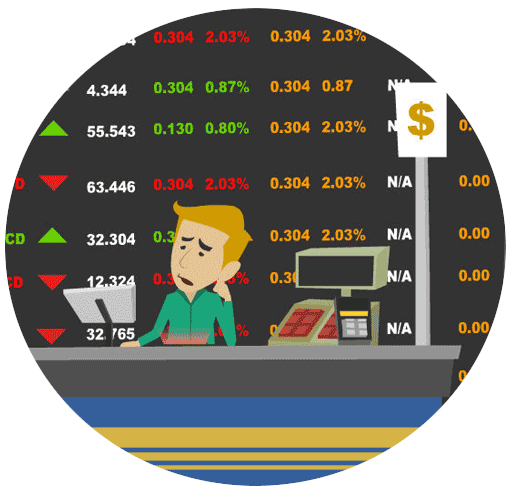 Technical Glitches
On the day of the trading, the stock opening was delayed due to technical glitches, as NASDAQ's electronic trading platform could not handle the high volume of trades.
Due to this, some investors failed to sell their stock during the first day of trading while the stock price was falling—forcing them to incur bigger losses when their trades finally went through.
For all these reasons, Facebook IPO did not trade at the price it had launched, i.e., $38 per share. Only from 2 August 2013, Facebook started trading at a price of $38.05. From 2 August 2013 to 22 August 2013, Facebook traded in the $38.05 – $38.55 range. On 22nd August 2013, the Facebook IPO stock price started increasing, and today, i.e., 15th April 2014, the Facebook IPO stock price is $58.89 per share.
Facebook IPO, Infographic
Learn the juice of this article in just a single minute Facebook IPO Infographic.
Recommended Articles
Here are some articles that will help you to get more details about the Facebook IPO, so just go through the link.