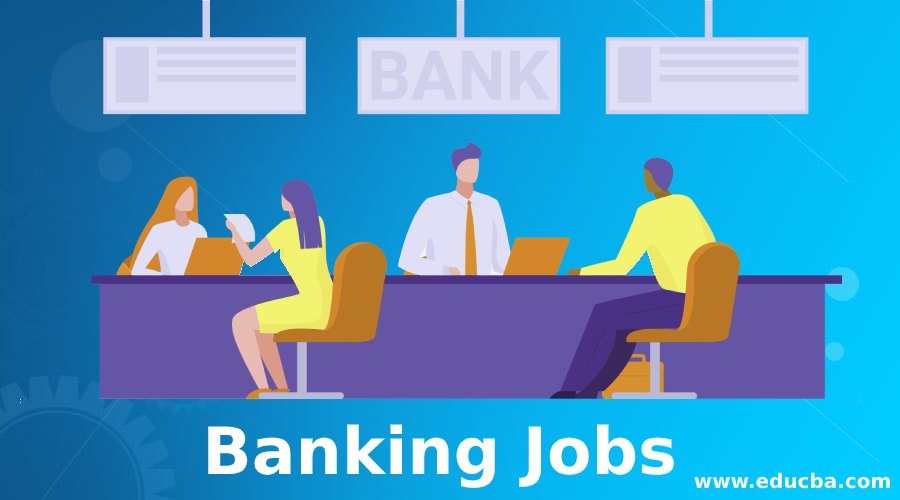 Banking Jobs – Do banking jobs interest you? Would you like to know all about them? Read on and find for yourself if you have all that this job demands.
Banking jobs can be exciting and provide great prospects for learning about business interfaces and building up clients. If you are well prepared and passionate about getting into this field you would find a variety of banking jobs open for you.
Banking Overview
All of us know about this institution called Bank whose business is to take deposits from individual and institutional investors and then extend that money as loans to customers. In this process, they make money by charging higher interest on the loan they provide than the interest they give on deposits they collect. This banking is completely different from other forms of banking such as investment banking or merchant banking that sell and trade corporate securities. The majority of us today have accounts at commercial banks and use their services very frequently.
As far as the commercial banking industry in India is concerned it was dominated by public and nationalized banks. For a long period banks were involved in their traditional business operations where the banking jobs were well-defined and stable, but after deregulation, it has seen drastic changes with the entry of aggressive private players and foreign banks. This has enabled the industry to explore various avenues and diversify them. This provided a conducive atmosphere for launching new products and services, offering a good deal for the customers.
As an after effect, tremendous banking jobs are available which we will discuss further on in this article.
Types of Banking Jobs
Before applying for banking jobs it is necessary that you are clear about the kind of career you are looking for in banking. There are various divisions which have been categorized below and discussed briefly;
1. Corporate Banking
This majorly encompasses lending to corporations who meet their funding requirements (long term as well as working capital) through loans. Jobs here include that of relationship management, wherein the key tasks include analyzing the financials of the client along with the risks involved, finding out the nature and amount of loan required, and after the loan has been given tracking the performance of the company. One needs to have good financial analysis skills and also communication and selling skills since the completion is really stiff in this field.
2. Retail Banking
This division of banking deals with customers directly rather than businesses or other banks. Typically the jobs include customer services, branch operations and product development. An MBA fresher can get entry in this division as a branch manager of a mid-sized branch. Again the banking jobs requirements would be good people-management skills and selling skills. Apart from that he/she would be responsible for developing a good network to gain customers, have thorough product knowledge. Candidates can get a substantial amount of such jobs in foreign and private banks.
3. Treasury and Asset Management
In order to manage their liquidity, foreign exchange and interest rate risk all commercial banks have the treasury department. While hiring candidates for these jobs banks look for candidates who have a deep understanding of financial systems, foreign exchange management, risk management and economics. However, these jobs are few in number and are high-risk activities with high pressure but the high package as well.
Pros and Cons about Banking Jobs
Skills Required in banking jobs
Below are the different skills required in Banking jobs:
Business know-how
In order to excel in banking jobs, one needs to have a clear broad understanding of the field. You would be expected to know the key terms and be well aware of the changes currently going on in the finance industry and also have your opinion regarding the same. Especially when preparing for banking jobs make sure you keep an eye on the business and finance section of the newspaper.
People/Interpersonal skills
Banking jobs require a lot of interaction with people and businesses. They become crucial as you have to aid people in getting loans and investments they would want to make. All this could be possible only when you can communicate well with them and know about their requirements. Financial skills form only a chunk of the job if someone wants to survive and outshine in this field requires great interpersonal skills.
Accounting and Writing skills
The jobs in commercial banking require a good base in accounts especially for the positions like that of a credit analyst or a lending officer. Moreover, the decisions that you make or the analysis you do needs to be well documented which requires you to have good writing skills.
Work Ethos
To get a banking job one is not required to have excellent grades. Above all that a banker is expected to be diligent and reliable. He should be high in work ethics as he is handling the money of the general public at large.
MBA is optional
To get a job in a commercial bank does not require an MBA degree, though having one could give you a competitive advantage over the other pool of candidates that apply. These jobs require people who crunch numbers, think logically and are happy communicating with people.
Long banking hours
Banking was apparently believed to be a job with less number of working hours and one with less work pressure. However, this is not the reality now. You need to really work hard to beat the competition. Banks are looking out for candidates who are hardworking, competitive and talented.
Career tracks in Banking
Below are the different Career tracks in Banking:
Credit Analyst
This is usually the entry-level job in banking, wherein they are supposed to evaluate the financial position of those applying for loans. They thoroughly scrutinize the financial information of the potential individuals and companies. Not only that they also forecast the future financial position of the loan applicant in order to gauge if they would be in a position to pay back the extra liability. This would involve a lot of interaction with the concerned people and your success would be determined by your communication skills and by being specific, paying attention to details.
Loan Officer
Loan officers generate business for the bank by bringing in customers for loans. Hence it is quite obvious that this requires good selling skills and a firm understanding of banking. This job can get difficult as there would be many not interested in loans and also people who are interested but are not eligible for one. The key lies in finding the right people and converting them into customers. This job is considered to be a desirable banking job as it involves earning a decent commission on sales.
Branch Manager
The branch manager is responsible for making sure if all the aspects of the bank are running smoothly. He/ she have to be very well versed with the functions of banking, should possess solid leadership skills, resolve customer issues, and be empathetic and highly ethical. These managers could be MBA's and they also have years of experience in the banking industry.
Salaries for bankers
The salary packages are decided on your educational background and the skills that you possess. For a banking graduate who is a fresher, the pay scale could vary from anything between INR 10,000-20,000 per month at the start. For postgraduates the pay scale would go a bit higher, again depending upon the college where you pursued your degree from. If you have completed it from top-notch B-schools or banking institutions you could expect up to INR 8 lakhs per annum for the position of relationship officer. There are various banking companies that pick students directly from campuses such as IIMs, XLRI, FMS and other popular colleges each year for hefty pay packets of not less than INR 10 lakhs per annum. Nevertheless, these figures could fluctuate depending upon the state economy is in and individual skills and talent.
In the case of applying for public sector bank jobs, the salary structure is mentioned in the details along with the position details.
Below is a graph which depicts the median salary of various jobs in commercial banking. To know more about it you could visit Payscale.com
Ways to get Banking Jobs
Due to privatization new banks are coming up each providing a realm of opportunities for graduates and post-graduates in this field. Students who hold a B.COM degree can get placed as a sales executives from insurance, loans with any of the leading banks. Based on the college and the degree/diploma you hold you could expect campus placements with various banks.
If you are from one of the top colleges, technically called the "Tier-1 College" such as the IIM's you could get placed at banks abroad such as the JPMorgan Chase, Fidelity etc. Other top banks such as the Royal Bank of Scotland, Standard Chartered, Barclays, American Express require banking guys and are keen on hiring them at good salaries.
Another option is that you could complete a course in banking and be offered a job as a sales officer with private banks provided you possess the banking know-hows and required interpersonal skills.
Some of the top banks in India that are hiring include ICICI, HSBC, Kotak Mahindra, HDFC, Standard Chartered, Barclay's, and American Express.
Talking about retail banks, among the foreign banks in India, major players are HSBC, Standard Chartered, ABN Amro and ANZ Grindlays. HDFC Bank (including TimesBank), ICICI Bank and Global Trust Bank are other aggressive private sector banks into retail banking.
In order to apply for public sector banking jobs, the Institute of Banking Personnel Selection (IBPS) conducts common written examinations (CWE) for posts like Probationary Officer (PO), Clerk/Cashier and Specialists officer in around twenty public sector banks. Moreover, these banks follow the rules and regulations of the government and because of this, the job vacancies by them are advertised in newspapers so that it reaches everyone.
When it comes to applying for private sector banking jobs they are not regulated hence these banks usually pick up candidates through college campuses, walk-ins, referrals and HR consultancy firms. If you have some private bank in your mind you could directly apply at their websites career page, where you would have to fill in some details and submit your resume to be called up for an interview.
To apply at ICICI bank, visit their career page.
A similar procedure is followed in the case of HDFC bank. Here the available banking jobs vacancies and the posted dates would be shown on the first page. Those who satisfy the conditions can directly log in to apply whereas new users can register by clicking on 'Deposit my resume'
To apply at HDFC bank, visit their career page.
Before applying for any of the jobs make sure you have read the job profile well and if the job responsibilities suit you.
Few guidelines for Getting Hired
Have in-depth knowledge in accounting and financial skills.
Exhibit mathematical aptitude to impress the interviewers.
Do not beat around the bush and when you display your skills always try and explain it quantitatively.
Be dressed formally, speak boldly and smile no matter how nervous you are.
When you speak you need to assure the interviewers that you have no troubles in working extra hours and like daily challenges.
Good luck as you envisage a banking career! 🙂
Banking Jobs Infographics
Learn the juice of this article in just a single minute, Banking Jobs Infographics.
Recommended Articles
Here are some articles that will help you to get more detail about the Banking Jobs so just go through the link.