Updated October 9, 2023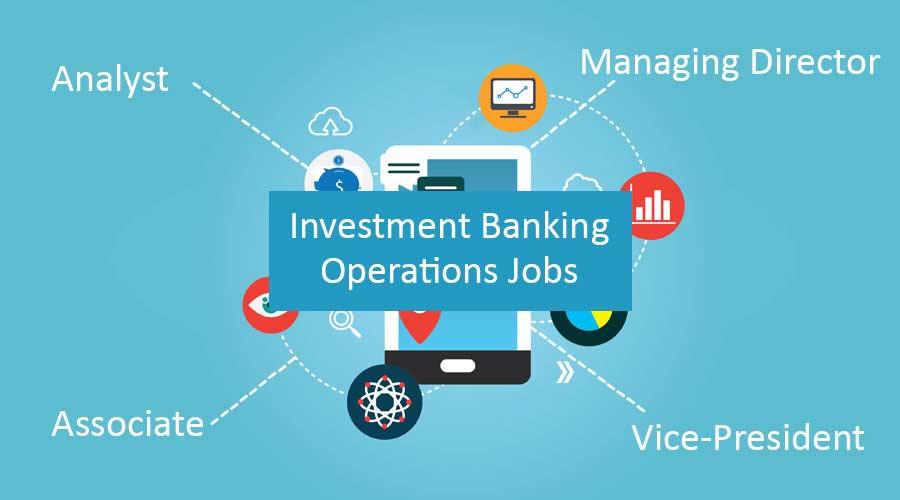 Introduction to Investment Banking Operations Jobs
Investment Banking Operations- are available with several different types of organizations. Many jobs are to be found at large global investment banks such as Goldman Sachs and Morgan Stanley. Also, you can get jobs in the investment banking analyst work department of large commercial banks such as Citigroup or Deutsche Bank.
Competition for investment banking jobs is fierce, as many employers have their pick of qualified and experienced candidates. Therefore, if one is interested in a career as an investment banker, the best way to prepare is to do exceptionally well in academics. This makes you appear as an attractive candidate.
Investment Banking Operations Jobs Hierarchy
Analyst
Associate
Vice President
Director
Managing Director
Now, let's understand the role played by each of the positions individually
1. Role Of An Investment Banking Analyst Work
Analysts are the lowest in the hierarchy chain of investment banking analyst work and, therefore, do most of the work. The work includes three prime tasks: presentations, analysis, and administration.
Presentations
Investment banking analysts spend a lot of time preparing pitch books. The process is very much planned and intensive, and attention to detail is critical.
Analytical Work
Analytical work includes entering historical company data from public documents and company annual reports and preparing financial models, valuation, credit analysis, etc.
Administrative Work
This work includes scheduling conference calls and meetings, making travel arrangements, and keeping an up-to-date work list.
2. Role Of An Investment Banking Analyst Work Associate
Investment banking associates are usually recruited directly out of MBA programs. They can also be the analysts who have been promoted. The role of an investment banking associate is similar to that of an analyst. Working 80 to 100 hours per week is standard. Investment banking associates stress over pitch books and models all night and become experts in financial modeling using Excel.
He may have the additional responsibility of serving as a link between junior and senior bankers, and in some instances, he may work directly with clients.
The relationship between Analyst and Associates are as follows
Associates check the work of analysts and assign them tasks.
The associate looks at the output and then determines whether the numbers in front of him make sense.
3. Role of Vice President and Managing Director
Their main job is sourcing deals and maintaining a relationship with clients. They also play a significant role in analyzing the industry and predicting future sales. By anticipating such needs, the Managing Directors of an investment bank start preparing relevant pitches. In addition, they aim to turn these pitches into live deals. MDs set their working hours and deal with clients at the highest level. The significant role is to develop and cultivate relationships with various companies to create business for the firm. Managing directors of an investment bank typically focus on one industry and visit these companies regularly. However, these visits are generally called "sales calls."
You may also learn the basics of the investment banking industry structure here.
Investment Banking Operations Jobs: Upsides
You may get the ticket to a prestigious MBA program, given that you did exceptionally well and showed signs of leadership.
Stepping stone to bigger things like hedge funds or private equity
Prestige and the Power.
Investment Banking Operations Jobs: Downsides
No social life
You can be perceived as a greedy person.
No family or friend time.
Permanent bye-bye to your precious sleep.
Investment Banking Operations Jobs: Intangible Skills
Innovation
Intellect
Global outlook
Foresightedness
Sales skills
Communication Skills
Initiative
Ability to Work hard at any hours
Investment Banking Operations Jobs: Tangible Skills
Excel and VBA
Expert in Financial Modeling
Accounting
Equity Valuation
Report Writing
Recommended Articles
Here are some articles that will help you get more details about the career in investment banking operations jobs, so go through the link.