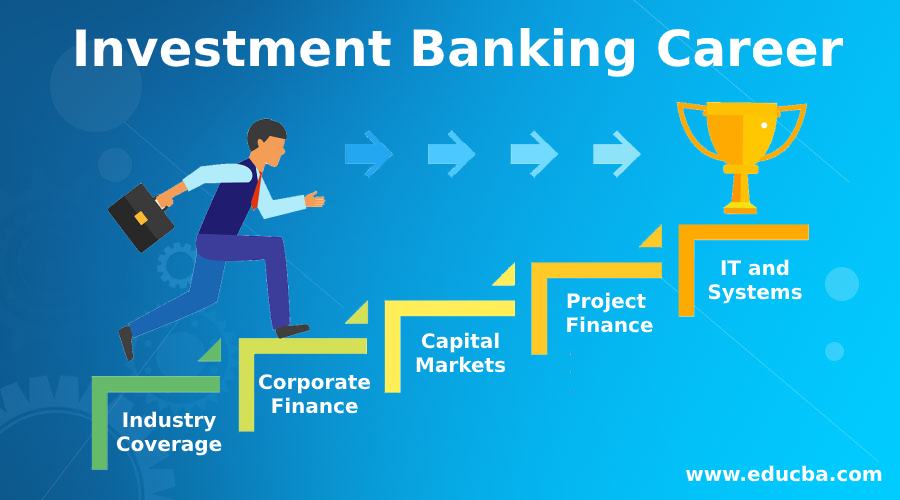 Investment Banking Career Guide
No wonder that Investment Banks help companies and governments in issuing securities, help investors in purchasing securities, managing the financial assets, trading securities, and of course advising.
But what do you think, which role suits you most in an investment bank? Or which is the area that you should enter into?… Any clear idea do you have or your mind is running into confusion. Stop worrying go through this article and I am sure you will definitely come up with a crystal clear direction of entry into an investment bank.
The Big Investment Banks include Goldman Sachs, JP Morgan, Morgan Stanley, etc. Such investment banks are spread across the world, whereas certain investment banks are regionally located in the middle market and oriented towards specific functions like M&A advisory, industry vertical, sales and trading.
Which are the skills that can prove to be helpful or more specifically wanted by the industry?
Investment Banks employ candidates with a combination of strong analytical and interpersonal skills. Certain job areas are more inclined towards only particular specialized skill-sets like the brokers are expected to be good salespeople.
| Skills | Intensity |
| --- | --- |
| Communication abilities | High |
| Research and Analytical abilities | High |
| Sales/Negotiation | Medium to High |
| Spreadsheet and computer literacy | High |
| Creativity | High |
| Multitasking ability | High |
| Time Management and Working Hours | High |
Some of the areas in Investment Banking call for strong Mathematical abilities. So if you are good at math's you can think about getting more deep into technicalities like stochastic calculus, indicators, etc. or even learn more about options pricing, bond valuation, etc.
Accounting also plays a very important role in analyzing numbers critically and managing the figures is a core part of an investment banking career.
A very important factor for the successful establishment of the investment bank is Teamwork, as people from different backgrounds and different personalities should stand together to pursue the trust of the client.
The biggest misbelief about Investment Bank is that it only employs people who are from the finance domain. Though it is true that the biggest chunk which works in any Investment Bank is from the Finance domain, people from Science, Law domain are also needed here. Scientists are the people who can work on derivatives algorithms in banking arenas. And lawyers will, of course, help designing new securities, understanding and applying the business laws and many other departments of Investment Banking career.
Moreover, the most important skill-set required is Hard work which is expected and respected in the domain as this work involves high risk, tough work, and work under pressure.
Entry into Investment Banking Career
For college graduates, the entry-level positions are Analyst or financial analyst. An entry-level position with a Master's degree is referred to as an Associate. An analyst will stay in position for 2-3 years and then be promoted to the Associate level.
The more detailed information on the roles and hierarchy of professionals in Investment Banking Career is given in Investment Banking Jobs
An associate spends three to four years with the designation and then is promoted to the position of Vice-President.
No wonder that Investment Banking Career is a challenging field to enter into.
Job options available in Investment Banking Career
An investment bank hires candidates for the analyst's program. After finishing graduation one can try for such an analyst program. Candidates with an MBA degree are hired as associates. Analysts and associates work within the same groups. The various groups which are functional under investment bank are as follows:
Banking. They are organized as product groups. The team in this area consists of Senior Bankers who maintain relations with client companies, groups of directors, VP's, Associates, and Analysts.
This team interfaces with the product specialist for technical know-how. The analyst here is responsible for putting together the working group list. This area is more about covering the industry for the best deals.
This area focuses on helping the companies in raising the capital needed for their projects. Here you will work to determine the amount and structure of the fund needs of the client through equity, debt, and other options available. As a beginner (an analyst) your responsibilities include preparation of registration statements, attending roadshows, etc.
The positions under this include Debt Capital Markets or Equity Capital Markets. The people from this department help companies originate new issues of debt or equity. They track the market conditions and advice the clients on the right time and the form of issuance.
The benefit that an investment bank gets in M & A deals is in terms of fees. This team acts as an adviser to a client, value transactions, structures deals and carries out negotiations.
This is mainly related to the funding of the projects. The projects can be infrastructure projects, government projects, etc. Certain banks including Credit Suisse, Deutsche Bank are active in this area.
This function involves the transactions in equities, bonds, currencies, options, futures with commercial banks, investment banks, and institutional investors. One should have knowledge of markets, the various trading instruments, and the best trading strategies.
These are the services that are provided by an investment bank to public and private organizations related to the M & A issues, financing, valuation, etc.
Equity and Fixed Income Research
The security analysts are assigned to the particular industry or the region. They are responsible for making buy or sell recommendations to investors about stock or bonds. Duties involve visiting companies and contacts with companies.
In this, you would be responsible for transferring the information about securities to the investors. Sales skills and product knowledge are crucial in this area.
People with an interest in technology can have some of the best jobs in computers and information systems. Firms with good trading software and back-office software can get a strong competitive advantage.
Salaries and Bonuses offered in Investment Banking career path

Sometimes there is a lot more diversity in compensation levels than usual. The reason behind this is the lack of cash in companies. With new financial reforms certain areas like prop trading, institutional equity sales and securitization are under pressure. You can find a more detailed view on Investment Banking analysts salaries & bonuses in our article Investment Banking Analyst Bonuses
Which are the well-known investment banks?
I know this question must have a stroke in your mind.
Goldman Sachs
Morgan Stanley JPMorgan Chase
Bank of America Merrill Lynch
Deutsche Bank
Citigroup
Barclays Capital
Credit Suisse
UBS
HSBC
Nomura Holdings
RBC Capital Markets
BNP Paribas
The Royal Bank of Scotland Group
TD Securities
Wells Fargo
Lazard
Jefferies Group
Société Générale
BMO Capital Markets
What preparation did you need to do for cracking the Investment Banking Interview?

style="font-size: 13px;">Cracking an Investment banking interview is not a big deal if you are clear with your concepts and knowledge. You should be confident about what you are answering, after all, you have to sell yourself, in order to get selected. Go through our article Q&A on Investment Banking topics for better practice.
Investment Banking career path important Facts and advice for Job-Seekers
-> Create and Maintain Good Contacts.
In order to break into an investment banking career path, the key is to set up a good network of contacts. For that you should attend industry conferences, informational seminars, interviews, also you can contact your alumni from colleges who currently work in the industry.
-> The best way to enter is finding Analyst jobs.
Attend the campus interviews. Take the offer even though the salary is not that high. To succeed in these positions one should be extremely dedicated, hardworking, and should be knowledge sounding.
-> Investment Banking career path is the highest global business.
Investment bankers spend plenty of time in tracking corporations all around the world. Most of the investment banks have global existence as well.
-> Investment banking business is highly competitive.
As we can see the investment banking business is spread all over the world. The competition in the existing market and in the emerging market is highly competitive.
-> Increasing labor arbitrage
Nowadays, outsourcing is happening in a larger space at the analyst and associate roles. So here stands the opportunity to the countries like India of whose highly skilled but less expensive labor is outsourced for the purpose of analytical and pitch book work.
-> Make your choices smartly
If you change your jobs often then while applying for a great job your loyalty towards your work will be at stake. Hence make your career choices smartly in order to avoid the side effects.
Related Articles
Here are some articles that will help you to get more detail about Investment Banking so just go through the link.