Updated June 20, 2023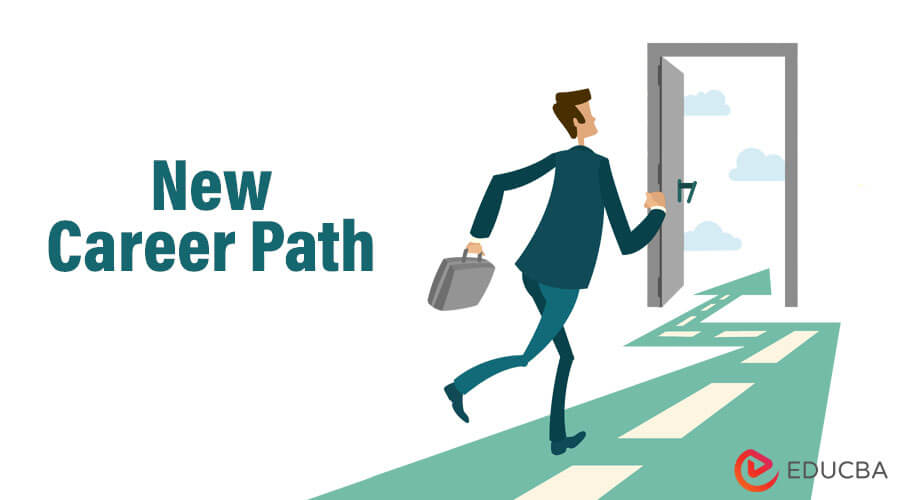 Introduction to New Career Path
Starting your first job or switching to a new career path requires accurate planning and confidence. A career is an essential aspect of life. It shapes your lifestyle and social status and secures your future. Thus, career-related decisions are crucial. Much introspection, analysis, and research are required when venturing into a new career path.
The reason to do so can vary from person to person, but some of the more common reasons could be:
Higher salary expectations to obtain better perks and incentives.
Stress at work and fear of being exploited.
Lack of flexible working conditions.
Disinterest in work due to a lack of skills, motivation, and inspiration.
Lack of job satisfaction.
Lack of support from colleagues and seniors.
The current job field is dwindling and going extinct.
To enhance their creativity and to take up new career challenges.
Interest in new upcoming industries that better suit your passion, personality, and skills.
To start one's venture.
Change in family circumstances, needs, and situations.
Sometimes, people venture into a new career path without experience in that field. However, this issue can be dealt with quickly. In today's fast-growing market economy, recruiters are not rigidly focusing on the experience of candidates but also their personality, problem-solving abilities, and unique traits. Nonetheless, a person opting for a new career path must still be cautious and prudent, lest he botches up his career.
New Career Path With Zero Experience
If you wish to enter a new career path without any prior experience, here is the way to do it:
1. Start over all again a new career path
You may have to start at the bottom of the career ladder, i.e., your previous talents and experiences would have little contribution to the new career. You may have to adjust for a lower salary and designation. To climb the professional ladder, you would have to prove yourself again.
2. Educate and train yourself
You might need to acquire a degree or diploma relevant to your new job, as it will help build the foundations and background for your new career.
3. Volunteering
When one lacks experience in a particular field, one must acquire knowledge and training through volunteering. Work under an expert either voluntarily or for a low stipend. The experience gained here would help exhibit your competency on your resume.
4. Framing existing experience
Although you may not possess the specific skills for the new job, you will always have some transferable past skills that will be useful in your new career. These could be management skills, leadership skills, creativity, or a clear vision. They have the potential to improve the organization's performance.
5. Use nontraditional ways for job seeking
When venturing into a new career without experience, do not restrict yourself to searching for jobs on the internet or in newspapers. These recruiters have a clear and specific idea of the required experienced candidate, and your application may often be overlooked. Look for other job hunting methods, such as inquiring in your network, viz. family, friends, colleagues, etc. They may provide you with leads from their networks.
6. Groom up your documents and profiles
When entering a new career path, you might have to redesign your resume to fit the requirements for this job. It must possess all the relevant details along with an impressive cover letter. It should make clear your motivation for the career change and explain how your existing skills will be helpful to the organization. Likewise, it would be best to modify your online professional profiles, like LinkedIn, etc. Experience is not the ultimate factor that will land you the job, but recruiters now also consider personality and transferable skills in finding the right person for the position.
7. Be patient
Successfully switching to a new career path is a complex and long task. Refrain from being impatient or making hasty decisions. Plan out your career transition plan in a systematic manner. Utilize the empty time to enhance your skills and qualifications. Keep striving towards your goal, and do not give up.
Some Further Tips to Successfully Switch Your Career
Analyze your reasons behind stepping into a new career path.
Analyze whether this is the right time to do so.
Be realistic in your aims and ensure it is the right choice.
Research the field you are interested in.
List your skills and personality traits, such as communication, leadership, problem-solving, management, or any other specific skills you possess.
Analyze and reflect upon how these skills and qualities are transferable to the new career you are aiming for.
Reflect on whether you can fit into the new environment and how to make yourself comfortable in the new situation.
Plan out how you will acquire the necessary skills and knowledge required for the new job, for example, joining a course, working part-time or volunteering under an expert, or learning about the field from the internet or books.
Analyze whether these new career skills would provide you with the required job satisfaction.
When interviewing for a new career, never show your weaknesses. Exhibit confidence and convince them how your transferable skills will benefit the organization.
Impress the employers with your personality; show them you are passionate about the job.
Reflect on how you will compete with the more experienced people and climb the professional ladder.
Be firm in your decisions. Only proceed into a new career path when you have no doubts about your decision.
Venturing a new career path is common; people tend to change their careers for more lucrative benefits. However, the reasons may vary from individual to individual. When switching to a new career without experience, one needs to plan efficiently, and the decision should be taken carefully after calculating all the factors and consequences. Having to start from the bottom, you must have low expectations in the beginning. Empower yourself first and keep on building skills and experience. Strive to attain the goals and objectives of the organization and be positive and confident in whatever you do.
Recommended Articles
The above is an effective guide in entering a new career path. Check out the following links to learn about some of the prospective careers in varying fields: