Updated June 12, 2023
Introduction to Careers in Database Administration
Careers in database administration involve a series of activities that accomplish database management, like creating a user, providing access permissions, handling the contents of the database, and updating all kinds of changes in the database. The median salary of database administrators and architects is $101,000 per year in the United States. The compensation varies depending on location, experience, and the specific role. Database administration is a lucrative and fast-growing field, with the number of jobs expected to grow at 9% within the next ten years.
To become a database administrator, one must have advanced knowledge of database concepts and database management processes. Furthermore, they must be exceptional in logical thinking, good in communication, and have administration and leadership skills. The minimal educational qualification required for entry-level roles is a Bachelor's degree.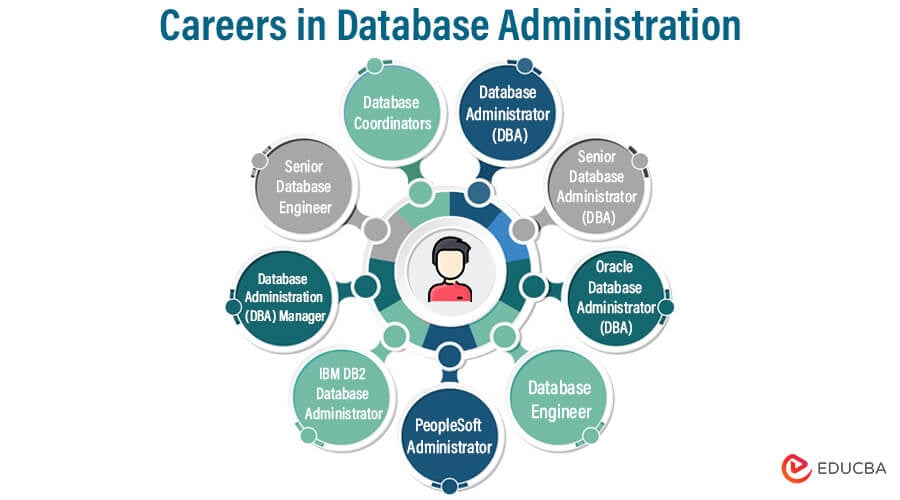 Key Highlights
Database administration is a lucrative field, with a positive job outlook of 9% growth in job openings per year.
The key responsibilities of database admins include creating and maintaining a database according to company requirements.
To become a database administrator, the minimum education expected is usually a bachelor's degree in computer science or IT.
Database admins can specialize in varied technologies such as MySQL, PostgreSQL, or Teradata.
Definition
A Database Administrator (DBA) is a professional responsible for designing, implementing, maintaining, and securing an organization's database systems.
DBAs work with data architects, software developers, and other stakeholders to ensure that database systems are efficient, reliable, and meet the organization's data management needs.
Careers in Database Administration – Minimum Education Requirements
As discussed, the minimum database administrator degree requirements include Bachelor's degree. Most sought-after degrees for database administration include:
Bachelor's in Computer Science
Bachelor's in Information Technology
Bachelor's in Data Analytics
Bachelor's in Computer Information Systems (CIS)
Bachelor's in Database Administration
A degree in a similar field
Many organizations prefer to hire candidates with a post-graduation degree. For example, companies hire MBAs for their business acumen and communication skills.
Preferred Master's degrees for careers in database administration include-
Master's in Information Technology
Master's in Computer Science
Master's in Business Administration (MBA)
Management Information Systems (MIS)
Master's in Computer Information Systems (CIS)
Master's in Database Management
The technical job market is competitive. Hence, one can highlight their profile and become job-ready by pursuing certifications, training programs, online courses, or additional diplomas and degrees in subjects related to database administration.
Careers in Database Administration – Best Database Courses to Pursue
Someone wanting to advance their career in database administration can consider pursuing courses in the following technologies in addition to their degrees:
Oracle
IBM DB2
Microsoft SQL Server
Sybase
PostgreSQL
Teradata
Careers in Database Administration – Database Administrator Certifications
A certificate in database administration can help boost one's career to the next level. Best database administration certification courses to improve one's resume and skills include:
Oracle Certified Professional
SAP HANA Certification
Microsoft Certified: Azure Database Administrator Associate
IBM Certified Administrator – Db2
Certified Data Professional by ICCP
Oracle Database SQL Certified Associate Certification
IBM Certified Database Associate
Oracle Certified Professional, MySQL 5.7 Database Administrator Certification
EDB PostgreSQL 12 Associate Certification
The job level and the corresponding salary are discussed in the below table
| | | |
| --- | --- | --- |
| Job level | Salary | Years of experience |
| Experienced | $63,290 | 0-12 months |
| Early career level | $68,690 | 1-4 years |
| Mid-career level | $78,580 | 5 to 9 years |
| Experienced resource | $90,160 | 10 to 19 years |
Jobs Related to Database Administrator – Database Careers List
A professionally trained, certified, experienced, and trained database administrator may qualify for a range of positions listed below:
SQL Database Administrator
Database Administrator or DBA Jobs
Oracle DBA Jobs
SQL Server DBA Jobs
MY SQL DBA Jobs
Database Management Jobs
IBM DB2 DBA Jobs
Teradata DBA Jobs
Database Admin Jobs
Database Manager Jobs
DBA Team Leader
Daily Tasks and Duties
There are specific hard skills and soft skills to succeed as a DBA. Database Administrator job responsibilities include:
For Production DBAs
Production DBAs are like average vehicle drivers: they don't have the necessary knowledge about fixing up a vehicle when there is an issue with its functionality. However, they have all the information about maintaining the vehicle to avoid such issues.
Production Database Administrator's daily tasks include:
Ensuring the database server runs smoothly without any issues
Running performance maintenance tasks, such as backing up the database server
Implementing recovery operations whenever required
Performing capacity planning depending on the size and growth of data
The overall production DBA activities happen over a network (i.e., on a database server), which a network administrator manages. Hence, a network administrator can often transition to a database administration role.
For Development DBA
Development DBAs are like vehicle manufacturers: they have a sound understanding of designing, modeling, and assembling vehicle parts to deliver a successful product to the market.
Collaborate with programmers and architects to develop a database as per enterprise standards. Performing database profiling.
Performing database indexing
Managing user security
Running performance tuning
Creation of databases
Programmers with development experience can become development DBA, depending on team requirements.
Database Administrator Salary
According to the US Bureau of Labor Statistics, the median salary for database administrators is $96,710 per year. Meanwhile, the median salary for database architects was $123,430 per year.
Highest Paying Cities for Database Administration:
Major cities in the USA offering the highest salaries for database administration roles are:
| | |
| --- | --- |
| City and State | Average Salary per Year |
| Trenton, New Jersey | $123,540 |
| San Jose, California | $121,430 |
| San Francisco, California | $120,280 |
| New York, New York | $119,470 |
| Seattle, Washington |  $119,280 |
| Chicago, Illinois | $101,467 |
| Denver, Colorado | $96,642 |
| Houston, Texas | $92,144 |
Database Administration Salaries Based on Role
| | |
| --- | --- |
| Job Title | Average Salary per Year |
| Database Administrator (DBA) | $77,165 |
| Senior Database Administrator (DBA) | $112,863 |
| Oracle Database Administrator (DBA) | $101,528 |
| Database Engineer | $100,627 |
| PeopleSoft Administrator | $124,798 |
| IBM DB2 Database Administrator | $120017 |
| Database Administration (DBA) Manager | $102,352 |
| Senior Database Engineer | $126,360 |
| Database Coordinator | $45,709 |
Top Companies Hiring Database Administrators
Below is a list of top companies to work as database administrators, along with the compensation offered per year.
City National Bank: $139,642 per year
Fidelity TalentSource: $134,926 per year
Zachary Piper Solutions: $132,778 per year
Cisco Systems: $132,046 per year
Stefanini IT Solution: $125,281 per year
Final Thoughts
A career in database administration may be both fulfilling and difficult, with room for growth and advancement across a range of businesses. A solid technical foundation is necessary for the sector, but it also calls for exceptional analytical, problem-solving, and communication abilities. Following a career in database administration can result in rewarding and successful possibilities, regardless of whether you're just starting or looking to switch to a new one. Database administration is a field likely to continue to expand and evolve in the next years, given the growing need for data management in the current digital era.
FAQs
1. Are database administrators in demand? Is database administration dying?
Answer: Yes, database administrators are in high demand. According to the US bureau of labor statistics, jobs for database administrators will grow at a 9% rate for the coming decade. The job outlook for database administrators is high. Each year, around 11,500 database administrator job openings will appear.
2. Can a database administrator work from home?
Answer: Yes. A Database Administrator (DBA) can work from home, depending on the employer and job requirements. The COVID-19 pandemic has accelerated the trend toward remote work, and many companies have shifted to remote work policies. However, it's important to note that some DBA jobs may require on-site work, especially if the database systems are critical or require physical maintenance.
3. How to start a career in database administration?
Answer: To start a career in database administration, one usually needs a degree in computer science or a related field and experience working with database management systems (DBMS), such as SQL Server, Oracle, or MySQL. One can gain experience by working in IT support or software development roles that involve database management or by completing internships or certifications in database administration.
4. What companies are hiring database administrators?
Answer: Many companies across a range of industries hire database administrators, including healthcare, finance, technology, and government. Some examples of companies that may be hiring database administrators include
Amazon
Microsoft
IBM
Oracle
Deloitte
City National Bank
Cisco Systems
Recommended Articles
This is an EDUCBA guide to careers in database administration. You can view EDUCBA's recommended articles for more information on this topic.