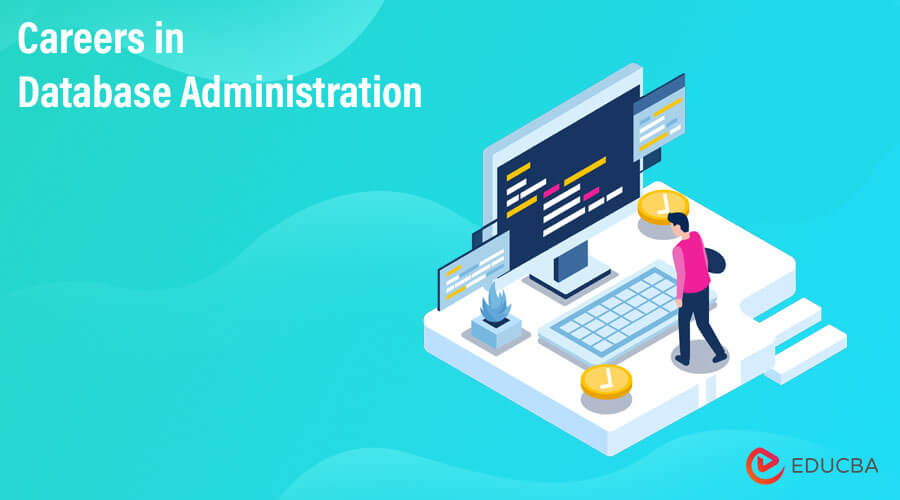 Introduction to Careers in Database Administration
Database Administration is nothing but a series of activities that accomplish database management like create a user, provide access permissions, handle the contents of the database, and update all kinds of changes in the database, using the software applications specifically designed to manage the databases. For someone to become a Database Administrator, it is necessary for them to have advanced knowledge on database concepts and database management processes, exceptional in logical thinking, good in communication, administration & leadership skills, and a minimum of a Bachelor's Degree in computer science and mathematics as main subjects.
Education of Careers in Database Administration
DBA's positions require a bachelor's degree in computer science, database administration, computer information systems (CIS) or a degree which includes a similar field of study. Many organizations hire DBA's with a post-graduation degree in MBA since MBA's are accustomed to business domains and they are good at communicating the enterprise technical and non-technical requirements across all the employees. Some of the popular MBA degrees for database administrators include Management Information systems (MIS), Database Management and CIS. Database Administrators can highlight their profiles and see consistent growth in their careers by enrolling themselves in advanced training and certification programs with respect to the leading database software systems such as Oracle, IBM DB2, Microsoft SQL Server, Sybase, Post Gre SQL, Teradata etc.
Some of the key Training & Degree Programs to get specialized as DBA are listed below
School or Institution
Database Training Degrees
Course Curriculum
Ferris State University
Masters in Information security & Intelligence. Certification in Business Intelligence
· Database Modeling
· Database tuning & performance monitoring
· Knowledge of ETL workflows, reporting etc.
· Data warehousing Techniques
· Project Management
· Capstone Project on Business Intelligence
School or Institution
Database Training Degrees
Course Curriculum
Full Sail University
MS in Business Intelligence
· Provide Knowledge in Business Intelligence & Big Data Analytics
· Database Design and Administration Training
· Includes Enterprise Data Reporting & Visualization
· Implement projects on Data Mining and Data Warehousing
· Provide training on Soft Skills, Leadership and Oral / Written Communication
Colorado Technical University
BS in IT Data Management
· Implement Database Design and Administration Training
· Provide knowledge in Business Intelligence & Big Data Analytics
· Data Extraction, Transformation & Loading (ETL)
· Provide real-time knowledge of Developing Software Systems, Business Apps & UIs
· Hands-on project experience and knowledge in Advanced Data Warehousing and Decision-Making skills
· IT Project Management and Quality Assurance
Career Path in Database Administration
DBA's can be classified into two categories, namely Production and Development. Think of any Database tool as a vehicle you're traveling. Vehicles help you travel to the destination safely. Similarly, think of a DBA using a database tool like an SQL server to understand the Production and Development of a career in database administration.
Production of a Career Path in Database Administration 
Production DBA's are like average vehicle drivers: they don't have the necessary knowledge about fixing up a vehicle when there is an issue with its functionality. However, they have all the information about maintaining the vehicle to avoid such issues.
Production DBA's come into the picture only after the applications have been developed. Some of the key activities performed by the Production DBA's include: to ensure the database server running smoothly without any issues, performance maintenance tasks such as backing up the database server and implementing recovery operations whenever required and perform capacity planning depending upon the size and growth of data. Since the overall production DBA activities are carried out over a network (i.e., on a database server) and the activities performed on it are managed by a network administrator. So, usually, a network administrator will often end up as a Production DBA.
Development of a Career Path in Database Administration 
Development DBA's are like vehicle manufacturers: who has a sound understanding of designing, modeling and assembling the vehicle parts to deliver a successful product to the market.
Development DBA's come into the picture during the database development phase. These DBA's work with programmers and architects closely to develop a database as per the enterprise standards. Some of their key tasks involve database profiling, indexing, managing user security, performance tuning, and database creations. Programmers with development experience end up becoming a development DBA, depending on their team requirements.
Other thoughts on Careers in Database Administration 
A network administrator often finds it tough to understand the database concepts with just theoretical DBA knowledge. So, to become a professional DBA: one must learn to implement database concepts such as creating tables, good understanding and practical experience of SQL programming, learning indexing, data profiling and performance tuning mechanisms. In the end, being passionate to learn new things and expanding the knowledge boundaries will motivate a network administrator to transform into a Production DBA and a Programmer to transform as a Development DBA.
Job Positions or Application Areas
A professionally trained, certified, experienced and trained database administrator may qualify for a range of positions listed below.
SQL database administrator
Database Administrator or DBA Jobs
Oracle DBA Jobs
SQL Server DBA Jobs
MY SQL DBA Jobs
Database Management Jobs
IBM DB2 DBA Jobs
Teradata DBA Jobs
Database Admin Jobs
Database Manager Jobs
DBA Team Leader
Salary
Considering the pay rate from many job portals and U.S department of labor statistics, the average salary for a Database administrator stands at $82,000 per year. The hourly wage rate of a DBA varies from $25 to $ 100.
Average salaries for DBA's across some of the major cities in the US are listed below.
San Jose, California: $94,000
Los Angeles, California: $93,000
Raleigh, North Carolina: $93,000
San Francisco, California: $91,000
New Haven, Connecticut: $88,000
Average salaries based on the DBA position are listed below.
Database Administrator: $82,000
SQL Server DBA: $90,000
MySQL DBA: $94,000
IBM DB2 DBA: $97,000
Oracle DBA: $98,000
PeopleSoft DBA: $98,000
Senior SQL DBA: $104,000
Senior Oracle DBA: $106,000
Oracle Apps DBA: $107,000
DBA Team Lead: $144,000
Database Manager Salary varies: $117,005-$143,406
Conclusion or Career Outlook
In Conclusion, we have covered the introduction, educational background, career path, job positions and salary ranges of careers in database administration. Going by the stats and current business trends, the volume of data in an organization continues to increase and the demand for certified, trained and experienced DBA's will also increase. According to the U.S Bureau of labor statistics, the need for database administrators has grown by 11% during the period 2014 to 2024. The growth rate and demand for careers in database administration occupation are 7% faster than other occupations. In addition, most of the database operations are carried out using the internet and cloud, which will be a complex task to protect the data from cyber threats and hackers. So, a proper understanding of database management along with certifications, experience and training will improve the hiring prospects for an individual seeking careers in database administration.
Recommended Articles
This has been a guide to careers in Database Administration. Here we have discussed the introduction, education skills required along with job position, salary and career outlook in Database Administration. You may also look at the following article to learn more –