Updated July 3, 2023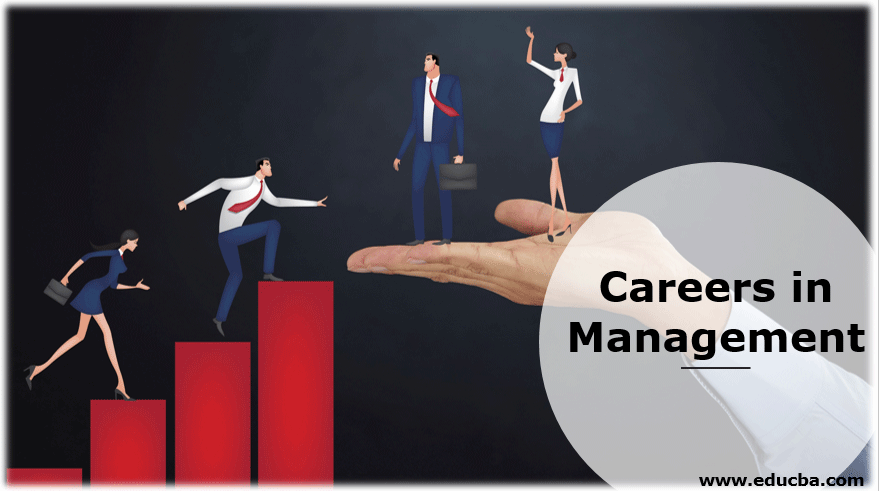 Introduction to Careers in Management
Let us first understand what the term Management means. Management is the art of managing things in a particular fashion, which facilitates growth and, in turn, improves the way of work. Choosing a career path in managing things is a great initiative, as this path is not straight. The initiative here is how to do the right things without being supervised.
In the current global market, various career fields are associated with Management, and excellent opportunities have been ever-increasing. The field of management enhances an Individual's capability to work with teams to achieve a certain organizational goal. The opportunity varies with different fields such as financial management, Human resource, Supply chain management, logistics, Operations Management, Sales and marketing, Marketing research management, Production management, Real estate management, Retail Management, Event Management, and also international Business management and so on, as every field require management.
Education Required for Careers in Management
To gear up the management, you need to have a recognized undergraduate degree or postgraduate and can include Diploma levels. There is an option in Management to take it up full time: classroom-based or in terms of correspondence mode. There is another option for a working professional to take it up part-time. This can be availed in various B-Schools.
After your 10+2, you need to take up any graduation course in the areas of your interest to pursue further. Also, after your post-graduation/master's graduation, such as MCA or MBA, you can easily step into management. To have an equal opportunity to step into Graduation, you can take any entrance exams in India, such as CET, SNAP, CAT, MAT, etc., in any reputed institution.
Some of the most prestigious institutions offer integrated Graduation and Post-graduation courses.
Career Path
In Management, the career path requires organizational skills and also a very good command of English communication. The most important thing is to be able to judge the best practice, which leads to a successful goal in a minimal amount of time. If you think you have these skills, you can take the first step of management by choosing the right career path to get into the right education base.
For example, Suppose you are in a technical domain in the IT industry, such as a developer, tester, or analyst. As a professional, when you gain the incites of the projects, including how to manage them, you can try to the next level. That is into management, but keep in mind that you are more responsible at the next level and need to have an attitude to accept both failures and successes. You can take up any professional course to ladder up this stage, being a manager up to high-level delivery roles. Generally, in IT, the ladder goes like this, team member, team lead, project manager, projects manager, program manager, portfolio manager. Similarly, the ladder goes up this way in the different management fields.
Job Positions
Every management job has a tier in an organization. The tiers are based on qualifications obtained, promotions and progressions, and most importantly, the leadership level. Now let us know the different common tiers in an organization regarding management.
Executives: Top Level: They have attained a master's Degree/Postgraduates and have excelled in leadership quality, per the experience.
Managers: Middle Level: Senior managers who handle a few projects and supervise an entire department. They have problem-solving skills and also leadership qualities.
Direct Supervisors: Lower Level: They make the work in a team is done on time and as per schedule, and any conflicting issues will be discussed with their managers.
Below are a few titles in different fields:
Administration:
Front Office Manager
Back office Managers
Facilities Manager
Administrative Officer
Business Manager
Finance Manager
IT Manager:
Project manager
Application Development Manager
MIS Manager
General Manager
Director
Assistance Director
Information Science Supervisor
Marketing Manager:
Promotions Manager
Account Manager
Product Manager
Project Manager
Market Director
Communications Director
Content Manager
Business Development Manager
Executives:
CEO: Chief Executive Officer
CTO: Chief Technical Officer
CMO: Chief Marketing Officer
Vice President
President
Salary
Considering the salary components in India, the highest-paid jobs are in the management sector. The company executive's average wage in management will earn 15 to 25 times the lowest wage. The compensation depends according to the country you are working in. For example, the USA's managerial compensation is competitive and the highest of all jobs.
As and when you grow climbing up the stairs of management, the salary hike changes go high, as these factors are proportional.
Conclusion – Careers in Management
This article gives you an insight into various career options in management and the growth in this field. Considering the career paths in management were few paths to choose from. Selecting your career path purely depends on your interest. Saying this, all the very best in choosing your career path.
Recommended Articles
We hope that this EDUCBA information on "Careers in Management" was beneficial to you. You can view EDUCBA's recommended articles for more information.