Difference Between MSBI and Power BI
MSBI and Power BI are two robust business intelligence solutions from Microsoft, each offering distinct features and capabilities. MSBI, a comprehensive suite, includes tools like SQL Server, SSIS, SSAS, and SSRS for data integration, analysis, and reporting. In contrast, Power BI is a user-friendly, cloud-based self-service BI platform known for its data visualization and sharing capabilities. With this comparison, companies and individuals should be able to distinguish between MSBI and Power BI and make decisions tailored to their own requirements and preferences.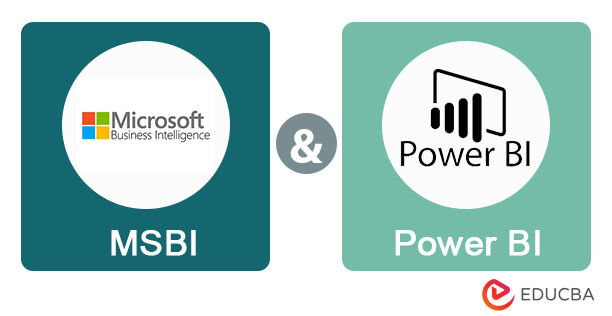 Table of Contents
What is MSBI?
MSBI stands for Microsoft Business Intelligence. It is a comprehensive suite of data analytics and business intelligence tools developed by Microsoft. MSBI includes SQL Server Integration Services (SSIS) for data integration, SQL Server Analysis Services (SSAS) for data modeling and analysis, and SQL Server Reporting Services (SSRS) for creating and delivering reports. Organizations use these tools to collect, transform, analyze, and present data, enabling data-driven decisions and insights into business operations. MSBI is particularly popular for its robust capabilities in data management and reporting for enterprise-level applications.
Features and Capabilities of MSBI
MSBI (Microsoft Business Intelligence) features and capabilities include the following:
Data Integration: MSBI includes SQL Server Integration Services (SSIS) for extracting, transforming, and loading (ETL) data from various sources into a centralized data repository.
Data Modeling: SQL Server Analysis Services (SSAS) enables users to create multidimensional and tabular data models for in-depth analysis.
Reporting: SQL Server Reporting Services (SSRS) allows the creation of interactive and customizable reports, dashboards, and scorecards.
Data Warehousing: MSBI facilitates efficient management of structured data in data warehouses.
Data Analysis: With OLAP (Online Analytical Processing) capabilities, MSBI enables complex data analysis and exploration.
Integration with Microsoft Ecosystem: Integrates smoothly with Microsoft Excel, SharePoint, and Azure for cohesive BI.
Scalability: Provides scalability options to accommodate the growing data needs of organizations.
Security and Compliance: Offers robust security features and compliance support for data protection.
Collaboration: Facilitates collaboration and sharing of reports and dashboards within the organization.
Customization: Allows for extensive customization and automation of BI solutions to meet specific business needs.
Strengths and Weaknesses of MSBI
Some of MSBI's strengths and weaknesses are shown below:-
Strengths of MSBI
Comprehensive Suite: Offers a full range of tools for data integration, analysis, and reporting in a single package.
Integration with Microsoft Ecosystem: Seamlessly integrates with other Microsoft products, fostering familiarity and compatibility.
Enterprise-Level Capabilities: Well-suited for large organizations with complex data management and reporting needs.
Robust Data Integration: SQL Server Integration Services (SSIS) excels at ETL processes.
Data Security: Provides strong security and compliance features to protect sensitive data.
Weaknesses of MSBI
Learning Curve: Beginners may find it challenging due to a steeper learning curve than more user-friendly tools.
Licensing Costs: The entire suite can be expensive for smaller businesses.
Limited Data Visualization: SQL Server Reporting Services (SSRS) may need more advanced data visualization than modern BI tools.
Limited Real-Time Analytics: This may not be the best choice for real-time or near-real-time analytics needs.
Limited Support for Unstructured Data: Better suited for structured data, may require additional tools for unstructured data analysis.
What is Power BI?
Power BI is a widely used business intelligence and data visualization tool developed by Microsoft. It empowers users to connect to various data sources, transform and model data, and create interactive reports, dashboards, and visualizations. Power BI offers a user-friendly interface and supports cloud-based collaboration, making it accessible for business and technical users. It is known for its ease of use, real-time data analysis capabilities, and seamless integration with other Microsoft products. It is a popular choice for organizations seeking to gain insights from their data and enhance decision-making processes.
Features and Capabilities of Power BI
Power BI has the following important features and capabilities:
Data Connectivity: Connects to a wide range of data sources, both on-premises and in the cloud.
Data Transformation: Allows data shaping, cleaning, and transformation to prepare it for analysis.
Data Modeling: Offers a flexible and user-friendly data modeling environment.
Data Visualization: Enables the creation of interactive and visually appealing reports, dashboards, and charts.
Real-Time Analytics: Supports real-time data streaming and analysis for up-to-the-minute insights.
Mobile Compatibility: Provides mobile apps for accessing and interacting with reports on various devices.
Collaboration: Facilitates easy sharing and collaboration on reports through the Power BI service.
Natural Language Queries: Allows users to ask questions in plain language to generate visualizations.
Integration: Seamlessly integrates with other Microsoft tools and services, as well as third-party applications.
AI and Machine Learning: Offers built-in AI capabilities for data analysis and predictions.
Strengths and Weaknesses of Power BI
Below are some of Power BI's strengths and weaknesses.
Strengths of Power BI
User-Friendly: Known for its intuitive and user-friendly interface, accessible to technical and non-technical users.
Data Visualization: Provides robust data visualization capabilities with various chart types and customization options.
Cloud Integration: Seamlessly integrates with cloud services like Azure, allowing easy scalability and collaboration.
Mobile Accessibility: Offers mobile apps for on-the-go access to reports and dashboards.
Cost-Effective: Offers cost-effective pricing plans, including a free version with limited features.
Weaknesses of Power BI
Limited ETL: ETL capabilities are less advanced than some dedicated ETL tools, which may require additional data preparation.
Advanced Analytics: While it supports basic data analytics, it may not be as powerful as some specialized analytics tools.
Data Volume Limitations: The free version has limitations on data storage and refresh frequencies.
Complexity in Large Deployments: Managing and administering large-scale Power BI deployments can be complex.
Customization Limitations: Advanced customizations may require more technical expertise.
Key Differences Between MSBI and Power BI
Here's a table of contents outlining the key differences between MSBI and Power BI:
| | | |
| --- | --- | --- |
| Basis of Comparison | MSBI | Power BI |
| Type of Tool | Comprehensive BI Suite | Data Visualization and Reporting Tool |
| Components | SSIS, SSAS, SSRS | Data Connectivity, Transformation, Visualization |
| Data Integration | Strong ETL capabilities with SSIS | Supports data transformation, but not as robust |
| Data Modeling | Multidimensional and tabular data models | Supports data modeling and relationships |
| Data Visualization | Focuses on reports and charts | Strong emphasis on interactive visualizations |
| Learning Curve | The steeper learning curve for beginners | User-friendly interface, easier for beginners |
| Real-Time Analytics | Limited real-time analysis capabilities | Strong support for real-time data analysis |
| Cloud Integration | Integrates with Azure and cloud services | Offers cloud-based collaboration and sharing |
| Licensing Costs | Potentially higher for the full suite | Cost-effective with free and paid versions |
| Mobile Accessibility | Limited mobile support through apps | Mobile apps for accessing reports on the go |
| Integration with Others | Integrates with Microsoft ecosystem | Seamless integration with various tools |
Implementation: MSBI vs Power BI
Implementing MSBI and Power BI involves distinct considerations. MSBI, with its comprehensive suite, is ideal for large organizations with intricate data needs. Successful implementation requires skilled IT professionals to handle data integration, modeling, and reporting effectively. It often involves a more substantial investment in licensing, infrastructure, and training.
Power BI, on the other hand, is renowned for its user-friendliness and is suited for businesses of all sizes. Its implementation can be swift, as it doesn't require an extensive IT infrastructure. Business users can often create reports and dashboards with minimal training. The choice depends on your organization's scale, budget, and existing infrastructure. Small to medium-sized businesses may find Power BI implementation more accessible, while larger enterprises might opt for MSBI's robust capabilities despite a potentially higher investment.
Working Mechanism
The working mechanism of MSBI and Power BI differs due to their distinct purposes. MSBI primarily operates through a combination of ETL (Extract, Transform, Load) processes with SSIS, data modeling and analysis using SSAS, and report creation through SSRS. It involves extensive data processing, integration, and enterprise-level capabilities.
In contrast, Power BI focuses on data visualization and reporting. It connects various data sources, transforms data, creates interactive visualizations, and shares reports through a user-friendly interface. Power BI emphasizes real-time analytics, cloud integration, and a seamless user experience, making it more accessible to non-technical users. It simplifies data-related tasks, allowing business users to explore and understand their data with ease.
Conclusion
The decision to choose between MSBI and Power BI depends on the specific needs and priorities of your organization. MSBI offers a comprehensive suite of tools ideal for large enterprises with complex data management needs but may incur higher costs. Power BI, on the other hand, excels in user-friendliness, real-time analytics, and budget-friendliness, making it an excellent fit for smaller to medium-sized businesses. Consider your organization's size, data analytics goals, budget, and existing infrastructure to make an informed decision that aligns with your business intelligence objectives.
Recommended Article
We hope this EDUCBA information on "MSBI and Power BI" benefited you. You can view EDUCBA's recommended articles for more information,