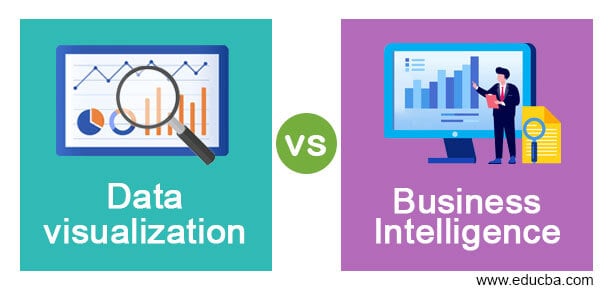 Difference between Data visualization vs Business Intelligence
Data visualization is defined to understand the patterns and insights of the data by transforming them into visual context by taking different forms like pivot tables, line graphs, pie charts. Business Intelligence represents a set of technologies that provides few metrics for business users. Layman Terms defines what had happened and breaks down contributing factors. The report generated by a Business Intelligence solution could be a visualization. In this topic, we are going to learn about Data visualization vs Business Intelligence.
Head to Head Comparison Between Data visualization vs Business Intelligence (Infographics)
Below are the top differences between Data visualization vs Business Intelligence

Key differences
 BI helps to understand the information in the business world and use it to analyze data whereas data visualization is a technique to tell the story of the above information and gives the parameter explicitly to understand the story.
 Data visualization makes sense by converting raw information into insights of graphical format and is a part of many business intelligence tools. BI deals with the source data that is required to make relevant decisions and regulate growth-oriented strategies.
Data Visualization is applied in two ways in the context of Business Intelligence. Data visualization is to visually represent the data and interactivities through the software. It deals with structured data and focuses on reporting; BI uses historical data for future prediction and views on Business Data.
Business Intelligence digs data from multiple resources and performs manipulations and transformations and store it in a data warehouse that forms a dataset with patterns.
Business Intelligence consists of a front-end dashboard that transforms data into a visual interface and algorithms at the back end.
Experts say BI tools should be selected to meet Business needs and ensure Data Quality. They provide additional business value in all business domains. Data visualizations are not a self-service BI.
The current limitations of the Power BI dashboard are themes are not supported using the REST API, in mobile devices. They aren't built for a slice and dice for data visualizations. Tableau dashboard is very responsive and has great reporting features we can customize it on mobile phones and laptops.
Comparison table
 
Data visualization
Business Intelligence
Objective
 Easy to learn quickly and easily with the representation of information. The information is deployed as visual storytelling to communicate a message. It is primarily concerned with the final output representation.
 Unlike Data visualization BI is more concerned about the input it takes. Primarily focuses on gathering, recognizing the different patterns, visualizing data.
Data
  Data sources from a database or in the cloud.
Google Analytics, CRM
Need
 Data visualization is needed while identifying trends and outliers in the given information and does data engage. Visualization of advanced algorithms is easier to interpret compared with numerical outputs.
BI is required to run the business and look for historical data. Delivers insights for a better decision and is done on data analysis.
Operation
 Perfect visualizations with most of the tools have a wide choice of using timelines, maps, and custom designs. Easy to operate
 To run a small business BI provides a holistic view of unstructured data and makes decisions effectively. Requires varied procedures to do the decision-making.
Machine Learning
 It is one of the steps followed in data science by collecting, processing, and manipulating the information and forms a core component to data analytics.
It helps in deploying MI algorithms to predict future trends and recurring trends are discovered.
Tools
Plotly, Tableau, Qlik (smart utilization),. Tools mostly connected to a relational database.
 Sisense – used for enterprise-level marketing, SAP BI, Zoho Analytics, Power BI, Domo
Advantages
 Has real-time updates and keeps data accurate.

Used for real-time and batch processing.

Report's data rather than doing aggregations and analysis.

No programming code is required.

It is good for mitigating risk and enhancing efficiency. Has customizable dashboards and the reports could be exported in various formats. Even BI has real-time and batch processing. Good productivity improvement. Programming Knowledge is not necessary.
Customer-Experience
 Shares interactive data dashboards with effective visuals.
  Organizations utilizing Business Intelligence could see a five-time increase in return on investment. It tells the user what are strategies to do to increase client acquisition.
Cost
Has different licensing plans.
Cost-Effective as it uses a centralized data repository
Examples
Infographics, time-series charts, Scatter plots
Government budgets, salesforce
Explored areas
Finance, Health care, Researchers. As they all deal with the increased popularity of big data.
 Forecasting, predictive analysis, Database Technology. Web BI is carried using Service-Oriented Architecture.
Data visualization becomes a standard platform to introduce information to the customers through the BI interface. The tool is the UI of the whole Business Intelligence System.BI is not a sole software but has a group of applications that transforms data into the structure a company could understand and functions the process effectively. The most commonly used tool is Power BI it needs business analysis and considered to be one of the market leaders. It makes use of Azure and Excel to startup data visualizations.
Let's see the PowerBI and Qlik principle with few points:
Power Bi is a Business Intelligence tool to which we can upload data and delivers data throughout our organization. Power BI has a service called Natural Query Processing.
Qlik:
Qlik View is the data visualization Business intelligence tool, generates reports and performs in-memory data processing. They provide high-end analytical features, deep insights into the source of data, and combines different sizes of data sets (relational, flat files) as well. You could use QlikView in the Mobile application to access the Qlik document. They do not require any special skills to work on and often used in marketing, sales, human resources to monitor business processes and operations. Qlik view on its own supports ODBC connectivity to access numerous data sources.
Conclusion – Data visualization vs Business Intelligence
Therefore, in this article, we took a wide look at two related technic process helps us to analyze the volumes of information. To conclude the content that we examined in this article, on the effect of differentiating both terms, now we can establish that which performs the best in decision-making. Being in a competitive business needs certainly both have a successful market place.
Recommended Articles
This is a guide to Data visualization vs Business Intelligence. Here we discuss Data visualization and Business Intelligence key differences with infographics and a comparison table. You may also have a look at the following articles to learn more –