Get a Job After Being Underemployed – Finding a satisfactory job is the dream of every graduate. Individuals study hard, pass exams, hone skills and work hard to find work experiences at some company or the other, so that they may get a job with a pay good enough to support their needs. But nowadays the competition has gone beyond the imagination of any individual. Even after being full of skills and competencies, one has to search here and there for a suitable job. The result has been, some proportion graduates being unemployed and some proportion of graduates being underemployed.
Have a look at data of the US underemployment rate as depicted in graph below;
U.S. underemployment rate from May 2015 to May 2016 (by month)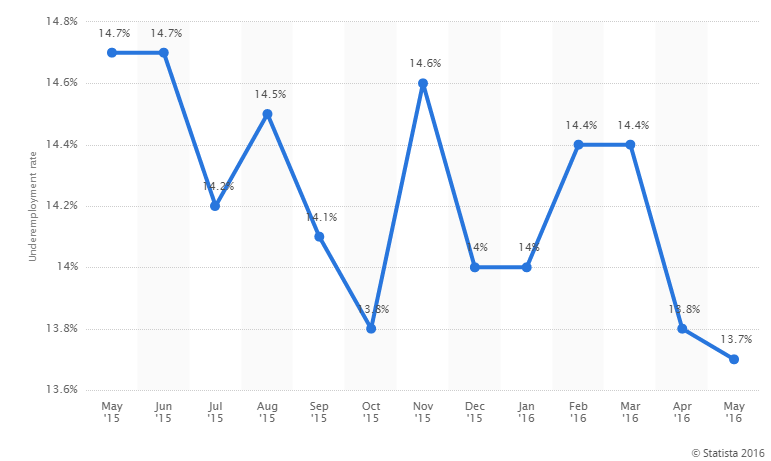 Source: statista.com
Being underemployed may affect an individual's physical, mental and emotional health. The person may lose interest in his present job, criticise it and lose commitment to it. He may also get stressed because of not finding his aspired job and build up weak social relations with friends, family and colleagues. A person who is hired at his aspired job have better physical and mental health than those who are underemployed. Let's have a look what underemployment is-
What is Underemployment?
Being underemployed is an employment situation where an individual gets a job not satisfactory enough according to his skills. It is a situation where the standard of the job is below the standards of an individual's qualifications and skills. For instance- A software engineer may be getting a part time job with a much lower pay, despite desiring a full time job and a trained medical practitioner may has to work as a taxi driver. Being underemployed may happen due to unemployment which forces individuals to work even when they don't receive a pay suiting their skills and academic qualifications.
Reasons for being underemployed
The main cause of unemployment may be the prevailing unemployment in a country. Lack of enough employment vacancies makes able individuals unemployed. Other reasons may be reluctant acceptance of immigrants as an appropriate work force by the foreign companies. Due to this, even after holding an engineer's or doctor's degree in hand, an individual may have to do menial work after arriving at a foreign country. The other reason may be the lack of experience in fresh graduates. Companies may prefer candidates with work experience in contrast to fresh graduates who lack any work experience.
As a result these graduates either end up getting an underemployed job or sitting at home. Another reason for being underemployed can be low market place demand. For example in India there is less scope of study in the field of biochemistry as compared to that in foreign countries. As a result, biochemistry graduates may have to search hard for a suitable job or may end up working for a less pay in some private industry.
How to go for a bigger job?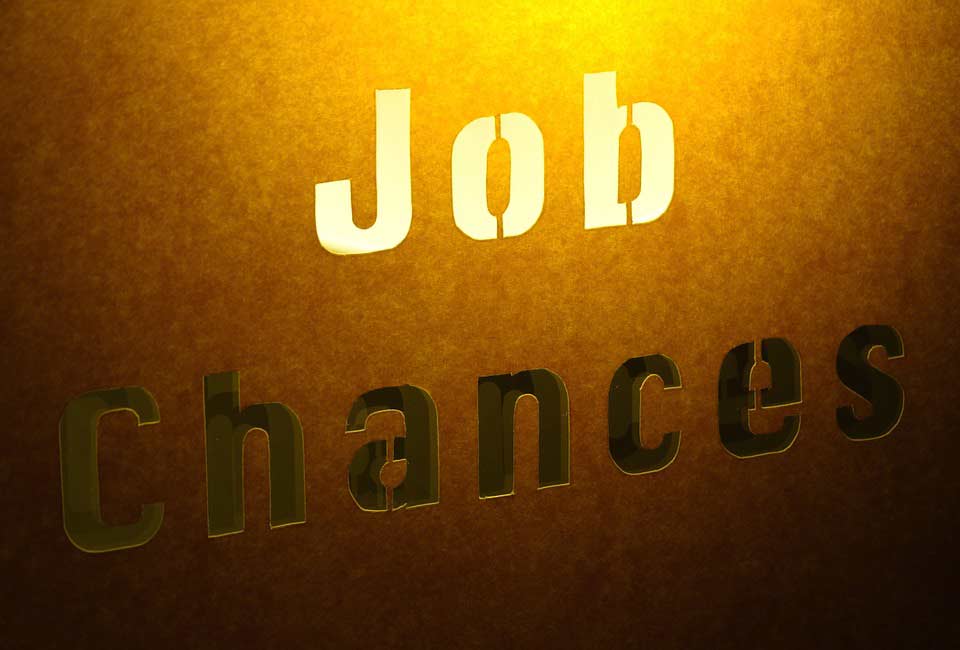 Image source: pixabay.com
List down your strengths
A lot of individuals list up their former titles in the experience section of their resume. The thing they forget to list down is what were their individual skills which their company benefited from? In what ways they were superior from others in the same job position. In order to get the attention of the recruiter, try to list those skills and talents which added the value for the company. Reorganize your resume and specify not only your work experience but also your strengths and accomplishments.
Go for anything that makes you learn
Grab any opportunities which teach you something new, which may help you grab jobs easily, even if you don't get any pay or you yourself have to pay for the training. These short term opportunities may not pay you at present but would definitely help you improve your "skills sections" of resume.
Grab a job-No matter what it pays
Never quit any job because of the pay. It is better to work somewhere than sitting at home, as working hones your skills and abilities. The time that you may deplete in searching jobs, can be consumed by working at some place and continuously searching for a better fit. This helps you form connections, contacts and network and also increases the chances of getting hired at a suitable job.
Give your best at your present job
Even if you feel you can be employed at a better place that where you are presently, never lose your patience. Give your 100 percent at your present job. For example-using your abilities you may complete the work twice earlier than your other colleagues. This will boost your level of motivation and this may please your boss. You may get a promotion or other benefits like a recommendation letter.
Be ready for extra tasks
Always be ready for any projects you get from your employer. Your superiors may give you additional tasks than your colleagues because they know you are more competent. Never say no to these types of opportunities and you will always get experience from these projects. Moreover, your employer will be happy by seeing your engagement in extra tasks and this will open doors for your pay increases.
Utilize social media channels
Use social media channels like LinkedIn to find your dream jobs. Specify what type of job you are looking for, Keep your profile updated and build strong connections with people who can help you find one. Nowadays many companies choose informal channels like Facebook groups, twitter posts etc. to search for employees for their organization. So getting in link with them through building up appropriate social media profiles is a necessity.
Learn multiple skills
Sharpen your skills according to various career paths. Sometimes one type of career qualification doesn't increases your chances of getting selected. In this competent globalised world, employers seeks candidates with multiple abilities. For example-If you are a person in commerce field, you can hone your skills in computer and digital marketing field. This will increase your chances of getting selected at the selection process.
Apply for a job-even when you lack some skills
Sometimes you may find a job attractive but you may take a step back by carefully studying the job profile. It is advised to apply for any job position that you think you can work in, even if you lack some abilities. Sometimes companies select random skills of a candidate, and you never know when you get selected. Also, the companies train some employees at the work itself. So it is recommended to apply for multiple job positions.
Go for language learning and IT courses
In India and some other countries, there has been an increased demand for employers in the IT sector and for employees fluent in speaking multiple languages. Hence it is advised that whatever may be your field try learning two or three languages efficiently. Also if you are related to some technical field of study pursue courses related to information technology.
Opt for your own business
If you think that you are able enough to handle responsibilities and have a lot of skills, you can think of becoming an entrepreneur and starting your own business. Apply your abilities and competencies in your own business and continuously look for ways to succeed.
Become an expert in your work
Try to become master of one or a few tasks. Never try to become Jack of all trades and Master of none, because an employer can find many Jacks in the market who can work like you do but it's difficult to find someone who is an expert in a particular domain. Once you acquire an expertise in a domain, be assured to get a job worth it. Remember, Specialists glitter in a sea of generalists.
Set a deadline for yourself to achieve your goals
If you feel that you have not got the desired skill, then why wait? Get started today and set a deadline for yourself to achieve that expertise which can make you earn the job that you have always desired. Work hard even if it demands time outside your working hours, dedicate your time, and take trainings. Do whatever you can to make yourself stand out of the crowd.
Get yourself a Mentor to guide you
As you all know, performance coaching is one of the most important areas to grow. None of us is disciplined or perfect enough to move towards a correct path alone. We need somebody experienced who can judge our progress and make us push harder towards our goals.
Come out of your Comfort Zone
The moment you decide that you have reached a comfortable position in your career, you are definitely going to head towards being underemployed. Always try to challenge yourself with tasks that are out of your comfort zone because that is going to make you learn and hone your skills.
Accompany people who want to Professionally Emancipate
A man is known by the company he keeps. We all are well aware of this proverb. And it is also true in the sense that the company we are in also affects the way we think or act. Be with people who think alike and want to emancipate professionally. Try to avoid company of those who have career limiting mind sets and do not want to achieve anything big in life.
Take Calculated Risks
It has always been seen that some of the greatest lessons have been learnt from mistakes. So, don't run away from doing mistakes. Instead take challenges where you might make mistakes because that will give you an opportunity to learn a new professional lesson that might take you to greater heights.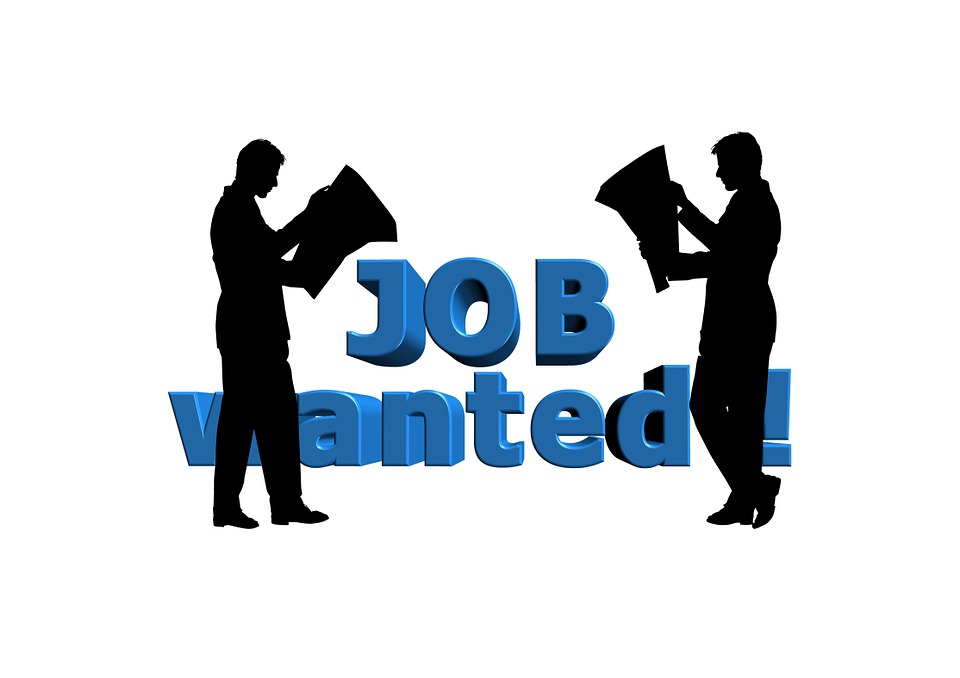 Being underemployed has become a serious issue nowadays. Students work hard to get good grades at their educational institutes, apply a lot of wealth to their study courses so that they find a better paying job in future. But the thing that hurts is even after achieving a lot in academics and spending so much money, you are not able to get a job according to your qualifications. Working at an organization where others are getting same pay as you, even when you are much superior to them in terms of skills, demotivates and stresses you. You don't like your job, the tasks you get, your superiors and your company. You may not be fully committed to the organization. Some individuals curse themselves and lose hope of getting a better pay.
We should understand that life is full of success and distress. It doesn't always offer good things to those who deserve it. Hence instead of losing hope and sitting on your bed, you should always be looking for opportunities. Never get disheartened by seeing that you get the same pay as your colleagues. Instead opt for getting additional tasks from your boss which helps you grow and sharpening your abilities. Volunteer at different places, even when you don't get a pay. In your free time opt for trainings, education that increases your chances of getting employed at a better place. Maintain good relations with your present boss as he may issue you a recommendation letter in future and may help you getting hired in your dream job.
Sustain good relations with your colleagues, superiors, friends and family, as you never know, who may prove to be beneficial in networking you to your aspired job. So, keep honing your skills, learn new techniques, take up challenges that come your way and perform. Don't let your mistakes hamper your way to success instead make them your steps to reach towards that bigger job that you have always aimed at. Getting a bigger job is not a rocket science because big employers are also in the same league who continuously look for people who are experts in their fields and can add additional value to their organization. So, it's always a two way process and you are not the only one looking for a better and bigger job.