Updated April 25, 2023
Intranet Features For Employee Communication
"Company intranets should be built by stout internal communication programs. The achievement of an intranet is about 60 percent communication, 40 percent technology." Bob Cohen,
An intranet is just like an umbrella under which one can get every required information relating to the company and the day-to-day work. It is the communication platform where we will get the dashboard showing a 360-degree view of the company activity. Employees can create content, participate in specific communication processes, work as a team, complete tasks and events, and develop the organization's culture on a private and secure online network.
The company home platform is where teams assemble and build an essential repertoire, multi-efficient communication devices, and more. Like an internal communications network, an intranet is more than the number of its parts.
The intranet is a one-stop shop for everything. The intranet design should be commensurate with the employee's needs and participation. It is a common platform that aids in communication (two-way), teamwork, knowledge management, content development and sharing, social networking, employee involvement, and scheduling.
Every developing company can benefit from the intranet. The below ten questions would act as checklist points that rectify any issue and help properly implement the intranet.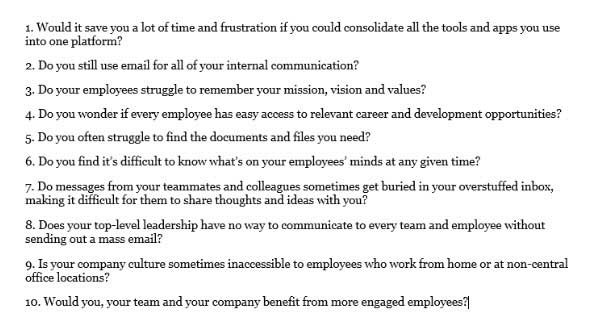 6 Intranet Features For Successful Employee Communication
We must make dig deep inside the different features of an Intranet.
1. Intranet sits at the core of Communication
Three ways it helps an organization –
Top-down communications that are nothing but the leadership-to-employee communication
Feedback from the employees or the employee-leadership communication
Team discussion in the form of employees-to-employee communication
Now, a brief highlight of this will clarify the whole thing.
Intranet Terminates Basic Email Issues
A well-designed intranet can easily tackle all kinds of email issues when you forget to keep someone in the loop of an important mail, overlook a crucial update as the email was lost in a series of emails, or when you are stuck in a reply-all list. Intranet liaises with people in different ways and streamlines both instant communications. On the same pedestal, one can easily do a host of things: chat with colleagues, build up communities on different topics, do announcements on various company-related matters, write blogs, upload articles, and build up a knowledge dashboard relating to company proceedings.
Some internal communications statistics are given below:
Only 48% of the emails in connection to the internal communication sent are opened
And only 23% of those communications are opened
Therefore, it is evident that a significant portion of company communications still needs to be opened. For all the targeted recipients to open the communications, only sending emails is not a good idea.
Intranet aids in gathering the employee feedback
Employee engagement is evaluated by proper employee feedback. You can easily quantify employee satisfaction and keep track of employee improvement gaps and some issues that would directly impact employee turnover.
Employee engagement feedback surveys are great to conduct if these are not siloed in different departments; in most cases, the surveys are conducted by a third-party tool. On the contrary, if these surveys are done through an in-built tool hosted in the intranet, one can easily fetch the correct data housed in the company server and share it among different departments and teams to improve productivity. Also, the employees would be aware of this tool as they interact with it daily. This would ultimately increase communication in the workplace and, thereby, employee satisfaction as well.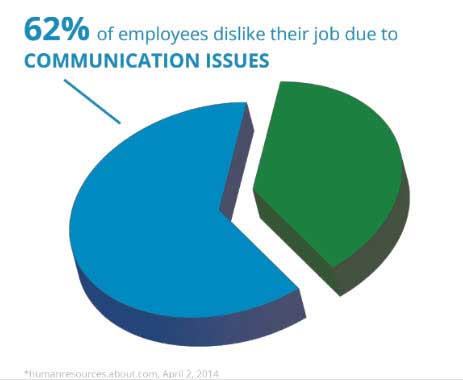 Fig: 2. Employee percentage accepting communication process
The pessimism at the workplace stems up because of below three communication-centric causes:
Management is not properly directing the employees toward a common purpose by 38%
Overall poor communication by 14%
Regular changes that are not well-informed by 12%
2. Intranet Collaborates
For proper employee communication and output, it is very much required to have a common platform where all the employees can assemble into a shared cause. More often than not, the same message would become different when everyone is not properly synced. This would be precarious that there needs to be a centralized location from which people should collect content and connect.
Intranet creates a platform where everyone can communicate together and have things done
In most cases, you can find an intranet equipped to let you connect with your colleagues through some team page or project page. Employees can collaborate and share the content of mutual interest. You can create pages for a host of subjects:
Projects
Teams
External portals for customers
Knowledge banks
For employee induction
Campaigns marketing
Service or product introduction
So, your intranet would shape your communications, jobs, and content as you aspire to improve company communications.
Project management and task management are simplified by intranet.
An intranet helps set and manage projects and tasks on the same pedestal. It is the platform to look after similar other business activities. The intranet aids the project team in completing the project. In real-time, one can easily check the progress, fix any problem without the emails flooding, and follow linked discussions to understand encounters and supplies better.
And task management keeps an eye on your work progress, helps allocate tasks to others, and ensures perfect completion of project-related tasks. One can swiftly share files and data in one room without putting it in Dropbox or other shared reserves.
The intranet serves internal stakeholders.
One can combine a normal process through an intranet and connect solutions among different departments, including HR, marketing, IT, etc. Pioneers assist others in solving any issue by using chat, forums, open discussion threads, and isolated messages. Below are some services to start:
Submit different policy documents of the organizations
Build a knowledge bank or internal wiki
Announce various company-centric or department-wise communications
Allow an instant chat to solve the problems briskly
Broadcast a step-by-step video
3. Intranet acts as the Knowledge Management tool
Just think about a situation when searching for an important file in several locations you think you kept: Dropbox, Google Drive, One Drive, your Company Website, or your internal server. And searching in various locations simply make your head spin, and you have not found the file at last. So, in such a situation, an intranet can help you store your important documents in an orderly manner.
Intranet always empowers you to integrate your documents.
As part of the knowledge management services, file management is a way to upload your file in the intranet to your best advantage. In both cases, when we directly upload a file or put a link that carries the actual document uploaded in a safe somewhere, we are helping ourselves and others to find the file in the future without wasting time on this. You can consolidate the documents the way you want. When in cases, you are unsure where you kept the documents, just make a vivid search to get the desired file. A Plethora of documents is saved in the intranet:
One can build a knowledge repository to put different documents, e.g., HR onboarding documents, project-related files, etc.
You can easily send files through the intranet and via chat; The system automatically archives the conversation to assist us in obtaining the history in chronological order.
Intranet increases productivity
The success and failure of any project depend more on properly storing the data and files. It not only saves time and thus would directly impact the ROI but also reduces tensions and frustrations. For instance, when you give a final touch to project completion, you rest assured to pick the right document for your client. In case of giving onboarding files to the new joiners, you can easily send the HR page link that houses the pertinent documents meant for them. According to a study by McKinsey Global Institute, you can reduce the time used for searching any document by about 35%, thus relieving 6% of the time spent on other important tasks.
Intranet always creates a real-time knowledge base
The right intranet design helps create a knowledge base to document recurrently positioned files and documents, for example:
Policy and Practices
Value materials
News and success stories
Important FAQs
Employee albums
Training materials
HR handbook
Newsletter
Important links containing helpful tools and files
And these are not all. Some more items are uploaded in the systems – questions asked in forums, team discussions, and tickets raised in the helpdesk. All of these could be uploaded to the intranet and added to the knowledge base that you can use time after time for different needs. Also, there could be a tab of ideas that invites public ideas. This tool would drive creativity at various levels.
4. Intranet gives social networking option
An intranet always allows one to liaise virtually with peers from different departments, thus reducing the barriers and silos; the employees can easily connect and share feedback on topics of mutual interests and learning. And this improves communication and knowledge sharing at company levels, teams, and departments. The employees will get to know people inside and outside their teams. The managers can get to know the subordinates, which would finally break the conventions, and together they can grow, indirectly impacting productivity.
The intranet builds internal communication channels.
Without leaving the desk, making calls, or sending emails, the employees can connect by giving feedback in the discussion trails on any specific topic. Thus, connection with geographically spread teams would happen to inspire teamwork.
Intranet aids in finding and knowing your employees
Just because the team is geographically spread or someone works from home, it is impossible always to find and know your employees, even when we work with them physically or virtually. In such cases, the employee directory in the intranet helps us get in touch with our intended peers and the community can be built. We can get to know the skills of our team members, work history, and successes. Therefore, we can take their help in resolving any issue or advise others to follow them on such specific needs. You can motivate your peers by sending a congratulations badge on any project success or send a Thank You badge for any job well-done.
You can create, share, and publish good content across boundaries and departments through the Intranet.
Through the intranet, people create content and share in the public posts others consume and comment on. Users utilize different spaces to upload new content; an automatic update will go to everyone in those posts. They then start using those content. Thus, the intranet allows users to generate content that others could use. Users generally upload the following content to an intranet:
Blogs and new trends in the industry
New skills for others to follow
Big team win
New launch
New strategy or process
Cool photos and videos
5. Employee involvement and growth center: abolish employee disappointment
At every organizational move, employee engagement is seen as the bottom line. Employee engagement enhances productivity and motivates employees. This finally positively impacts customer satisfaction and employee morale.
Employee engagement stats
The Del Carnegie Training study indicates that almost 71% of employees from large companies need to be more engaged.
In another study by Gallup Research, the employee disengagement is about 18%, thus hampering overall productivity.
Engaged employees loyally advocate the companies they are working for. They proudly mention the company's product or service to the customers. They jointly create knowledge to benefit others and help others achieve their goals. At the same time, disengaged employees are a burden. They damage the company's reputation, build discontent, and virally impact productivity. At this juncture, the intranet would help develop plans to engage employees by allowing them to use resources and tools and training them in their aspired fields to build their careers. They would be more empowered to decide their careers.
The intranet binds employees with the company's mission, vision, and values.
We often wonder if every employee is aligned with the company's mission, vision, and value! And are they properly aligned and emotionally connected to it? A study done on 40000 employees by the TINYpulse survey shows only 40% are aware of it. The employee engagement process allows all the employees to get emotionally attached to the company's mission, vision, and values. The intranet is giving everyone this access in a central location. You can reach your employees in different formats and segments and reinforce them in multifaceted ways: through blogs, discussion, articles, videos, and personalized pages to promote the brand.
Intranet creates developmental opportunities for employees.
Employees with ample opportunities to develop themselves would be more satisfied. A company can create different career growth plans for employees, thus reducing attrition. And just by reducing the gaps between resources they need for their growth and their deliverables, a company can streamline mismatch. The intranet here does this perfect job of supporting and tracking the employee growth programs in the following manner:
Consolidating the training materials and best practices
Collecting feedback from employees for the betterment of the programs.
Relaying the company culture to everyone.
Tracking the progress of every employee.
Allowing every one of them a chance to monitor their developments.
Intranet chances a viral connection with all on developmental plans and unique ideas
When it comes to communication that is doled out to employees through email, there is a probability that those email messages might be lost in the inboxes, or people might not take the initiatives to open those emails. It is very commonplace everywhere. An employee might miss the important communication sent to him on his personal developments. And sometimes, this may tend to make them feel left out or insignificant.
An intranet always gives the employees access to reach what they require the most – important updates, every single prospect, and every planning change. The information may be public or specifically tailored to the right people; an email might be sent to them as part of dual communication. At the same time, they can share their unique ideas in the viral space, and others can access this information and post comments. Hence, a good communication thread develops, leading to successful developments for everyone. The people who may not participate in public discussions can also engage in such online discussions.
The intranet also empowers employees to utilize their roles and careers:
Own projects and similar important tasks
Share creative ideas
Avail opportunities
Monitor their goal development
Advise the process progresses
Watch out for additional drills and education
Keep a watch on what others inside and outside the teams are doing
Steve Roesler, a noted communication strategist, chalked out ten important questions that would aid in engaging employees in the workplace. These checklists are effective in formulating easy solutions to intranet problems: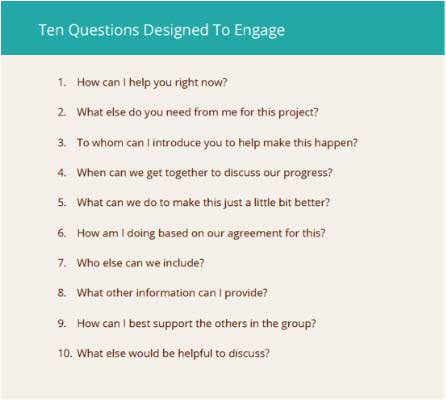 6. Intranet acts as a scheduling tool
The intranet makes scheduling and monitoring meetings, events, and appointments easy. This extraordinary facility would benefit all the employees.
Easy planning for meeting inspiring employee participation
People might have more than one tool to schedule their engagements, but those are ineffective as it would be a time-consuming process. This feasibility ensures good employee participation. You can email employees regarding the meetings or events, but this process is cumbersome. The inbox can lose emails or skip important persons. The easiest and smart way is to schedule a shared calendar in your company intranet and get a quick look at everyone's convenience. Thus one can schedule a time for a meeting.
Creating attractive events
Other than setting time and calendars, there is more information relating to the events that make the events interesting and popular.
Complete information about the event
Photos and videos relating to the event to make it more enticing. Soon after the event, there can be an even update, photos, and videos.
Detailed road map to the events
Information of eateries, shops, and any other noteworthy places to drop in
Conclusion
A proper intranet design is always a stepping stone for effective internal communication. It always gives people an edge to liaise with their colleagues on any shared topic and gives endless utilities. We have seen people widely accessing the proper use of the intranet to increase the mass effect of the platform. It is the platform where they source and search for anything, create, share, learn, and motivate others that, in turn, increase the efficacy of the work, directly impacting the ROI. It is not right to say anything negative, but it can always be said that a proper intranet design is always half the work done since the right two-way communication channels are concerned.
Recommended Articles
This has been a guide to Intranet Features For Successful Employee Communication. Here we discuss the 6 Intranet Features For Successful Employee Communication. You can also go through our other suggested articles to learn more –