Updated June 2, 2023
Handle Working For A Younger Boss
A Younger Boss in your old organization can be possible as well because younger people are full of ideas, digitally savvy, flexible, and move up the corporate ladder at a faster pace. With millennialism making up the largest demographic in the workplace, the chances of reporting to the boss decades younger than have increased greatly, especially if you are joining a new industry like technology in your 40s.
"You can't help getting older, but you don't have to get old." 
The industry goes through a continuously changing process in terms of technology, procedures, policies, and employees. The organization retains employees that contribute their best. Organizations also need to have employees who are dynamic and full of fresh ideas. Age doesn't matter regarding experience, knowledge, skill sets, wisdom, ideas, and emotions. A situation comes in our work lives when we end up reporting to a boss who's younger than us because the organization wants the best results. These get achieved when the best people, regardless of what age group they belong to, work together, respecting their abilities.
This should also not make any difference in our efficiency and efficacy towards the organization. The experience and wisdom that comes with the senior employees are vital. The managerial positions might be full of younger people. However, it's important to have people from different generations in an organization to achieve the goals and survive in the long run.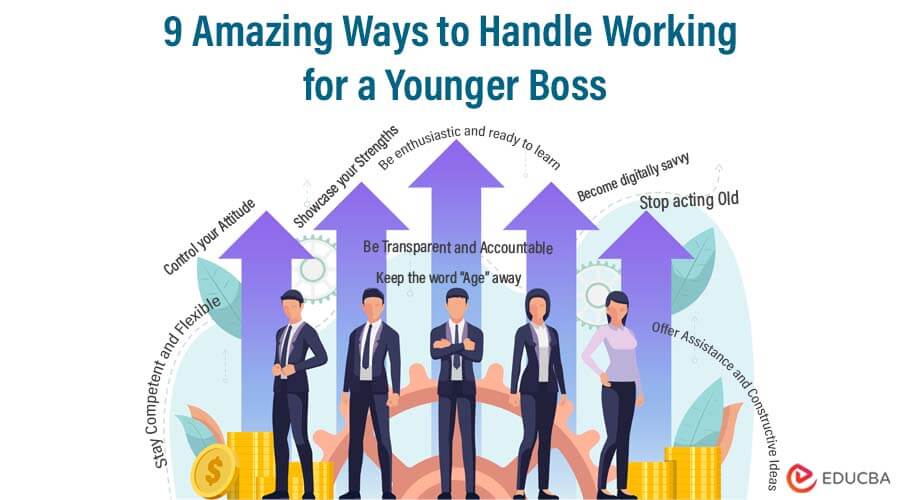 "Age isn't how old you are but how old you feel." 
Introduction
Age is just a number. No one can stop you from working or growing if you accept and adapt to changes gracefully and positively. There are generation gaps and differences in the workplace that work as a major challenge and an obstacle. However, the secret to making this situation work is respecting and being flexible toward each other's approach, leaving the usual stereotypes behind.
Communication has a key role to play. This is an awkward and tricky situation to face emotionally, and it might poke you day in and day out if you keep thinking about it and carrying the baggage along. However, with the changing needs and demographics of the work environment, it's better to learn new things and be true and honest towards your work. This will make the young employer and older subordinate understand each other's mindset and create a coercive and inclusive work environment. With this, it's also necessary that the more senior employees keep their egos aside and respect their new bosses, who come with a lot of expectations and huge responsibilities in the new organization. It helps them by providing mentored assistance to contribute towards the achievement of the organizational goal together as a team.
It also becomes difficult for companies to let go of employees who have been the best and most productive performers. However, with old age comes illness and rigidity, increasing costs, and the inability to adapt to changes. So being mentally, emotionally, and physically fit is of utmost importance. This creates an aura of confidence and oomph around you and helps you give your best. Older employees can follow some tips to help them manage their work under a younger boss and help the organization grow in the cut-throat competitive world.
9 Ways To Handle Working for a Younger Boss:
1. Control your Attitude
Everyone goes through a series of events in their life that flash across their mind and eyes when they grow older. It can be an experience you had in high school, at your workplace or at home. It's important to remember that once you were a young boss rising the ladder, filled with enthusiasm to take over the entire world, handling a team with people of different ages and backgrounds.
Similarly, it is essential to listen to what your boss is saying and respect their position and decisions. Gauge his thought process and mold yourself accordingly to make things easy and constructive. Be open to your boss's insights and suggestions to share and accept them positively. Forget your ego, as it never helps.
2. Showcase your Strengths
The most important tool you have as an older employee is your experience and maturity, which can help you resolve issues more quickly than younger ones. It's necessary to focus on what you can offer your boss and tell him not to worry but prove it through your actions and strengths.
Younger bosses know you might have difficulty reporting to someone younger than them. They might also be concerned if you are unwilling to adapt to new changes, try new methods, work with new technology, or even lack the competency to do your assigned job. Just focus on showcasing your strengths at every level.
3. Keep the word "Age" away
The age-based stereotype is one of the biggest stumbling blocks to a great relationship with a younger boss. You might become positive and accept working for a younger boss happily. However, somewhere at the back of your mind, it might poke you and de-motivate you, bringing your morale down. This usually happens when you get age-centric comments or get into age-related arguments.
The times have changed. Age is not proportional to intelligence and knowledge anymore. Therefore, using it as your trump card to keep your point above everyone should not even be the last option to try. It's just best to avoid getting into conversations that date you.
4. Be enthusiastic and ready to learn
You must have managed a team of people when you were young and know it is not easy. A manager loves people who are easy and fun to work with. Therefore, younger bosses correcting you or suggesting ways should not offend you. Experts must adapt to changes and learn new trends by updating themselves.
With changing demographics of the workplace, it is necessary to blend the strengths of the traditional and latest working styles to come up with ideas that contribute constructively and effectively. Being enthusiastic, positive, and flexible makes it easy for the boss to delegate proper authority and responsibility among team members. This creates an opportunity for the younger boss to prove his mettle, thus, appreciating your efforts.
5. Become digitally savvy
It is the era of technology. With the advent of technology and its up-gradation now and then, it becomes necessary for the workforce to keep themselves aware of the technology and adapt to the changing needs and working methods. Networking is important socially as well as professionally. With this comes your way of communication with your boss and colleagues. Today's world communicates more through text messages and emails sent back and forth rather than face-to-face chats or the phone.
Maintaining good rapport with your boss is extremely important. You have to be very cautious about communicating with the younger boss, so there is no gap in the communication process. Get used to the modern lingo and abbreviated words. It helps to understand the message your boss wants to convey and prepare for in-person communication.
6. Stay Competent and Flexible
If you have been working in this organization for decades and think you can have a lenient or careless attitude toward things, then you are wrong. Young bosses are sharp and smart and can quickly identify people with less competency and negative behavior. The younger bosses are proactive and dynamic and look for employees who are diligent and dedicated to their work.
The younger generation believes in competency, mental presence, and a proactive attitude. Make sure skipping work and absenteeism does not affect the performance of the organization in the long run. Don't leave any stone unturned to prove your competency and flexibility towards procedures at work with your boss.
7. Stop acting Old
With old age comes illness and rigidity. Keep a balance between your words and thoughts. Pay attention to what you speak. Don't keep nagging or complaining about any pain or older times. Therefore, it's important that you stop feeling your growing age.
"Aging is not lost youth but a new stage of opportunity and strength."
Regularly working out and eating healthy is vital to keep you physically fit. Remember, a healthy mind resides inside a healthy body. So when you are in good shape, you have a confident aura and oomph that makes you youthful regardless of age.
8. Offer Assistance and Constructive Ideas
Your experience is the most powerful tool that can provide future use to improve productivity in the office and the efficacy of your organization. Aim to be a partner and mentor to your new boss. Help your new boss know about his new workplace, its culture, policies, and deep-rooted guidelines. So that he can adjust to the new environment. Your goal should be to work with your younger boss more as a co-worker offering constructive ideas rather than being critical. This helps to make your team and organization successful.
Bosses are humans too, and they have a huge responsibility. Understanding your boss's issues and pitching advice and solutions to win the battle is important. It helps in maintaining effective and productive professional relationships.
9. Be Transparent and Accountable
Transparency is the best trait of a productive employee. Any boss, younger or older, can never be against a reliable employee who delivers results on time. Be authentic and genuine to your work, team, and boss. Develop ideas to produce the best results and maximize profits through the right methods rather than adapting the wrong means. Your long-earned respect and integrity will be useless if you are not trustworthy.
Being accountable is as important as being honest. Just because you have a younger boss does not mean you underestimate their talent or decide not to keep them informed while doing the work. You must keep your boss in the loop, even if it's a trivial matter or any professional transaction, to avoid any adverse situation in the future. Be accountable so the boss can rely upon you and trust you without any doubts. Remember, you are an old employee. Therefore, act like a strong pillar for your organization.
Conclusion
It's a very good idea to acknowledge your boss's capabilities and decisions. Once you start doing this, looking at and further working on your skills will be much easier. And from that point on, you can strategize how the two of you can develop into and work together as an effective and result-oriented team.
Age is just a number, and it's essential to recognize the organization's needs and change accordingly. Take the best from the older employees' experiences and the younger bosses' talents, working together as an effective team and delivering productive results.
Therefore, rather than being angry or disappointed, take this situation as a new challenge by assisting your new boss with the company culture and values, and policies of the organization, staying enthusiastic and flexible, adapting to the latest technology and changes, and making the workplace healthy and constructive. Being prepared mentally and physically helps you in generating new ideas. It also helps to enhance confidence limits and helps your organization grow and thrive in the cut-throat competition of the ever-changing work environment. Be you and give your best to the organization that has been a constant source of income and motivation for you for so many years.