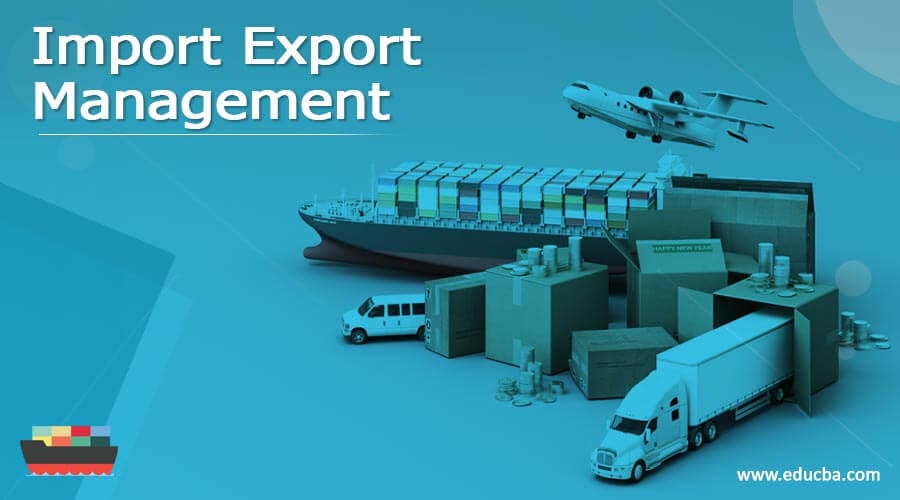 Introduction to Import Export Management
Today you cannot imagine the world without import and export management. Importing goods from a country and exporting to another country is what has become a very vital part of business today. Today's atmosphere when you and your country cannot manufacture something this is where you have to import goods from a different country this is called international trade. In fact most of whatever we buy today comes to us from import export or international trade. This industry is a huge industry as almost the entire world is involved in international trade these days. However did you ever know that mere transfer of goods across national borders is an extremely complicated? You got that right this process is a complicated process as involves a number of people to facilitate the smooth running of this business.
Importance of Import Export Management (Managers)
People who facilitate this business are the importer, the exporter and the freight forwarders as they are the intermediaries in the business. By now you know that importing is acquiring goods from a different country and exporting is selling or distributing goods to a different country that is across borders trade. Unlike like small local transaction international trade includes huge business, lots of goods exported and imported through various transportation mediums such as ships, HGV's, trains and airplanes.
Three things are very important in international trade and they are availability of the goods, price of the goods and finally the status of the goods for example –
1st of all goods are imported from a different country because certain goods are not at all available in a particular country
2nd a few products are much cheaper in a different country than in your own country this involves high profit margins in the business
3rd and the last reason for importing products from a different country are simply because a few products maintain a very high status of international goods or imported goods.
Your role as an intermediary will vary with the type of role you occupy as an agent amid the supply chain of this business and also with the type of company you are working for. There are a number of Export Management Companies that is EMC these companies manage international business for companies who lack the facilities the skills and the knowledge of doing international trade. Here you can play an important role in the supply chain this role includes arranging for over sees distributors, marketing and advertising of products internationally, shipping of these goods and also arranging the budgets and invoices of the goods.
Depending on the role you would like to play in the business you can then choose your designation accordingly. It is very important to have the basic international trade qualification because large scale trade needs to be handled by professionals who are well organized, excellent at maintaining records and also focused in such trade.
If you have an exposure to an international language or international languages and have good command over your language it adds to your value of international trade. Depending on the company the focus on international trade differs, some companies depend on import mostly. Some depend on exports however most of the company's focus on the entire process of international trade. Though his business is on a fast pace it is also extremely financially rewarding.
The entire process is not as complicated as it sounds it is transfer of goods from one company to the other, mind you huge transactions across the globe facilitating their huge shipping transactions. Most domestic companies outsource their international trade for the reason of lack of knowledge to the EMC these EMC's employ experts who not only take charge of the exports if the domestic company they also market their products abroad seeking distributors for the products. Along with looking for the best mode of transportation the EMC also makes sure they look after the financial part of the transaction. Of course a minimum fee of approximately 10% of per product cost is charged from the domestic company. This is how the employees of the EMC make good money and are offered good salaries.
Recommended courses
Scope of Import Export Management Career
To carry out import and export business various companies and industries require professionals qualified in their respective fields. A few types of companies include import export management special export houses, custom clearing houses, merchandisers, ports, dry ports, special economic zones, transportation companies, logistic companies, trading corporation of the state, shipping companies and shipping corporations, marine insurance companies, directorate general of foreign trade, foreign exchange services, financial institutions and banks providing finances to international trade, quality control labs of products both pre and post shipments, BPOs involved in import and export, customer relationship management, export marketing firms, international finance management, international accounting and also international finance.
With the variety of companies available in hand a professional in international trade has huge scope of careers in the international as well as domestic business. Candidates who complete this import export management course are usually paid a handsome salary packages and also offered a number of other facilities in industries such as companies having a subsidiary in another company, international or MNC banks, export companies, public sector houses etc. On completion of the degree or the diploma course you can work with an export house or with a merchandiser with responsibilities such as documents related to the import and export and also coordinating between the taxation and customs authorities, between the exporters and the port authorities. Exporters require Custom House Agents that is CHA to help them, clear customs. CHAs are professionals qualified in taxations and custom formalities and they can help smooth flow of the trade especially with the custom department by understand their requirements.
Export managers and also export executives is another designation that is much in demand for the insurance companies especially the marine insurance corporations. These managers and executives are people who access the loss caused to the products during the shipping of the products in a different country. This designation gives you the authority of accessing, surveying and certifying the goods that are shipped in. This job is specifically a technical job, this job required very high professional competency along with the knowledge of the latest legislation and standards that need to be met in international trade.
International marketing qualification is extremely fruitful as it has immense scope of growth. If you are a graduate with International business or IB specialization you can definitely make it big and help boost international trade. International marketing experts are in demand with the export houses as they great at boosting international sales, looking for new hubs for business and also new potential international markets. The requirement here is having a IB specialization with your post graduation degree and a attitude of accepting the challenges of the world business. IB professionals also customer relationship managers, predict demand and also international buyers abroad based on their suggested marketing strategies. And if you know a foreign language you have an added value.
And international business consultant is one of the most remunerative careers after IB in international trade. These consultants provide international business market updates on different business development domains and information of the market to international companies. They basically give you information about everything such as international business investments, competition, opportunities available, business practices and also information on legal implications of starting a business in a different country. You can work as a consultant with a company already in international business or a company who is a new international business and even expansion. Two most important parts of this profile is risk analyses and business analyses.
International finance is one of the emerging fields these days for professional and candidates who have relevant knowledge. It needs high level of expertise in managing finance related affairs of MNCs who have huge international transactions. Having expertise in analytical skills and background of international finance can get you placed in different domains of a bank and financial institutions. In fact banks and financial institutions these days have their own separate department for foreign trade and foreign exchange transactions, consultancy, risk management, international finance management along with performing import export management finances like the letter of credit, and the bank guaranty. Such professional with a IB degree along with specialization in international finance are hired by institutes such as EXIM Bank, public sector banks, private sector banks and also MNC banks. Specialized professionals are also hired in currency derivatives, risk management, foreign exchange, and also international finance.
Besides the above fields you can also teach international business by becoming a faculty in an import export management institute. Becoming a journalist and a media reporter related to export and import along with commodity reporting is a very good opportunity for youngsters who have an interest in international business news in print and electronic media. International accounting and self employment are also very good options that can help you grow in the international market.
The opportunities are not less and never ending now what you need to know is what qualification has what requirements.
Compliance officer
The basic job of a compliance officer is to regulate oversees trade compliance. To apply for this course you need to have a minimum qualification of a graduate or a bachelor's degree. Different institutes offer different length for this program however mostly it is suppose to be for 4 years. To pursue its you need a professional experience of 3 years. You add to your value if you have a professional certificate. The average estimated growth for jobs in these designations is 3 to 7% in the next decade. The salary that you can expect in this designation is approximately $68000 to $70000.
Logisticians
Coordinating between two organizations to meet their supply chain is the main job of a logistician. The basic qualification required here is again a graduate or a bachelor's degree. In most institutes this program has a course length of 4 years however it differs with institutes. A professional experience of 3 or more years is required to become a certified logistician. Even here a professional certification is optional that is you may or may not require a professional certification to pursue this course. Average estimated growth for this job designation is 22% in the next or the coming decade. On an average you can expect a salary of $77000 to 80000. Coordinating between two international organizations and looking after the smooth flow of the trade transactions is an extremely interesting job if talking to people from different parts of the world is something you fascinate and love.
Marketing Manager – Import Export Management
Developing marketing strategies in order to increase oversees sale for a company's products is the responsibility or the job role of a marketing manager. To become a marketing manager you need to have a bachelor's degree or a master's degree. Completion of this course takes about 4 to 6 years of time. Professional experience required for an international business marketing manager is for 2 years and more. Certifications are not required, or rather not applicable here. In fact if you have exposure to one or more internationals languages you definitely have an added advantage to your resume. In the next decade an estimate increase of growth and demand for this profile is going to be about 13%. The remuneration here is quite good you can expect roughly $137000 to $140000 as your salary.
Conclusion – Import Export Management
There are many such junior and senior designations that international trade has to offer. With huge salaries and great exposure to domestic and international clients and organizations you have a lot of scope and a lot to learn. Once you have exposure to international trade no border is a boundary. When you work in a normal 9 to 5 job you never know when you will get this amount of exposure. Here you have it daily. And obviously studying today will give you your benefits tomorrow. So grab the opportunity of studying and make the most out of it.
Related Articles
Here are some articles that will help you to get more detail about the Wonderful Career Path so just go through the link.