Updated June 2, 2023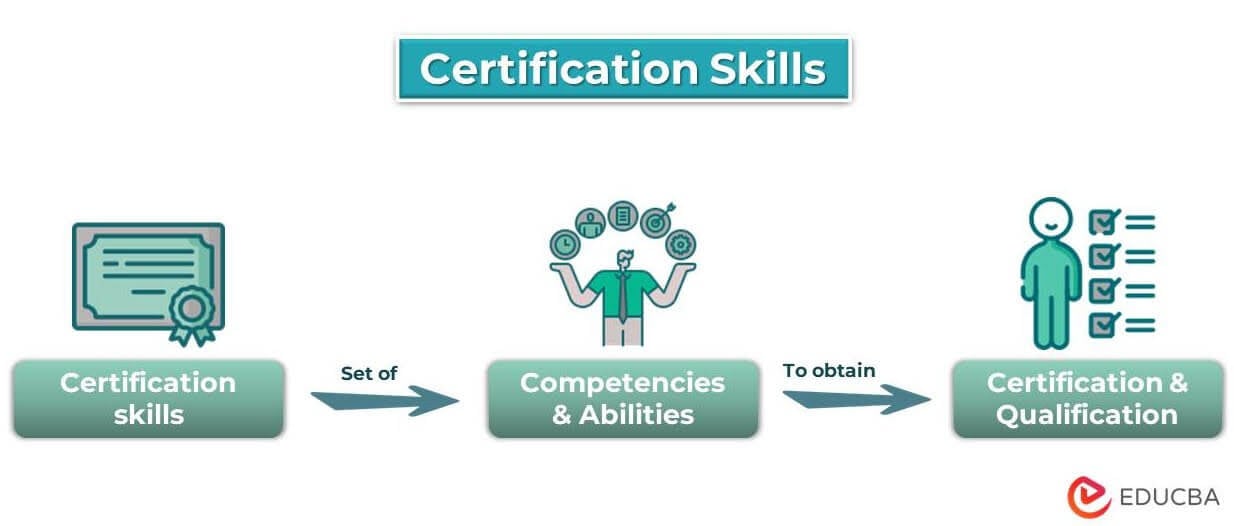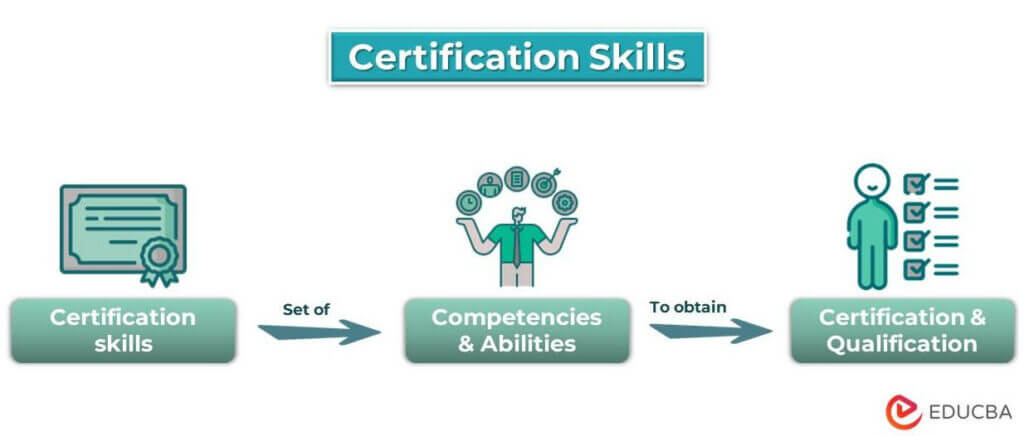 Certification Skills
Certification skills are a set of competencies or abilities you must acquire and demonstrate to obtain a certification or qualification in a particular field or industry. These skills range from technical or practical knowledge to soft skills such as communication and problem-solving.
Adding a few certification skills not only presents an opportunity for promotion and a hike in salary but also boosts the individual's confidence limits to succeed in life. Professionals in various sectors like IT, Finance, and other fields opt for certificate skills.
However, many individuals get confused when choosing an appropriate certification, especially in the IT sector. Global Knowledge and Windows IT Pro survey revealed the top 15 IT certification skills programs. These fields include IT Security and Cyber Threats, Certification Skills, Computer Networking, and Systems Management. But the surprising element of the survey was the inclusion of business-related certification skills becoming a popular choice of young talented individuals. Let us discuss them.
15 Best Persuaded Certification  Skills
1. Certified in Risk and Information Systems Control (CRISC)
The Certified in Risk and Information Systems Control (CRISC) certification by the ISACA is a non-profit organization. It is similar to CompTIA, which offers A+ and Network+ certificates. Anybody working in the IT industry or as a Project Manager can pursue this certification to boost career prospects. The main objective of these certification skills includes understanding the risks associated with Information Systems controls and managing them. It usually focuses on two important aspects: Risks and Controls. This certification program, launched in 2010, has become very popular amongst IT professionals. You would be pleased to know that ever since the increasing demand for CRISC, you can earn a huge income from this certification. However, to get the certificate, you should have three years of experience in at least 3/5th areas covered by CRISC. You also need to clear an examination.
2. Certified Information Security Manager (CISM)
The ISACA group developed CRISC and Certified Information Security Manager (CISM), a certification program that will help enhance your certification skills. According to the available data, this certification program began in 2002; more than 165000 people have been certified worldwide since then. The main aim of this certification skill is to access and properly analyze the security plans and examine the systems and policies. Like CRISC, you must appear in an exam, generally held three times a year. The requisites for appearing in the exam include a five-year experience in Information Systems (IS) and a three-year mandatory experience as a security manager. The examination is very challenging, so you must prepare well to qualify.
3. Certified Information Systems Security Professional (CISSP)
The International Information Systems Security Certification Consortium (ISC) offers the Certified Information Systems Security Professional (CISSP). This two-decade-old certification skills program is still strong as professionals are interested in pursuing it. As far as the examination is concerned, it is very complex as it covers ten different segments based on computer security. These are analyzing the threats, cloud computing, and so on. To sit and pass the examination, you need to have experience of at least 5 years, including expertise in 2/10 areas. Those who are inexperienced or fresher can become an associate of ISC and get the full certification. The major advantage of these certification skills is that you can get comprehensive knowledge about various segments in one certificate.
4. Project Management Professional (PMP®)
Project Management Professional is the fourth most popular and influential among all certification skills. It is not associated with security, unlike the other three certification skills. The Project Management Professional Institute has designed this certificate program and administers it according to an estimate that more than six million people are pursuing this course worldwide. While preparing for the exam, you need to focus on five aspects, like how to commence a plan, strategize it, execute it, monitor it, and control it. Once you get the certificate, you can manage any project successfully. To access the certificate, you must undergo a pre-training session for about thirty-five hours. Besides, if you are not a graduate, you have gained 7500 hours of compulsory project management experience. Alternatively, if you are a graduate, then the time of project management experience will reduce to 4500 hours.
5. Certified Information Systems Auditor (CISA)
ISACA developed the CISA certification skills program for Information Systems Auditors. It is one of the oldest programs, initiated in 1978. As of now, more than one million and sixty thousand individuals have taken this certification. To receive the certifications skills, you should have a minimum experience of five years in IS Auditing or Security. Apart from that, you will also have to qualify for the examination conducted three times a year. The job requires the candidates to audit, monitor, control, and access Business or IT systems.
6. Certified ScrumMaster
Another project management certification is Certified Scrum Master. Initially, the start of this certification was to boost the software development industry, but over time, its implementation became much wider, covering other areas too. These certification skills are in the same pattern where the mind goes on changing during the development process. In the old days, if there was any modification, it affected the entire project development as there was only one project manager. However, in Scrum, a group works on the project to achieve its aim. It works in full coordination with each other and comprises professionals, including Software Developers, Product Owners, and experts from various fields. The basic difference between Project Management Professional (PMP) and Scrum is that the former tries to plan everything directly.
In contrast, the latter can bring about changes in the project during the development process. It is a rather complex procedure and must be done jointly by the team members focusing on time and budget. Scrum is a servant-leader. The team should not get distracted by any other influence. Moreover, the team leader's responsibility is to motivate his team. The Alliance Scrum looks after the administration of the Scrum. You are required to enroll in a class. An expert and Certified Scrum Trainer impart the training for which you need to pass an exam. According to an estimate, there are more than two and a half million Scrum Masters.
7. Certified Ethical Hacker (CEH)
Hacking is secretly stealing information about confidential files and documents from the computer without the other person's knowledge. It is illegal and categorized as cybercrime. However, the International Council of E-Commerce Consultants (EC-Council) has designed a Certified Ethical Hacker (CEH) certification skills program to combat such incidents. It will test any organization's security or defense techniques regarding hacking confidential information like usernames and passwords. It is ethical hacking because it will help protect important documents. At a time when technology has vastly enhanced, the level of cyber threat has also increased, and many candidates are willing to pursue this certification.
8. Cisco Certified Design Associate (CCDA)
The Cisco Certified Design Associate data-preserver-spaces="true"> (CCDA) levels include Entry, Associate, Professional, Expert, and Architect. Once you cross the Associate level, you become eligible to undertake different tasks such as network designing, technicians, and support technicians. You will have to create the network needed for various functions like routing, switching, security, and much more. To certify in this field, you must first become a Cisco Certified Entry Networking Technician (CCENT) and attain knowledge about Routing and Switching. You need to appear in an exam and qualify for it. Besides, work as a team with those who have acquired higher levels of Cisco.
9. Citrix Certified Professional – Virtualization (CCP-V)
Citrix, which provides certification skills in CCP-V, was recently launched in November 2014 in place of Citrix Certified Enterprise Engineer (CCEE). This program centers on XenDesktop 7. For pursuing CCP-V, the first requirement is getting certified in Citrix Certified Associate – Virtualization (CCA-V). This certification ranks amongst the top ten highest-paid certification programs in the IT sector.
10. Undergraduate Certificate in Finance
It is a wrong perception that certification skills programs are for IT professionals. An undergraduate in commerce can attain a certificate in Finance. You can pursue this course simultaneously after graduation at some college or institution. However, you must fulfill certain criteria to pursue this certification. Apart from grades or marks attained at the high school, the SAT scores will decide your eligibility. You need to be good in economics, mathematics, and statistics. While enrolling for this course, you will learn about various aspects of financial assets, risks, banking, and market regulations. You get the choice of particular elective subjects.
11. Graduate Certificate in Finance
It is a top finance certification for professionals, graduates, and especially working professionals looking to enhance their career prospects by adding certification skills. The curriculum includes financial analysis, managerial accounting, economics, and corporate finance. It will help you hone your accounting, finance, and business knowledge. What's important is that after completing the program, you get exposure to International Finance and Economy and a sound understanding of finance-related topics.
12. Certified Financial Planner (CFP)
The Certified Planner Board of Standards is the apex body that offers the Certified Financial Planner (CFP) Certification. The curriculum of this certification skills program includes many subjects: financial planning, risk management, employee benefits, retirement planning, income taxes, and investments. However, before enrolling in this professional program, you must sit, pass an examination, and have about 60000 hours of work experience. It is also mandatory that the candidate must be a graduate (bachelor's degree) within five years of passing the exam.
13. Certification in Translation of Languages (CTL)
With time, the trends have undergone a certain change. With the world converting into a small global village, multinational companies and even different government departments are seeking expert translators who can easily translate one language into another skillfully without changing the words' meaning. There is no doubt that CTL is a very high paid job, and therefore many people who are proficient in two or more languages orally and in written form are applying for this course. So, you need to have a bachelor's degree in any discipline. Most recognized institutes or universities offer this course at the postgraduate level.
14. Certificate in Disaster Management (CDM)
Natural calamities such as earthquakes, floods, landslides, or draught have become frequent in recent years. The tragedy in Uttrakhand, the perilous earthquake in Nepal, and the floods in Chennai are a few examples of how nature has become unpredictable. The disaster management team was crucial in rescuing life and property in all these places. Therefore, certification in disaster management has gained prominence because of the adventure and excitement associated with the job. You can work for any governmental agency and earn a high salary and appreciation from the people.
15. Certification Skills in Tourism Studies (CTS)
India's tourism industry has expanded, offering the most splendid sceneries and sightseeing. The Certification Skills in Tourism Studies program creates awareness about travel and tourism. The candidates learn how to organize and manage a tour, from booking and reserving hotels to managing the budget. You can work in a travel agency or start your own travel business.
Every individual looks for bettercareer planning strategies and chooses a field according to their preference. In addition to these most persuasive certification skills programs, several other programs can help you establish your career and improve your skills. However, remember that you should pursue a course from a recognized institute that only offers authentic certification.
Recommended Articles
Here are some articles that will help you get more details about the certification skills, so go through the link.