Updated April 26, 2023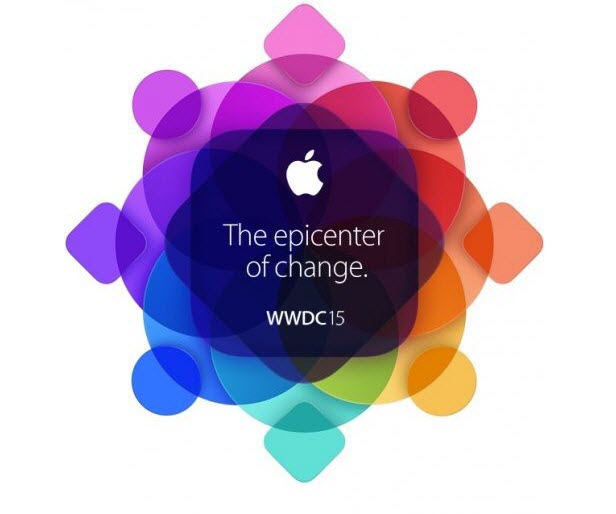 Introduction to Highlights of WWDC 2015 Keynote
The Worldwide Developers Conference (WWDC) is held annually by Apple Inc at Moscone West in San Francisco, California. The main aim behind organizing this conference is to exhibit new software as well as technologies that Apple has for Apple developers.
The attendees comprise CEOs of companies, software developers, and a great fan of Apple. This conference allows attendees to participate in hands-on labs with Apple engineers and detailed discussions on developers' queries. Steve Jobs hosted this event until WWDC 2011, followed by Tim Cook, CEO of Apple Inc.
The tickets to WWDC are confirmed through a lottery system. Once an attendee registers for WWDC on the official Apple site, their selection is made randomly. Apple notifies all lucky winners of the same.
A developer ticket to WWDC can cost around $1599, and the event is held from June 8 to June 12, 2015, at Moscone West in San Francisco, California. For those who did not receive notification from Apple regarding the WWDC ticket, some sessions will be streamed live throughout the event, and most of them will be available to watch on-demand.
The number of attendees has increased every year. In WWDC 2006, the number of attendees was between 2,000 and 4,000. However, in WWDC 2007, there were more than 5,000 attendees. In later WWDC, i.e., from 2008 onwards, the attendee was capped at 5,000. In WWDC 2015, the attendees were from 70 countries, and 80% were first-time. The attendee list included 350 student scholarship winners. The youngest scholarship winner for WWDC 15 was a girl aged 12 from New York.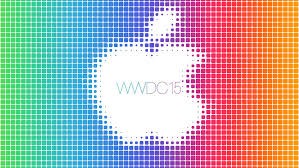 Top 3 Categories of WWDC 2015 Keynote
Let's check with details of the WWDC 2015 keynote. WWDC 15 was segmented into three different categories :
OS X
iOS
watchOS
1. OS X 10.x – Yosemite
As Craig Federighi (Senior Vice President of Apple Software Engineering) described, Yosemite is a big, bold, and beautiful release with gorgeous new UI and breakthrough new features like Continuity, which allows continuing your work left on another device. E.g., You are drafting a mail on a MacBook, and suddenly, you switch to an iPhone, then the same draft mail pops up from where you left it.
The adoption rate for Yosemite is incredible, which sees 55% of Mac users on Yosemite within eight months. This is incredible as compared to Windows 8.1, which has just a 7% of adoption rate. OS X Yosemite has the fastest adoption rate for any PC operating system ever. The new name for OS X is El Capitan. The new OS is improved under two categories: Experience and Performance.
Experience of the new OS is improvised by enhancing Spotlight, Built-in apps, and Windows management. It is easier to locate the cursor in the new OS X EI Capitan by simply shaking the trackpad, and the cursor magnifies itself (shown in screenshot 3).
If you are working on the Safari browser and want a few sites to read for later, you can simply pin it (shown in screenshot 4). Spotlight has become more intelligent by providing detailed results. E.g., You can search for the current score for a cricket match in Spotlight! You can resize the result pane of the spotlight and even move the spotlight.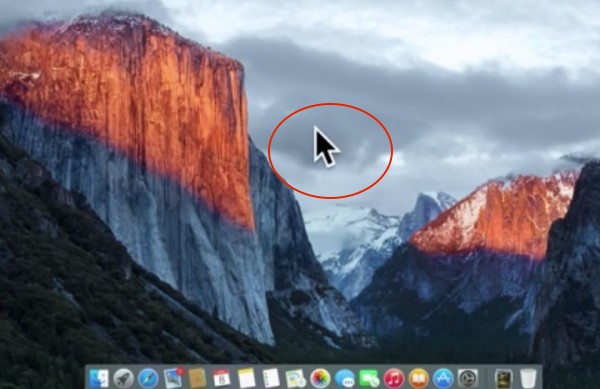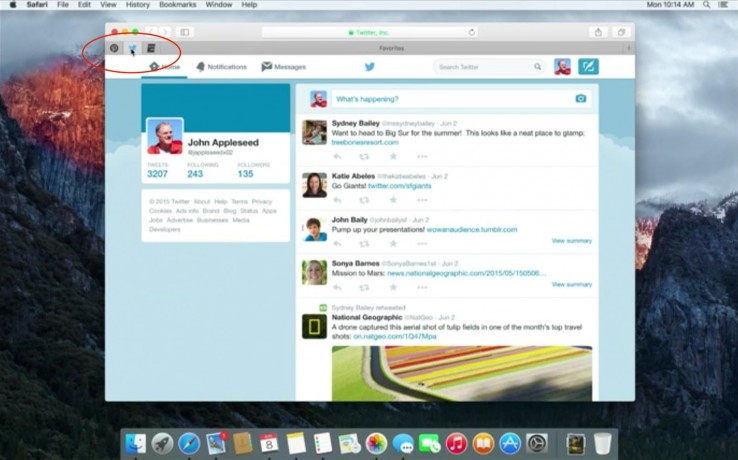 El Capitan provides better window management by redesigning mission control. You can see a list of open windows by swiping three gesture fingers (shown in screenshot 5). You can even create a split-screen in El Capitan, for example, reading cricket scores on the left screen and drafting mail on the right (shown in screenshot 6).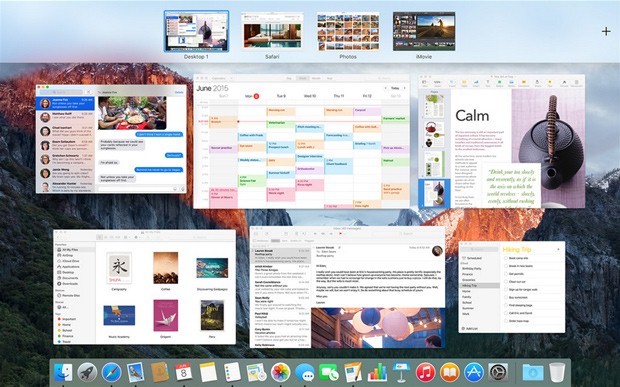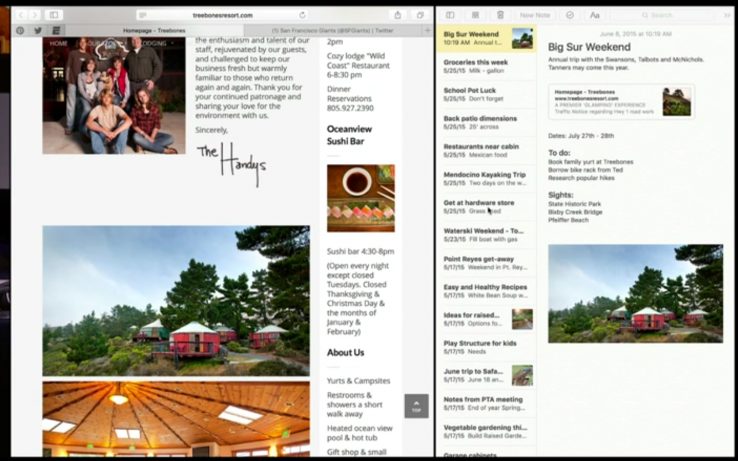 Performance has been optimized throughout the system in El Capitan. Below is a list to name a few :
The app can launch 1.4x times faster
2x times faster switching between apps
The time to get first mail messages is 2x fast
Opening PDF in the preview is 4x times faster
Architectural changes in Metal for high-performance games
Metal introduced for Mac
50% improvement in rendering performance
40% improvement in rendering efficiency
10x faster in draw call performance
El Capitan is available to developers on the same day as WWDC 15 keynote. The public beta will be open in July 2015 on beta.apple.com, and free upgrade this fall.
2. iOS
iOS 8 has been a phenomenon, with an adoption rate of 83% users compared to Android 5, having 12%. iOS 9 has been improved by adding intelligence, raising the foundation to the next level. Below are some statistics about Siri in iOS 8 :
Siri has 1 billion requests per week
40% more accurate over the last year
40% faster than the previous year
Beautiful new UI
IOS 9 brings Siri as a great proactive assistant. Siri has become more intelligent, with reminders that can be set instantly. E.g., Reminder me to take the file tomorrow morning while leaving for the office will set a reminder for the same.
During your morning walk, you can automatically see the playlist on the lock screen when you plug in earphones to your iPhone device. It determines what to play at what time and at what place.
IOS 9 offers a great new feature for predicting unknown callers. It scans emails and contact details to determine who calls from an unknown number (shown in screenshot 7). Invitations by email sync automatically in your calendar without needing you to open the email.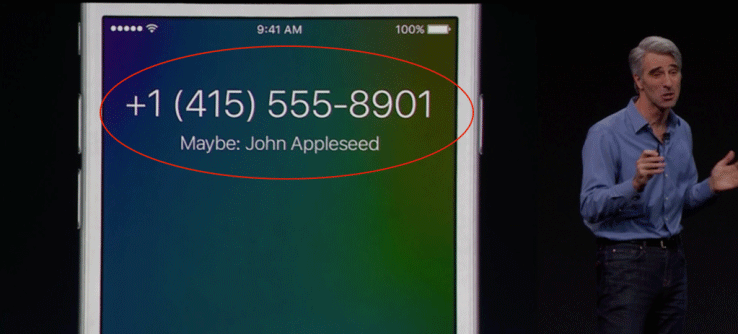 Search in iOS 9 is great, wherein you can search videos from popular sites such as Vimeo, vine, youtube, etc. In iOS 9, search has a new API for it.
When the search is performed, the results contain a deep link into it, i.e., When you click on a result, it will redirect to the content and also offers Return to search to return.
The best thing about iOS 9 is that user privacy is respected, i.e., operations performed by iPhone user is anonymous, not associated with Apple ID, is not linked to other Apple services, not shared with third parties, and most importantly, everything remains local.
Apple Pay is a mobile payment and digital wallet service introduced by Apple Inc (shown in screenshot 8). It allows users to make payments using compatible iPhone and Apple watch devices. It is a super easy, secure, and private way to pay.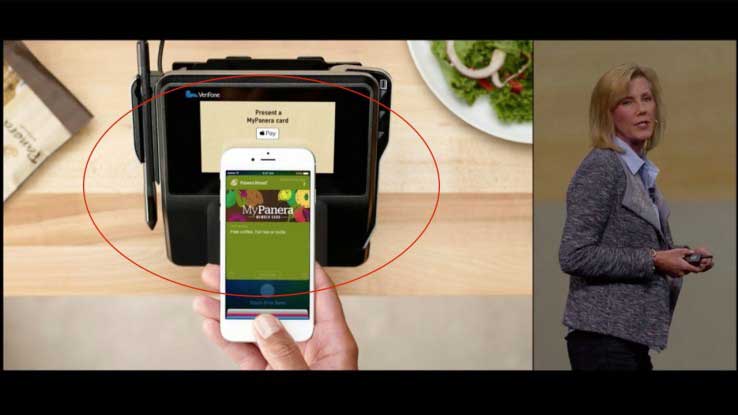 During the initial launch of Apple Pay, it supported credit and debit cards. It now has 2500 banks supporting Apple Pay. Discover will bring Apple Pay to over 50 million card members this fall. Both small and large merchants across the US support it. Using Apple Pay, the checkout rate has increased by 2x.
After the great response to Apple Pay in the US, it is also set to roll out in the UK. It will be in the UK in July 2015. Apple has already tied up with eight prominent banks in the UK that will cover 70% of credit and debit cards. There are more than 2,50,000 merchants that will support Apple Pay in the UK.
iOS 9 allows you to add Store debit and credit cards. It also offers Reward Cards. Apple Pay will always present the right card at the store; hence, you'll never miss a reward for shopping.
The passbook in iOS 8 has been renamed to wallet in iOS 9 (shown in screenshot 9). It is one place for credit and debit cards, loyalty cards, boarding passes, and more.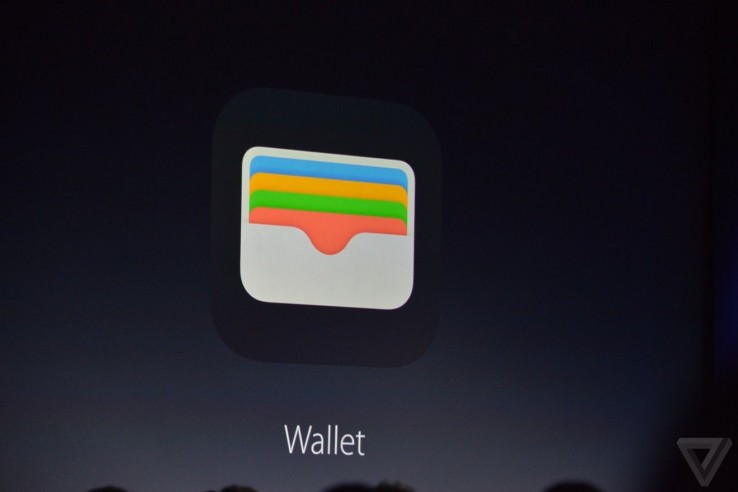 The notes app has been revamped in iOS 9. It has a handy toolbar to format notes content (shown in screenshot 10).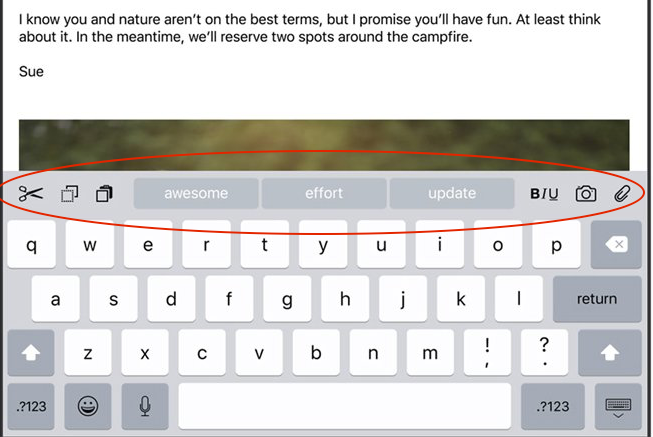 You can also create a checklist in the Notes app (shown in screenshot 11). It allows you to add photos, drawing by sketches, and embedded links (shown in screenshot 11).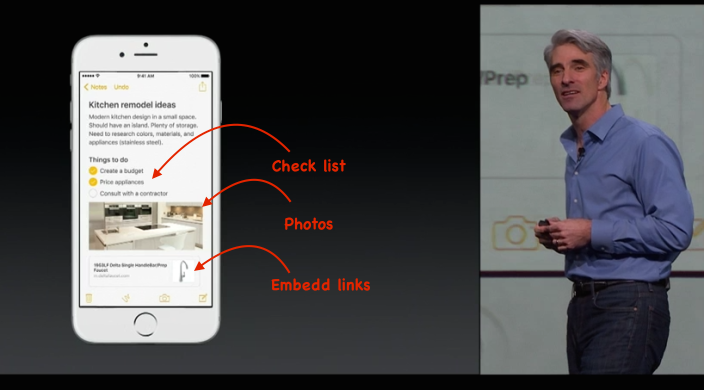 Notes on iPhone devices can be in sync with iPad and Mac via iCloud.
Apple has invested a lot in Maps to improve its service. Apple Maps has 5 billion requests per week, and usage on iOS is 3.5x times higher than the next leading mapping app.
Transit is for drivers showing buses, trains, and subway stations. If you tap on a station, you can see all the lines that run through it with departure times. It provides step-by-step directions even for walking along with the time (shown in screenshot 12).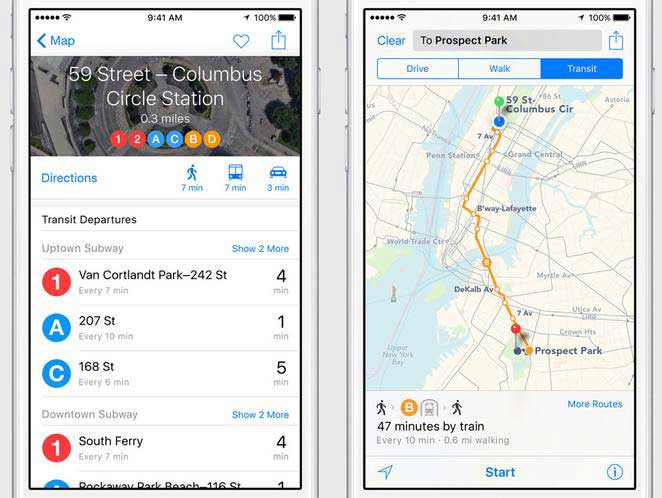 Siri has been trained for transit, so it can assist you in traveling.
Apple has introduced a new application called News in iOS 9. It has beautiful content from the world's greatest sources and is personalized, particularly for users. You can create personalized news by selecting categories like travel, science, politics, sports, etc. (shown in screenshot 13).
You can bookmark an article that you want to read later. You can even set favorites that store collections you like.
News app has been ground up with the user's privacy in mind. The content you read is not linked to other Apple services. Also, individual data is not shared with third parties. The news will initially be launched in the UK, US, and Australia.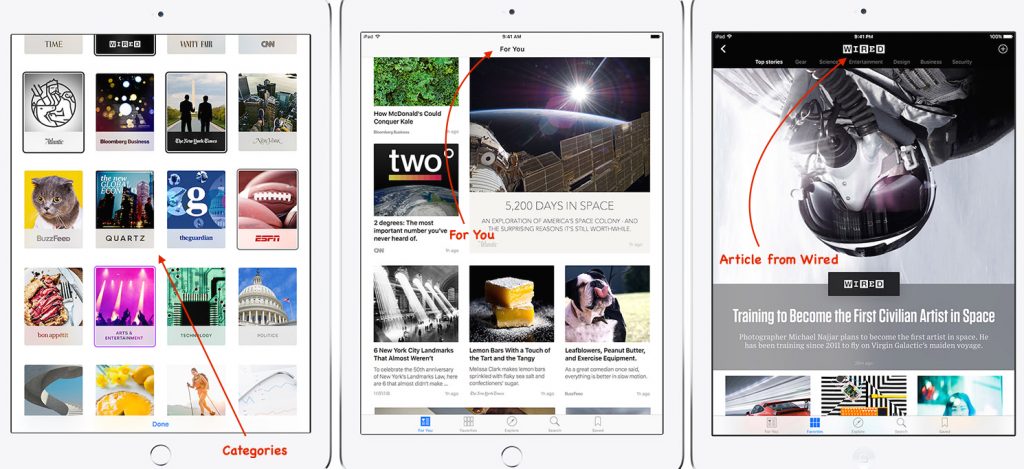 QuickType feature has been introduced for the iOS 9 keyboard, showing a suggestion bar on top of the keyboard while you are typing. This suggestion bar is enhanced in iOS 9 with shortcuts for cutting, copying, pasting, capturing photos, and adding attachments (shown in screenshot 15).
Connecting the physical keyboard to iPad lets you determine the shortcut key to perform faster operations. You can instantly convert the keyboard to a trackpad by placing two fingers and dragging it. You can also perform app switching on your iPad.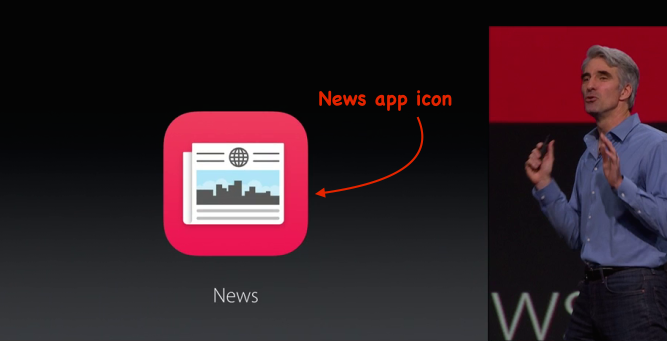 iPad has always supported multitasking like task switcher four-finger gestures in iOS 8. Multitasking is on a whole new level in iOS 9. When you click the home button task switcher appears with a new style compared to iOS 8.
iOS 9 provides a new feature called Slide Over, Split View, and Picture in Picture for multitasking. This feature will be available for iPad Air, iPad Air 2, iPad mini 2, and iPad mini 3.
Slide Over provides a user-invoked overlay view on the right side of the screen that lets a user pick a secondary app to view and play with it (shown in screenshot 16).
Split View displays two side-by-side apps, letting the user view, resize, and interact with both (shown in screenshot 17).
Picture in Picture allows users to play video in a moveable, resizable window that floats over the apps onscreen (shown in screenshot 18).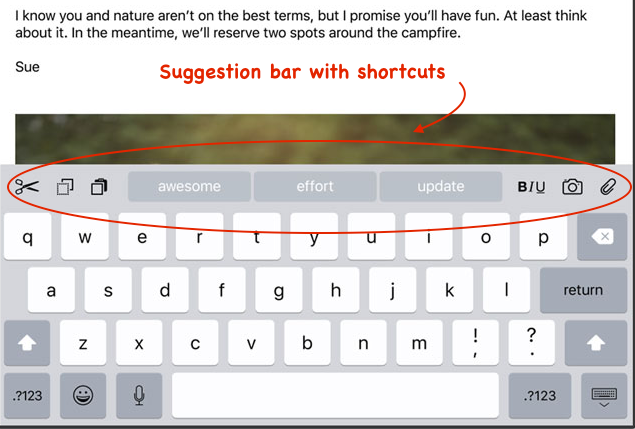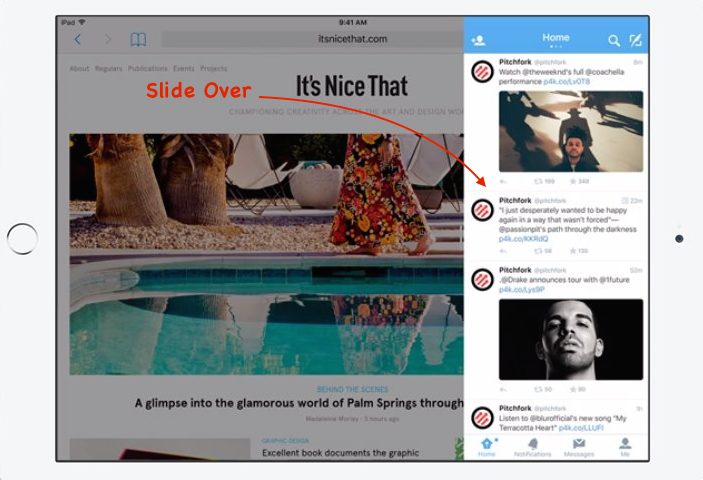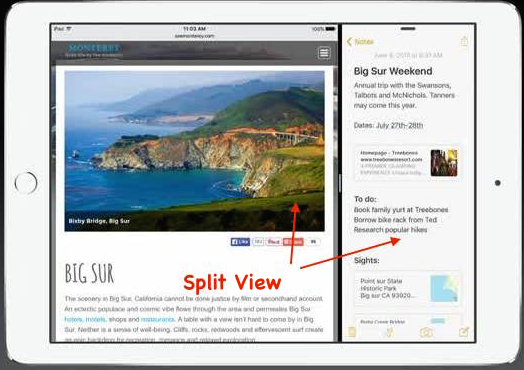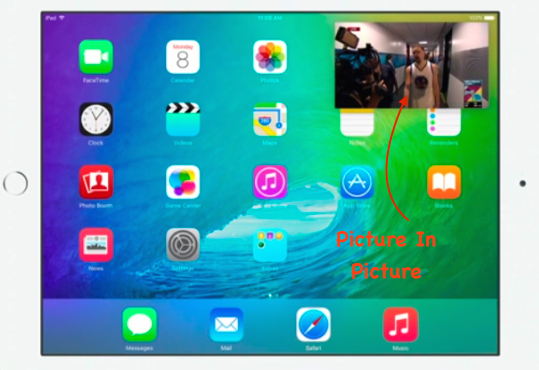 iOS 9 takes care of device battery usage. It provides a new feature called "Low Power mode."
If your iPhone device battery drops below 20 percent power, you'll get a system pop-up message that warns you of low battery power and offers Low Power mode (shown in screenshot 19). If you wish to turn on Low Power mode, select it from the pop-up message.
Low Power mode will reduce animations throughout the system, decrease the time before the screen darkens, and make all possible efforts to keep your battery life for a bit longer.
If you wish to enable Low Power mode anytime, you can achieve this from Settings. You can determine the Low Power model by looking at the screen's battery indicator at the top right.
It is normally green for sufficient battery charge, red for low battery charge, and yellow for Low Power mode.
iOS 9 provides easy-to-protect data on iCloud using a two-factor authentication mechanism.
Apple has made major changes to the architecture for over-the-air updates for iOS 9; hence, it requires only 1.3 GB of free space compared to iOS 8, requiring 4.6 GB.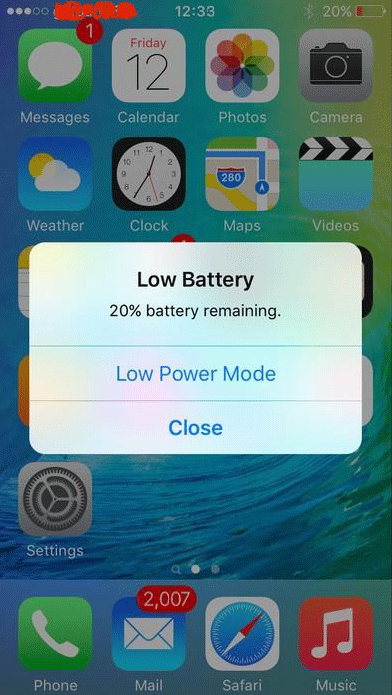 Apple has provided below features in iOS 9 for developers :
Search extensibility                 Audio unit extension              VPN plugin extension
Swift 2                                         Third-party notifications        Direct document
Map customization                    OCR accessory setup             UI testing in Xcode
Notification actions                Sensor profile                         App thinning
New Health data types           Code coverage                       Motorised Windows profile
Flyover and Walkthrough       Gaming APIs                          Layout guide
Shortcut bar                            Automated shades profile        Object-oriented contacts
New multitasking APIs            New Homekit profiles           iCloud open in place
Home security profile             Storyboard references            Stack View
Wireless CarPlay              HomeKit iCloud remote access   App transport security API
App thinning allows the installation of apps as per the device. This helps download apps much faster and allows more space for other apps, providing a better user experience. Thus optimizing it by occupying minimum disk space and allowing Apple to apply future updates.
Gaming APIs enhance by adding new features in SpriteKit, SceneKit, and Metal frameworks. New frameworks such as GameplayKit, Model I/O, and ReplayKit will provide a better gaming experience.
HealthKit APIs enhance by adding new categories such as Hydration level in the body, Reproductive Health, and UV exposure (shown in screenshot 20).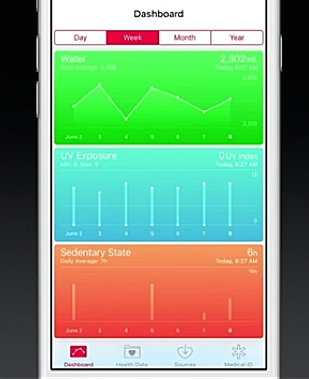 HomeKit APIs contains feature such as control room temperature, Locks, and Lights. In iOS 9, apple adds support for Windows Shades, Sensors such as motion sensors, smoke sensors, and Security systems. These features can be accessible remotely and securely using iCloud (screenshot 21).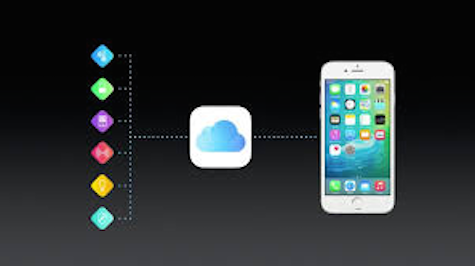 CarPlay already supports audio players, and iOS 9 supports apps made by car manufacturers (shown in screenshot 22). It supports a different variety of screens, wider aspect ratios, and screens with higher dpi. The best thing about CarPlay in iOS 9 is that it will allow users to connect wirelessly to their vehicles. This will allow users to control car features like air conditioning, vehicle lock, etc.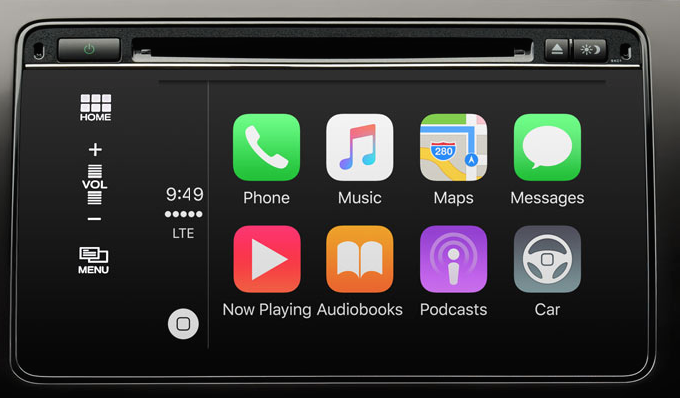 Swift is an innovative programming language with modern features that produce safe, lightning-fast apps for iOS, OS X, and watchOS. Apple announced its next big release Swift 2, for iOS 9 at WWDC 2015.
Swift 2 builds on Swift's incredible popularity and power, delivering features that help developers write even better code. This includes advanced error handling, availability checking, and many syntax enhancements.
Swift 2 comes up with many new features. Some of them are an error handling model, synthesized headers in Xcode, protocol extensions, swift 1.2 to 2.0 migrator, availability checking, and pattern matching in "if". Apple has made Swift an open-source project that will help target a large audience.
This was all about iOS 9 feature at WWDC 2015 keynote. iOS 9 supports all devices that iOS 8 supports. The list of supporting devices by iOS 9 is as below :
iPhone 4s, iPhone 5, iPhone 5c, iPhone 5s, iPhone 6, iPhone 6 Plus
iPod touch 5th gen
iPad 2, iPad 3rd gen, iPad 4th gen, iPad Air, iPad Air 2, iPad mini, iPad mini 2, iPad mini 3
3. watchOS
WatchOS is the operating system that runs on the Apple Watch, which is equivalent to iOS, runs on iPhones and iPads, and OS X runs on Macs. Apple has announced the watchOS 2 for the Apple Watch, which will be available in the fall of 2015.
The enhancements for watchOS 2 are as follows :
a. Timepiece function
b. Improvement in communication
c. Improvement in health and fitness
, e. Support for Apple Pay
f. Support for Apple Maps (Transit)
g. Support for Siri
a. Timepiece
watchOS 2 has a great timepiece. You can set the photo face as wallpaper or a photo album that will change the photo each time you raise your wrist. You can also see the time-lapse face (i.e., photo shade changes as per time) for some locations such as London, new york, hong kong, shanghai, etc. (shown in screenshot 23).
You can also change the complications (i.e., stuff that appears on the home screen) in watchOS 2. It allows the app developer to make their complications. E.g., You can set flight time, weather information, cricket score, the charge level of an electric car, etc.
watchOS 2 has a new Time Travel feature (shown in screenshot 23). It lets you see a list of future stuff, such as the weather today evening, meetings scheduled post lunch, etc. It also lets you see what has happened, such as yesterday's weather, meetings attended, etc. You can travel in the future by rotating Digital Crown in a clockwise direction, whereas rotating it in an anti-clockwise direction will take you to the past. While performing this Time Travel, you can return to the current time by pressing Digital Crown.
Apple has introduced a new feature called Nightstand mode for watchOS 2. This allows you to use Apple Watch as a timepiece while charging during bedtime. This can replace your bedside alarm clock literally. While in nightstand mode apple watch switches to landscape mode, giving a better view of time.
This model has zero reconfigurability, i.e., on or off. When it is on, you can see a digital clock in the center with date and time details below, a battery indicator depicting the percentage charged in the upper right corner, and an alarm icon in the upper left corner if you have set the alarm (shown in screenshot 23).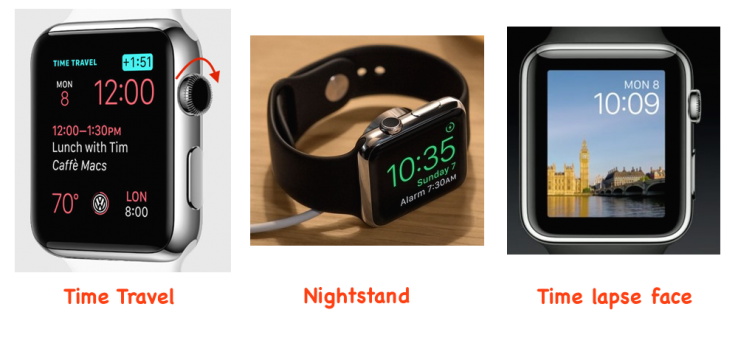 b. Improvement in communication
Apple Watch is a great way of communicating. WatchOS 2 offers different sets of friends and allows you to add a friend by tapping on the plus sign. You can press on Digital Crown to see a list of all your friends.
The earlier version of watchOS allows you to read emails, but now watchOS 2 offers you to reply to emails. The new OS will enable you to make FaceTime calls on your Apple Watch (shown in screenshot 24). You can send drawings using multiple colors using Digital Touch.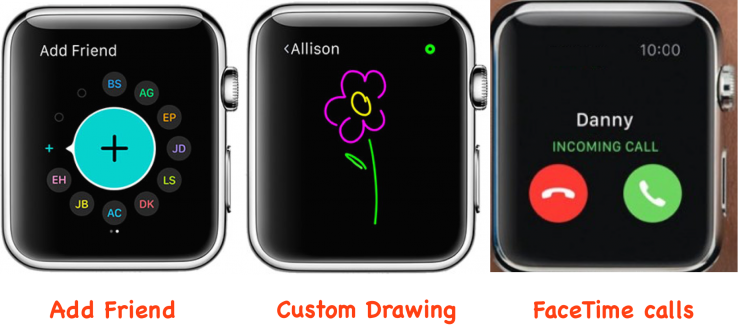 c. Improvement in Health and Fitness
watchOS 2 allows you to run health and fitness native apps on the Apple watch. So the content will add directly to the Activity in the Apple watch.
You can also use Siri for health and fitness. E.g., Raise your wrist and say, "Hey Siri start a 15 minutes run in the park," so this will start the workout app for you (shown in screenshot 25).
If you have achieved a target, this pops up as an achievement you can share on social networks like Facebook and Twitter.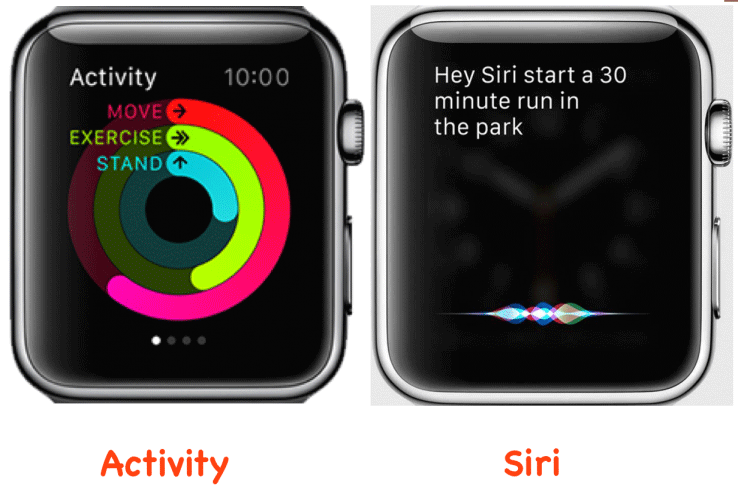 d. Support for Apple Pay
Apple Inc has introduced a mobile payment and digital wallet service called Apple Pay. It allows users to make payments using compatible devices. Below is a list of devices that conforms to Apple Pay specifications :
iPhone 6, iPhone 6 Plus
iPhone 5, iPhone 5s, and iPhone 5c
iPad Air 2, iPad mini 3
Apple Watch
The service that Apple Pay uses to communicate wirelessly with the point of sale systems is Near Field Communication (NFC) antenna, Apple's Touch ID, and Passbook.
To make payment at the store using iPhone, just hold your device near the contactless reader with your finger on Touch ID (applicable for iPhone 6 and iPhone 6 plus). Using this, you don't even have to look at the screen to know your payment details. When payment is successful, a subtle vibration and beep occur.
You can pay using Apple Watch, simply double-click the side button (referred to as Digital Crown) and hold the display of the Apple Watch near the contactless reader (shown in screenshot 27). You can confirm payment information with a gentle tap and beep.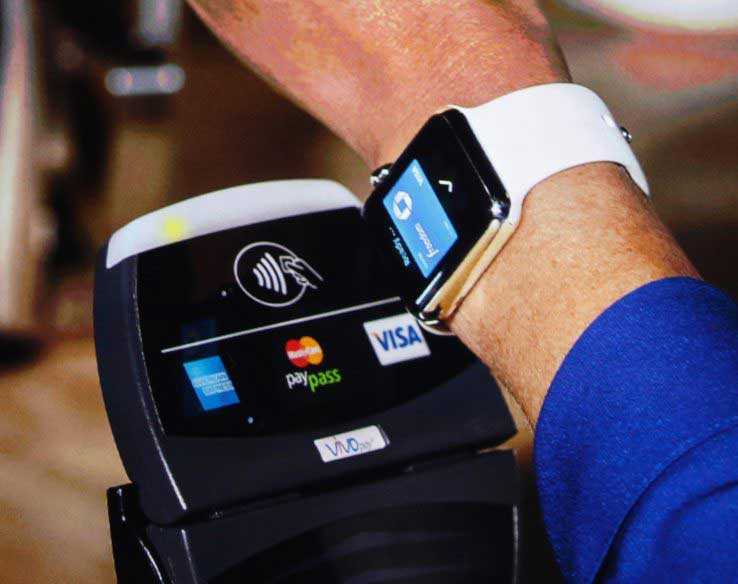 e. Support for Transit
Transit allows you to navigate your city smoothly by providing directions. Tap on the Transit app to open it up. It'll give you a button to get directions to your home or office and another one that provides locations where you've recently traveled.
The rest of the screen scrolls through the nearest public transit stops, only displaying the transit options (such as subway, bus, trains, etc.).
Once you get the necessary directions from Transit, the entire journey is on one screen in a simple, condensed manner. If you want to know more about a specific location, just tap on that step to pull up a map.
The plus point of Transit is that it displays the entire list of steps on one scrolling screen (shown in screenshot 28).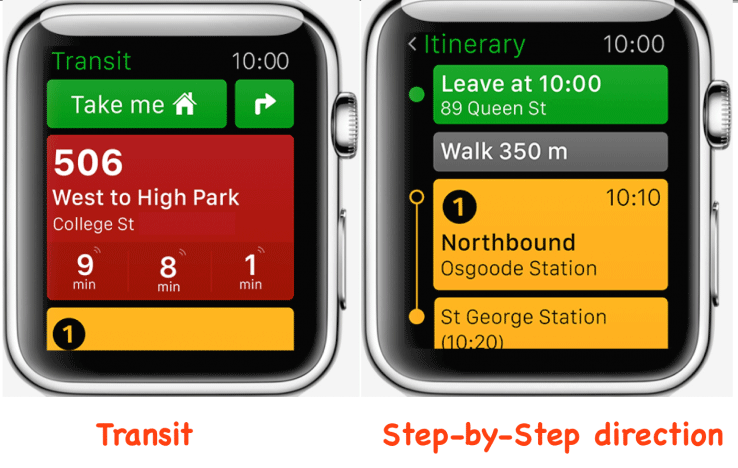 f. Support for Siri
watchOS 2 allows you to get bus directions using transit with the help of Siri. E.g., You can ask Siri, "Hey Siri show me bus directions for Ferry building". This will open the transit app with step-by-step directions for a destination.
You can also control things at home using Siri. E.g., "Hey Siri, set the dinner scene". This will adjust the device in sync with HomeKit devices to make a dinner scene.
You can also ask Instagram to glance at Siri. This will show an Instagram glance that you haven't selected. This indicates that you can show third-party content on your watch using Siri.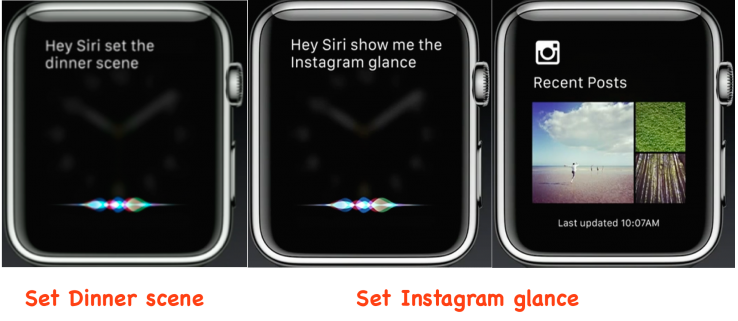 Recommended Articles
This has been a guide to the Highlights of the WWDC 2015 keynote. Here we discuss the basic concept, Top 3 Categories of the WWDC 2015 keynote, respectively. You can also go through our other suggested articles to learn more –