Updated August 9, 2023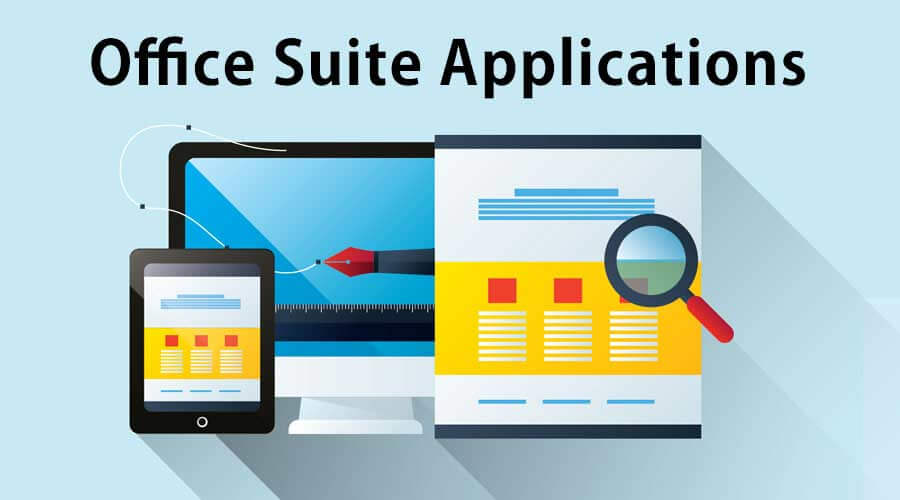 Office Suite Applications
We live in an era where we are surrounded by mobile phones. They have become an integral part of our lives. Besides the innumerable purposes a mobile phone performs, one important function of this wonder device is that it serves as your office on the go. Tools like the organizer, calculator, and memo pad are great office assistants. Now, mobile phones can also be equipped with a complete office suite, which includes the Word processor, Spreadsheet, and Presentation apps! Isn't that amazing? Now, who wants to limit their business to a confined office when your Android device can do all the work for you? We will learn the different Office suite applications.
Plenty of such programs are available in the market, and all seem to have similar features. But the truth is that they can be a sea apart. The key is to select the one that best meets your requirements.
Some of the most popular Office Suite Applications or Productivity management tools, as they are called, are Docs to Go; Google Docs, Sheets, and Slides; Office Suite 8, Polaris Office, and WPS Mobile Office. There are also word processing apps: Draft and Editorially.  Quick Office, which no longer exists, was also a popular choice before Google bought and did away with it.
So how can you choose the perfect Office Suite Applications? This article will give you a quick overview of each of these suites available on the Google Play Store to enable you to make a well-thought decision.  It covers each suite's important features and talks about their user interface and experience, taking both tablets and smartphones into consideration.
What are Software Office Suite Applications?
Just read through, and you will be ready to choose the ideal Office Suite Applications for your mobile phone by the end.
1. Google Docs -Docs, Sheets, and Slides
Initially launched as a web browser-based application, Google Docs is now alive in its Android version. Docs, Sheets, and Slides offer great functionality and allow you to open various document types. Thus, it is an ideal platform for all your basic office needs, such as composing documents, creating spreadsheets, and simple presentations that can be played either on your mobile phone or a PC with a web connection.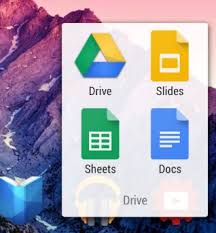 Strengths
Talking of its advantages, Google Docs gets full points for its great features that easily collaborate across platforms such as Word, OpenOffice, RTF, PDF, HTML, or zip files and enable you to download a Google document to your PC.
Documents, spreadsheets, and presentations can be accessed easily from any desktop or PC.
You can create documents in real time.
Your work is automatically saved to Google Drive, which means there are no chances of losing your precious files.
The app is free of cost.
Limitations
When disconnected from the web, it has limited use.
It does not perform very well on tablets and smartphones.
2. Microsoft Office
We all are used to MS Office suite applications on our desktops. So much so that it is very difficult to get accustomed to any other Office suite applications, despite the innumerable available alternatives. The main reason for this loyalty is that most businesses, governments, and organizations have systems standardized on MS Office.
The good news is that MS Office does have an Android version for smartphones. With Microsoft Office Suite Applications on your mobile phone, you will not feel the discomfort of being away from your office PC if you have to attend an urgent operation.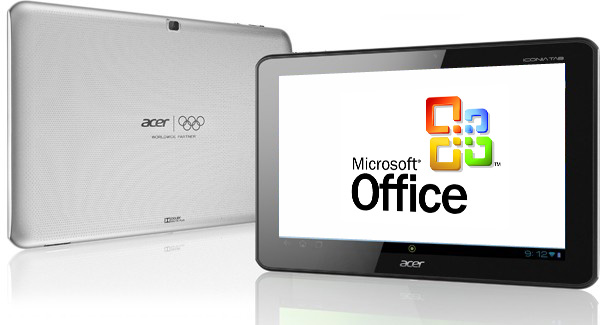 Strengths
The biggest advantage of MS Office remains its ability to synchronize with inbuilt desktop office suite applications on your desktop/ Laptop computer.
You can open files saved to OneDrive or SharePoint on your mobile phone.
You can mark your location in a document. So the next time you open it, resume from where you left.
You just need to sign up for a free Microsoft account to start using the app for light use.
The app is free of cost.
Limitations
MS Office on Android is still growing; hence editing is not a cakewalk. In fact, almost all other Office suite applications have better editing options than MS Office.
To open files on a PC or desktop, subscribe to Office 365. Therefore it cannot be used as the main program for all your business needs.
It is not possible to install it on tablets, limiting access.
Due to these limitations, Microsoft Office is becoming less popular on mobile devices.
3. Office Suite 8 by Mobile System
Developed by Mobile System, It is the no. 1 office suite software for Android mobile phones for individuals who require a mobile version of the customary office suite software. The recent version, far ahead of its predecessors, wins accolades from users for visual appeal and ease of use.
Improving drastically from before, the current version, available in the Play Store, has a ribbon-style interface, due to which you can easily pass it as Microsoft Office.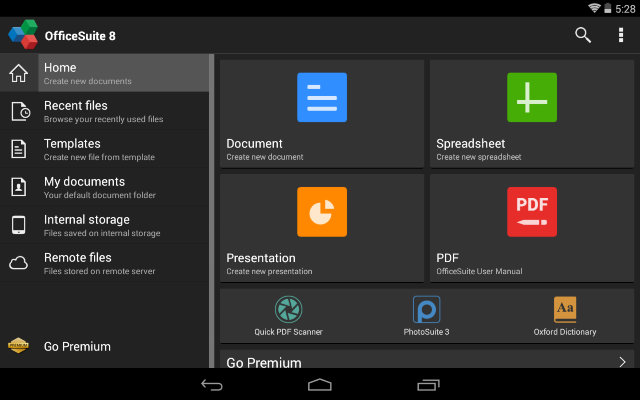 Strengths
Office Suite 8 comes in more than 50 languages.
It is so versatile that it can support various formats and can load files from several cloud storage providers.
It is a free application. However, one can purchase the premium subscription to benefit from other features such as printing, removing ads, converting .doc files to pdf, etc.  The subscription cost is nominal, i.e., $ 1.99per month or $ 9.99 for a year.
Office Suite 8 has collaborated with various hardware manufacturers and is pre-installed on many mobile devices.
You can mark your location in a document. So the next time you open it, resume from where you left off.
4. Polaris Office by Infraware
Polaris Office by Infraware is extremely eye-catching and does not look like a Microsoft Office replica like most of its counterparts. The Interface coordinates well with that of Android.
To download, first, you need to sign-up with Polaris. The cloud-based app has various online services, such as editing, which enhance its functionality. The app has great features and tools that allow you to format text and insert graphics, tables, etc. It also offers support for the longer screen of the iPhone 5s.
It can be downloaded for free, but you can buy the premium package at just for $3.99 a month or $39.99 a year to get access to other wonderful features and services.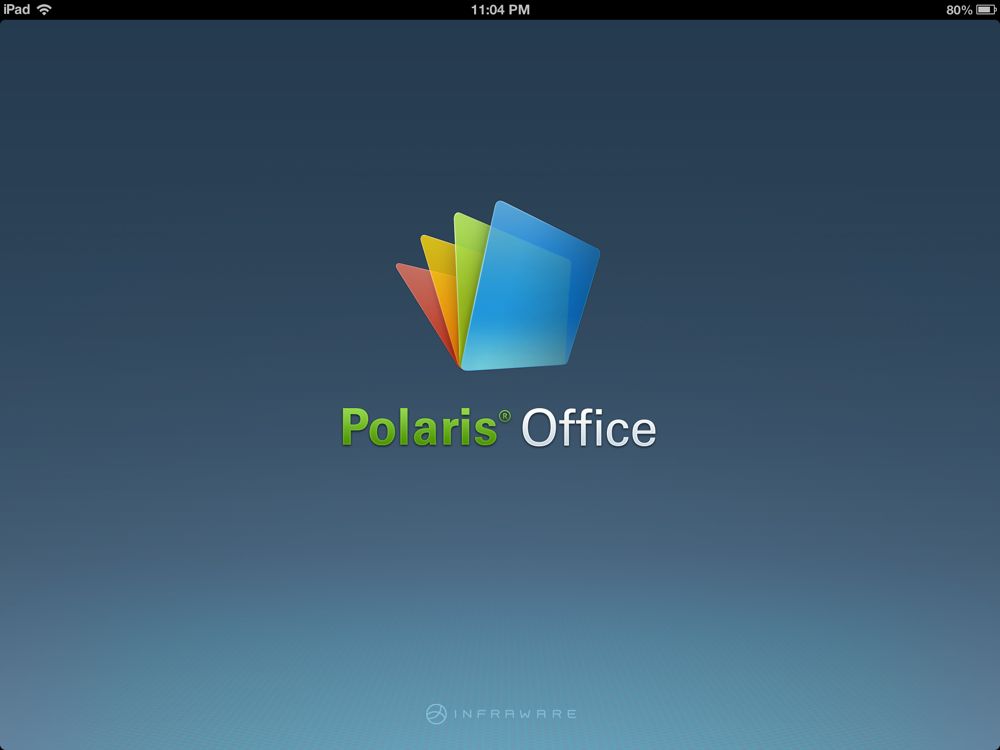 Strengths
Provides a wide selection of cloud storage services, including Box.net, Dropbox, Google Drive, OneDrive, etc.
Edits Microsoft Office file formats (doc/docx, hwp, ppt/pptx, txt, xls/xlsx) .
It allows you to view PDF Files.
 You can connect it to Chromecast to view documents, spreadsheets, and presentations, eliminating the need for VGA or HDMI ports.
Upload and download documents from your personal computer to your mobile phone or tablet with its agent program.
Available in all major languages.
Polaris appears to be a perfect office suite software in almost every sense. However, we can point out the following limitations:
Limitations
Comments do not appear readily. You need to turn the feature on to view comments.
5. Docs To Go by DataViz
Docs To Go by DataViz, earlier known as  Documents To Go, is one of the oldest office suite software. Before being one of the leading office suite software for Android and iOS, it was seen as an office companion for  Palm OS, Windows Mobile, and BlackBerry OS.
The current version of Docs to Go 4.0 is much improved from its earlier versions and is visually more appealing. It supports some amazing advanced word processing and spreadsheet features and can also coordinate with cloud storage accounts such as Google Drive, OneDrive, and Box.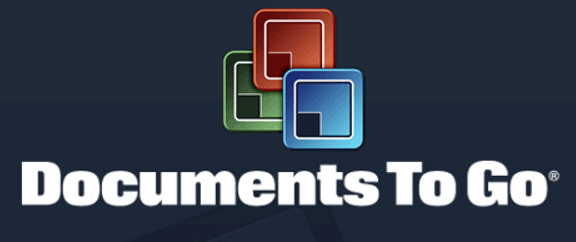 Strengths
Viewing and editing your documents.
Viewing and syncing your desktop file via Wi-Fi.
Opens password-protected files.
Can select to download Android or iPad & iPhone versions.
Can upload multiple files at a given time from the cloud.
Limitations
User Interface is not in complete unison with Android.
Ads can be very disturbing and breathe the flow of your work.
Most of the key features, such as cloud storage access, opening password-protected files, and removing ads, are not available in the free version. They can only be used if you buy a premium package, which at $14.99, is way costlier than other office suite software.
6. WPS Office by Kingsoft
An Office Suite Program with an attractive and contemporary interface inspired by MS Office that instantly puts you at ease. WPS Office can be rated the best and feature-packed Office Suite Programs available for free download.
It contains many fonts and templates and supports all major languages. It has a file roaming feature that enables you to create or share documents on any device. Moreover, it is fully compatible with Microsoft Office and available on iOS.
WPS is an acronym for Writer, Presentation, and Spreadsheet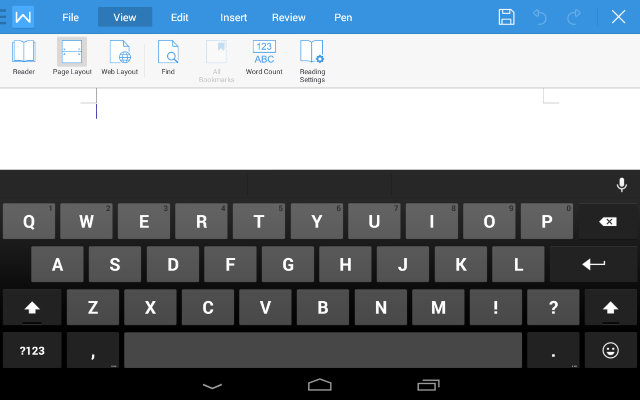 Strengths
It supports wireless printing.
WPS Office comes in more than 40 languages.
You can load and save files to other cloud storage and open documents from different local sources.
There are no ads to interrupt you.
It is absolutely free. There are no in-app purchases.
7. Zoho Docs
We all know that when we use Google or Microsoft services, we allow them the right to use our information. While working on Google Docs or Office, this can be a major cause for concern. Zoho Docs is the ultimate solution to user-friendliness and the security of your documents.
Zoho Docs is capable of managing various types of documents. The files created in Zoho will automatically be saved in your Zoho account, which can later be accessed from any web browser. You can share your documents with friends and colleagues who are on Zoho.
Thus, this is a mobile as well as a web productivity tool.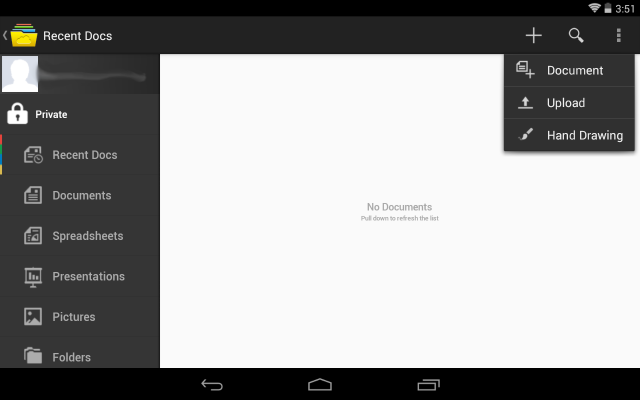 Strengths
Download files stored on your Zoho account and save them on your PC or desktop. And use them offline.
The service is free for users; however, you can access advanced features by buying a nominal monthly plan at $5 or $8.
8. Quip
Another Mobile cum web productivity tool is Quip. Its unique feature is its ability to create documents and spreadsheets as a group and edit them collectively. Thus, it acts as a great internal tool for a team. You can highlight portions of text and add comments to facilitate coordination with other group members.
Designed ideally for mobile devices, you can access the app through the web on both Android and iOS platforms.
Strengths
It is a web-based app that can be used on mobile devices and desktops. So, you can pick up your work from where you left off, irrespective of the device you have in hand.
It has standalone chat rooms that help us to collaborate on our work. It is unique in that sense.
Text can automatically adjust to various screen sizes.
It is free for smaller groups, but one has to buy a subscription for large enterprises.
Limitations
It is unable to manage formats that are created from other sources.
The presentations on Quip can be a disappointment.
Conclusion
Besides the above Office Suite Programs used by a major chunk of mobile users, there are others, such as Evernote and ThinkFree Mobile, an option that emphasizes its appearance. OliveOffice, Office 365, iWork serve the varied needs of users.
So, mobile users have a wide choice when choosing appropriate office suite programs. Remember your exact requirement while choosing to get the optimum out of your office suite programs. Is it the visual appeal, functionality, compatibility, or accessibility? Is the word processing your basic need or working on spreadsheets? Do you want to work online or offline? All these factors will determine the Office suite programs that will eventually find their place on your mobile phone.
Recommended Articles
Here are some further articles to learn more: