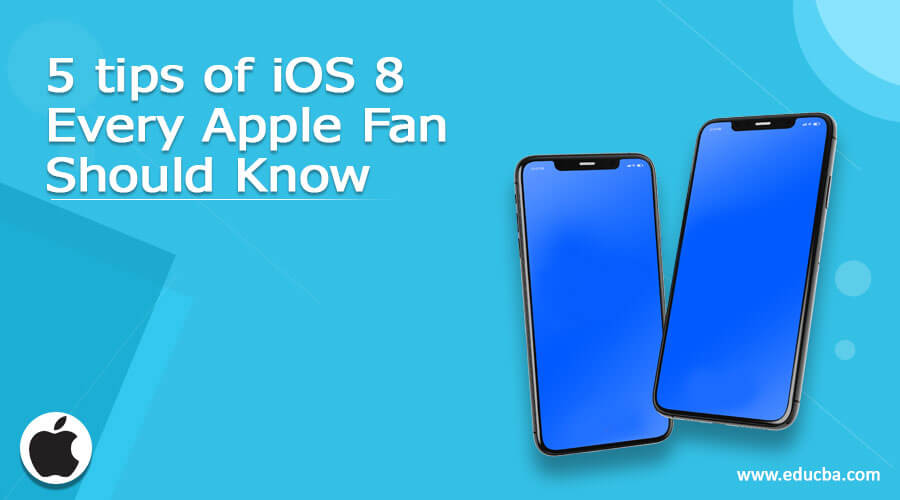 5 tips of iOS 8 every Apple fan should know
Apple has announced iOS 8 at company's Worldwide Developers Conference (WWDC) 2014 on June 2, 2014. iOS 8 was officially released on September 17, 2014. According to reports iOS 8 has been installed on 83% of compatible Apple devices. There has been several version of iOS 8 with each version fixing bugs. There has been WiFi issue in initial launch of iOS 8 version. This resulted in sudden drop in WiFi connectivity leaving users in lurch. Apple launched subsequent version in short span fixing issue. As of today iOS 8.3 is available released on April 8, 2015. You can get iOS 8.4 beta version as well from Apple official site.
If you fall under 27% category of iOS users (iOS 7 and below) then surely upgrade to iOS 8. And to your surprise it is free!! Before upgrading to iOS 8 make sure your device is compatible.
Below are list of compatible device for iOS 8 :
1. iPhone :
iPhone 4s and iPhone 5
iPhone 5c, iPhone 5s, iPhone 6 and iPhone 6 plus
2. iPad :
 iPad 2, iPad (3rd generation), iPad (4th generation), iPad Mini (1st generation)
 iPad Air, iPad Air 2, iPad Mini 2 and iPad Mini 3
3. iPod Touch :
 iPod Touch (5th generation)
You can install iOS 8 in all of above compatible device listed above. However, iPhone 4s, iPhone 5, iPad 2, iPad (3rd generation), iPad (4th generation) and iPad Mini (1st generation) are 32-bit device and soon will become obsolete.
Apple has recently forced developers to publish app on App Store build on 64-bit rather than 32-bit. This link Apple Developer will give you more details about 64-bit and iOS 8 requirement for App updates.
Improved Emails – IOS 8
Following are some improved emails – IOS 8:
a. Gestures

Apple has introduced new gestures in iOS 8 mail app. Mail supports inline swiping gestures for flagging, archiving and deleting messages and threads.
Swipe left to get More, Flag and Trash options (shown in screenshot 1). You can flag an email in order to identify it from others. Select Trash to delete email directly. More button brings up menus to reply, forward, flag, mark as read, move to junk, move to folder and set an alert notification (shown in screenshot 2)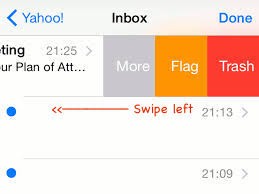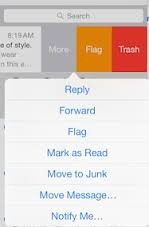 Also, a longer left swipe will trash any message directly.
Swipe right will prompt option to mark it as unread (shown in screenshot 3) whereas longer swipe right automatically sets to read state without needing to tap.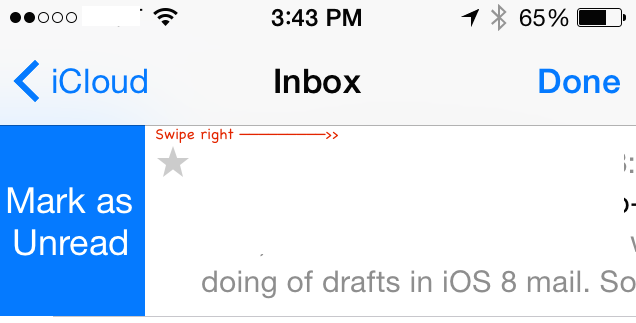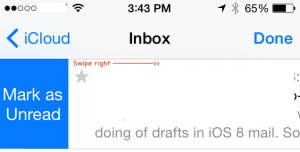 b. Notify
Apple provides support for "Notify me" alerts in iOS 8. You can configure alert to play when Mail receives a reply to important message. Simply click on blue bell icon that appears in subject line when composing a message (show in screenshot 4).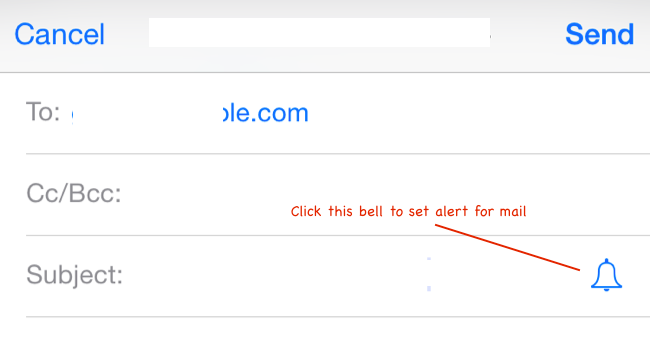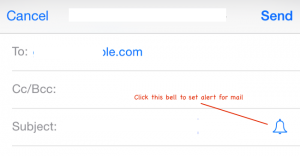 You can also set alert by swiping right and select "More". This opens prompt containing "Notify Me" (shown in screenshot)
Install third-party keyboard – IOS 8
Now you can use third-party keyboards instead of boring default keyboard of your iPhone/iPad device in iOS 8
a. How to install new keyboard?
There are several different third-party keyboards available on App Store such as Swift Key (free), Fleksy and Swype (for $0.99). You can install third-party keyboard like you install any app from App Store.
Once you install keyboard successfully you have to add it before using. You can add new keyboard using below steps (shown in screenshot 5):
Settings -> General -> Keyboard -> Keyboards -> Add a New Keyboard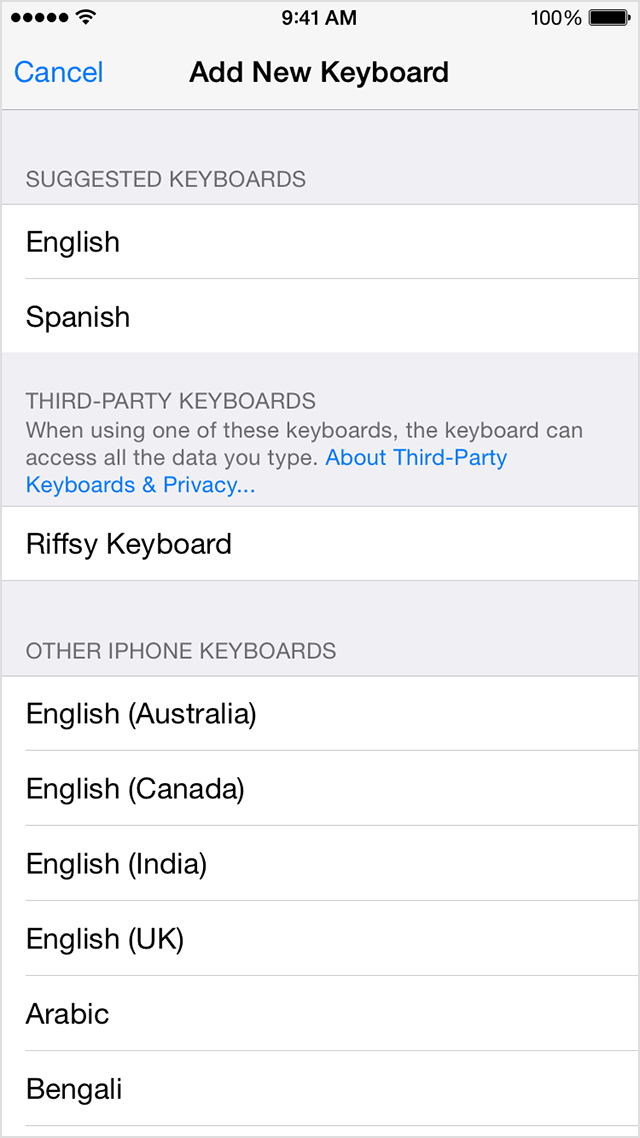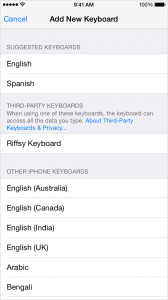 b. Turn on your new keyboard
Once third-party keyboard app is installed you can see list of available keyboards you've turned on. This may ask you to provide complete access to your iOS device.
The risk of using third-party keyboard is that it can provide personal information to third-party developer. However, iOS 8 dosen't allow third-party keyboards to access your personal information unless you allow full access.
In order to use third-party keyboard you'll need to give full access to each keyboard you add.
Go to Settings -> General -> Keyboard -> Keyboards and tap on keyboard you want to give full access. The full access section won't appear if you don't have any third-party keyboard installed.
c. Switch to third-party keyboard
You can switch to any third-party keyboard while you're using an app. Simply select the text field within the app. You can see globe icon on keyboard (shown in screenshot 6). This allows you to switch between list of third-party keyboard.

d. Play with third-party keyboards
You can manage third-party keyboards using below steps :
Setting -> General -> Keyboard -> Keyboards -> Edit
In this section you can arrange order of keyboards and remove keyboards. You can also delete third-party keyboard by deleting corresponding app you have installed from App Store. This will also remove corresponding keyboard from Settings.
Answer calls on an iPad, iPod touch or Mac – IOS 8
iOS 8 allows you to connect your iPhone, iPad, iPod touch and Mac using Continuity. Continuity allows you to move between devices such as iPhone, iPad, iPod touch and Mac efficiently. This include features such as Handoff, Phone Calling and Instant Hotspot.
For example, you wrote an email on Mac and all of sudden you attended important call on your iPhone leaving email half-written. At the end of call you can start email where you left on on your Mac.
iOS 8 allows you to make and receive cellular phone calls from iPad, iPod touch or Mac when your iPhone is on same Wi-Fi network.
You can achieve this using below steps :
a. Suppose you have an iCloud account with ID user@educba.com. Now, Sign in to iCloud account on all devices (iPhone, iPad, iPod touch and Mac).
b. Note that all devices should have iOS 8 and Mac should use OS X Yosemite.
c. Also, all devices should be in same Wi-Fi network (say eduCBA_WiFi).
d. Now sign in to FaceTime using user@educba.com iCloud account. This will allow all devices to get your phone calls.
In order to make a phone call on your Mac, iPad or iPod touch simply click a phone number in Contacts, Calendar or Safari browser (shown in screenshot 7).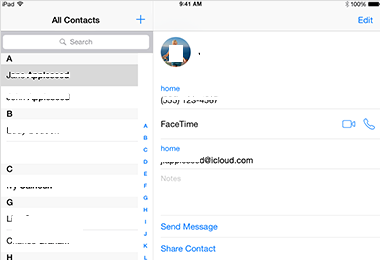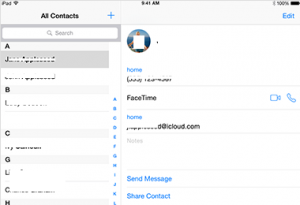 Answering a phone call on iPad or iPod touch is same as in iPhone, just slide it (shown in screenshot 8).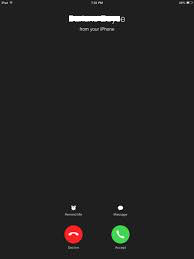 You can see notification on Mac when you receive a call on iPhone. You can answer the call, send it to voicemail, or send message to caller from Mac itself (shown in screenshot 9).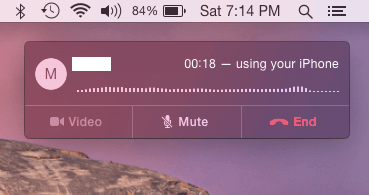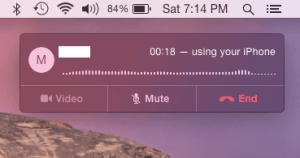 In order to turn off iPhone cellular calls on iPad or iPod touch turn off iPhone Cellular calls from Settings -> FaceTime (shown in screenshot 10)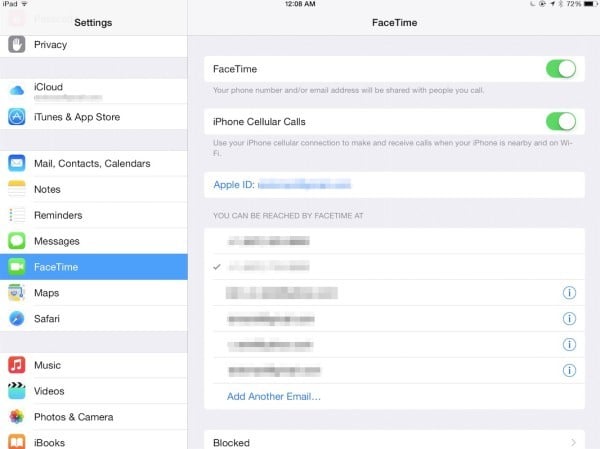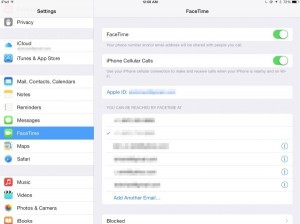 On Mac open your FaceTime app and then got to FaceTime -> Preferences. Now click on settings and deselect iPhone Cellular Calls option.
QuickTypes – IOS 8
iOS 8 provides a new predictive typing feature called as QuickType. It displays word suggestions above the keyboard as you type on. This has been biggest changes to keyboard since the launch of very first iPhone device.
It also predicts what you're likely to say next. No matter to whom you're saying it to. Using QuickTypes you can write entire sentences with just few taps thus saving time and effort. iOS 8 takes into account the style you use in writing mail, message or any text.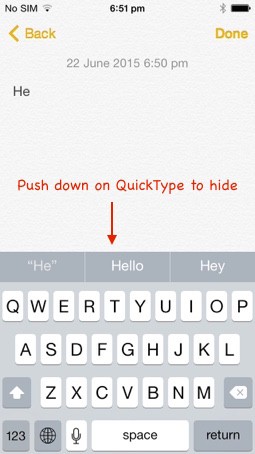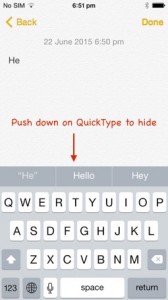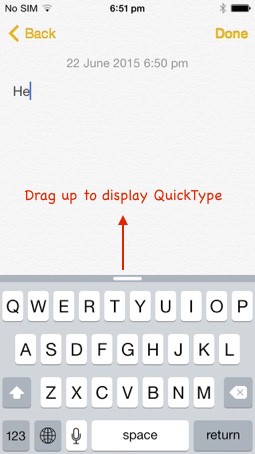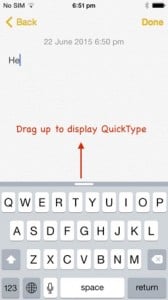 You can hide QuickTypes bar by pushing it down. In order to display QuickTypes push up bar that appears above keyboard (shown in screenshot 11 and 12).
iOS 8 predictive text engine is optimised for all languages that apple devices support. This means you can see suggested words and phrases all of your regional language. The languages supported are English optimised for US, UK, Canada and Australia, French, German, Italian, Portuguese, Simplified Chinese, Traditional Chinese and Japanese
You can see QuickTypes for French language using Third-party keyboard in screenshot 13.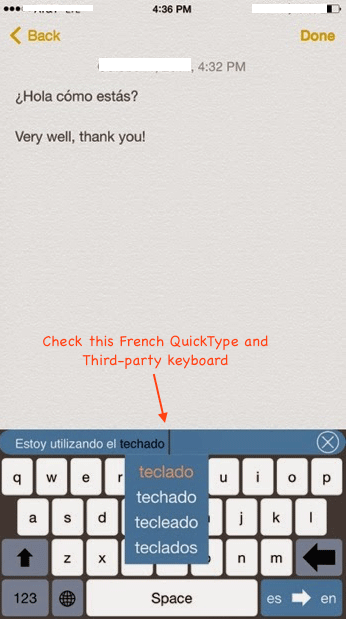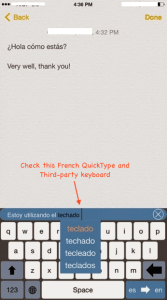 Over a period of time iOS 8 predictive text engine will learn the way you communicate
and also know your favourite phrases and suggest next likely logical word.
Track your Health – IOS 8
Apple has announced Health app and developer-focused HealthKit API in iOS 8.
This creates a centralised secure location that stores your health related statistics. These statistics can be your heart-rate, blood pressure, sugar level, calories burned and cholesterol (shown in screenshot 14).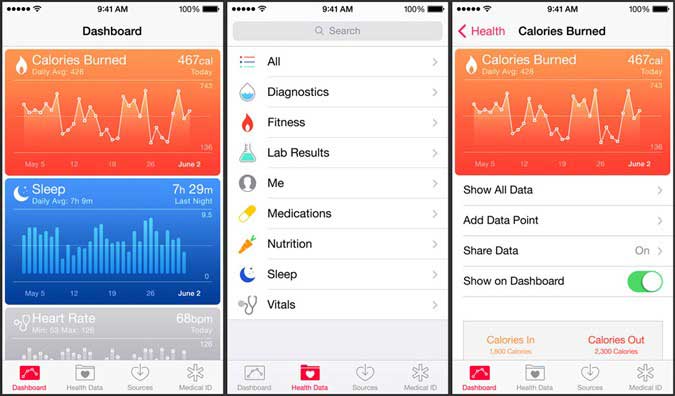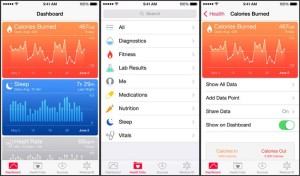 You can also create an emergency card with important health information (say your blood pressure or heart-beat rate) from your Lock screen (shown in screenshot 15). This emergency card helps you shared vital medical condition with your family doctor in case of emergency.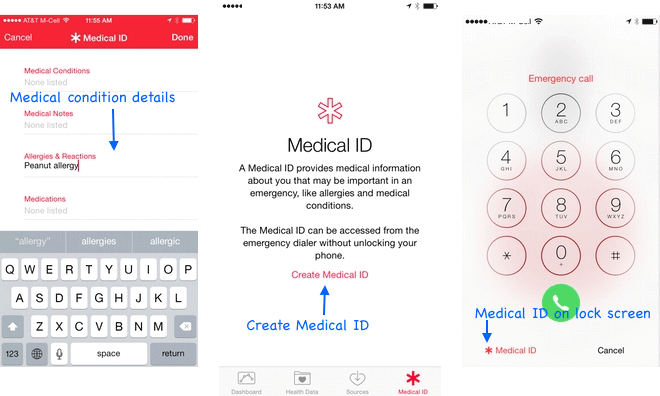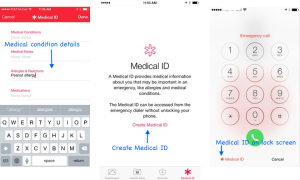 The developer-focused HealthKit API allows developer to make apps to access your health data. For example, you can allow data from blood pressure app to be automatically shared with you family doctor or your app can determine how many steps walked today (shown in screenshot 16).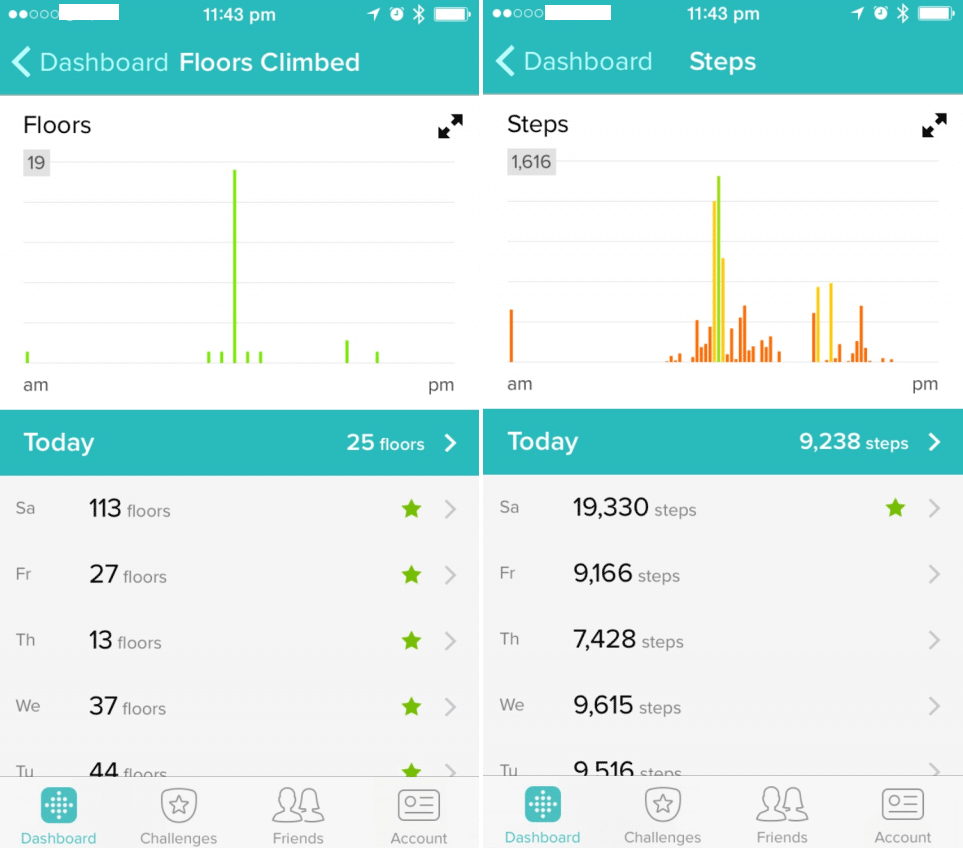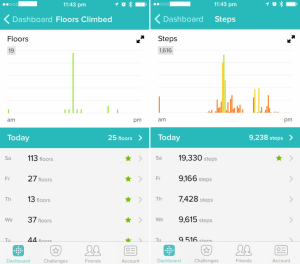 Here are few exciting apps, already available on AppStore integrated with HealthKit, Nike and MayoClinic can be used to deposit health stats into centralised Health app. Another Withings' Blood Pressure Monitor app is used to monitor blood pressure which has been part of Apple's WWDC presentation. Also, UP Coffee app by Jawbone can be used to determine your caffeine intake.
Recommended Article
So here are some related Article which will help you to get the more detail about the iOS 8 so just go through the link which is given below