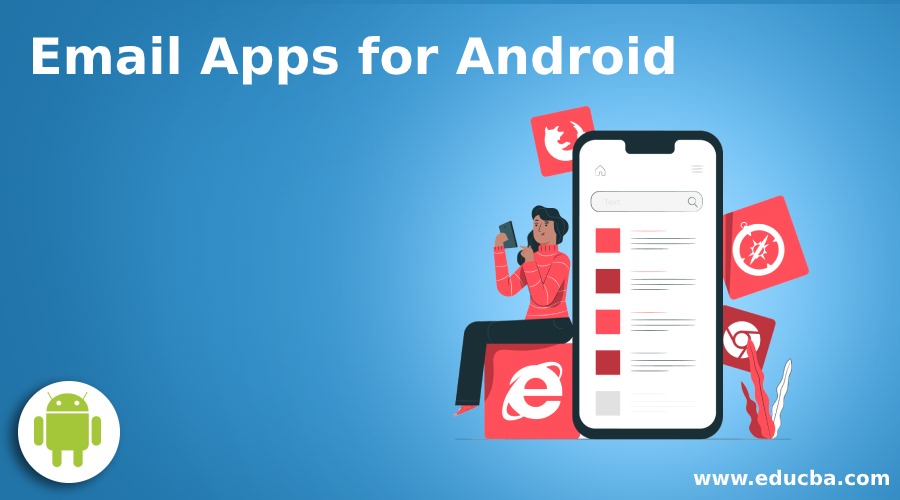 Introduction to Email Apps for Android
The following article provides an outline for Email Apps for Android. Email is one of on-line communication's oldest, most famous, and important forms. It can be used for individual or official purposes. Many e-mail service providers are available and e-mail apps are available. Some common e-mail providers such as Yahoo, Gmail, Outlook can build their e-mail account. Due to the value of e-mail communication, most Android smartphones and tablets feature an e-mail application preinstalled.
Moreover, Google Play Store provides several other third-party Android email applications with better features than the stock or pre-installed email applications. So, here is the list of the best Android email applications you may want to download on your computer. Free to use, nearly all the following apps are available. Most of these applications work with nearly all main providers of emails.
Best Email Apps for Android
Given below are the best Email Apps for Android:
1. Gmail
Gmail is an email application that is already popular with most Android devices. You can't forget Gmail while finding the best Android app in the Play Store, as the biggest name in its category. This offers a friendly user interface and organizes your box in different directories, such as social and promotional emails. You can manage multiple Gmail accounts and other email services. Certain apps include community conversations, message bookmarking, push alerts, etc. In total, Gmail offers 15 GB of free storage as a simple organized application.
2. Blue Mail
Blue Mail is a decent choice with hundreds of apps as you search for Android's best e-mail client in 2019. It operates with various email systems, including Office 365, Gmail, Yahoo, iCloud, and Outlook. IMAP, POP3, and MS Exchange are also supported. You will synchronize multiple mailboxes on a single device from all your providers. It offers an impressive UI with a range of visual changes.
There are also useful elements including support for Android, a settings menu, and a timed lock screen that can be set to secure your private mail. In addition, this Android email client provides smart mobile alerts in which different types of notification formats can be specified for each account. There's also a dark trend. Therefore, this email app will be a great option, if you're looking for a Gmail alternative.
3. ProtonMail
We have all heard of the 2018 breach of Gmail records. If this is your key concern for Gmail-ProtonMail suit your needs perfectly. This offers e-mail encoding from end-to-end so that everyone can read this basically except the sender and the receiver. In addition, ProtonMail also offers all of the modern features required for Android 's best 2019 e-mail app. After you send, you can set timepieces to autodestruct messages. In addition, you can secure your non-ProtonMail emails with a password.
4. Outlook
The outlook is one of Android 's famous emails that allow millions to manage all their emails and files in one location. It helps millions of users. Microsoft supplies this text. You can easily manage your email account. The software is one of Android 's best email applications and enjoys millions of Google Play Store downloads.
Outlook app includes a very attractive inbox that lets users move between the emails and Microsoft's calendar with only a few tapes to keep the important messages on top of the list. The GUI is quick and easy to use and allows multiple e-mail account synchronization. This software is compatible with regular mail services such as Outlook, Gmail, Yahoo Mail, and iCloud.
5. TypeApp Email
TypeApp is an email app that performs the entire function you are waiting for. It handles several accounts from a complete email app. It supports push messages, e-mail services, a unified inbox, text emails, wireless support for printing, and many more. It also provides support for wear operating systems, dark-mode themes, and other configuration functions. The program also has a user interface to Material Design and a fairly easy way to turn accounts.
6. Edison Mail
Edison mail is designed with grace as one of the best Android email applications. The program supports a number of e-mail providers including Yahoo Mail, Gmail, AOL Mail, and more. It includes an integrated digital assistant with an incomparable pace. The software offers travel alerts in real-time, automated email sorting into various categories, etc. You can also use Edison mail via smartwatches in Google Wear OS.
7. Newton Mail
Newton Mail is a versatile email client that can replace Gmail 's native application more effectively. This can also be used for iOS, Chrome OS, and macOS. Newton Mail is well-known for its smart quest, cross-platform, and user interface capabilities. It supports all major e-mail vendors and provides numerous working platforms including Pocket, Zendesk, Evernote, Trello, and OneNote. The Android E-Mail App comes with a tidy box that can be passcode protected.
8. MyMail
MyMail is another trustworthy Android email client that can handle all of your email accounts on a smooth basis. It supports all main e-mail providers and any mailbox that is supported by POP3 or IMAP. The app offers personalized updates in real time, data compression, and intelligent search capabilities for sending / receiving an email. MyMail is not highly functional but provides all of the necessary functionality in an email program.
Conclusion
In this article we have seen various email apps for android for communication and sending files. You can choose any of the app based on your requirement.
Recommended Articles
This is a guide to Email Apps for Android. Here we discuss the introduction to Email Apps for Android and best email apps for android respectively. You may also have a look at the following articles to learn more –