What Is a Digital Marketing Executive?
Digital Marketing Executive is an online marketing expert in charge of development, implementation, and digitalization to boost brand awareness. An ideal candidate helps grow and maintain a company's organic reach on all social media platforms.
They use technology to promote products/services through online digital platforms and other channels. They also engage with customers and clients via online portals to maximize their reach and outgrow global expansion through social media channels.
Key Highlights
A digital marketing executive is an expert that works towards advertising a business to help reach its target audience and boost profitability.
The salary range for this role is $40,000 to $60,000. It depends on the expertise and qualifications of the candidate, and wages may increase with a growing career.
The educational requirements include any degree in a related field. Any certification is an added advantage.
The ideal candidate should be passionate and eager to drive the digital space of any company with definitive strategies.
Digital Marketing Executive Job Description
Promotion of products and services through various online and social media platforms across the digital space.
Utilization of the internet and other marketing channels to target new prospectus, which will help increase leads and conversions.
Using effective and successful marketing strategy to plan marketing campaigns to build brand popularity, brand image, and sales for the company.
Analyzing competing brands in the industry and adapt new and latest marketing trends.
They handle comprehensive data analytics, build marketing tactics, and help the team develop unique skill sets.
Digital Marketing Executive Skills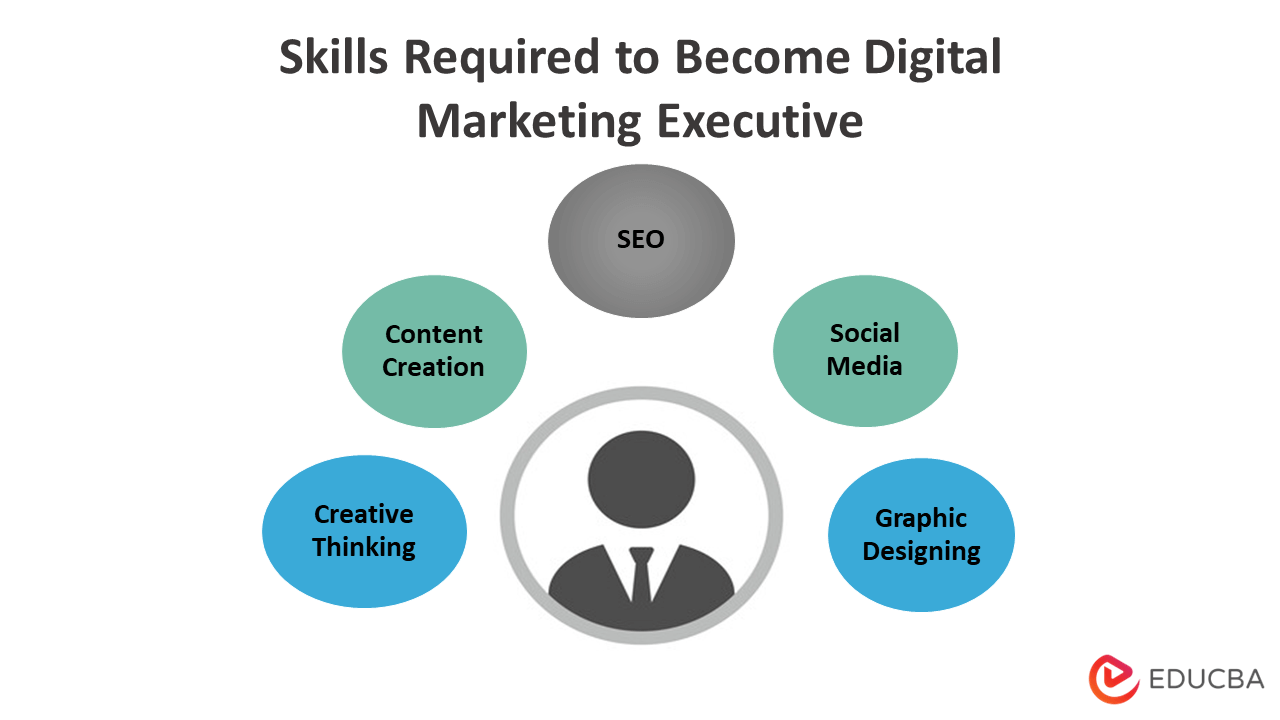 Knowledge of a native language like English, fundamental technical and programming skills, and the eagerness to learn is necessary.
Proficiency in digital marketing terminologies & communication and being updated with the latest digital trends
Have the ability to analyze and utilize metrics along with understanding algorithms of different platforms like Google, Facebook, Twitter, and others
The ability to build own personal brand image and accomplish effective result-oriented networking
Acquiring training and certification in digital marketing, graphic design & art, media, IT, and more can be valuable for the role.
Digital Marketing Executive Salary
As a full-time/part-time job
Full-time employees work 40+ hours per week, while part-time workers spend 20+ hours per week working.
Employees may have to work on Sundays as well, as the digital space is changing every day.
As a freelancer
Freelancers in the field of digital marketing can work conveniently by taking up any number of projects as per their comfort.
They earn through commissions which range from $15-$45 per hour, but it can go upto $200+ once they gain expertise.
Additionally, freelancers can also charge per project rather than hourly. It majorly differs by the size of the project.
Digital Marketing Executive Qualification
The minimum qualification required for a candidate is a bachelor's degree. The degree can be in any related branch, like Marketing, digital marketing, media development, social media marketing, etc.
A master's degree can be advantageous as well. In addition, professional qualifications such as Digital marketing certifications will act in favor of the candidate.
To reach the executive position, the applicant must have an experience of at least 2+ years in the marketing domain.
However, age and qualification are not barriers if the candidate has the abilities and skills.
Digital Marketing Executive Career
The career graph for the executive role begins as an intern. Candidates can apply for an internship, and with advancement in their post, they can obtain the executive position.
After working as an executive for 2+ years, employees can progress to further roles like Senior Marketing Executive, Digital Marketing Manager, Digital Marketing Director, and even CMO(Chief Marketing Officer)
Hiring companies, namely Fire and Spark, Pinterest, and Panda Restaurant Group, have current vacancies for the position.
Digital Marketing Executive – Interview Questions
Most of the interview questions revolve around the working of google ads, as it is a primary tool businesses use for marketing.
The questions can also be about ad ranking, format, scheduling, and costs (Pay-Per-Click)
Apart from the primary digital marketing question, like its definition, types, and significance, they can also question SEO, SEM, Social media marketing, and email marketing.
Conclusion
The digital economy is growing faster than the conventional economy. Thus, digital marketing executives have great potential to grow in the future. This job is crucial as they play a significant role in the company's overall growth. It is one of the roles that involve tech & sales and allows creativity & innovation. They need to be well-equipped with digitalization tools and daily updates. Hence, it is essential to practice this field of digital space to gain more expertise.
FAQs
1. What is the primary responsibility of a digital marketing executive?
The digital marketing executive is generally responsible for executing online marketing campaigns. They usually do it through emails, advertising, or social media platforms like Instagram, Facebook, LinkedIn, and more.
2. What does a digital marketing executive CV include?
A CV for a digital marketing executive must include relevant experience regarding digital marketing campaigns. Additionally, skill sets in digital marketing tools and appropriate education with training and certification can be a huge advantage. Applicants that are up-to-date with the latest digital trends and technologies are favorable.
3. How does an interviewer select the best digital marketing executive?
The interviewer mainly looks for expertise while selecting the best digital marketing executive. Experience in victorious campaigns, familiarity with tools & technologies, and content creativity are some of the necessary skills.
4. What are some courses for digital marketing executives?
Anyone can pursue digital marketing courses through various online portals such as Google, Hubspot, Coursera, Udemy, and more. Earning a verifiable digital marketing certification can benefit one's career goals.
Recommended Articles
This article guides you about Digital Marketing Executives. We discuss its skills, qualifications, salary, job description, and more. To learn more, visit the following articles,