Updated July 14, 2023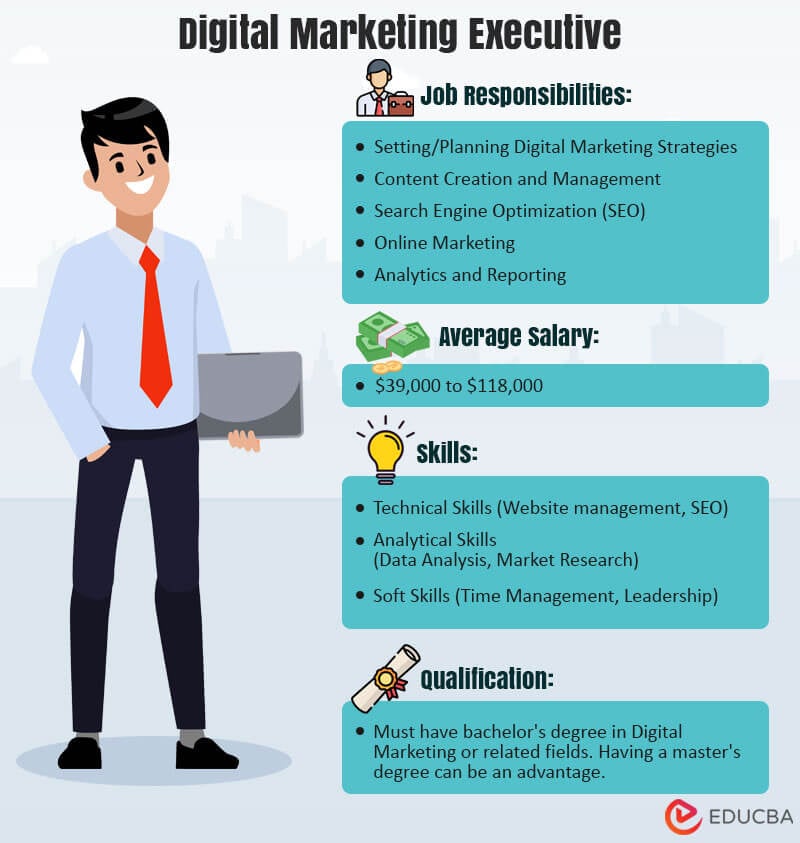 What is a Digital Marketing Executive?
A digital marketing executive is a marketing expert who uses digital platforms, like social media, websites, emails, etc., to help companies advertise their product/services to a global audience.
Their main aim is to keep providing value to the company's existing customers as well as using proper advertisements to find new clients and users for the company.
Table of Contents
Digital Marketing Executive Job Description
The job description of a Digital Marketing Executive can change depending on the company's requirements and trends. However, here is a general idea about the responsibilities of this role:                       
1. Setting/Planning Digital Marketing Strategies
Knowing the company's target customers and setting goals to track the performance of their marketing campaigns.
Make plans to make the company popular by promoting it online.
Find out what people like and what the competitors are doing.
2. Search Engine Optimization (SEO)
Identify keywords people use when they search for a particular topic related to the company.
Improve the website's structure, content, and descriptions to make it more search engine-friendly.
Make the website appear in the top search results to attract more visitors.
Keep track of the website's traffic and search engine rankings using tools like Google Analytics.
Stay aware of the latest trends and changes in search engine algorithms.
3. Content Creation and Management
Work with designers, writers, and video editors to create innovative and interactive content.
Keep an eye on the website's popularity, manage updates, and make necessary corrections.
Create engaging and compelling content for various digital platforms, including websites, blogs, social media, and email marketing.
4. Online Marketing
Use social media to attract more customers and improve customer relationship management.
Manage social media accounts like Facebook, Instagram, LinkedIn, etc, to increase customers' interest.
Send emails to build relationships with potential customers and get them to take action.
Create interesting emails like newsletters, promotions, and automated emails.
5. Analytics and Reporting
Use analytical tools like Google Analytics, Semrush, and Similarweb to understand how the company's ad campaigns perform.
Look at social media numbers to see how well the plans work and make better decisions.
Create regular summaries of website performance that show statistics for increase or decrease in performance.
Analyze the data to identify patterns, trends, valuable insights, and areas for enhancing the data collection process.
Make recommendations on the basis of data analysis to improve digital marketing strategies.
Digital Marketing Executive Salary
A Digital Marketing Executive, on average, earns around $59,209 per year. The typical salary usually starts from $39,000 and can go up to $118,000 based on their experience level.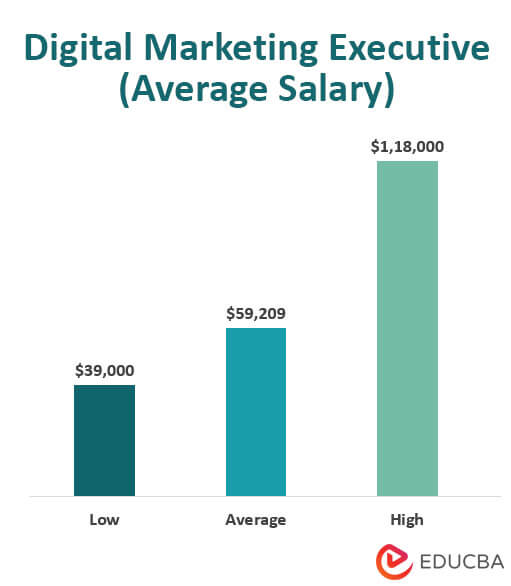 Any candidate with less than four years of experience earns around $58,148 per year, while after 4-9 years of experience, they can earn an average salary of $66,342. With more experience, their salary can go up from $79,595 to $90,762 annually.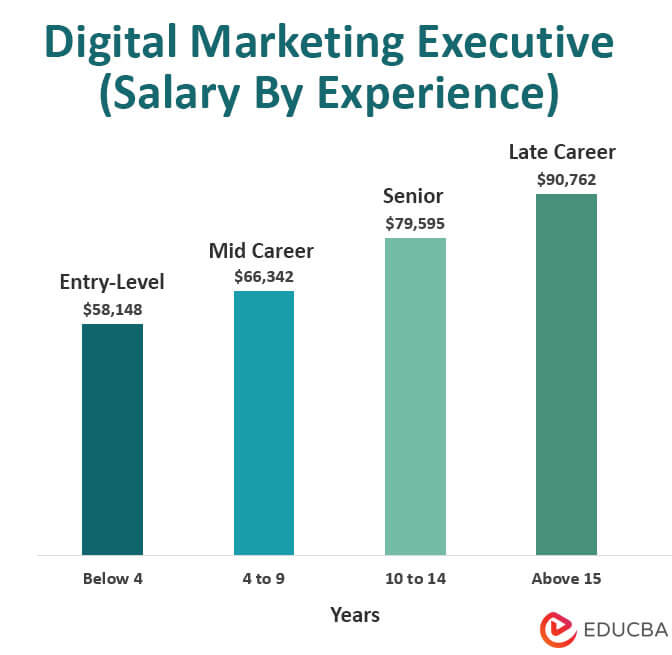 Qualifications Required for Digital Marketing Executive
A candidate requires the following qualifications to apply for the digital marketing executive position.                                             
High School: Complete your high school education with at least 50% aggregate marks from a recognized institute.
Graduation: Get a bachelor's degree in digital marketing or a related field. Some popular undergraduate degrees are B.Sc. Advertising Management, B.B.A. Marketing, B.A. Advertising and Branding, etc. Some universities conduct entrance exams for these programs, like CAT, GMAT, etc.
Post Graduation: After completing your bachelor's degree, you can pursue a master's degree in digital marketing. Some notable degrees are MBA in Digital Marketing, PG Diploma in Digital Marketing Management, etc.
Digital Marketing Executive Skills
1. Technical Skills
SEO (Search Engine Optimization): Using the right words and techniques to make the website rank on the search engines.
PPC (Pay-Per-Click) Advertising: Creating and managing ads on Google and social media, where you only pay when someone clicks on your ad.
Conversion Rate Optimization (CRO): Making changes to websites or landing pages to encourage more visitors to either purchase a product/service or fill out a form.
Website Management: Having a basic knowledge of coding and using website platforms like WordPress to update and manage websites.
A/B Testing: Testing different versions of marketing elements, like ads or web pages, to see which one performs better.
2. Analytical Skills
Data Analysis: Using tools like Google Analytics to see how many people visit a website, what sections they search, and how to improve the website.
Market Research: Gathering information about the market, competitors, and customers to make better marketing decisions.
Trend Analysis: Staying updated with the latest marketing trends and best practices to stay ahead of the competition.
Marketing Automation: Using software to automate repetitive marketing tasks like scheduling emails, tracking customer needs, etc.
3. Soft Skills
Collaboration and Communication: Communicating new ideas and solving problems as a team, and achieving client satisfaction with the best service.
Creativity and Attention to Details: Thinking of new and interesting ideas and paying close attention to small details to avoid any mistakes.
Problem-solving and Analytical Thinking: Finding creative ways to solve obstacles and dividing complex problems into smaller parts to solve them easily.
Time Management: Organizing tasks and managing time effectively to meet deadlines and complete projects.
Leadership: Guiding and teaching others in the team while taking responsibility for projects.
Digital Marketing Executive Career Path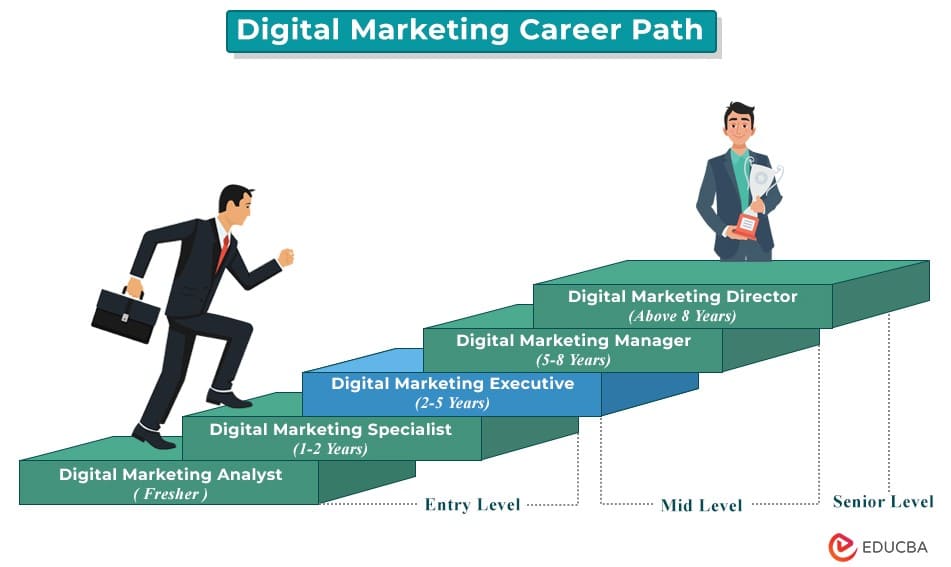 You can start your career in the digital marketing industry by starting as an analyst. With enough experience, you can advance your career to executive or digital marketing director positions.
Digital Marketing Analyst: They are responsible for tracking statistics and improving the company's marketing campaigns. A digital marketing analyst's average salary is $30,000 per year.
Digital Marketing Specialist: They monitor and develop digital strategies for specific brands, products, or services. Their annual average salary is $54,818 per year.
Digital Marketing Executive: They are responsible for SEO analysis, creating and managing content, and using digital platforms to improve customer relationships. Their typical salary per annum is $59,209.
Digital Marketing Manager: They manage and oversee all the digital marketing campaigns that the company is running. Their annual salary is $90,793 per year.
Digital Marketing Director: Their responsibility is to oversee the company's overall presence on all digital platforms. Their annual salary is $120,000.
Tips to Become a Digital Marketing Executive
By following the following tips and continuously improving your skills and knowledge, you'll be well on your way to becoming a successful digital marketing executive. Good luck!
Develop a strong foundation of marketing concepts to understand complex things better.
Find new ways to collect customer information while respecting their privacy.
Create ads that are attention-grabbing and make people go, "Wow!"
Write emails and text messages that make people want to take action.
Team up with popular people online to boost your marketing efforts.
Be adaptable and roll with the changes in the digital world.
Try new things, learn from what works and what doesn't.
Dig into data to understand what customers like and how to reach them.
Get good at using social media to connect with your audience.
Think beyond just sending emails and find cool ways to reach people.
Stay up-to-date with the latest trends and tech to stay ahead.
Frequently Asked Questions (FAQs)
Q1. Why is Digital Marketing so important?
Answer: Digital marketing is important because it helps businesses connect with people all over the world and reach the right customers. It can help businesses understand market trends, customer needs, and more which can help them improve their marketing strategies and increase customers.
Q2. Is a Digital Marketing Executive a good job?
Answer: Yes, being a digital marketing executive can be a good step in one's career. The role is currently in high demand, and the average salary starts from $39,000 and increases to $118,000 per annum. However, the working hours can be more or less, depending on the company.
Q3. What are some important interview questions for digital marketing executives?
Answer: The basic interview questions that interviewers ask for the digital marketing executive role are related to the candidate's experience in the field, their marketing skills, their familiarity with tools and methods, etc. You also need to prepare for questions about methods you use to stay updated, challenges you have faced, and more.
Recommended Articles
This article tells you all about a Digital Marketing Executive. From their job description, qualification and skills required, their average salary, and much more. We have also provided some tips to kickstart your digital marketing job. Take a look at the following related articles to learn more.