Updated July 28, 2023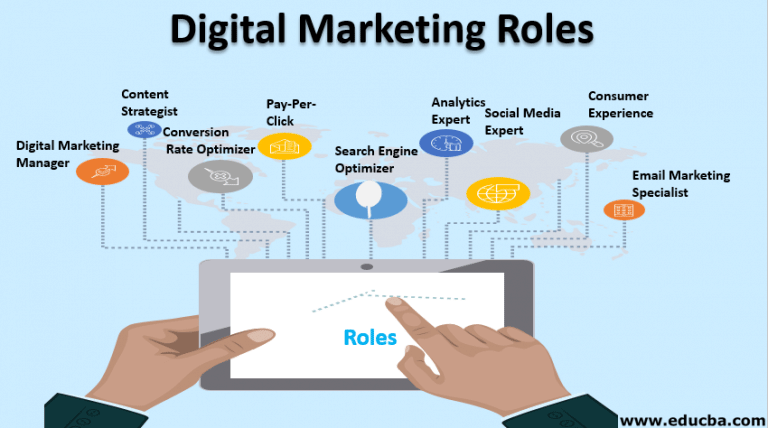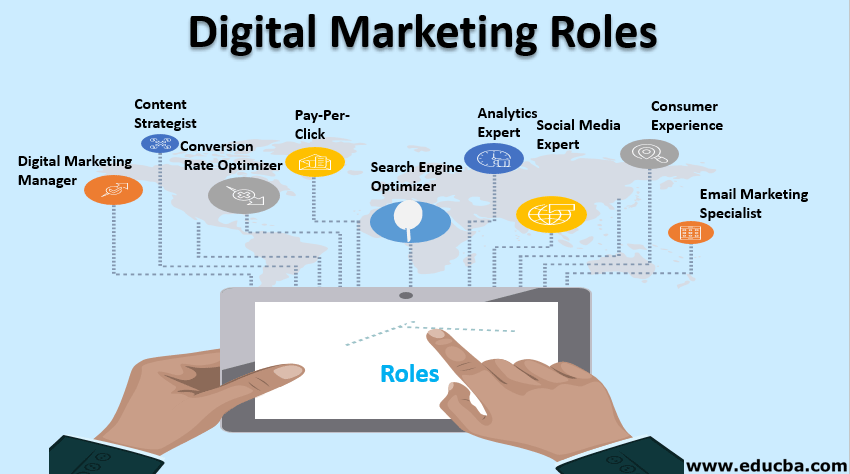 Introduction to Digital Marketing Roles
As the name implies, 'Digital Marketing' supports businesses to market their brands to targeted markets through online channels or other electronic mediums. "Digital Marketing Roles' can be defined as different job roles/positions that assist companies in developing and promoting brand image through various digital means to sell their products". Thus, 'Digital Marketing Roles' are designated to perform various tasks such as designing promotional campaigns, developing appropriate business content, garnering customers' attention through various social media channels, and monitoring customer flow on the website.
As Digital Marketing trends are constantly changing due to technological advancements and the rise of online platforms, so are the roles! The growing social networking avenues have led to the emergence of new roles in the digital marketing space. The domain of Digital Marketing is result-oriented. Thus, enthusiastic professionals with creative abilities are preferred.
Roles of Digital Marketing
Following are the top Digital Marketing roles:
1. Digital Marketing Manager (DMM)
The DMM plays a pivotal role in conducting and promoting digital campaigns to create brand awareness virtually. The primary work responsibility includes planning a project layout, developing the project schedule, setting objectives, and managing project finances. The DMM determines and examines the new digital advancements and effectively manages campaigns to promote the products or services of a company. Thus, maximizing customer leads and navigating online traffic to enhance the penetration rate.
2. Content Strategist (CS)
The primary work role of a CS is to develop engaging content relevant to the business objectives and target customers. Thus, the CS communicates a brand in a convincing and informative way to the consumers to boost brand value. As customers tend to look for more relevant information by using search engines, the CS has to search for the topics that customers find intriguing by using various analytical tools to maximize website views.
Therefore, the CS must be proficient in writing abilities with a good grasp of Search Engine Optimization (SEO).
3. Conversion Rate Optimizer (CRO)/Conversion Rate Manager
One of the significant roles in Digital Marketing, CRO enables the acquisition of new customers by modifying and developing components of the company website. It allows the companies to maximize the chances of converting their 'website visitors' to 'lead consumers' before they close the tabs. Thus, CROs optimize the webpage experience by analyzing the behavior of the site visitors and taking appropriate steps (conversions) to change or modify the web page.
4. Pay-Per-Click (PPC) Specialist/Manager
The PPC Specialists/Managers monitor the online PPC promotional campaigns, including strategy formulation, designing, execution, SEO, and impact evaluation of the advertisements. PPC Specialists must stay updated with the current trends to understand the consumer choices of keywords by making necessary alterations to generate appropriate results. As the adverts have a direct link to the company webpage, the PPC Managers must offer an intriguing read to the website clickers to generate brand value and turn them into customers.
5. Search Engine Optimizer (SEO)/ Search Engine Marketing (SEM) Specialist
The SEO/SEM specialist has a vital role in making digital marketing successful. The SEM specialist evaluates, appraises, and incorporates changes to the company websites for effective retrieval by search engines. This allows for increased search appearances and webpage trafficking. The SEOs must evaluate the website performance and trafficking using Google Analytics while being updated with Google's Algorithm to generate desired results.
6. Email Marketing Specialist (EMS)
An EMS is a virtual marketer that maintains customer details by building up email lists and executing promotional campaigns by initiating emails. An EMS ensures the missive is conveyed in a precise and appropriate format to the prospective clients. Thus, these written communications must be informative and cogent with amplitude to generate brand value for the prospects.
7. Consumer Experience/User Experience (UX) Designer
UX designers are technical and design experts and have a good understanding of human attitudes and mentalities. UX designers generate websites, products/services, and applications to enable customers to follow up through their purchasing journey. Thus, it helps companies improvise sales, retain existing customers and acquire new ones.
8. Analytics Expert (AE)
Technological advancement has led to the emergence of machine-based intellect in the form of 'Artificial Intelligence' (AI) and 'The Internet of Things (IoT). These computing technologies gather a large volume of data and information that requires effective sorting, organization, and analysis. AE's sorted out and evaluate this data systematically, thus providing businesses with information to interpret and execute in the promotional campaigns.
9. Social Media Expert (SME)
With a rise in various networking channels such as Twitter, Facebook, and many others, many people tend to be active on these platforms. Thus, social media allow companies to interact with their customers on a wider scale. The work role of an SME is to promote the company's presence on these platforms, create brand awareness, communicate with the targeted customers, follow up, and keep the community of existing customers engaged. It requires the SME to devise effective promotional strategies across all the networking platforms and develop and update company brand pages across social mediums. This enables to enhance the visibility and presence of the businesses to attain public engagement.
 Conclusion
In today's era, where the 'world' has come so close virtually, 'Digital Marketing' is becoming immensely popular. The days when Digital Marketing was only meant for big businesses to exist no more, and even the SMI (Small-Medium Scale Industries) could market neck-to-neck with other big brands. Thus, making even a 'local business' look huge due to the wider online reach. In the coming future, Digital Marketing will be taking over traditional marketing methods. Thus, the growing popularity of 'Digital Marketing' has created exponential job opportunities and career avenues in various roles.
So, if you are passionate enough about Digital Marketing and looking for a professional career option, there are many certifications available. Wait no more; get yourself certified for a Digital Marketing role you wish to pursue!
Recommended Articles
We hope that this EDUCBA information on "Digital Marketing Roles" was beneficial to you. You can view EDUCBA's recommended articles for more information.