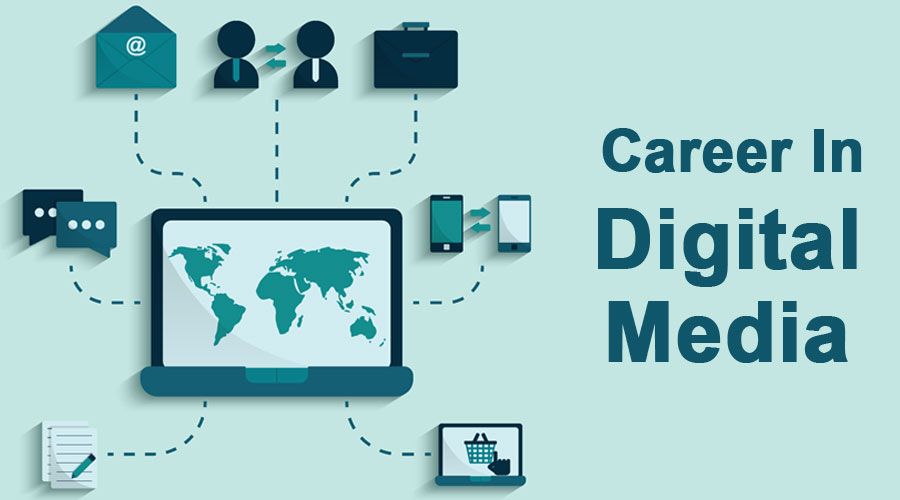 Introduction to Career In Digital Media
A career in digital media includes the designers who work in the area of developing video games, graphic artists, animation and multimedia etc. Video games, digital images, digital audio, and video require a lot of creativity and original designs. Digital artist needs to know the variety of software and programs available to know the work of digital media and its programming. A career in digital media is really wide in terms of career options. An individual can work in a particular area as per interest and passion towards the technology.  As Digital media is the media which is able to read machine coded formats. The digital media examples are digital videos, data, and database, digital video, video games etc. The individual working on digital media called as the digital artist as they used to create web pages, multimedia, animation, video games. These people are mainly worked on graphics.
Education Required For Career In Digital Media
The education required for digital media which includes a lot of designing, originality, programming, precision is bachelor's degree in any stream and it would be great if an individual has completed the course for a particular course like for animation. For animation, there is a particular bachelor degree as well and one can do the learning course for the same as well.
If one has to start the career with the graphic design then an individual should have knowledge of 2D, 3D designing, photography, and drawing. These programs include web programming and web design which includes programming tools like HTML and CSS. Video game designer can have the experience or learning in interactive design, visual effects, designing, architectural patterns etc. These courses can be learned on the base of interest online as online forums and videos are available from beginner to a professional level or one can join institute to learn these specializations.
Career Path in Digital Media
The career path for digital media artist is great as they have a lot of opportunities based on their specialization like for animation, video games, and graphic artist etc. If you want to work on animation, you can work as an animator for different fields like movies, television shows, video games, and commercials. You need to create the character with help of computer programs.
Individual wants to work on video games, you should know creativity and designing thing because it requires at every step like in storyline and characters. The graphic artists mainly create images for advertising, magazines, and websites. One has to use the computer to create different designs, advertisements, graphics, and programs. Online advertising is one of the hot career opportunity as the world is becoming digital in marketing. One has to be very careful and passionate while choosing these career option as they require a lot of hard work but once you are an expert in a particular area, can have good earnings.
Job Positions or Application Areas For Career In Digital Media
There are many job positions or application areas in multiple organizations. The organizations want their company to be top of the search results and their content should also attract customers. There are many freelancing jobs as well. Individuals working as a freelancer for multiple projects at the same for different organizations to earn well at the end of the month or the day. The job positions are like Animator, artist, cartoonist, designer, computer games developer, system analyst, Graphic designer, Digital specialist, Website designer, web specialist, software designer and there are many other roles available as per the different organizations. All organizations have different hierarchies accordingly.
Salary
The salary for the digital artist is good across the globe. It's true that there are many programmers who are mainly working on animation and video games and the average salary reported for them around 50k USD per year to 80k USD per year based on the skill and expertise. The one is an entry-level position is getting 50k USD per year and at mid-level around 75k USD to 80k USD per year.
The digital artist is mainly working as a freelancer as well and getting good earnings they are paid for around 16 USD per hour to 30 USD per hour based on the project budget and individual skill level or expertise. As freelancer one can work on multiple projects and can have good earnings. The organizations do require good designers and artist for them and they are offering a good salary to them as well.
Career Outlook
It is really good in the future as everything is becoming digital in today's world. The digital artist already has different options to pursue a career in different categories as per the interest. The individual also can have some alternative career in addition to the traditional career for digital artist such as web developer. The other jobs like building websites, designing web pages, layouts, and artwork for companies or the group of people. The software programmer or computer programmer job is also the other option where one can write and develop the code, test the programs and execute it. This is one of the best career opportunities in present and for future as well.
Conclusion
It is emerging from last few years and it will be one of the great opportunity in future for the individual to start the career as per their interest and passion in a particular area of digital media. The digital media is not only providing the career but also giving options to start own venture or business to an individual who has own creativity and originality. Digital media is all about content and management.
A career in Digital media is progressing at a good pace and creating a lot of opportunities in different sectors like finance, entertainment, Information technology, business etc. The one should be focussed on which technology or area want to work or progress, and keep learning and gaining experience is the ultimate key for having success in the career and earning a good salary and these are the most important aspects of life. It is always necessary for an individual to be decisive, creative and designing own ideas to have a good career not only in digital media but in other areas also.
Recommended Articles
This has been a guide to Career In Digital Media. Here we have discussed the basic concept, Education, Career Path, Job Position, Salary and Career Outlook in Digital Media. You may also look at the following article to learn more –