Updated July 28, 2023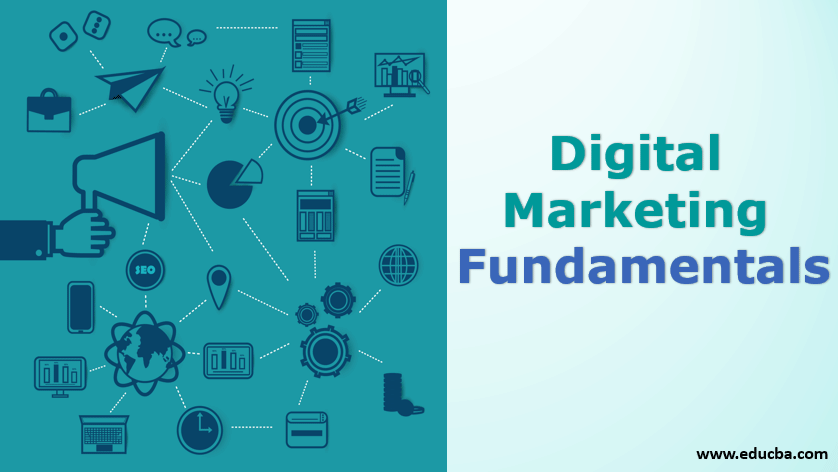 Introduction to Digital Marketing Fundamentals
Digital marketing fundamentals are very different from traditional marketing fundamentals. Since 2000, the concept of marketing took a new direction with the advent of digital marketing concepts. Unlike traditional marketing, it is the marketing of products or services using digital media as a platform. Today billions of people are engaged with digital media to purchase or sell products. As a customer, we can compare various companies' products before making a buying decision. But the techniques or strategies which the companies used to reach to customers at the time of the inaugural stage of digital marketing, now the majority of techniques are different. But the fundamentals of digital marketing always remain unchanged regardless of any new updates or design trends.
What are the Fundamentals of Digital Marketing?
The fundamentals of digital marketing include all modern marketing strategies to reach target customers. To give advertisements that work on TV, radio or newspaper may not work in social media or online marketing. Therefore, companies need to adopt certain techniques to leverage digital marketing. Before investing time or resources for strategizing online marketing, business houses must comprehend digital marketing fundamentals. The fundamentals are as follows –
User-friendly Website Design
Search Engine Marketing or SEM
Social Media Marketing or SMM
E-mail Marketing
These fundamentals are discussed here elaborately:
1. User-friendly Website Design
The purpose of digital marketing through social media or search engines, or online advertisements is to attract potential customers to the company's website. That is why the website must be qualitatively good that serves the purpose of business and converts potential customers into the real deal. The content of the website has to be informative and easily understandable what the customers are actually looking for. Before launching any website, any company needs to consider the following points without spending its entire budget.
Good Hosting Platform: It is necessary to sustain and prosper in business inside the digital realm. A strong hosting platform provides essential resources, including file storage, email hosting, server space, database and many more, which any company need not take a special step. Even the website is active and running 365 days a year. There are many popular hosting platforms like Go Daddy, Bluehost, HostGator, and Amazon Web Services.
Selecting an Effective URL or Uniform Resource Locator: It is required for the company's website. The URL must be short and simple, representing the company's name or brand's name. It is recommended to keep the user in mind before creating and branding the company's website.
Strong and Effective Content Management System: A Strong and Effective Content Management System or CMS is recommended to build a solid foundation for the website. WordPress, Wix, and Joomla are commonly used CMS.
Informative Content: The informative content provides the best result which addresses the specific requirement of the clients. The visitors enter the site to get the solution to their needs. So the content of the website, which may be in a one-page text form to infographics or videos, must be presented in a way to help the shoppers and prospective shoppers.
2. Search Engine Optimization or SEO
Before taking any big purchase decision, most buyers conduct online research through search engines like Google, Bing or Yahoo. So the business websites must be optimized in search engine results. Basically, SEO improves the visibility of a website in organic search engine results. Even it assures that the website is following best practices to get rank in SERP or Search Engine Result Page. As SEO is a fast-moving competitive environment, and it is constantly sprouting, so the companies need to take consistent effort to sustain though it may not provide fruitful results at the beginning. The companies must have an SEO strategy to stay relevant and important in queries. SEO strategy helps to focus on many keywords to bring in better traffic on websites.
To achieve long term SEO result, the business houses need to take foundational ways such as –
The heading and meta-description of website pages are important pieces of information to a prospective visitor. So the title and the descriptions must be pertinent, which shows up as heading in search engine results.
The sitemaps must be up-to-date, and the content of the website has to be presented in an appropriate way to give answers to all the queries of ideal customers.
Choosing the right keywords that must be relevant to the business is necessary to survive in competition.
3. Search Engine Marketing
Search Engine Marketing or SEM is another way of online advertising to draw the attention of customers to the company's website, which may provide valuable information to them. The concept of SEM is vast. It is not only limited to the advertisements coming at the top or right sight side of the search engine result, but the paid advertising in social media platforms is also considered as SEM. It is also mentioned as PPC or Pay-Per-Click advertising, where the company has to pay a certain amount if somebody clicks on that particular company's ad. To make SEM as a successful attempt, one has to consider the following components –
The campaign in SEM has to be interlinked with relevant keywords and ad groups which work together.
To make the ads successful, it is necessary to place them in an inappropriate place.
The Ad rank provided by paid search platforms determines the actual position within other advertisements.
4. Social Media Marketing
SMM or Social Media Marketing is rapidly growing as an important venue for stimulating online word-of-mouth for branding. Today, millions of social media users use this platform to discuss various issues, including their preferred products or services. So the companies have begun to implement social media platforms for promoting and branding, which provides the best result within a short span of time. It is necessary to design a clear objective before campaigning on social media.
The chosen platform profile must be provided with useful, relevant information for public accessing and the photos or content need to be updated regularly. There always have someone to respond to the answers to queries and comments quickly around the clock. Various companies use popular social media platforms like Facebook, Twitter, Instagram, Pinterest, LinkedIn, YouTube and many more for marketing.
5. Email Marketing
Though email marketing is not considered effective as before, it has a strong imprint to build a relationship with current customers and businesses. The emails written for the customers should contain a strong subject line to attract their attention. As spam filters filter the emails, the spammy words must be avoided in a business letter; otherwise, it fails to get customers' attention.
Since the approach of each business is diverse, so its digital marketing strategy is also to differ. So the strategy would be planned accordingly after considering the business objective and specific requirements of customers.
Recommended Articles
This is a guide to Digital Marketing Fundamentals. Here we discuss various fundamentals of digital marketing, which include user-friendly website design, SEO, and SEM, etc. You may also look at the following articles to learn more –