Updated June 6, 2023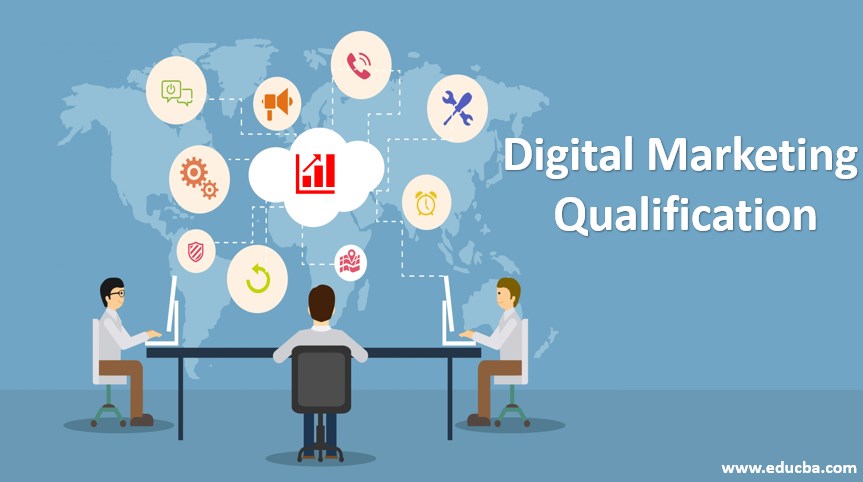 Overview of Digital Marketing Qualification
A digital marketing qualification will help you prepare to start a career in this exciting industry. Digital marketing is an evolutionary field, one of the most trending career paths of recent times. Digital marketing jobs are in demand for the wonders it has done by renewing regular marketing campaigns. It also is highly sought-after because of the wide variety of career paths it offers. According to a report by Firstpost, "About 90% of the brands devote at least 15% of their total budget to digital marketing".
This also means that it experiences a lot of constant flux every year, every day. A lot of new terminologies, strategies, tools, and technology come in to evolve the game. This situation often leaves digital marketing aspirants confused about how or when to enter the realm. It also raises the question that does becoming a digital marketer requires a specialized set of skills or educational background. However, the basic point is that some fundamental digital marketing skills and qualifications remain the same. But if you are serious about digital marketing as a long-term career, you must stay abreast of the latest tools and technologies. That said, here are the qualifications you would need to start your exciting career journey in the exciting and fast-paced realm of digital marketing.
Qualifications Required for Digital Marketing
It may be great news to you that there is no definite set of qualification routes to this career path. However, specific educational backgrounds or degrees may be preferred for securing your first job in the field. This sets the base and validates that you may be a good fit for the role.
Graduation: Marketing, Communications, Journalism, English Literature, or related fields are preferred.
Post–Graduation: A post-graduation is not required. However, a degree specializing in Digital Marketing, Public Relations, Data Analytics, Market Research, etc., can be in the limelight of your CV and provide you with an edge over others.
Now, even if you don't have the above background, you can still enter the field if you achieve the required skills by taking an industry-recognized Digital Marketing training course to help you learn everything necessary. A professional course will teach you the fundamental skills and confidence you need to impress a digital marketer in your interview. Through this, you easily know what area of digital marketing you are more interested in or eligible for.
Examples of such disciplines can be as follows:
Social media manager
PPC Manager
Digital strategy & planning
Content & inbound marketing
Email marketing
SEO executive
Website developers
In short, you will have to choose or specialize in one or two areas of digital marketing while you start your career. This also increases your chances of getting employed as brands seek talents that can take responsibility for a specific part of the marketing campaign. At the same time, you will also have a fair knowledge of other areas, increasing your chances of becoming an overall digital marketing manager.
Preferred Courses Over Degree
Now, I have already mentioned the importance of getting a course. It is essential to understand that if you are willing to enter an unconventional industry like digital marketing, you should always consider undergoing a course that teaches you the exact skills over a 2-3 year degree that would give you theoretical knowledge mostly. This is crucial as recruiters prefer candidates who have learned the practical application and need minimal training.
A report by Forbes mentions, "as high as 60% of the industry leaders predict that employers have become more inclined towards skills-based hiring not giving much weight to a traditional degree". These courses, micro-credentials, or badges are not compulsory and won't be mentioned in any job description. But, you will notice a big difference in how recruiters deal with you if you hold a certification. If this piques your interest, look at the general course details.
Course Details
The course for digital marketing is mentioned in detail below.
1. Duration
The period of the course may be different for different institutes. However, it generally ranges from 3-6 months.
2. Eligibility Criteria
As mentioned earlier, no such eligibility norms exist for taking this course. This is the reason that this course attracts aspirants from different backgrounds. The standards, however, may vary from one institute to another. Some may require you to be a graduate, while some may offer programs right after the 12th standard.
3. Structure
These online courses are very flexible in terms of the pace of learning. This learning system lets you learn quickly, making it convenient for working professionals and students still studying.
4. Fees
Again, the fee structure varies from one institute to another. It could depend on the following factors –
Type of institute
Duration of the course
Number of topics covered in the course
Location
Online ranking
On average, it may cost you anywhere from 30k-90k.
5. Syllabus
Digital Marketing is a very broad field. Technically, it is an umbrella term integrating multiple aspects. Hence, a wide variety of topics will be covered in the curriculum, such as:
Search Engine Optimization
Search Engine Marketing
Social Media Optimisation
Social Media Marketing
Content Marketing
SMS Marketing
Mobile Marketing
E-mail Marketing
Website Designing
Online Reputation Management
Google Analytics
Career Opportunities for Digital Marketing
This course is going to open doors for a lot of opportunities in different fields of work. This is an excellent domain that can also offer you self-employment opportunities.
Some of the areas that you can get into are:
Digital Marketing firms
PR agencies
Social media agencies
MNCs and corporates
E-commerce companies
Freelancing
Conclusion
Finally, we understand that no fixed set of qualifications is needed for you to enter this dynamic, highly demanded-field of work. However, by registering for an excellent digital marketing online course, you can boost your chances of landing your dream job. A professional course would be an entry ticket for a fresher as it would lay a strong foundation for you in no time. So, don't wait; take the first step by enrolling in a digital marketing certification course.
Recommended Articles
This is a guide to Digital Marketing Qualification. Here we discuss the qualifications required for digital marketing, course detail, and career opportunities. You may also look at the following articles to learn more –