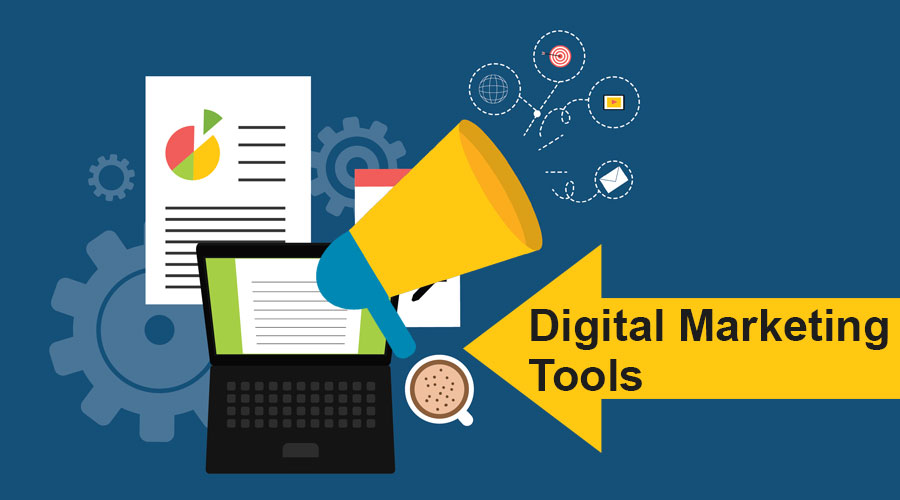 Introduction to Digital Marketing Tools
Digital Marketing Tools mean connecting with the people at the time through the right place. That means you have to meet them or connect them where they are spending their important time and money.
Digital marketing keeps all the marketing efforts that are used on an electronic device or the internet. Companies use digital channels like Social media, Email marketing, Search engines, SEO, and many more websites to connect with people at present or later according to customer behavior. An experienced inbound marketer says that inbound marketing and digital marketing are almost the same, but they have some minor gaps, and the communication with the business owner and marketers' from New Zealand, Australia, England, and Asia have learned a lot about how these little variations are observed in the worldwide. The world's best digital marketers have a clear image of how each digital marketing campaign supports its overarching objectives. And marketers can promote a bigger campaign through the free and paid channels available to them, depending on the objectives of their marketing strategy.
Top 8 Digital Marketing Tools
Below are some of the important tools of digital marketing:
1. Social Media
This one is the most powerful one as we all know that Social media is the collection of communication, interactions, and collaboration. Apps and Websites will dedicate the social networking blogging, and many more are there. This technique supports the understanding of your brand and content on your social media channels; it will drive traffic and generates directions for your company.
Some important digital marketing tools of Social media:
Facebook: As we all know, Facebook is one of the popular and top levels of the social network. Facebook allows users to create their own profile on the site from that you can connect with your friends and family, and the important point is that you can share and upload the photo and video with your friend, family, and colleagues with just one click.
Twitter: This is another popular and powerful network. Twitter is a microblogging service that is free for registered members. We can also say that Twitter Tweets are the most powerful in the world. In Twitter, we can follow any registered twitter member to see their tweets using multiple platforms.
Google Plus: Google plus is also one of the famous networks which Google manages. To Join with Google plus, first of all, we need an account on Google. When you first sign up, some groups, including Friends and colleagues, have been set up by Google. You can add your own as well. In this, you can share images and links with your friends and relatives.
LinkedIn: This one is famous for business purposes. This LinkedIn network is specifically designed for business uses. The purpose of the site is to allow registered members to set up and document network-aware from trusted networks of people.
Instagram: According to the search, about 850 mill users are active, with that 1.8 billion like have been given to post. There are also a lot of influencers with a lot of supporters on the site. And you can also become an important brand with the correct strategy. To keep applicable to the present supporters, you must post the correct kind of data and also add fresh ones.
There are some powerful tips from you that can make more visitors to your platform.
Switch your account to the business account
There are some free tools of Instagram use them
You can use Instagram stories to promote business and attract customers.
Take an interactive brand hashtag.
You have to post at the right time. e.g. Monday and Thursday. Don't post on Sunday because it is the worst day to post
2. SEO
SEO stands for Search Engine Optimization. Seo is a technique to get traffic for the website. This is one of the best parts of Digital marketing tools. From this, you can drive more traffic to the sites. This is the way to "rank" your website in search engine scores, thereby improving the percentage of organic traffic. The organization uses the SEO technique to grow their business over the world wide web.
In order to create qualified traffic to your website, there are several methods to approach SEO.
1. ON page SEO
In this, you can answer reader questions by searching for keywords for your search volume and greater on the SERPs, resulting in the search results pages.
2. OFF Page SEO
This type of SEO is to Optimize your websites; managing backlinks out-links the number of publishers that you know. You can get backlinks that you want to transfer your website up to the correct SERPs by networking with other editors, writing your articles on these websites, connecting them to your website, and giving external attention.
3. Technical SEO
This kind of SEO focuses on the backend of your website and also focuses on how a website is built. Technical SEO means compression of the website's image structure and CSS file optimization; this is all the most important factor of SEO ranking.
To perform SEO, there are many digital marketing tools available in the market. Below is a list of SEO tools.
Yoast SEO: If you use WordPress, then Yoast SEO is the best plugin you can use. Yoast SEO is used to optimize the content, metatags, keyword density, SEO title, etc.
Google Analytics: Google Analytics is a website analyzer tool. The organization uses this tool to analyze its website. It gives overviews of the traffic for the website. Google Analytics gives information about the website like the number of users visiting the site, how much time they spent, which page of the site the user visits, etc. It discovers and fixes any technical issues using the search console.
Keywordtool.IO: Keywordtoll.IO is a keyword analyzer tool. This tool is used to get an idea about the keyword mostly used by the users for any web browser. It gives the keywords search volume over the web like Google, Amazon, youtube, bing, play store, Instagram, Twitter, and eBay.
Ahrefs' Backlink checker: The organization uses this tool to get backlinks for their web pages. It also shows DR, i.e. Domain Rating, and UR, i.e. URL rating.
3. Affiliate Marketing
Affiliate marketing has become one of the oldest ways of digital marketing tools where you refer somebody to an online product. If that person buys that product, you will get a commission based on that recommendation. The advertisements in affiliate programs are connected to websites of companies and are referred to as affiliate links. Affiliates usually have to apply for affiliate programs, while most affiliate programs have no price to join. Affiliates decide which banners or advertisements they will place on their websites within their affiliate programs. They will also agree to membership programs with the highest Commission structure for merchants, although the structure is not usually considered very paying or beneficial.
4. PPC
PPC means Pay Per Click. In this model of marketing, the owner pays money as per click. The most important PPC ad format appears on the search results pages of search engines like Google or Bing. Most, but not all, PPC ads appear in the search results. There are three major types of marketing ads PPC.
Text Ads: Text Ads mean written content by the owner of the site. Format and character depend on the PPC platform on which you are working. Text advertisements are most frequently initiated through the Search Network when consumers search within your PPC campaign on Google or Bing for a keyword.
Display Ads: this type of ad is in the form of an image or GIF. PPC platforms offering display advertising often have size, and advertisers need to comply with content requirements when creating their visual creative.
Shopping Ads: Typically, a shopping advertisement is provided after a search engine or shopping engine submits a query. Typically shopping advertisements contain a picture of the item, its price, and any here specifications such as size, color, dimensions, etc.
5. Landing Page Tools
Lead-pages: This Leadpages tool will help to make a user-friendly landing page. It will Offer lead magnets and collect email addresses and integrate your email automation software with your pages.
Click-Funnels: You don't need a hosting platform, a domain name, a high-end theme, a coding developer, email automation software or any other technical expertise to make a shopping funnel. Click-Funnels create the levels of Landing pages to collect the Email address; Product sells and many more.
Optimize-Press: This Optimize-press was designed to produce comparable look and feel pages for your WordPress website. You can edit your landing pages in real-time with loads of templates and customizable components to get your content up quickly.
6. Email Automation Tools
Active-Campaign: Active-Campaign is an all-in-one packet platform for your CRM software for email marketing, marketing automation, and sales. It allows you to communicate with welcome posts, trigger campaigns, follow-up sales, and more with your contacts. In addition, you can ensure that you never miss a chance with a prospective lead with multiple data-driven automation.
Hatch-buck: Hatchback automates the communication of lead generation and customers. Its CRM is intended specifically for small companies to allow you to see their activity in real-time and trigger hot leads when they are prepared to purchase.
HubSpot Sales: HubSpot Sales gives you the opportunity to see who opens your messages and when. It also pulls up the professional background, business data, and recent tweets of the contact and even allows you to schedule messages to be sent later.
Omniscient: This is the bonus tool for marketing for E-commerce. You can reach your clients by email, SMS, Web Push or Facebook Messenger, depending on their behavior.
7. Visual Design Tools
Canva: It will help you to design a beautiful image with the help of the Drag and drop option. Choose one of their countless different templates, or choose a pre-sized blank design for your chosen platform. Even the branding section can be customized, so you always have your choice of colors, fonts, and logos on your platform.
Animoto: From this, you can create a professional video, GIF, Custom Text Visual effect, and many more things that you make from this Animoto.
Design Wizard: Design Wizard is outstanding graphic design software that helps you modify pictures and videos of high quality within seconds. This tool is best suited for advertisers of social media, company owners and party planners! The tool's standard features include a custom color palette, a free font library, and resize functionality.
FreePik: FreePik has a collection of images, and it is free for everyone. Be aware that Freepik's resources have their own copyright (Freepik), so you will not be able to register an image containing any of our resources. This will give you millions of pictures, icons, photos, and many more. You can find the ideal stock photo for your blog or your Company logo icon without worrying about the authorship.
8. Content Curation Tool
Feedly: Feedly picks up all of your favorite blogs in one location so you can quickly scroll through them. It even says how many shares an article has, helps you to explore the most famous stocks for social media sharing.
Buffer: Buffer is the quick way to share anything you read. Simply download the chrome extension or application, and there are links to the device, and the social media platform of your choice will automatically add your post.
Snip.ly: Snip.ly will create a call-to-action for each shared blog post and social media post. With topics, colors, logos, and more, you can personalize your connections, making it a wonderful way to boost conversions.
Conclusion
In this article, we have seen Digital Marketing Tools which are used to gain more customers by increasing the traffic on the website. I hope you'll find it helpful.
Recommended Articles
This has been a guide to Digital Marketing Tools. Here we discussed its Concept and the Top 8 tools which are available in the market. You may also look at the following articles to learn more –