Updated July 28, 2023
Definition of Digital Marketing Hashtag
A digital marketing hashtag is a tool for marketing campaigns using a hashtag associated with social media content to improve brand awareness.
A hashtag is a keyword phrase preceded by putting a hash symbol (#). It helps in improving engagement with social media content by significant numbers. Examples include #motivation, #shoes, #fashion, etc.
Key Highlights
A digital marketing hashtag is associated with social media content that aims to increase brand awareness. A hashtag is a keyword that is preceded by a hash symbol.
Hashtags are primarily functional and visible on social media giants and other platforms. Short, fewer, and simple hashtags have the most impact.
There are billions of users on Instagram, Facebook, and Twitter today, so they are the most convenient platforms for branding through hashtagging. Each has its own set of trending hashtags.
There are also different hashtags used for influencers in different marketing campaigns. Some of the most well-known influencers are from the fashion, food, travel, and health & fitness industries.
What is a Digital Marketing Hashtag?
Digital marketing hashtag involves a marketing strategy held digitally via hashtags. Marketing means convincing potential consumers to take a specific action, generally buying something.
The initiator of the hashtag culture is Chris Messina. He proposed in August 2007 that hash symbols should be used in tweets belonging to particular groups of topics. The technical term for a hashtag is "octothorpe."
Hashtags today allow certain brands to penetrate their branding in people's lives by adjusting to their daily consumption of the internet. Especially when the brand's audience is all about millennials and Generation Z, hashtags for digital marketing are one of the most effective and cheapest strategies to use.
Why are Hashtags Important?
Hashtags are instrumental in exposing your content to a bigger audience and raising awareness about the brand you represent.
You are much more likely to interact with your target audience as they will likely follow your hashtag.
As a digital marketer, boosting your post's SEO is important. Therefore, hashtags serve as a special kind of keywords that, adding to what was mentioned before, also help categorize your content aligned to a particular interest.
Where and How to Use Digital Marketing Hashtags?
Digital marketing hashtags can always be found on Facebook, Twitter, and Instagram. You may also come across them on Reddit, Pinterest, and Tumblr. The last platform to start making hashtags common was video streaming giant YouTube, which also happened in 2018.
The use of hashtags requires an optimum number for every platform. Let's say 1-3 hashtags receive better engagement per tweet than hashtags used after every few words.
Besides that, the length of a single hashtag should be short and punchy wherever you use it rather than having an extended version. For instance, #takeover would be more impactful than putting #wearetakingover.
The audience hardly follows complicated hashtags during the trend season. So it would help if you avoided any twisted keywords during your hashtagging. For example, #shocked will be a better choice than #flabbergasted.
Searching and studying hashtags as a follower can help you understand the strategies of any brand in your competition. For example, suppose you aim to have an excellent social media presence as a news agency. In that case, you can follow related hashtags to determine which agency has the most uploads on a particular hashtag and how often they post.
Top Digital Marketing Hashtags in Social Media that are Trending
1. Instagram
Instagram-currently owned by Meta Platforms- was released on October 6, 2010. The Instagram app has over a billion downloads on Google Playstore. There are 1.4 billion users of Instagram in the world today.
Nearly 90% of brand posts on Instagram today carry at least one hashtag.
The 15 most popular hashtags on Instagram are: #instadaily #friends #photooftheday #picoftheday #selfie #summer #repost #nature #smile #food #family #travel #fitness #love #instagood
2. Twitter
Twitter was the first social media platform to embrace hashtagging in 2009.
According to Twitter for Business, the ethics to follow while hashtagging involve using them consistently. It also suggests doing research on the latest Twitter trends through hashtags with the help of the explore tab option.
More importantly, there should also be a reason for Twitter users to use the hashtag by themselves. That's a helpful way to make the audience a part of the digital marketing process. Collaboration with famous Tweeting celebs is always instrumental.
The most popular Twitter hashtags are: #competition #influencer #influencermarketing #fridayfeeling #MondayMotivation #tbt #wcw #thursdaythoughts #traveltuesday #blessed #goals #vegan #fitness #science #fintech
3. Facebook
Facebook's parent company, Meta Platforms, owns WhatsApp and Instagram today. Founded in 2004, Facebook's website ranks #3 amongst the most visited internet pages, with 18.2 billion total visits.
The most trending tags for Facebook are: #Facebook #Instagram #WhatsApp #Music #India #K #Covid #trending #News #Love #Bhfyp
4. For LinkedIn
LinkedIn is the world's largest business and employment platform. Microsoft has owned this American online service since 2016.
As of 2022, LinkedIn has more than 875 million users worldwide, with the highest market coming from Asia-Pacific.
The top trending hashtags according to LinkedIn itself are: #work #success #networking #workfromhome #mentorship #creativity #Inspiration #innovation #management #future
Hashtag Statistics
According to reports, there's a 29% higher chance of greater content engagement on Instagram when you use at least one hashtag. Surprisingly, the chances bump to 79% when you use 11+ hashtags. But it's essential to strike a balance. Instagram told its creators last year to aim for 8-15 hashtags.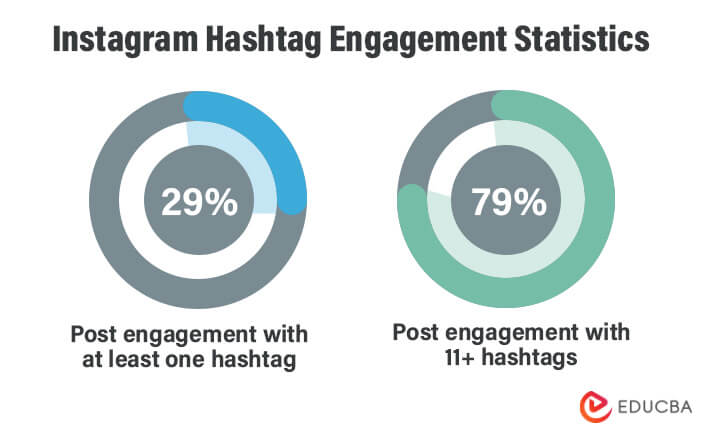 Image Reference: amraandelma
Regarding hashtag usage, Facebook is the second most popular platform after Instagram. The most popular categories of hashtags used on Facebook in descending order are love/relationships (21%), fashion style (9%), food (8%), DIY/crafts (6%), and travel (5%).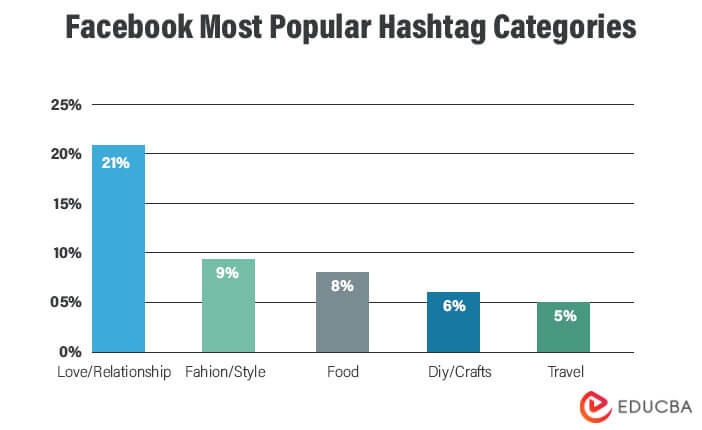 According to a Buffer study, using 1-2 hashtags on a tweet increases the chances of higher engagement by 21% when compared to tweets with 0 hashtags. With 3 or more hashtags, the probability drops to 17%.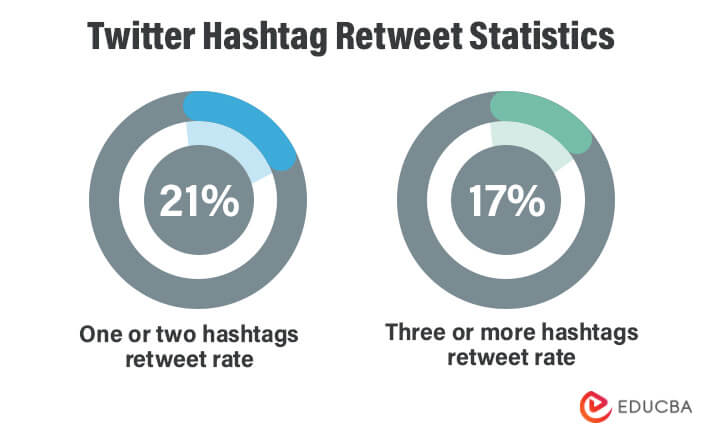 Digital Marketing Hashtags for Influencers
Influencers, particularly in digital marketing campaigns, rely on hashtags to increase their follower count, post engagement, etc. Because digital marketing has infiltrated every other industry, its strategies apply to all fields, including using digital marketing hashtags.
Fashion Influencers: Highly recommended hashtags for all social media platforms that are leading or aspiring fashion industry ambassadors can use are #bhfyp, #OutfitOfTheDay, #FashionPhotography, #FollowBack, #ootd, #FashionBlogger, #WhatIWore #follow, #FashionPost, #Beautiful, #Streetstyle, #Dress and #Fashionstyle.
Travel Bloggers: Who doesn't love to travel? We bet that you plan your travel logs based on what place you saw on your screen. If you want your digital memorabilia to get more engagement on social media, here are the hashtags that you can use: #TravelPhotography, #PicOfTheDay, #NaturePhotography, #TravelBlogger, #beautiful, #landscape, #adventure, #explore, #Solotravel, #Nature, #Traveller, #Trip, #Adventure and #Nomads.
Fitness Influencers: Fitness freaks have a lot of space on social media because they grab people's attention with a step-by-step instructional format that leads to a healthier lifestyle. The famous hashtags include #exercise, #bodybuilding, #life, #gymlife, #motivation, #healthy, #lifestyle, #health, #gym, #sport, #training, #workout, #HealthyLifestyle, #muscle and #fit.
Food Bloggers: Being a foodie, especially for your hometown's kitchen, is not a hobby but a passion. Some turn their passion into something monetary and accessible to a larger audience. Ultimately, food bloggers help you attend the best restaurant wherever you travel. Here are some appropriate hashtags for food bloggers: #FoodBlogger, #lunch, #PicOfTheDay, #instadaily, #FoodPhotography, #PhotoOfTheDay, #food, #healthy, #foodie, #FoodLover, #Homemade, #FoodBlog, #Dinner and #Breakfast
Conclusion
Hashtags have their charm in representing the brand, especially on the mediums used by billions of people worldwide today. Not only are you making your content stand out by categorizing your posts through hashtagging, but you also let the algorithm of any digital mechanism work in your favor by helping it sort out the content for the target audience.
FAQs
1. What are digital marketing hashtags?
Answer: A digital marketing hashtag is an effective strategy that digitally facilitates brand awareness through hashtags. We primarily use hashtags for social media marketing.
2. Are there any precautions for using hashtags?
Answer: You should certainly use only a few hashtags. If a hashtag organically doesn't fit with any content, you are not supposed to force it with your branding. Using CAPS lock for writing tweets looks forced and unnatural as well. You must write hashtags in small letters unless we're hashtagging an acronym.
3. Do all the hashtags used need to be trending?
Answer: You can create your unique hashtags, but you should also try other hashtags of a smaller magnitude. Make sure they aren't too unique to have a decent following. This is because trending hashtags have one major setback: too many posts are dedicated to standing out.
Recommended Articles
This was a guide to the Digital Marketing Hashtag. To learn more, you can read the following articles,