Updated June 17, 2023
Definition of Digital Marketing Analyst
A digital marketing analyst is a professional who analyzes data and provides insights to help improve digital marketing campaigns. A digital marketing analyst is responsible for the firm's ad campaigns, how to reach the maximum number of people through social media posts, and expanding business online.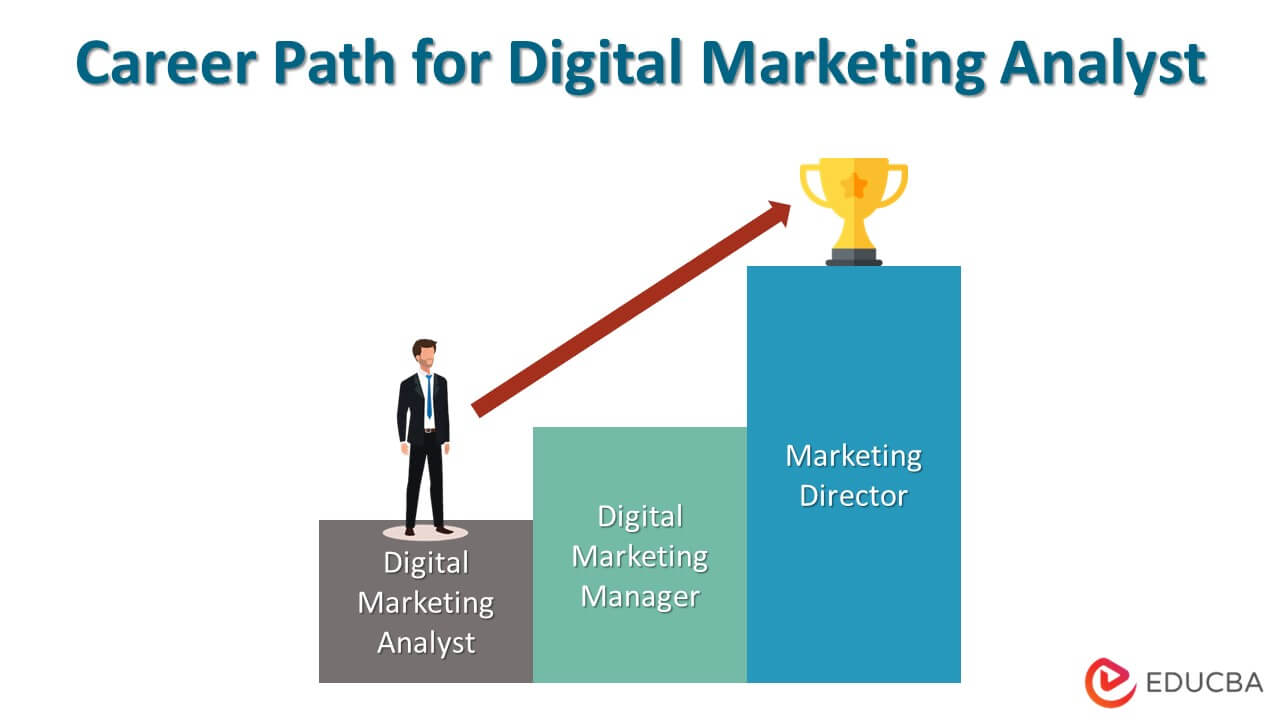 Key Highlights
A digital marketing analyst showcases the company's product and business on social platforms.
The job offers a rewarding income of $39,000 annually in the USA, whereas, in the UK, an average of £25,000 annually is provided.
 The digital marketing analyst is responsible for searching for the right fit for advertising, campaigning, etc.
A bachelor's degree in digital marketing is required for the job, and knowledge of tools like google analytics, MS Excel, PowerPoint presentations, tableau, etc., is helpful.
Digital Marketing Analyst Job and Salary
Every kind of business is now brought online, and the responsibilities of digital marketing analysts have increased manifold. The job responsibility is huge and very much in demand as they must simultaneously work with different clients and firms with vivid requirements.
In an MNC, at an ideal condition, the job openings for a digital marketing analyst are at least 15-20 positions.
As the post requires brand awareness, the Digital Marketing Analysts offer excellent pay starting from 49K dollars annually in the USA.
In contrast, the UK is provided an average of 30K pounds annually. With the passage of time and gaining experience, the salary increases to 76K dollars annually. In the UK, the pay can rise to 45K pounds annually.
The job profile of a digital marketing analyst is not limited to it; with time, the analyst uplifts his career to Marketing Manager, followed by the company's highest position of Chief Marketing Officer. With the increase in position, the pay increases too.
Job Description and Responsibilities
The prime responsibility of a digital marketing analyst is to put the company's business in a presentable manner online.
They need to be constantly in touch with the sales department and provide valuable information that can benefit the company and generate revenue.
As digital marketing analysts are the link between the company and agencies, they should be able to attract business and maintain their clients.
This post requires constant research and upgradation as it is directly connected to technology and online applications.
Digital marketing analysis involves Social Media marketing which uses media like Instagram and Facebook to attract an audience and develop their business.
Digital advertisements, email marketing, search engine optimization (SEO), and content marketing are a few vital responsibilities of a digital marketing analyst.
The role of a digital marketing analyst is to bring the firm's plan to the targeted audience using social media like LinkedIn, Facebook, Twitter, and Instagram. When a vast mass of people depend on online content, it becomes a huge responsibility of the Digital Marketing Analyst to create authentic, trustworthy, and full-proof content. Due to the internet, content has no boundaries; it travels to all 193 nations globally with just one click.
The audience follows authentic sites that deliver correct information. It becomes their one-stop destination when they get all their answers and solutions from one place.
Qualifications and Requirements
A bachelor's degree in marketing or a certificate in digital marketing course is required for a digital marketing analyst job.
The employment criteria require proven experience in the same field, how a digital campaign can yield more income, and the ability to train junior analysts. They can create Search Engine Optimization and paid searches, i.e., Pay per Click (PPC).
Digital marketing analysts must have experience in tools like Google Analytics, tableau, SAS, ERP, Power BI, etc.
Digital Marketing Analyst Skills
The role deals with social media and handles the company's accounts. The people interested in this role should have proper knowledge about the latest online applications and how they should be used. The company's product will be reflected online by a digital market analyst.
One of the important requirements for the post is communication. Candidates with excellent written, listening, and verbal skills tend to perform excellently as digital marketing analysts. Not only do they have to post on social media, but also they have to search for the right fit for the company's business.
Other skills that add value as a digital marketing analyst are having a good knowledge of Microsoft Excel, PowerPoint, and SQL. With the advancement of technology, the ability of Google Analytics, Tableau, SAS, and Power BI is an add-on to the CV.
This versatile role requires good marketing knowledge, conveying agenda in crux online, and meeting the business requirement.
The role requires constant interaction, communication, follow-up, and feedback from various agencies. It is working simultaneously.
Digital Marketing Employment
Every firm, educational institute, and start-up requires digital marketing analysts. They are essential in campaigning for the company and targeting the audience. Top MNCs like Infosys, Accenture, Ford Motors, Barclays, etc., are hiring digital marketing analysts with rewarding income.
It offers different types of employment. At some firms, the post is open for work-from-home or remote access, whereas some MNCs have work from office and shifts, as some firms are based abroad, and their analysts lie in different time zones.
Certain MNCs in the USA have a policy of 5-day week work, which brings efficient work-life balance and creativity.
Conclusion
Digital marketing analysts have to upgrade with technology and software constantly. The role requires writing, editing for the web, and sharp computer and communication skills. It is directly responsible for increasing company sales by using social media tools.
FAQs
1. Is digital marketing analyst a promising career?
Answer: Yes, some well-known MNCs welcome applications for the post with qualifications and experience in digital marketing. The job role offers good pay with time.
2. What is the role of a Digital Analyst?
Answer: The job role of a digital marketing analyst is to showcase the company's business on social media. This helps in attracting the audience.
3. How do you become a marketing analyst?
Answer: A degree or course certificate in marketing is mandatory for the job. Additionally, knowledge and experience in search engine optimization, social media marketing, digital advertisements, etc., is necessary.
Recommended Articles
This was a guide to the Digital Marketing Analyst. To learn more, please read the following articles,