Updated June 17, 2023
Definition of Digital Marketing Report
A digital marketing report is a document created daily, monthly, or weekly to evaluate the overall performance of marketing campaigns designed to help a company's brand grow. A digital marketer creates this report based on extensive research and distributes it to consumers, clients, and other stakeholders. Such reports aim to help improve brand reputation, improve web traffic, break into new markets, have longer customer retention, increase profit margin, etc.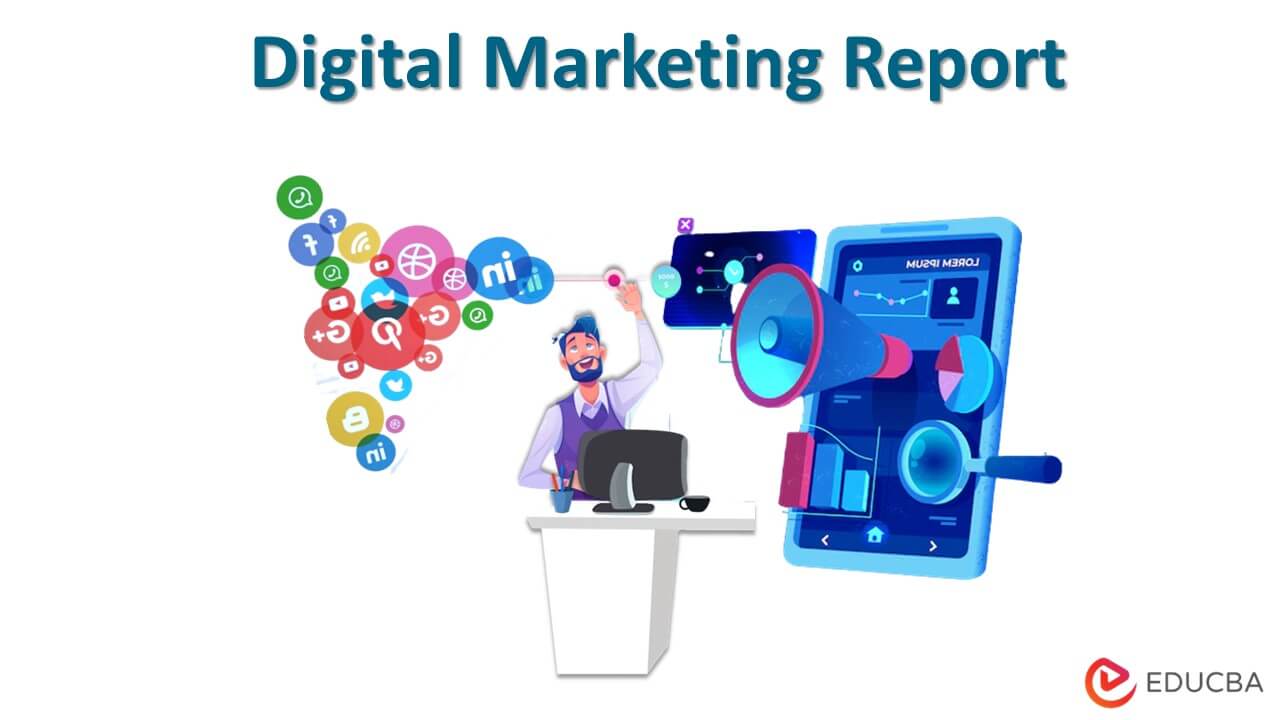 Key Highlights
A digital marketing report evaluates the effectiveness of all digital marketing channels a company uses for branding over a specific period. This report is generated on a daily, weekly, or monthly basis.

Digital marketing reports use tools (web analytics, attribution analytics, etc.) for analysis.
Explanation
A digital marketing report has emerged as a pioneering tool for the growth of the digital marketing industry. It answers all questions regarding strategic changes required to achieve better or more consistent branding results. 
When we compare different reports, we gain insight into ongoing trends and a comparative analysis of traffic shares for search engines and other sources. Paid search, comparison shopping engines, SEO, and social media are important things a digital marketer looks for in these reports.
Importance
A digital marketing report assists in pitching how you complete each marketing goal and your vision for the respective stakeholder's branding.

It provides a clear picture of which time frame was best for the company's growth and which was the worst, helping you formulate the required changes and the goals that must be met before the next report. The goal is to learn from mistakes and replicate the success.

The analytics report also benefits other departments creating marketing content, such as photography, videography, etc. These departments must determine whether they must change their approach to creating appealing content.
How to Create a Digital Marketing Report?
First and foremost, you must define the goals and objectives you hope to achieve through your marketing efforts. The report's result will reflect whether you met these goals, determining the success or failure of a campaign.

Second, each strategy should have its section in the report, with the results obtained from each strategy mentioned individually. Use visual data to represent your results as much as possible rather than textual data. Pie charts and line graphs are two examples of visually appealing data. This helps to comprehend the estimated vision for marketing in the future.

Finally, the report's conclusion must include a collective evaluation of the overall campaign, and you must write a clear and precise conclusion. This information will be useful when preparing the analytics report for the stakeholders.
Digital Marketing Reporting Tools
Digital Marketing Report – Templates (daily, weekly, monthly)
1. Daily Marketing Report
This template helps to recognize the flaws of any strategy immediately and proceed for a quick resolution. Examples of daily marketing reports include a website traffic analysis report to ensure the buyer persona or traits of the target audience, which helps in a successful conversion. There is also reporting of engagement in social media, which is the most popular assistant to a digital marketing campaign today.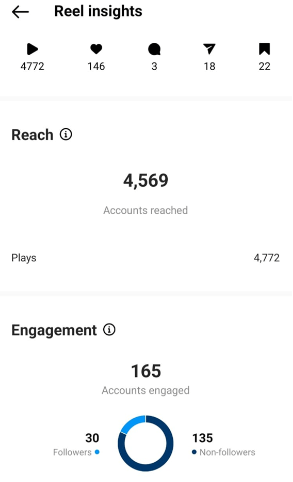 Example of a report based on social media engagement (via Instagram)
2. Weekly Marketing Report
Weekly marketing reports address medium-term objectives commonly focused on traffic and leads. Weekly reports can provide much more insight than daily reports and ensure the smooth flow of consistent monthly results. Examples of weekly marketing reports are blog traffic and blog leads reports that will teach how to raise audience engagement with content, website traffic, visitor-to-leads conversion rates, and online advertising performance, primarily focusing on the CPC model.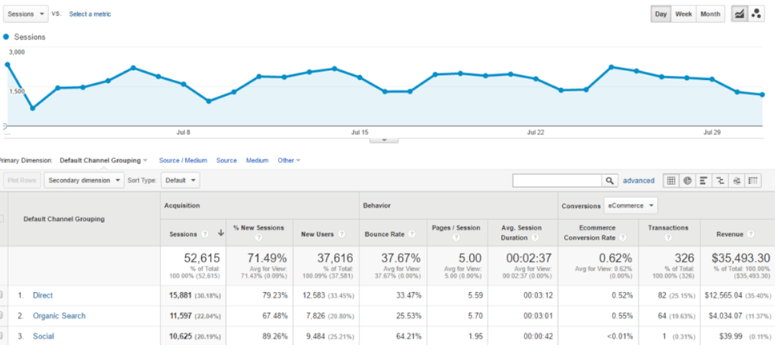 Example of Weekly Blog analytics as shown in analytics.google.com
3. Monthly Marketing Report
This report primarily concerns the overall Return On Investment (ROI) and goal success rate at the end of the month. Monthly marketing reports also note the impact of multiple parameters in action during a campaign.
Monthly marketing reports include monthly KPI reports reflecting profit per acquisition, Chief Marketing Officer (CMO Report), Web Analytics reports, and marketing performance reports.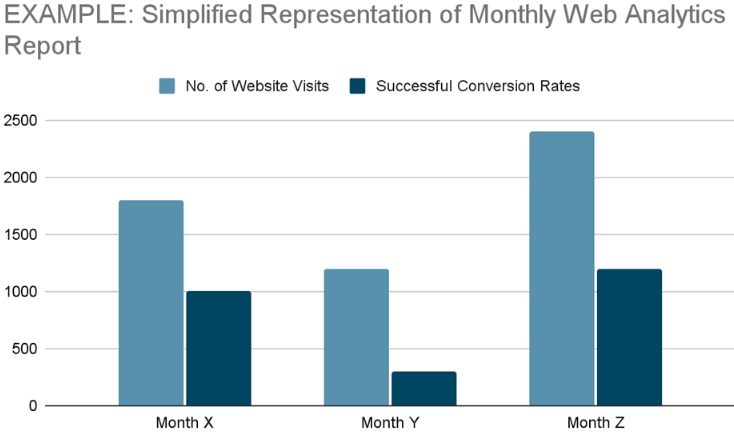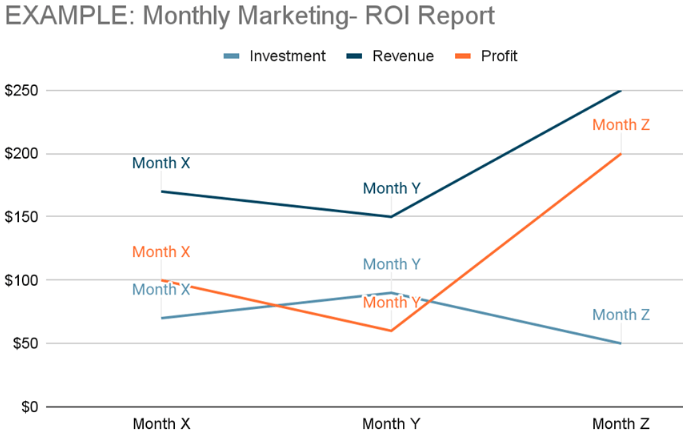 Challenges of Digital Marketing Report
There are several challenges to digital marketing reporting that you must overcome regardless of the ambiguous progress. The first is a bias toward selecting results with a better outlook and ignoring the downward slopes.

Secondly, outsourcing analytics from multiple Key Performance Indicators (KPIs) might lead to double counting of conversion rates and revenue.

Other challenges to digital marketing reporting include the need to be consistent in reporting and writing lengthy reports. Both challenges result in omitting key takeaways that hinder an entity's branding. Keeping your report brief and consistent would be best to avoid missing loopholes in marketing campaigns.
Digital Marketing Report Strategy
As a digital marketer, you should know the right reporting timing to your stakeholders. You should be able to deliver reports at least quarterly, which is when stakeholders are held accountable to their superiors or customers for achieving the desired results.

You should visually present the data of every content published for marketing purposes.

The data should be self-explanatory to address stakeholders' immediate concerns, such as how much money we spend on marketing, how many people we engage with, the Return on Investment (ROI), and much more.

Finally, know your analytics tools and only use them for specific purposes. Correct tool selection leads to a rational mind, which leads to a concise report in the long run.
Completed Actions
Following are some of the actions performed while completing a marketing report which is readily presentable to the respective party involved. 
a. Analyzing Channel-specific Traffic
This involves completing the analysis of visit-to-lead and lead-to-customer conversion rates.

This further helps invest in a new marketing channel and look for further improvements on the strong channel.
b. Analyze Revenue Reporting
Revenue generation is the most evident number for a successful marketing campaign.

This information decides the future of investments in marketing.

Campaigns with greater revenue will get more compensation. 
c. Analyzing Blogs/Posts/Media Content
This is the quickest task to conclude to adapt to newer strategies immediately

Social media is the most friendly tool for a marketer today

The analysis can be done monthly, weekly, or even daily. 
d. Analyzing New Contacts by Persona
A marketer's idea of the traits of his target audience determines how well they will succeed in pursuing new consumers

Pulling this action every month not only predicts the precise success rate of your campaigns but also exposes an imbalance of time and money invested on different channels.
Tips
Marketing is a unique art of orating to your audience from your stakeholder's point of view. So if you are thorough with the impact your campaigns had on the target audience, only then will you be able to formulate a vital report worth looking at

To create short and precise data, you should know the Key Performance Indicators that matter. There are two types of metrics: Vanity and Actionable. While vanity metrics make you look good, they need to be more instrumental in leading the marketing strategies for the future. Actionable metrics, on the other hand, are the ones related to your goals and objectives.
Conclusion
Digital marketing reporting adds legitimacy to the digital marketing industry as this helps in bringing honesty and transparency to the table between the digital marketer and the shareholder. However, digital marketing reporting is a lengthy task that instead needs crisp documentation. You must have all the knowledge of digital marketing strategies and learn how to execute the theory effectively. 
FAQs
Q1. What is a digital marketing report?
Answer: A digital marketing report is an official document that reflects all the digital marketing successes or failures focused primarily on all the goals and objectives associated with brand awareness. 
Q2. What are the types of digital marketing reporting tools?
Answer: The four types of marketing tools are web analytics tools, attribution analytics tools, call analytics tools and social media analytics. 
Q3. What are the completed actions of digital marketing reporting?
Answer: Digital marketing reporting involves completing tasks such as analysis of- channel-specific traffic, social media content, revenues, newer consumer databases based on audience blueprint (also known as buyers persona), etc.
Recommended Articles
This article explains everything about Digital Marketing Report. To know more about related topics, visit the following links: