Updated May 8, 2023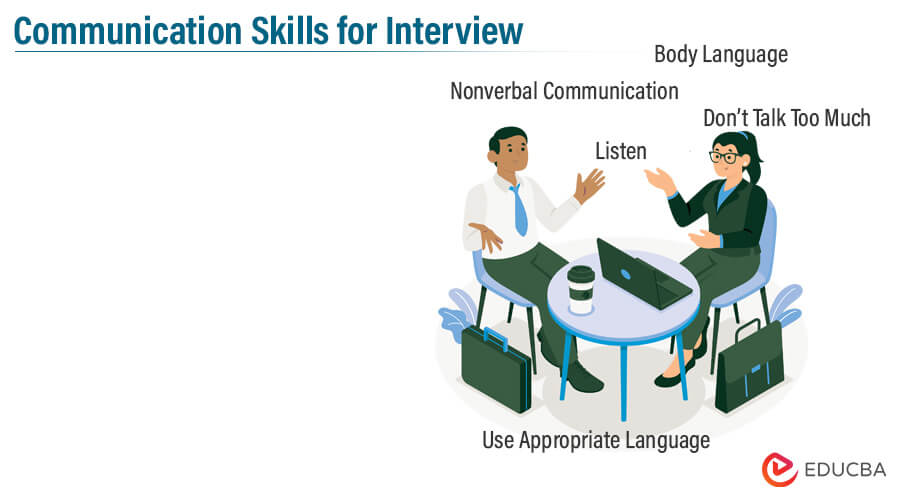 Communication Skills for Interview
Communication skills in an interview are helpful in achieving the desired response from the interviewer. Hence Communication Skills form an integral part of your interview process. Both interpersonal and intrapersonal communication skills are essential pre-requisites for group discussions and interviews. Good communication skills are required to achieve success during the interview. When you are interviewed for a job, the interviewer will question your communication skills regarding your ability to handle issues, complex situations, etc.
Your ability to communicate is evaluated based on your responses, verbal and non-verbal communication skills, how well you rationalize your answers and how articulate you are, etc.
Communication Skills in Interview
It's about demonstrating confidence, standing straight, making eye contact, and having a firm handshake.
Good communication includes listening and letting the person know you have heard them. Observe your interviewer and try to match that style and pace. Always listen carefully to the interviewer from the very beginning of the interview because he is giving you information directly or indirectly. If you are not hearing it, you are missing important information.
Telling the interviewer more than he needs to know is not required. Before the interview, prepare by reading the job posting, synching your skills with the required position, and relating only to that information.
Use professional language during the interview. Do not use slang words or references to age, religion, politics, or sexual orientation. These topics could disqualify you.
Your body language tells the interviewer many things about you. He can also quickly gauge if you are nervous or confident, or poised.
The Language of Confidence
Keep your body still and upright but not rigid.
Look directly at the person talking to you but don't stare.
Turn by turn, create eye contact with all the board members.
How to Improve your communication skills
Try to communicate with friends and near and dear ones in English.
Read good English books, Professional Journals, etc.
Refer to the English dictionary regularly.
Recommended course
This article gives you an idea about communication skills during an interview. Try to refer to it when you go for an important interview.
Recommended Articles
It has been a guide to improving your communication skills and some tips which are easy to remember. This post is also a complete heads-up of such skills to help you to crack the interview easily. Here are some articles that will help you get more details about the interview questions and answers.