Updated June 12, 2023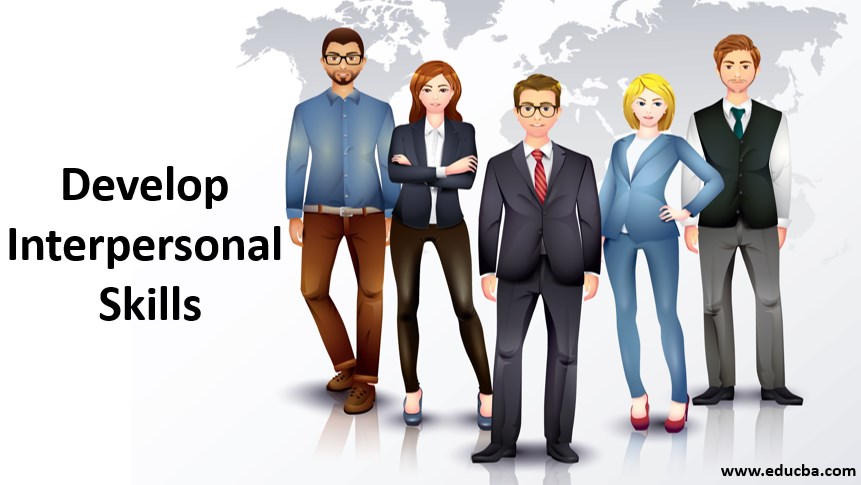 Introduction to Interpersonal Skills
In this article, we will discuss about developing interpersonal skills, which are nothing but the attitudes and strategies that a person uses to communicate effectively with others. "You are a fool to let such a great opportunity go!" the words of my friends and family members had echoed when I had quit my second job within 15 days. And I did feel like a loser to abandon the dreamlike job desired by many.
'Being comfortable with my environment has been my priority since beginning', that was the only respond I could give to justify my absurd decision. And all this while I kept wondering, "Really? Have I actually taken this step only to get rid of that inconsiderate boss?" To be very frank after so many years, I have still not found my answer whether I should have continued working or not. But I certainly wish I should develop better interpersonal skills.
How many of us quit jobs when they dislike their bosses?
How many times we lose opportunities when we are not able to get along well with our colleagues?
How do you feel when you are ill-treated by your subordinates?
Have you ever felt miserable when someone in the group disrespects you?
Did you get irritated when your parents imposed their decision on you?
How did you deal with that bully classmate in your school or college?
Have you always only dreamt of approaching that special someone?
Did you find it difficult to convince something important to anyone?
Have you ever wished that you could have expressed yourself better?
Have you imagined yourself with harmonious personal & professional relationships?
Take a moment and ask yourself these few random questions. Perhaps you have already asked this to yourself in solitude. And if you ever had, then of course you must have thought of the solutions as well. However the techniques of these solutions are not generally taught via any school or colleges or any relevant courses. We figure them as we move forward, as we experience, as we grow.
Usually, we don't pay much attention at the tactics of dealing with people. If we think from a broader perspective the ability to manage our interpersonal relations matter a lot. Right from our childhood challenges of convincing elders, teenage phase of unraveling the youth, facing the changes of adulthood times, and all through the dynamic journey of discovering human relationships.
Being little smart at your developing interpersonal skills can not only help you to get promotions faster but it can guide you through your any kind of connection. One may not require reinforcing their skills with people only to impress their boss or colleagues but it would also become their asset to understand themselves & anyone else better.
Whatever your goal could be, of winning the faith of your clients, impressing your colleagues, building trustworthiness as an employee, persuade someone in particular, to resolve any sort of conflicts, to have better domestic life, to be able to maintain healthy relations with everyone or to ascertain your ideas are well conveyed to the world or even to simply learn the skill of managing self & others sensibly; for all such purposes you definitely need to focus to develop interpersonal skills.
Having said that, there are surely experiences, books, online training material & ample sources available to develop interpersonal skills, the overall information related to this subject is quite vast. However here are a few handy tips that can aid the purpose of enhancing and developing your interpersonal skills. Through this article, I would like to guide you for the 10 ways to Develop Interpersonal Skills.
10 Ways for Outstanding Personality
To begin with, here are a few tips to develop and master Interpersonal Skills for outstanding personality.
Emotional intelligence.
Keep your pride & prejudice aside.
Read between the lines.
The right communication at the right time:- appreciate & praise at the right time, listen, communicate your discomfort, make people open up.
Disagree gracefully.
Don't fake/be genuine.
Sense of humor.
Accept the reality & wipe up the fairytale in your mind.
Reliability.
Maintain bonding.
1. Emotional Intelligence
A lot of times I remember blaming others for the effect of their behavior on me. I was so disappointed not to have any control over someone else's actions. I used to get so upset when I was unable to present my point of view in front of others.
Once during the examination, my favorite teacher had snatched away my answer sheet due to some misunderstanding; and unfortunately I couldn't justify my side. There was a time when I used to be scared of initiating any discussion with unknown people. I took a long time befriending anyone anywhere may it be at the new dance class or the get-together events or with the neighbors. I could never understand why there used to be conflict between those few girls of my class & me.
At some point, I even assumed that either there was something wrong with them or me. The lack of any breakthroughs of all such doubts made me more hopeless. It felt as if there's really no way out. I am really bad at my social skills & going to fail everywhere if I have to deal with people.
However as the time passes by, you learn a lot of mysteries of life if you just expose yourself to new knowledge & experience. I certainly can't claim that I have sorted all kinds of interpersonal issues but then have at least discovered that most of my earlier assumptions regarding people were totally foolish.
The term itself sounded so interesting when I learned about it very recently. As per the encyclopedia, Emotional intelligence is the ability to understand one's own and other people's emotions, to discriminate between different feelings and label them appropriately, and to use emotional information to guide thinking and behavior. The more I read about this concept the more fascinated I became to understand how one can learn this better & implement in their real life.
Then few examples of these radical personalities around me grabbed my attention. One of my classmates who used to befriend anyone in the high school so easily & actually maintained superb bonding with all her friends; the grocery shopkeeper near my society who has won the customer's trust with his utmost care & hospitality; the talented colleague of mine who can resolve any issues rationally at work & most of the times have been fair towards everyone.
And initially, it sure seemed like a miracle. Is it really possible to understand, identify & manage your own and other's emotions positively? Maybe it's doable if you try to make efforts. Try learning from such personalities around you, observing their qualities. Read, watch & listen to all that makes you wise intellectually as well as emotionally. Make efforts to focus on your own thinking process, your perceptions, your beliefs, values, your reactions, etc. And peacefully contemplate what can profoundly help you to achieve win-win situations. What kind of behavioral & attitude changes you can do in order to achieve that surround yourself with positive energies.
2. Keep your Pride & Prejudice Aside
The previous habit of blaming others for my reaction was majorly based on my ego. Sometimes we become so self-centered that considering anything from some other approach just becomes impossible.
I wouldn't initiate the talk with unknown people as I want them to notice me first, I wouldn't apologies as that would make the other individual right, I will not communicate the issues as it's not my responsibility, I can't help someone because I have to finish my own tasks first, I will not show interest unless I am asked to give opinion on the new project, I wouldn't correct their mistake till the time they personally request me to do so, I will not support anyone until I see some benefit for myself.
These & all such conditions restrain us from the opportunities of developing interpersonal skills. Most of us have personally tried the above. I remember doing most of these kinds of acts. Well, what we don't realize is it's not the other person who is losing anything in this bargain but in fact it's us who are majorly going to face the consequences of such attitude. The negativity, anxiety, insecurities, fear, depression, incompleteness, agony all such kind of emotions are the result of such insensitive attitude.
And then there's a vast difference between self-respect and ego. One should be sensible enough to understand when they cross this thin line between self-respect & ego. Because one of these can ensure our dignity & the other can destroy our personality. Hence introspect & make the changes needed within you.
I have heard he is not a great cook, she is quite bad at her communication, that place is not so exciting as they promise, that woman is way too snobbish to befriend her, it won't be that great course since their fee charges aren't that high, it will be a waste of time to wait for their reply as they are always late, he won't be that great as a leader since he is very friendly with his colleagues. Generally we hurry too much to state our judgment towards anything.
'Don't judge the book by its cover.' We do this all the time and it's quite natural. We tend to believe only those things which we feel are right. We favor the side which seems correct based on our own values. We form opinions about people, situations, experiences, tasks, etc. quite before we actually encounter them.
Is it rational to let this human nature affect prospective relationships? Our beliefs & experiences might contradict. Our judgments might go wrong. There's always a possibility that our narrow-minded attitude restrict us from discovering the facts & we might get stuck in our prejudice way of thinking. If we have been practicing the prejudiced mindset & failed in the past then why not try a revolutionary outlook of open-mindedness once?
3. Read between the Lines
Ahhhhhh… Indeed it was amazing to finally get reconnected with my long lost pal last year. He doesn't need a lot of time to guess whether I am happy or sad, excited or bored, energetic or tired. Certainly a charming mind-reader, that's what I usually call him. And of course how I can not mention one more incredible person who knows me better than myself & that's my Mom.
I can just thank that wonderful moment when someone understands the meaning behind your words without a lot of explanation. Especially those who are closed to you or those who are good at reading others can see beyond what appears on the surface. The miraculous ability of some people to look into your eyes & know your emotions, observe your expressions & find their meaning and interpret your unspoken words; makes them outstanding conversationalist.
Haven't you felt special when someone received your hidden message easily? Weren't you relieved when you didn't have to waste a lot of energy-giving details or justification of something? Isn't it amazing how few genius people are able to read us so well?
They certainly have worked hard on their listening skills & to observe anyone's body language. While interacting they are not lost in their own world. They are totally present & do not just hear but in fact, attentively listen. Listen not only to simply reply but to comprehend the exact meaning behind the message. It's surely not that easy, however, is achievable if you focus on each & every aspect of the communication & the people involved in it.
4. The Right Communication at the Right Time
The disappointing part is after the interviews or presentation, when you recall an important point which would have added a lot of importance to your speech if you could say it when it actually happened. You regret not having remembered that essential element which makes a lot of difference.
Similarly failing to manifest your thoughts during an important discussion can be also frustrating. I should have just opened my mouth, what worst would have happened? The inner spirit doesn't let you go without an answer. The fear of crowd or saying something wrong limits our courage to express our ideas. Being sensible about what you talk is necessary but being over cautious about it can make you feel like a looser.
I have always liked the guts of those friends of mine who have told me upfront, 'we don't really appreciate you making us wait so long for you.' For a moment it may upset me but instantly I also realize the trouble I cause them. Hence clearly communicating what really bothers you or affects your emotions is imperative. And that also has to be done in an assertive manner to ensure nobody's offended.
How long does it take for you to get to know someone? Have you ever tried conversing with a very introvert person? What are the tactics one can use to get someone talking?
As per research people always show interest when something about them is discussed. The well-known concept of "what's in it for me?" Hence making someone feel comfortable & get them talking is an art. This is again doable if you pay a little extra attention & show enthusiasm in knowing someone.
Praise the person who is wearing beautiful dress today, say thanks to that unexpected helper who solved your issue, apologies if you realize you have made a mistake, don't let the ego delay your apology, share your views in an effective manner, show your curiosity, and make someone laugh. All these are subtle ways of gearing up and developing our interpersonal skills.
5. Disagree Gracefully
"I don't support this decision", "I object", "It doesn't make any sense to me", "I totally disagree", "I don't accept this thought"……….
Maybe the aggressive individual faces a lot of annoyance because he is unable to give the right direction to his own emotions! Seeing things not turning your way & getting mad is different and let that influence your words or your behavior is quite different. And here you certainly need the mature mind to work.
The delightful evolution is that you can even show your disagreement in a very reasonable & convincing manner. Your words have a lot of power; sometimes how you say is more important than what you say!
The pioneer in creative thinking Dr. Edward De Bono has devised a beautiful strategy of disagreeing gracefully with anyone during a conversation in his book, 'How to have a beautiful mind'. According to him, one can disagree politely by using statements like below:-
'That is only one point of view
'How about this other possibility?'
'Maybe that is so, and maybe it is not so'
'I can think of an alternative explanation'
'I am not sure I follow your reasoning'
'There might be another way of looking at it'
A little change might save your time, energy and also protect your relationships. Eventually, the truth is nobody really likes violence. So why not have better control over the possibility of it getting started?
6. Don't Fake
It's an utter stupidity to assume that you can win people if you pretend to behave in their favor. In few cases it might work for a while but after a certain point nobody can tolerate the sham.
So even if you think that most of the sales guys have their way with the sweet talks it's surely not true. People get convinced if the seller can show them what exclusive benefits the buyer might have by purchasing that particular product or service. The various talents of handling queries, product knowledge, politeness, empathy, helpfulness are the qualities that ascertain them & their product's position.
Though it might sound ordinary, being genuine is always the best alternative. The more you lie, pretend, manipulate or deceive the more you would experience temporary success, incomplete benefits, and unstable associations. The moment you come across as what you really are & present your original skills the path to eternal accomplishments is automatically created! And of course, you can easily forget about the burden of using the pretentious tones to your general greetings & communication. Thus only filtered, real & meaningful bonding!
7. Sense of Humor
I went to the psychiatrist and he says "You're crazy." I tell him I want a second opinion. He says, "Okay, you're ugly too!" – Rodeny Danderfield
Don't you just love to giggle? Why do these reality laugher shows have gained higher TRP recently? Why do we miss that funny friend of ours when he or she isn't around? Why do girls mostly go for a life partner with a better sense of humor rather than a greater outer appearance?
According to Dr. Edward De Bono being humorous is a sign of being creative. And it's not necessarily gifted to only a few people. In fact, one has to just pay attention & learn to be witty. Exaggeration of some ideas, fantasy, relevant jokes & timely intelligence is a few clues that might help as suggested by Dr. Bono.
Humour is surely a thread that helps people to connect, to feel relaxed & at ease. It gives liveliness to the moment & infuses more energy to the environment. So yes, 'making someone laugh' is definitely one of the tips to develop your interpersonal skills.
8. Accept the Reality
We human beings roam with a lot of expectations. A lot of times we have preconceived notions about how everything & everyone should be. That's why this ideology becomes an obstacle to adapting things. I used to think that university gives more job opportunities post-graduation, I felt she is an honest employee, I assumed they will always help me, I predicted that it would be easy to convince him etc are all kinds presumptions you can't rely upon. Anything which isn't in your control is difficult to mold as per your demands.
There's nothing wrong in dreaming or expecting but while doing so if go too much in-depth we sabotage the possibility of perceiving things in their authentic form. The layers of all the 'should be' aspects clog the essence of reality.
Let things be the way they are and learn to be flexible as per the circumstances. It isn't that unusual to come across people only as per your anticipation but it is surely intriguing to find someone you had never thought of existing! The freshness brings a lot of enthusiasm & new learning. So welcome the unknown things & people with an open heart.
9. Reliability
The bigger challenge in relationships is building trust. When you think of those few trustworthy people in your life, you understand the value of their support. During hardship they stand by us; their advice becomes most important while making any major decisions; their own strength motivates us to take risks; their loyalty comforts us when we need them. If you have even one such person in your life you should be grateful to him or her. And if you can become that person for someone then that's a wonderful accomplishment of your life.
If you are willing to work upon your interpersonal skills, improving your communication skills is not enough; you have to also consider whether you have grown into a sensible person to ensure dependability to anyone else. And this wouldn't happen overnight, establishing such a connection surely needs time, patience, dedication & constant cooperation.
10. Maintain Bonding
Reliability can be cultivated in relations if you seize the right opportunity to be there for one another. A friend in need is a friend indeed. If you try to know your prospective friend in a better way you will be able to identify his worries & weaknesses. Be genuinely interested in people, empathize, try to relate & sustain harmony in your companionship
All your efforts of making new allies would be in vain if you fail to nurture the bonding. Remember these new associations while celebrating, enjoying, learning, discovering, experiencing etc. Create memories with them. Be in touch with them whenever it's possible.
It might sound corny but when you give more, you actually reach the tranquillity within you. So it could be anyone in your personal or professional life that you hope to generate a great bond with, give a thought to all the above mentioned skills and try to implement them to explore your own potential in interpersonal skills.
Recommended Articles
This is a guide to Develop Interpersonal Skills. Here we discuss the Introduction and the 10 Ways for Outstanding Personality. You can also refer to our other related articles to learn more –