Updated June 2, 2023

Introduction to PMI Certification
If you go by current scenario, you will notice that project managers have claimed an all important position in the IT industry. There is no doubt that they play a comprehensive and vital role in various kinds of IT operations and services.  Thus, if you interested in getting into this industry, it will be venerable to add some additional project management certification portfolio to enrich your resume. This will indeed prove to be quite beneficial for establishing a long term career. Moreover, your value will tend to increase.
A Brief Preface to PMI Certifications
PMI or Project Management Institute is the apex body that offers mainly all kinds of certifications associated with the project management. It has been regarded as a complete certificate program that can immensely boost your career prospects as well as land you in your preferable job. What is more important is the fact that individuals belonging to all areas or fields can pursue this program if they fulfil the eligibility criteria. At present, it offers a total number of eight certifications to make you an expert in the field and also enhancing your skills, which is the need of the hour. By pursuing these courses, you can tackle even the most difficult projects smoothly.
According to an estimate, the demand for skilled and efficient project managers is increasing as different IT companies and organizations have different types of projects to be completed within the stipulated deadline.  A study revealed that about one-fifth of the world's GDP which stands around $12 trillion is a total expenditure of project management by various companies. So, why miss this golden opportunity to serve as a knowledgeable project manager. You should prepare yourself in advance and grab the right opportunity at the right time. You will be pleased to know that about more than half a million aspirants have already completed some or the other PMI certificate of their choice and are earning handsomely to support their life and family. They are not only associated with the IT sector but are employed in other industries as well including telecom, finance, healthcare and construction.
Certifications Offered By Project Management Institute
The certificate issued by the Project Management Institute has a great value as well as demand in the international market. At present it offers eight important certification programs which can help in boosting your career opportunities. These include-
Project Management Professional (PMP)
Certified Associate in Project Management (CAPM)
Portfolio Management Professional (PfMP)
Program Management Professional (PgMP)
PMI Risk Management Professional (PMI-RMP)
PMI Scheduling Professional (PMI-SP)
PMI Professional in Business Analysis (PMI-PBA)
Let us discuss each of them in brief.
#1. Project Management Professional (PMP)
The Project Management Professional (PMP) is undoubtedly the most important, popular and persuaded PMI certificate program all over the world. The project managers possessing a PMP certificate have their own distinct identity. It is because of its popularity and high demand that PMP certificate courses are conducted in almost all country around the globe. As such after availing the certificate, you can apply for the job in sector and offer your services to the best of your knowledge.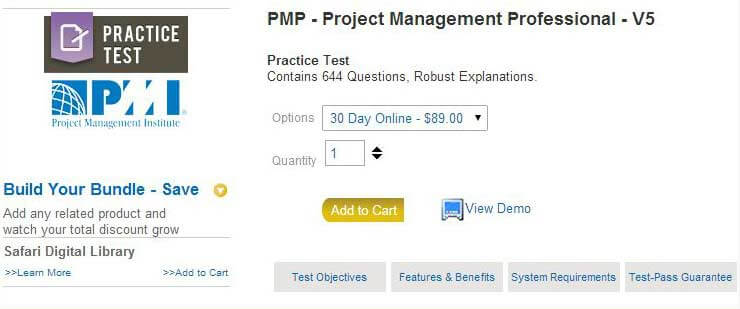 Advantage of Pursuing this Course
The PMP certification helps in increasing your career prospects thereby enhancing your earning potential. It was found in a survey that PMP certificate holders earn more than 20 percent than the others which makes it top the priority list when it comes to choosing the IT certification.
You get a more deep insight of the project management issues. This means that you can understand the aspects and problems associated with the project much better. In addition, also get connected with other project managers and experts from other organizations that help to increase your knowledge on the subject.
It not only proves beneficial for the certificate holders, but also for the project bosses as the task can be carried out systematically and smoothly. Moreover, the project can be completed within time.
Are you the Right Candidate?
This necessarily needs to be checked before applying for the certificate course. If your job profile requires you to categorically manage a project, then this program will help you in establishing as an efficient project manager.
What are the Essential Criteria?
In order to apply for the course, you need to have at least passed the secondary examination from a recognized board or have a diploma equivalent to it. In addition, the candidate also needs to have 35 hours of project management system along with 7500 hours as a leader of a project. In case, you do not fulfill the above criteria, then you should have a four year degree with 4500 hours of leading projects and 35 hours of project management education. If you want to continue your certificate then it is vital to obtain 60 Professional Development Units (PDUs) at an interval of every three years.
In the exam, you are required to answer about 200 multiple choice questions (MCQs) for which the total time allotment is four hours.
#2. PMI Agile Certified Practitioner (PMI-ACP)
If you are an efficient team member and quite agile in your approach towards a given task replying promptly, then, consider yourself a suitable candidate for the program. The PMI-ACP has been specifically designed for the individuals who have agile skills and complete the project with agile techniques. It makes you better and better with experience and also assists in enhancing the knowledge.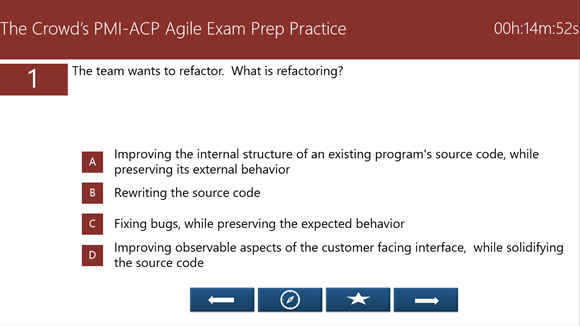 Benefits
With the passage of time it has become incredibly popular throughout worldwide and so more people are showing their keen interest in pursuing the course. Companies which are quite agile and competitive in bidding for more projects are constantly in hunt for the skilled candidates.
This program has variety of approaches such as Kanban, Lean or Scrum which are test driven development. It makes you a versatile agile project manager.
The eligibility criteria
This is best suited for candidates who are quite agile when undertaking a project. The same principle applies to the company as well. It comprises of an intensive training program and you need to pass an exam to obtain it. Other than that, it also demands an experience such that you are required to complete 30 Professional Development Units (PDUs) in agile subjects within every 3 years.
The Other Requirements
On terms of experience, you should have worked on general projects for time period of 2000 hours with a team. Besides that, you need to have 1500 hours of experience in working with agile projects and about 21 contact hours of training in agile practices.
The exam will comprise of 120 MCQs which needs to be completed in three hours.
#3. Certified Associate in Project Management (CAPM)
The Certified Associate in Project Management (CAPM) can prove to be a great asset for any aspiring project manager which increases your efficiency to perform better thereby enhancing your credibility in the organization. By obtaining this certificate, you will have a better understanding of coping with the projects and thus you can outshine others in the tough competition.
The Highs of CAPM
CAPM allows you to remain ahead of others and is growing in popularity. According to a study, CAPM will play a vital role in creation of new jobs in the forthcoming years.
It lays a platform especially if you want to go ahead with other advanced project management certifications.
Prerequisites for the course and eligible candidates
With the CAPM certificate comes additional responsibilities as you become eligible to handle large and different types of projects. You can explore versatility and prove your capabilities. In order to become eligible for applying the program, you need to possess a secondary degree and also have 1500 hours of experience in projects. If you cannot satisfy this condition, then 23 hours of project management education becomes mandatory. Only then you will be allowed to appear in the examination. Another important point to remember is that a candidate has to reappear for exam after every five years.
There are 150 questions and the time allowed is three hours.
#4. Portfolio Management Professional (PfMP)
The portfolio managers have an essential role in determining the project is carried out smoothly so that the company can create a strong portfolio to showcase it to the clients. You have to ensure that the work is done in the right direction. Your task is not only to frame strategy for a given project but also check that it is implemented properly.
The Wow Factors
If an organization is successful in excelling in portfolio management then it is sure to get high Return on Investment (ROI). It is because they invest the right resources to complete their tasks
It proves the competency of the portfolio manager and the company can have more trust on the person
Who is it meant for?
Professionals who usually manage portfolio at a senior level and whose job is basically to chalk out plans in doing the right work are ideal candidates for this PfMP program.
What does it demands?
The first and foremost requirement is an experience of at least eight years in professional business. Apart from that, you need to qualify the secondary examination with 10,500 hours of portfolio management experience. Or you are required to have four years bachelor's degree with 6000 hours of portfolio management experience. However, before selection you will be evaluated by a panel review. In order to continue with the certificate 60 Professional Development Units are necessary.
The exam consists of 170 questions and four hours to answer them.
#5. Program Management Professional (PgMP)
While fulfilling your role as Program Manager, you are actually displaying your managerial skills and leadership qualities. In fact, here you need to handle multiple projects through a coordinated manner. Therefore, this job is mostly offered to a senior level employee who can achieve the target and is mature enough to take important decisions regarding the implementation of the project.
The Advantages
This program course yet again offers a venerable opportunity to exhibit your leadership qualities.
It makes all the more experienced which indeed increases chances of promotion
The Criteria for Desired Candidates
As said, this is a post which carries a lot of responsibilities and so it is assigned to experienced project managers who can deal with several projects and do difficult tasks assigned to them. As far as the educational qualifications are concerned, it is almost similar to PgMP as here also you need to pass secondary examination with 6000 hours of project management experience and 10,500 hours of program management experience. Alternatively, you can also be a graduate with 6000 hours of each project and program management experience. The rest of the requirements such as examination pattern and Professional Development Units are same.
#6. PMI Risk Management Professional (PMI-RMP)
Every project whichever sector it may belong to involves some risk factors which need to be identified in the beginning to minimize it. This role is efficiently played by PMI Risk Management Professional who identifies an access the risks associated with the project management, nullify it and look to cash opportunities. Thus, he acts as a savior to an organization.
For becoming eligible to apply for the course
In order to apply for the program and sit for the exam you need to have a sound knowledge of risk management or having experience in project risk management to tackle large and complex projects. Secondary degree or graduation with 4500 hours of risk management and 40 hours of education in the same subject is compulsory. The number of hours changes with graduation degree. Thirty Professional Development Units are also necessary.
#7. PMI Professional in Business Analysis (PMI-PBA)
Business analysis is an important part of the project management and today its demand has certainly increased in the global market. In fact, this PMI – PBA program can help provide a new dimension to your career.
The Conditions that needs to be satisfied
The person has to be either a high school pass-out or should have a bachelor's degree and experience in business analysis and working projects up to specified hours as prescribed by PMI.
#8. PMI Scheduling Professional (PMI-SP)
The role PMI Scheduling Professional is to schedule the project for the team by using tools and self-understanding. In order to do so, you first have to identify the resources available to complete the project successfully.
What is needed to pursue program
Experience in managing, developing the project schedule. The rest of the conditions are similar with change in hours and experience of project scheduling as well as education.
Recommended Articles
This has been a guide to PMI Certification. Here we discussed the basic concept with different certifications offered By Project Management Institute. You may also have a look at the following articles to learn more –