An Overview of Information Technology
Information technology (IT) uses computers and software to manage information and data. It is a broad term that includes all aspects of computing, including hardware, software, networks, and the Internet. We use IT in various industries, including healthcare, finance, education, retail, and manufacturing. However, technology also has a lot of adverse effects on daily life. Although we use technology, we are unaware of its disadvantages and how technology affects our daily lives. In this world, everything has both advantages and disadvantages.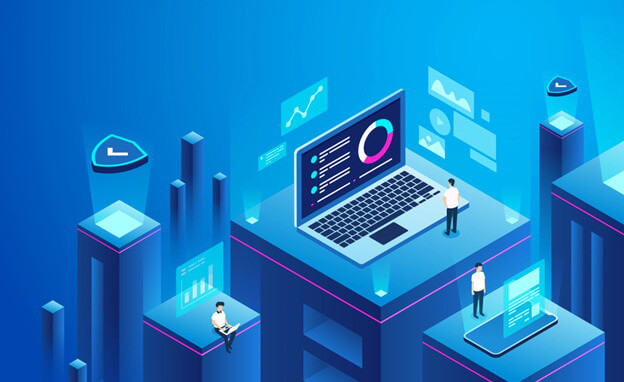 IT professionals help build, maintain, and secure computer networks, software, and systems. They may also develop databases and provide technical support. IT professionals often specialize in specific areas, such as software development, network engineering, or cybersecurity.
IT is a rapidly changing field. It is constantly evolving as new technologies are developed and adopted. As a result, IT professionals must stay up-to-date on the latest trends and technologies.
IT plays an essential role in almost every aspect of modern life. It is used in many industries to improve efficiency, increase productivity, and reduce costs. It also improves customer service and creates new products and services. In addition, IT protects data and other sensitive information.
The term IT is used in several ways, including but not limited to the following:
Hardware and software used to store, transmit and manipulate data. It includes computers, servers, storage devices, networks, software, and other related equipment.
The infrastructure used to support the above hardware and software, such as data centers, networks, and communication systems.
The people who use and manage the hardware and software include IT professionals, system administrators, and other personnel.
The processes and methods used to create, store, distribute, and manage data and information. It includes information security, software development, systems design, network administration, and other related areas.
The applications that use the above hardware and software to create, store, distribute, and manage data and information. It includes enterprise resource planning (ERP), customer relationship management (CRM), content management systems (CMS), and other related applications.
Advantages and Disadvantages of Information Technology
Let's take a look at the advantages and Disadvantages of Information Technology:-
Advantages
Improved Communication: Technology has improved communication by making it faster and more efficient. Through emails, text messages, video conferencing, and social media, people and businesses can now communicate quicker and more accurately.
Increased Productivity: Technology has enabled businesses to increase their productivity and efficiency. For example, companies have been able to automate tasks and processes, reducing the need for manual labor and giving employees more time to focus on creative or strategic missions.
Cost Savings: Technology has enabled businesses to reduce costs in various ways. Automation has reduced the need for manual labor, saving companies money in labor costs. Additionally, businesses have been able to reduce the cost of production and distribution by using technology to streamline processes.
Access to Information: Technology has enabled businesses to access a wealth of information quickly and easily. Companies can now access market, customer, and other information to help them make more informed decisions.
Disadvantages
Security Risks: Information technology's significant disadvantages are the potential security risks associated with storing and transmitting data. As more information is stored electronically, there is an increased risk of unauthorized individuals or malicious software accessing it. It can lead to identity theft and financial losses and damage a company's reputation.
Dependence on Technology: As technology becomes more intertwined with our daily lives, we become increasingly dependent on it. It can lead to an "over-dependence" on technology and a lack of knowledge and skills. It is especially true with younger generations who have grown up with technology being a part of their everyday lives.
Job Losses: One of the most significant disadvantages of information technology is the potential for job losses due to automation and computerization. As technology advances, machines and computer algorithms replace many manual jobs and even some skilled jobs. It can lead to high unemployment and a decrease in the overall quality of life.
Cost: Technology can be expensive, and businesses must know the potential costs associated with implementing new technology. Additionally, businesses need to ensure that they are getting a return on their investment by ensuring that the technology is helping them improve their processes and operations.
Security Issues: The advancement of information technology has also increased the risk of cyber-attacks, data breaches, and other security threats. Companies must invest in advanced security systems and technologies to protect their data, which can be costly.
Over-reliance: The over-reliance on technology can lead to increased operational costs and an inability to function without it. It can lead to significant problems if a system goes down and the business cannot operate without it.
Privacy Concerns: Information technology has made it easier for businesses to access and store personal data, which can lead to privacy concerns for users. There is also the risk that data can be misused or stolen.
Skills Gap: Technology can create a skills gap between those familiar with the latest technology and those who are not. It can lead to a need for more qualified workers in certain areas.
Conclusion
Information technology has revolutionized the way we communicate, work, and live. It has enabled us to become more efficient, productive, and flexible. However, it has also presented its own set of drawbacks. The most common disadvantages include cybersecurity threats, privacy concerns, and the potential for job loss due to automation. Additionally, it has increased the digital divide between those with access to technology and those without access. Ultimately, the advantages of information technology far outweigh the disadvantages, and its use should be encouraged and supported.
Recommended Articles
We hope that this EDUCBA information on "Advantages and Disadvantages of Information Technology" was beneficial to you. You can view EDUCBA's recommended articles for more information,