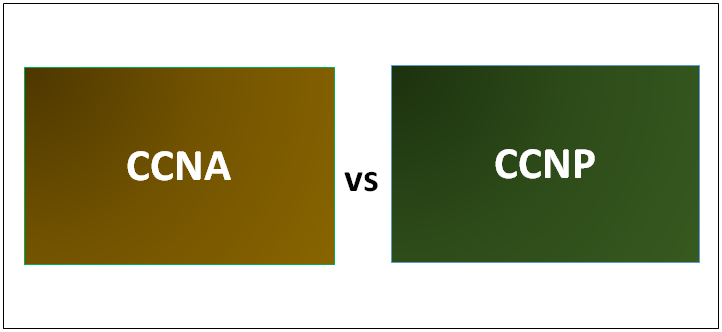 Differences Between CCNA vs CCNP
CCNA (Cisco Certified Network Associate) credential comes under the list of highly reputed networking based entry-level networking certifications. It is an ideal fit for people with around 1-2 years of experience in the field of networking engineering. Among major other benefits, one such benefit is that it is very affordable. CCNP(Cisco Certified Network Professional)  certification is available for all IT professionals who are interested and have at least a year of experience of networking experience. A high school certificate or an equivalent is necessary. The intent behind this certification is with the professionals who are seeking programs aimed for specialized training in implementing, planning and maintaining all the high-end network solution products.
Let us study much more about CCNA vs CCNP in detail:
Over the past few years, Cisco certifications have become extremely popular. These certifications are considered one of the most valuable certifications in the industry today. Its certifications are the best way to demonstrate your skill set to most recruiters. It also provides you with a higher likelihood of getting hired along with high salary offers. There are many certifications in various domain, such as for the world of testers ISTQB is among the most recognized certification, for someone belonging from JAVA background OCJP and OCWP are the ones to go for, for cloud experience AWS Solution cloud architect professional is the certification to go for and if you belong from a Big Data/Hadoop/Spark background, CDH, HDP or MapR backed certifications will give you the intended benefit. In a similar way, we are going to discuss two such certifications which mark their presence in the field of computer networks. One is CCNP (Cisco Certified Network Professional) and the other is CCNA (Cisco Certified Network Associate).
Both CCNA vs CCNP certifications belongs to the Cisco ecosystem which is a mass provider of networking and infrastructure components. It has also pioneered innovations in switching, routing and networking technologies over the past decades. These certifications teach different skills at various levels and are directed towards different IT positions and job types. Students are expected to do rigorous hours of learning before appearing for these exams and their validity is of three years before they require renewal.
The main objective of CCNA certification is that it provides an associate level of certification for beginners and enthusiasts who have some experience with networking already. Students who are interested in the CCNA program have to go through a rigorous set of training and testing for maintaining, installing and troubleshooting Cisco's medium networking devices. Students are also tested and trained in installation and troubleshooting of end to end networking. It is also a medium to make you learn more about the concepts and basics of a networking environment. This certification also ensures that the beginners have a basic level of familiarity with operating IT equipment without experiencing much of a problem. The material would be specialized to suit a Cisco-based environment, it is also useful at the fundamental level.
Head To Head Comparison Between CCNA vs CCNP (Infographics)
Below is the top 5 difference between CCNA vs CCNP

Key Differences Between CCNA vs CCNP
Both CCNA vs CCNP are popular choices in the market; let us discuss some of the major Difference Between CCNA and CCNP
The primary difference between CCNA and CCNP lies in their depth of learning. The CCNA aims to provide just an associate level of certification for beginners and enthusiasts with some pre-networking experience.  They will get an IT equipment familiarity and also about the installation, maintenance and troubleshooting of end to end networking solutions whereas the candidates targeting CCNP are more focused to doing a specialized program as this is a certification level of a higher regard.
The next difference lies in the course curriculum structure. CCNA certification provides you the choices among the two options.
Option 1: 200-120 CCNAX (CCNA Interconnecting Cisco Networking Devices: Accelerated )
Option 2: 100-101 ICND1 Interconnecting Cisco Networking Devices Part 1 (ICND1) and 200-101 ICND2 Interconnecting Cisco Networking Devices Part 2
In the case of CCNP, the course curriculum includes basics of IT networking such as:
Cisco remote access
Cisco multilayer switching
Cisco Advanced Routing
Scalable internet
Converged network optimization
The CCNA certification consists of one exam 640-822 ICND1 which stands for interconnecting Cisco network devices 1 with an exam fee of $125 and an exam duration of 90 minutes with around 40-50 odd questions whereas the CCNA exam includes both ICND1 and ICND2 examinations and basic troubleshooting. Since troubleshooting is a pre-requisite for any network administrator and therefore troubleshooting related topics and questions are introduced in both exams. It is also important to understand the working of the OSI layer model and its working; what network problems occur at every layer, various show and debug commands. The installation, troubleshooting, and maintenance in case of both WAN and LAN range between 100 to 500 nodes for CCNP. The students gain a high level of expertise in other protocols which includes Route distribution, Ethernet, Access Lists and Apple Talk. The knowledge of IP switched network and other routing technologies are also tested.
CCNA vs CCNP Comparison Table
Below is the topmost comparison between CCNA vs CCNP
The Basic Comparison Between CCNA vs CCNP
CCNA
CCNP
Mandatory prerequisite
No mandatory prerequisite for this certification
A high school certificate or an equivalent is needed
Exam type
Associate
Professional
Learning curve
Tests on switching and routing fundamentals
Requires a deeper level of knowledge and understanding of LANs and WANs and their co-existence.
Exam details
Provides you an option to choose among two kinds of examinations
Three exams are required namely the switch, root, and shoot.
Career Path
Network technician

Helpdesk Engineer

Service Desk Engineer

Network support engineer

First and Second line support

Third Line Support

Network Engineer

IT Team leader

Network Analyst

Network Specialist

Systems Engineer
Conclusion – CCNA vs CCNP
Both CCNA vs CCNP certifications will surely add a value to your career and especially if you are looking to climb your way up into the field of networks. Choose a certification as per your background and your goal and shine in the market as this is a never-ending industry.  You can also choose to take both CCNA vs CCNP certifications. In that case, we would recommend you to first go for CCNA and then for CCNP. Stay tuned to our blog for more posts like these.
Recommended Articles
This has a been a guide to the top difference between CCNA vs CCNP. Here we also discuss the CCNA vs CCNP key differences with infographics, and comparison table. You may also have a look at the following articles to learn more