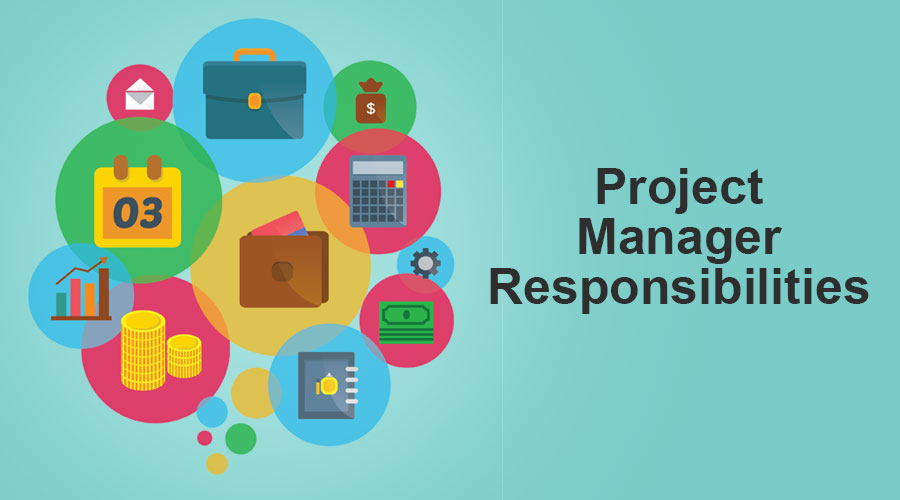 Role of Project Manager Responsibilities
A project manager is an individual (or) a person who drives the project management to achieve a specified set of goals or targets of the organization within stipulated timelines by optimum utilization of resources. In this topic, we are going to learn about Project Manager Responsibilities.
The construction industry is a massive and ever-growing industry which is further classified into different sectors like Real estate (Residential, commercial buildings, etc.), Infrastructure (Roads, Bridges, etc.), Industrial (Power plants, Factories, etc.), Water supply projects (Dams, Canals, Supply line & Treatment plants, etc.) where every project is bound with a variable set of timelines & constraints and Project Manager is a single entity who shall handle the project from Pre-initiation stage to Post-construction (or) Handing over the stage.
Plan » Deploy / Procure » Execute » Control » Deliver » Handover
Roles and Responsibilities of the Project Manager
Roles & Responsibilities of the project manager in the construction industry are as follows: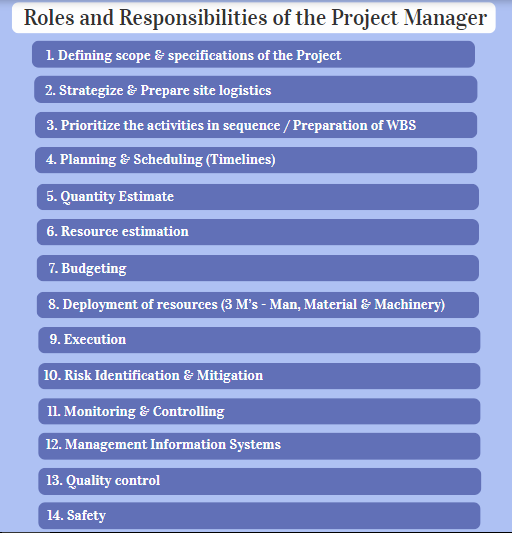 1. Defining scope & specifications of the Project
Every project shall have a different set of scope & specifications. For example, the Specifications of a residential project would be like 3 Basements + Ground + 10 Floors + Terrace + Connecting Podium area + Club House (with Swimming pool).
2. Strategize & Prepare site logistics
With respect to available space, the whole area is divided into different parts as per execution strategy. The available area is plotted and separate space is allocated as below:
Construction area
Site office
Material stacking yard
Location of machinery (Tower crane, Concrete pump, Batching plant, etc.)
Inward & Outward movement of vehicles & materials
Labour colony / Accommodation for labor
Staff quarters etc.
3. Prioritize the activities in sequence / Preparation of WBS (Work Breakdown Structure)
Here comes the major part where the whole project is listed out in the form of activities i.e. a work breakdown structure is prepared for the project.
Activities that are to be completed in priority are considered in the primary set of WBS.
For example, Any residential project shall require completion of the main building (consisting of flats) for handing over of the project to the customer. So in order to maximize sales, the execution of clubhouse (which are considered as over and above comforts) shall be considered in the pre-final stage of the project & Major building area (consisting flats) shall be prioritized.
4. Planning & Scheduling (Timelines)
After finalizing WBS, now all the activities are allocated with prescribed timelines (ensuring project completion within stipulated timelines).
All the activities and their respective interdependencies are work out and are linked accordingly using some project management software like MSP, Primavera, etc.
5. Quantity Estimate
Quantum of different materials required for the project are estimated or calculated based on design/drawings provided by the Architect & Structural team.
General material used in construction is Cement, Steel, Aggregate, Sand, Brick / Blocks, Plywood/pinewood (for Shuttering), Gypsum (for plaster), Doors, Windows, Tiles / Marble / Granite (for Flooring, etc.).
Based on the above estimate & planning, a material requirement schedule is prepared by the project manager and submitted to the procurement team for further process.
6. Resource Estimation
Based on the quantum of work & timelines, the project manager shall work out the resource requirement i.e. Estimation of the number of labors (or) machinery required.
For example, 2 Masons shall complete a 10 square meter of brickwork in 1 day, then project manager shall plan and deploy 4 Masons in order to complete the same work in 0.5 days.
Machinery is an integral part of the construction, were based on project specifications there are multiple types of machinery that are available in the market. The project manager shall shortlist the machinery as per the project requirement and further procures the same considering budgeting assumptions.
7. Budgeting
Budgeting is one of the major portfolios of a project manager. All the quantities of materials & resources (Staff, labor, machinery, etc.) requirements which are worked out earlier are converted into cost and project manager shall prepare the budget in accordance with the cost allotted by the management and subsequent expectations of the customer.
After a rigorous exercise on different options, the best budget shall be proposed to the management by the project manager, and necessary assumptions and benefits are clearly stated to management for further approval.
Once the budget is approved by the management, then the project manager shall start with the resource deployment and execution.
8. Deployment of resources (3 M's – Man, Material & Machinery)
As per budgetary provisions, the project manager shall negotiate with vendors in coordination with procurement & contracts team and deploy the required Manpower, Material & Machinery at the site for execution.
9. Execution
Based on strategy & planning project manager shall start execution with site team consisting of Engineers, Supervisors with specialized trade i.e. Engineer – Shell & core (Structural part) & Engineer – Finishing (Interior flat finishes).
In this stage project manager shall coordinate & lead the team of Planning, billing, execution & quality and ensures that the project is well within the schedule, budget, quality, etc.
10. Risk Identification & Mitigation
One of the most important roles of a project manager is to identify the potential risks of projects which are about to occur or already occurred in the project and finding a way out or mitigation measures for the same.
11. Monitoring & Controlling
The project manager shall monitor the project on a daily, weekly & monthly basis and project progress is evaluated based on Time, cost & quality parameters & any overheads or deviation in these parameters are identified and necessary compensatory measures are worked out.
Necessary Material & labor reconciliations are carried out at regular intervals to ensure that the project is always in prescribed budgetary provisions.
12. Management Information Systems
The project Manager is accountable for each and every aspect of the project and management shall evaluate his/her performance on their commitments & value additions to the project.
All the progress & financial aspects of the project are captured & documented in required formats and presented to management on a weekly/monthly basis.
For example, WPR (weekly progress report), MPR (Monthly progress report), CPD (Critical Path Delay Report), CCR (Cost center report), etc.
13. Quality Control
Any project can be evaluated on one single parameter i.e. Customer Satisfaction. The welfare of any company in the construction industry is purely dependent on customer satisfaction. Every valued customer shall always expect a difference in conventional product & a good quality product.
One of the most important responsibilities of the project manager is to always maintain a top-notch quality in the product and ensure 100% customer satisfaction.
14. Safety
According to the BOCW (Building & Other Construction Workers) Act, all the labors must work in a safe & healthy environment. So maintaining & following efficient safety measures at the site is also an integral responsibility of a project manager.
Recommended Articles
This is a guide to the Project Manager Responsibilities. Here we discuss the roles & responsibilities of the project manager in the construction industry. You can also go through our other suggested articles to learn more –