Updated June 9, 2023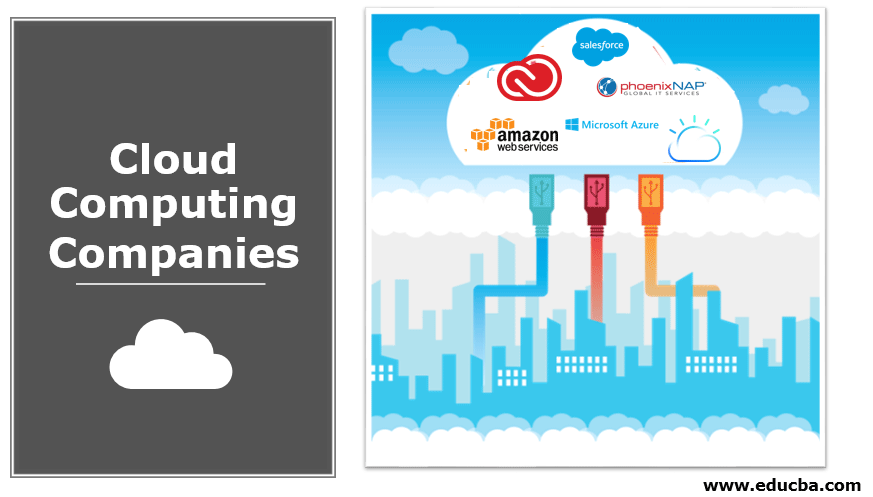 Overview of Cloud Computing Companies
Cloud computing is the on-demand availability of computer system resources without direct management by the user; instead, it relies on remote servers on the internet. On-demand resources include computing power, applications, database, data storage, and other IT sources. Services of Cloud Computing include SaaS (Software as a Service), IaaS (Infrastructure as a Service), and PaaS(Platform as a Service). Certain companies offer these services, and these companies are known as Cloud Computing Companies or Cloud Computing Providers.
Top Cloud Computing Companies
Given below are the top cloud computing companies:
1. Kamatera
Kamatera is a cloud service provider operated in a virtual infrastructure cloud. It has low maintenance and high performance. The cost of the cloud services they provide is low, and they charge the service based on usage. i.e., 'Pay peruse.'
Features:
30-day free trial.
Uptime guarantee of 99.95%.
24*7*365 Tech Human Support.
Addition or removal of servers without penalty.
Across 4 continents, around 14 global data centers.
Billing can be Daily or Monthly, depending on the user's convenience.
Pay per use.
VPS Hosting is customized, and Tailored made.
Allow the user to rapidly add firewalls, load balancers, and applications such as Docker, WordPress, etc.
2. Amazon Web Services
Amazon Web Services (AWS) is Amazon's subsidiary that offers cloud computing resources like networking, database storage, computing power, etc. These resources are provided to governments, individuals, and companies, and they are charged based on the usage of the resources.
Features:
Easy Sign-up process.
The addition and removal of resources are easy.
Limitless capacity.
Static websites can be hosted.
Centralized billing and management.
Deployment is fast.
Pay per use.
3. PhoenixNAP
PhoenixNAP is a global IT services provider that offers cloud hosting, colocation, and secure and scalable Infrastructure as a Service (IaaS) solutions, including managed, public, and private cloud services.
Features:
100% uptime guarantee.
24*7*365 live support.
High-performance cloud services.
Able to mirror or backup data in several global locations.
Unsurpassed security.
Scalable cloud solutions for colocation.
4. Microsoft Azure
Microsoft Azure is a subsidiary of Microsoft that offers cloud computing service mainly used for developing, testing, deploying, and managing apps. These services are done through the data centers of Microsoft.
Features:
Scalable, Allows the user to scale the resources up and down based on the business requirements.
Flexible and cost-effective.
Supports various databases, frameworks, operating systems, and programming languages.
Free trial period of 30 days.
Earlier, Microsoft Azure was known as Windows Azure.
Conversant tools and resources help maintain consistency across clouds.
5. Google Cloud Platform
Google Cloud Platform (GCP) is a cloud computing service provider that Google offers. In addition, Youtube, Google Search, and other Google end products run on the same infrastructure.
Features:
Free trial period.
Pay per use.
Allows the user to scale with open, flexible technology.
Uses hard disks and virtual computers located at Google's data centers.
Installing costly servers is not needed.
Deep and Multi-tiered security with the help of progressive layers in Stack.
6. IBM Cloud
IBM Cloud is built with a strong suite of advanced tools and Artificial Intelligence. It is a cloud platform with public, hybrid, and private environments.
Features:
IBM Cloud offers services such as Infrastructure as a Service (Iaas), Platform as a Service (PaaS), and Software as a Service (SaaS).
High-performance Cloud Communications.
Freedom to select and combine the desired tools.
Deeper investigations and continuous monitoring of Threats.
7. VMware
VMware is a cloud management platform that offers cloud computing and virtualization software and services. It supports the user in managing a hybrid environment that can run from traditional workloads to container workloads.
Features:
Hybrid Cloud Management Platform.
Flexible Agile services.
The expense is low.
Offers disaster recovery, networking, storage, and several other services.
Integration with tools, custom applications, and third parties is easy.
Offers Private & Public Clouds.
8. Adobe
Adobe offers various cloud services, including Adobe Document Cloud, Creative Cloud, and Experience Cloud. Creative Cloud offers the user access to the tools used in photography, video editing, graphic designing, etc. Experience Cloud offers users access to business intelligence, and advertising, whereas Document Cloud is used for digital documentation.
Features:
Information is secure.
Money-back guarantee for 14 days.
24-hour support.
No hidden costs.
9. RackSpace
Rackspace Cloud provides cloud computing services like databases, Cloud Block Storage, Cloud Servers, hosting web applications, Cloud Backup and Cloud Files.
Features:
Using Solid-state drives (SSDs) and hard drives delivers high performance.
If businesses use this, it helps the user be prepared for worst-case scenarios and enables them to handle such situations.
Cloud Backup uses encryption and several compression techniques and offers file-level backups, everything cheaply.
Pay per usage.
Fast migrating to the Cloud.
10. SalesForce
Salesforce Cloud Computing provides multiple services like marketing cloud, sales cloud, service cloud, ERP, mobile applications, CRM, etc.
Features:
Manage the automation of business processes.
Accelerate the production of the environment.
24*7 Support.
Manages the contact details of a customer.
11. Oracle Cloud
Oracle Cloud delivers integrated cloud services that help build, deploy, and manage workloads in the cloud. It also helps companies to renovate their business and reduce complexity.
Features:
Software service (SaaS) in Oracle Cloud delivers a secure cloud environment.
Platform Service (PaaS) in Oracle Cloud helps businesses to produce, link, secure and transfer data across applications.
Infrastructure Service (IaaS) helps in deploying any workload of an Enterprise.
It helps the user understand the relevance of modern technologies, including machine learning (ML), Artificial intelligence(AI), and more.
Better visibility to unauthorized apps.
Protects against cyber attacks.
Conclusion
Cloud Computing is the on-demand availability of resources based on the user's requirement. Some companies that offer cloud computing services are called Cloud Computing Companies or Cloud Computing Providers. Some of the top companies doing the same are discussed in this document.
Recommended Articles
This is a guide to Cloud Computing Companies. Here we discuss the introduction and top cloud computing companies along with features. You can also go through our other suggested articles to learn more –