Updated March 6, 2023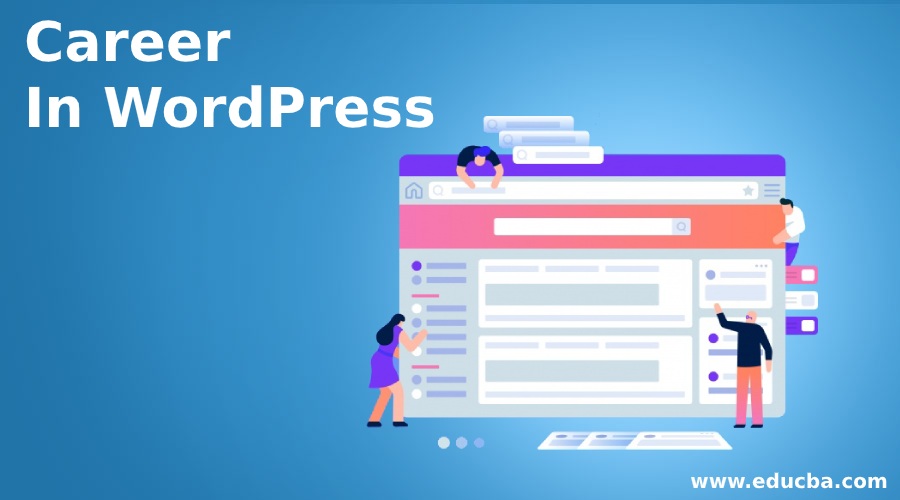 Introduction to Career in WordPress
In this topic, we are going to learn about Career in WordPress. As WordPress is generally known as the content management system (CMS). The WordPress Foundation developed it. It was initially released in the year 2003. It was written in PHP. It supports different operating system such as Unix like, windows and Linux. It is mainly based on PHP and MySQL database. WordPress is mainly used for blogging and website management, as well.
WordPress has great features to offer for managing content. It has an inbuilt template system that easily helps the user write the blog and create the theme website. In WordPress, there are many themes available, which can be used for different purposes and according to the blog and website context. In WordPress, it has a plugin architecture that allows the extension of the blog or the website's features and functionality.
Education Required For Career in WordPress
The individuals required at least an associate degree to work as a WordPress developer. In the world of information technology or computer programming, if anyone is interested in more technical things, then a bachelor's degree is a must to work in the top organizations for the WordPress developer. Having a strong background or experience in WordPress will also benefit while going for interviews. WordPress can be learned with the help of online portals, videos, and community forums. The documentation is also available on the official site.
The new changes and features are mostly updated in the official documents, but sometimes, the plugin architecture of WordPress has complexity in use. Sometimes the poor plugin choice makes the website slow, and it affects the user as well. So, one has to be careful about choosing the theme from thousands of theme and plugins to use while developing the website or using the site for blogging.
Career Path in WordPress
In this area, there is no defined career path has been observed for the WordPress developer separately. WordPress knowledge is being used as an add-on to the knowledge of having other web development languages like HTML, AJAX, MYSQL, windows etc. The WordPress skill is mainly used in freelancing and open source projects. The organizations or group of people hired the WordPress developer and told their requirements to code or themed in WordPress. The WordPress is easy to learn and worked as a front-end developer for some of the organization. The WordPress skill can be used for an entry-level position, mid-level web developer or front-end developer.
Job Positions or Application Areas For Career in WordPress
There are no specific job position or application areas for a WordPress developer. For WordPress, the individual can work as the web developer, WordPress developer, Content creator, content manager, WordPress designer, WordPress writer, WordPress educator. These are the main job position that will be available on freelancing sites.
The WordPress is getting enlarged in community wise or developers wise, so which is increasing the application areas for the same skill in different organizations with different names or can say job positions. They can also be recognized as WordPress development, content publishing or content publisher as well. Freelancing is the best choice to work for professionals and enhance their skills quickly, which helps the developers or computer programmers achieve their goals.
Salary
The salary for the WordPress developer is on the basis of their skill, skill up to which they can show or develop the website quickly and with more features. The salary is not defined as such, but mostly the salary applied for the web developer that remains the salary for WordPress developer as well. The web developer's average salary at entry-level is around 60k USD to 65k USD; the same is applicable for WordPress developer or blogger.
The WordPress skillset individuals are getting good income by teaching it online through videos and creating the usage of different features of WordPress like a different use of themes and which plugin is good to use. In this way, they earn good money while teaching and doing the freelancing job for different people or organisations.
Career Outlook in WordPress
The career outlook for WordPress is likely to increase in future as nowadays everyone wants things to be done in quick time and want things to show to the world to grow their business or their writing.WordPress blogging, designing, and writing are great earning and future options for this skill. If anyone has spent a good amount of time and things are cleared with them, they can add other option of this skill to their skillset and get good job opportunities or offers.
The WordPress blog can be monetized for a user using blogs, ads, promotional posts, affiliate to other sites and more. These things also help in earning and promoting your work to the world. It will help in generating more traffic to your blog, and when it can be used with other languages, it will open up a lot of options for individuals to grow themselves.
Conclusion
WordPress is a widely used content management system today by bloggers and individuals who are having less budget to create the website. WordPress is open source and easily available. It also provides some of the themes and plugins as free, which help the individual to, without investing anything, showcase their skill and start earning.
It has been observed that WordPress is changing the job market to some extent for small business. The small enterprise business like to work on this type of tool or technology. They don't have to invest, and they can be available online in a simple way. Some developers start moving to WordPress or a content management system because it is easy to learn and easy to develop and easy to update as well. The features, themes, and plugins can be reused and hosting the site also taken care of by WordPress. In the end, the career in WordPress is really good, and one has to take one technology and work on it to enhance the skills.
Recommended Articles
This has been a guide to my Career in WordPress. Here we have discussed the introduction, education, career path, and salary and career outlook in WordPress. You may also look at the following article to learn more –