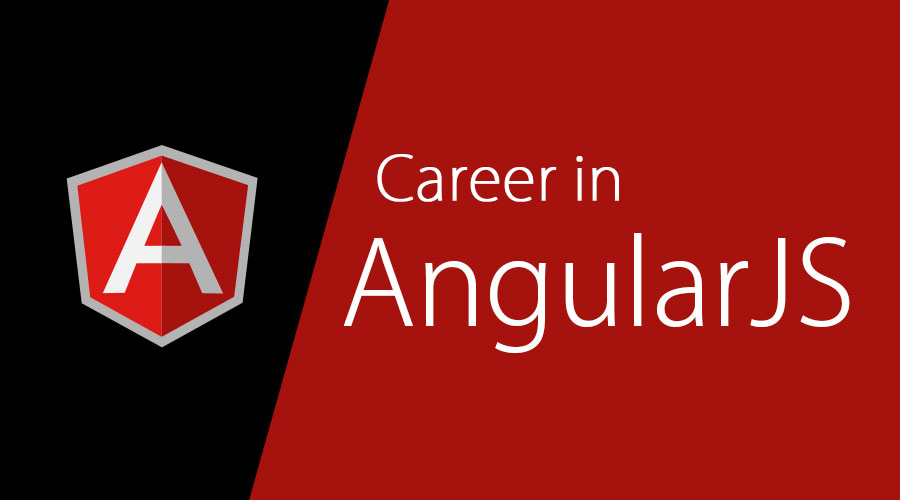 Introduction to Career In AngularJS
AngularJS is an open-source web development framework that is used for web development. It is based on JavaScript and is maintained by Google. A career in AngularJS, the career scope of an AngularJS professional, necessary relevant education, day to day job responsibilities, and career growth opportunities. By the end of this Career in AngularJS article, students and prospective candidates would have a fair understanding of how to build a career in AngularJS and why they should do so.  Many Individuals and corporations as well contribute to the development of AngularJS to successfully build a single page web application. It is a structural framework. It is used to develop dynamic web apps. AngularJS is used with HTML through a </script> command and it extends HTML's syntax. AngularJS expresses the application's components clearly and elaborately.
Education Required to Build Career In AngularJS
The future of AngularJS is bright and playing an important role in everyday life & businesses and constantly evolving. A career in AngularJS is changing the professional world.
Somebody with good knowledge of programming and a passion for coding is all that is required to start working as an AngularJS professional. Usually, a graduate with an engineering or technology major finds it convenient to get a job as a web developer. In India, B. E, B. Tech, M. Tech, MCA, BCA, M. Sc (IT), etc. are some of the relevant degrees which can bring a lucrative career of web development using Angular.
Minimum 15 years of full-time education is a must for hiring in almost all organizations. Previous knowledge of any one programming language is preferred but for freshers, there are no hard and fast expectations in terms of coding skills or projects or internships.
Usually, no additional certificates or courses are required to apply to AngularJS jobs, but some students prefer to attend some online or paid courses to better skill themselves in order to successfully qualify for the jobs as there are always more candidates than the number of available jobs in the market.
There are many quality courses available on the web which a student can choose to boost their knowledge if they wish to do so.
Career Path in Angular JS
Usually, all entry-level professionals start as a technology associate and gradually move up the corporate ladder. For entry-level positions, the jobs are mostly related to creating static pages using HTML and then slowly move to more advanced requirements such as dynamic page creation, reactive elements, mobile-based development, full-stack development, etc. where knowledge of AngularJS comes very handy and is used almost every day.
After spending 3 to 5 years on average to the job, the responsibilities grow, and promotion happens. Now one can choose to be a team leader and move towards a managerial role or may choose to stay in technical fields and move towards scrum master, product owner or project controller. It is good to stay in technical roles as one gets to learn a new thing every day and that makes the job really exciting.
As per the 2018 Stack Overflow survey, as much as 36.9 percent of software engineers apply AngularJS and Angular 2+ (newer versions of AngularJS )to do web development and create user interfaces.
Those who wish to gain expertise in building Single Page Applications that consume REST APIs will definitely benefit from learning AngularJS. Roles such as Web Developers, Project Managers, Architects, and software Testing Professionals are the biggest beneficiaries if they are skilled in AngularJS.
Job position and Application Area
Some of the common designations for AngularJS professionals in the industry are: –
Web developer
Web app developer
Associate technology analyst
UI developer
UX developer
MVC web developer
Front-end developer
JavaScript developer
Almost all software products and solutions are its desktop applications, mobile applications, web pages and apps, cloud applications, etc. require user interfaces for proper functioning and usability and hence web developers' role is crucial. They are never going to be out of demand. since its inception in 2010, its usage and popularity have only grown. Dozens of Fortune 500 companies, as well as startups, are implementing AngularJS.
These days as more and more functionalities are being moved online, users expect the browser to act as a web app. With AngularJS, browsers can dynamically render content and display the same which cut download on the server multifold and concurrently provide the UI developer ease to provide fascinating page designs. Such an increasing demand for single-page applications and the choice to have an intuitive UI has led the career in AngularJS to emerge as the most preferred development platform.
Salary (USD)
ZipRecruiter mentions that In the USA, the average annual pay for Angular JS Developers is $101,616 a year. The above figure is quoted by analyzing the salary of thousands of AngularJS professionals practicing in different parts of the USA.
On an average, Angular JS Developer's annual salary ranges anywhere from $50,000 to $143,500 depending upon various factors. Location plays an important role in salary. Costly cities usually pay more than a cost-friendly neighborhood. Similarly, if somebody has a master's degree of several years of quality experience or has worked on critical projects or done some research activities then the salary is much more than the average salary.
Angular JS Developer Average Salary Across the U.S.
| | | | | |
| --- | --- | --- | --- | --- |
| Range | Annual Salary | Monthly Salary | Weekly Wage | Hourly Wage |
| 25th Percentile | $90,000 | $7,500 | $1,731 | $43 |
| Average | $101,616 | $8,468 | $1,954 | $49 |
| 75th Percentile | $115,000 | $9,583 | $2,212 | $55 |
Source: – https://www.ziprecruiter.com/Salaries/Angular-JS-Developer-Salary
Conclusion and Career Outlook
From all the information presented above, it is clear that AngularJS is a great skill to invest our time and resources. Various studies show that the salary figures are only increasing year after year and hence students should without any hesitation learn this skill and look for a job in this area. There are other similar technologies as well, but the stability and trust with AngularJS are so much that it dominates the market significantly. AngularJS has now reached to a point where it graduated from a fancy framework to a web technology that is driving business. It is now being mandated by organizations whose core business value and strategy depends on a strong presence on the web. Therefore, new job opportunities are exponentially opening up, and today AngularJS jobs are among the best paid.
Recommended Articles
This has been a guide to Career In AngularJS. Here we have discussed the introduction, Education, Career Path in Angular JS, Job Positions, Salary, Career Outlook in Angular JS, etc. You may also look at the following article to learn more –