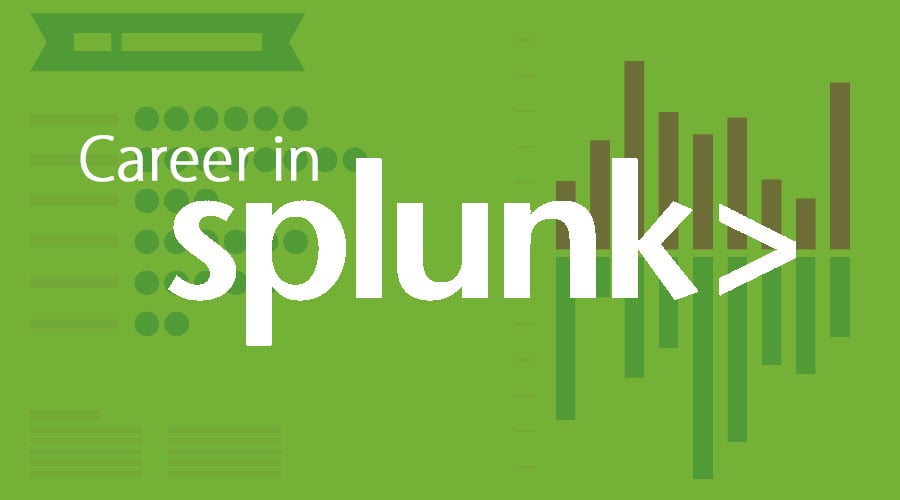 Introduction to Career in Splunk
Splunk was designed with the concept of a search engine for the log files stored in the system. Splunk is mainly responsible for indexing the data and processing a large amount of data. Splunk is said to be the technology, which is not easy to implement, but Splunk provides its users with a wide variety of users. Splunk improves the searches by adding information about the fields, events, and transactions. It also provides the facility of recognizing the fields from your previous searches with greater flexibility. In Splunk, scheduling can be done for sending an alert from the system if any mentioned condition occurs.
In this topic, we are going to learn about Careers in Splunk. Splunk is a software technology or product that provides the advanced search technique and indexing the log files in the system. It also provides the options of monitoring, visualizing the large volume of real-time system data. Its initial version was released in the year 2003-04. It was designed by Rob Das, Michael Baum, and Erik Swan.
Education Required to build Career In Splunk.
Splunk provides the free courses, learning paths for Splunk users, Splunk administrator, Splunk cloud platform, Splunk for app developers, security administrators, security end-users, and certification tracks for these different fields, paid courses, videos, etc. below link https://www.splunk.com/en_us/training.html. There are many videos or online courses available on YouTube as well for learning. These training's help the beginners and experienced to enhance their skills. From the above link, you can navigate to the courses, which are available for users and professionals. There are free courses, paid courses and certifications for different platforms that you can opt for yourself accordingly. Splunk is mainly used in the DevOps field as it is being integrated with different tools that will display different time charts and graphs, and reports to visualise a large amount of data. It is also referred to as Splunk Training and Splunk Certification. For the Splunk material to prepare, please use the below link
https://www.splunk.com/pdfs/ebooks/exploring-splunk.pdf
Career Path in Splunk
Splunk's career has specific job roles: Systems Engineer, Splunk administrator, Splunk architect, Splunk application developers, Splunk programming analyst, Security Engineer, Technical service manager, and security analyst. There can be other specific roles for Splunk; it depends on the organization or company like DevOps engineer, Consultant, etc.
Splunk engineers job is mainly balanced, neither stressed nor relaxed, but this job is mainly referred to as competitive and collaborative. A career in Splunk is flourishing in any domain of technology and other industry sectors like finance and insurance, information technology, Retail, Trade, manufacturing, and Technical Services. There is a lot of enterprises, whether it is middle or large, government agencies, universities, and service providers are using in many countries that are currently using Splunk for their business, cybersecurity task, customer understanding, prevent fraud, improve and service performance, and reducing all over the costs. The popularity of Splunk and it is getting used worldwide in organizations like IBM, Salesforce, Facebook, HP, Adobe, etc.
Job Positions or Application Areas
A career in Splunk has a lot of job opportunities in the market in different sectors. These job opportunities are available in different companies in Information technology. The companies are like IBM, Accenture, Capgemini, and other big organizations. The job positions are like software engineer, Technical architect, Splunk admin, Splunk app developer, Splunk security analyst or engineer etc. To apply for these job positions, you can go to individual sites' career page and apply. Check or visit naukri.com for availing of the different opportunities on Splunk for different types of organization, whether it is a small or large enterprise.
Below is the graph of Job postings for Splunk.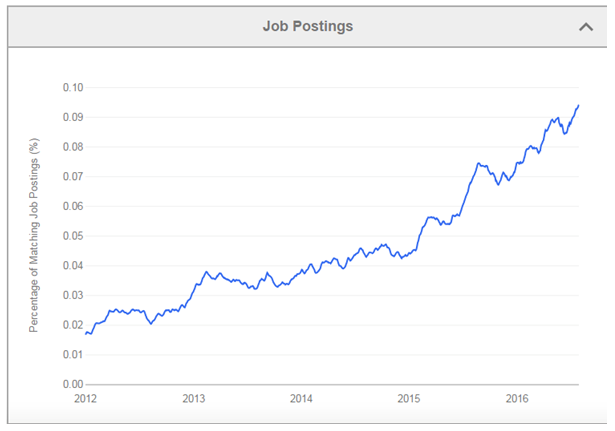 Salary
Splunk technology has provided a good amount of salaries based on roles and performance. The data can be changed over time. Below are the salaries offered in the US for different regions. It can be offered on the basis of different roles and designations for the different organizations. The below data is the latest data and collected data.
The source is indeed.com.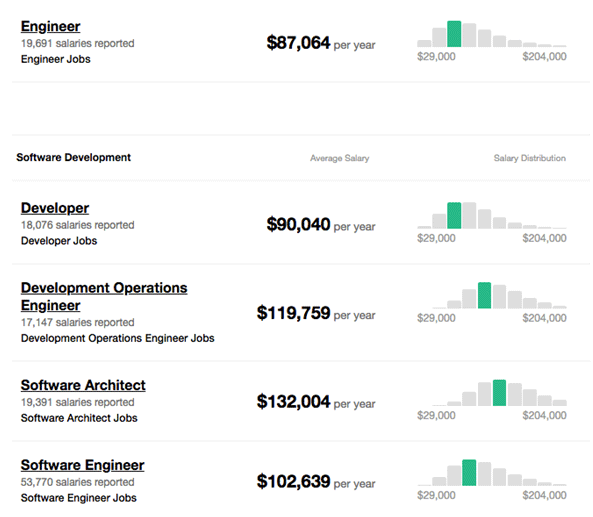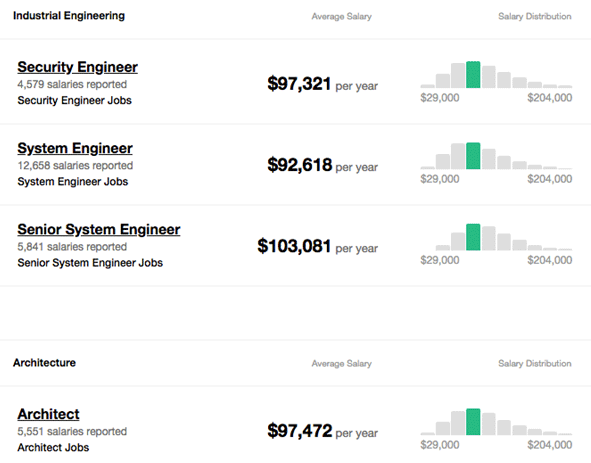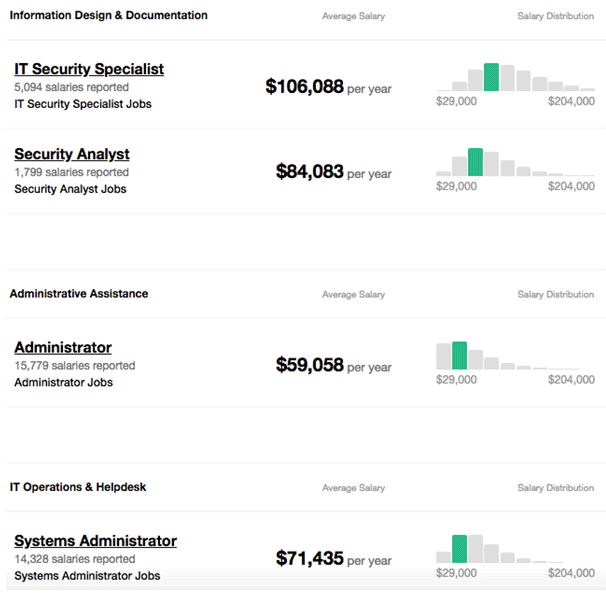 Career Outlook
Splunk has great career growth, as it is being widely used and getting popular. It is maintained and serviced by Splunk Inc., which is an American based multinational company. A career in Splunk is also used for generating reports, graphs, alerts, dashboards, visualization, and the most important aspect of this tool is indexing and searching. Because of these features, Splunk is used in a variety of domain technology and industries as well.
Splunk features also provided a variety of opportunities, because of which beginners and professionals are attracted to these opportunities. The different roles and positions from early to middle and to high stages are available for this product or technology. It is being used to find the logs in a system, which can be used mainly in large enterprises. It is easy to learn and simple to use, and provides great excitement for the opportunities in the market.
A career in Splunk has great customers worldwide, and it has a great community hosted by Splunk called Splunk base, which helps users to find the apps and add-ons for Splunk. It also makes or improves the functionality and uses of Splunk. This community also helps to move your career forward to your desired profile and helps to resolve any query regarding your issues while developing. The online community has also provided great opportunities for career growth and crack the interviews to provide the solutions and guidance regarding the queries. Splunk has a great career in the field of DevOps as well. Learn Splunk, and make your growth and touch new heights in your career.
Recommended Articles
This has been a guide to Career in Splunk. Here we have discussed the introduction, education, career path in Splunk, and the salary and career outlook in Splunk. You may also look at the following article to learn more.