Updated June 1, 2023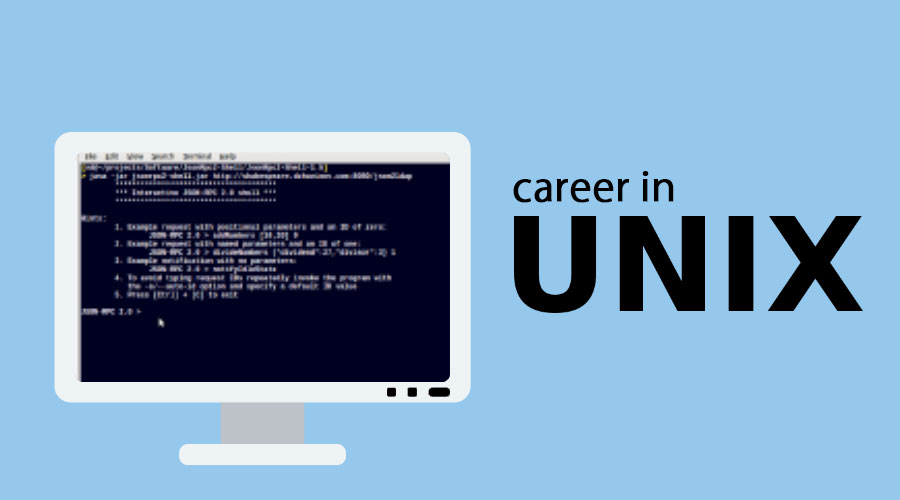 Introduction to Career in Unix
Unix is in high demand in the software technology field, offering various career paths such as Unix Engineer, Unix Administrator, Systems Engineer, Infrastructure Administrator, Analyst Engineer, Production Support Engineer, Linux Engineer, Linux Administrator, and more. Unix is a free, open-source software group whose user interface by default is Graphical User Interface (GUI) and Command Line Interface (CLI) written in Assembly language and C programming language.
Education Required for a Career in Unix
Any Bachelor's graduate in Science & Technology, Engineering, and Mathematics can quickly learn the UNIX basics, core functionalities, and architecture. Any person with other background areas of bachelor degrees can also become a UNIX engineer or Expert if they have relevant software industry experience. Having Bachelor's Degree at the education level will have different pay structures in career; a UNIX Engineer and one with a Master's degree specializing in Computers will have the other pay structure with a little bit higher pay packages compared to the lower degree Bachelor's.
Career Path
There exist many open requirements for UNIX professionals in the Software Technology Area across many places in many countries and mostly in the United States of America. It provides multi-core computing, multi-tasking, and multi-user handling capabilities, resulting in the most used operating system in many companies' IT Infrastructure and delivery operations. The different roles in the UNIX career are usually such as UNIX Engineer, who will be maintaining the UNIX admin-related tasks such as managing UNIX systems, building and installing software on the system, applying patches to UNIX system if any required, troubleshooting the hardware, running diagnostic systems and checking the health of the system and performing health checks and system maintenance. UNIX career paths include UNIX Engineer, UNIX Administrator, UNIX Systems Engineer, UNIX Infrastructure Administrator, UNIX Analyst Engineer, UNIX Production Support Engineer, Linux Engineer, Linux Admin, etc.
The next level career path in the UNIX area comes as a Senior UNIX Engineer, Senior Unix Systems Admin, etc. The UNIX Administrator's roles and responsibilities include administration and managing, troubleshooting and debugging, establishing system health checks, users, roles, privileges, and different server environments.
Job Positions or Application Areas for a Career in Unix
In the field of UNIX, individuals can pursue roles like UNIX Administrator/Engineer, UNIX Systems Engineer, UNIX Admin Engineer, Linux Engineer, UNIX Expert, Senior UNIX Admin, Junior UNIX Engineer, UNIX Trainer, and System Architects/Engineers with in-depth knowledge of UNIX operating system architecture and functionality. The Engineer or administrator requires skills such as expertise in Linux System Administration, Operating System, and Hardware troubleshooting, configuring and installing the equipment / able to repair, reconfiguring and installing several servers/clusters, able to manage the different cases to provide resolution, refreshing/copying the databases and its schemas using various Unix commands & developing UNIX scripts. A UNIX engineer maintains complex server systems in enterprise-level environments, ensuring future adaptability and ease of maintenance.
Salary
According to Indeed.com, the average annual salary for a UNIX Engineer in the United States is $100,489. The average pay scale and salaries of a UNIX Engineer career paths are as UNIX Administrator: (US$36000 – US$170000) UNIX Systems Administrator: $78,179 per year (US$21000 – US$170000) Senior Systems Administrator: 90,010 per year (US$21000 – US$170000), UNIX Administrator: $66,214 (US$21000 – US$170000) and with an expert with multiple operating systems and its' variants in UNIX such as Linux area are paid with an amount ranging from US$18000 to US$166000. One more pay scale information site called PayScale.com states that an average salary for a UNIX role is $86,194 annually. The average salary in another pay scale information site called Glassdoor.com for a UNIX role is $94,020 in the USA. The average pay scales in the USA range around USD 93,000, as clearly understood from the above range of salaries.
Career Outlook
The different career roles and paths are present in the UNIX Engineering stream, and also the average salaries are very high in the UNIX career path. This clearly resembles that there will be a bright future for those pursuing a career path in UNIX. Professionals with skills in UNIX Systems Administration are in high demand, with numerous job requirements in the field. After entering the UNIX career, there are multiple career paths, such as Systems Admin, Linux Engineer, or Linux Admin. The demand for UNIX/Linux roles in the USA is increasing rapidly due to the growing need for server and system maintenance.
Due to increasing customer needs and the deployment of legacy applications on UNIX or Linux systems, corporate organizations require Systems Engineers or Admins to securely manage large customer applications. UNIX is the preferred operating system for complex businesses due to its expanding customer base and daily data management requirements.
Conclusion
Finally, to conclude, a career in UNIX is the most sought-after one. UNIX systems have stood the test of time in the IT industry, thanks to their multi-core, multi-tasking capabilities, which offer exceptional speed and performance. Without any second thought, the engineering position can be considered a career path to excel as an IT professional.
Recommended Articles
We hope that this EDUCBA information on "Career In Unix" was beneficial to you. You can view EDUCBA's recommended articles for more information.