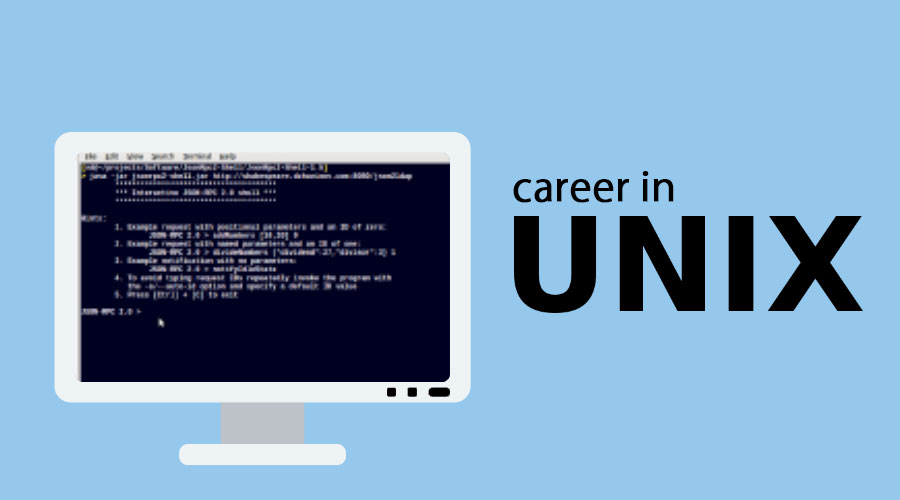 Introduction – Career In Unix
UNIX is the most widely used operating system since few decades as it is capable of providing multitasking and multi-core processing functionalities. It was originally developed at AT&T Bell laboratories by a group of developers Dennis Ritchie, Ken Thompson, Brian Kernighan, Joe Ossanna and Douglas McIlroy. It was initially released in the year 1971. It was licensed under proprietary license and free open source software groups. The default User interface is GUI (Graphical User Interface) and CLI (Command Line Interface). It was purely written in C programming language and Assembly language.
Education required for Career In Unix
Any Bachelor's graduate within the areas of Science & Technology, Engineering and Mathematics can easily learn the UNIX basics and core functionalities and architecture. Any kind of person with other background areas of bachelor degrees can also become UNIX Engineer or Experts if they have any relevant software industry experience. Having Bachelor's Degree at education level will have different pay structures in career, a UNIX Engineer and ones with Master's degree with a specialization in Computers will have the other pay structure with a little bit higher pay packages compared to the lower degree Bachelor's.
Career Path in Unix
There exist many open requirements for the UNIX professionals in the Software Technology Area across many places in many countries and mostly in the United States of America. UNIX provides multi-core computing, multi-tasking, and multi-user handling capabilities resulting in the most used operating system in the IT Infrastructure and delivery operations in many companies. The different roles in the UNIX career are usually such as UNIX Engineer, who will be maintaining the UNIX admin related tasks such as managing UNIX systems, building and installing software on the system, applying patches to UNIX system if any required, troubleshooting the hardware, running diagnostic systems and checking health of the system and performing health checks and system maintenance. UNIX career paths include UNIX Engineer, UNIX Administrator, UNIX Systems Engineer, UNIX Infrastructure Administrator, UNIX Analyst Engineer, UNIX Production Support Engineer, Linux Engineer, Linux Admin etc.
The next level career path in UNIX area comes as a Senior UNIX Engineer, Senior Unix Systems Admin etc. The UNIX Administrator roles and responsibilities include the administration and managing, troubleshooting and debugging, establishing system health checks, users, roles, privileges, and different server environments.
Job Positions or Application Areas For Career In Unix
In the area of UNIX, there are different roles to be taken up such as UNIX Administrator / Engineer, UNIX Systems Engineer, UNIX Admin Engineer, Linux Engineer, UNIX Expert, Senior UNIX Admin. In addition to these, there will be Junior UNIX engineers and UNIX trainers too. The System architects or engineers also possess much knowledge about the UNI operating system technologies such as UNIX operating system architecture and working as well. The UNIX Engineer or administrator requires skills such as expertise in Linux System Administration, Operating System, and Hardware troubleshooting, configure and install the equipment / able to repair, reconfigure and install several servers/clusters, able to manage the different cases to provide resolution, refresh/copy the databases and its schemas using different Unix commands & developing UNIX scripts. A UNIX engineer is also responsible for maintaining complex server systems in any kind of enterprise level system maintenance which should be capable of easier adaptability and maintenance in the future.
Salary
The average pay package of a UNIX Engineer in the United States of America is $100,489 per year according to the known US pay scale website Indeed.com which gives information on the compensation and salaries of different roles in many companies. The average pay scale and salaries of a UNIX Engineer career paths are as UNIX Administrator: (US$36000 – US$170000) UNIX Systems Administrator: $78,179 per year (US$21000 – US$170000) Senior Systems Administrator: 90,010 per year (US$21000 – US$170000), UNIX Administrator: $66,214 (US$21000 – US$170000) and with expert with multiple operating systems and its' variants in UNIX such as Linux area are paid with an amount ranging from US$18000 to US$166000. One more pay scale information site called PayScale.com states that an average salary for a UNIX role is $86,194 per year. The average salary given in other pay scale information site called Glassdoor.com for a UNIX role is $94,020 in the USA. It is clearly understood from the above range of salaries that the average pay scales range around USD 93,000 in the USA.
Career Outlook In Unix
The different career roles and paths are present in the UNIX Engineering stream and also the average salaries are very high in the UNIX career path. This clearly resembles that there will be a bright future for the ones' who are looking into pursuing a career path in the area of UNIX. There are even huge numbers of requirements for the professionals with the skills set in the area of UNIX Systems Administration. There are multiple career paths to move after entering into the UNIX career such as Systems Admin or Linux Engineer or Linux Admin. The requirements for different roles in the area of UNIX / Linux in the USA are increasing enormously every day as the existing servers or systems maintenance work is getting more and more nowadays.
Because of the day to day increase in the customer needs or customer business handling requirements and all the legacy applications being deployed on UNIX or Linux Systems, most of the corporate organizations need some Systems Engineers or Admins to handle and manage their large customer applications securely. Also, because of increasing customer base and daily requirements and the customers' data managing related activities, the career in UNIX has been an ideal operating system for most of the existing large and complex businesses in the current digital world.
Conclusion – Career In Unix
Finally, to conclude, a career in UNIX  is most sought after one and is evergreen position in the IT industry from past decades to coming years as it cannot be easily replaceable by any other operating system. The multi-core and multi-tasking functionalities are the heart of UNIX systems without losing its' speed and performance has made the UNIX system irreplaceable till now. Without any second thought, the UNIX engineering position can be considered as a career path to excel in IT professional.
Recommended Article
This has been a guide to Career In Unix. Here we have discussed the Introduction, Education, Career Path in Unix, Job Position, Salary and Career Outlook in Unix. You may also look at the following article to learn more –