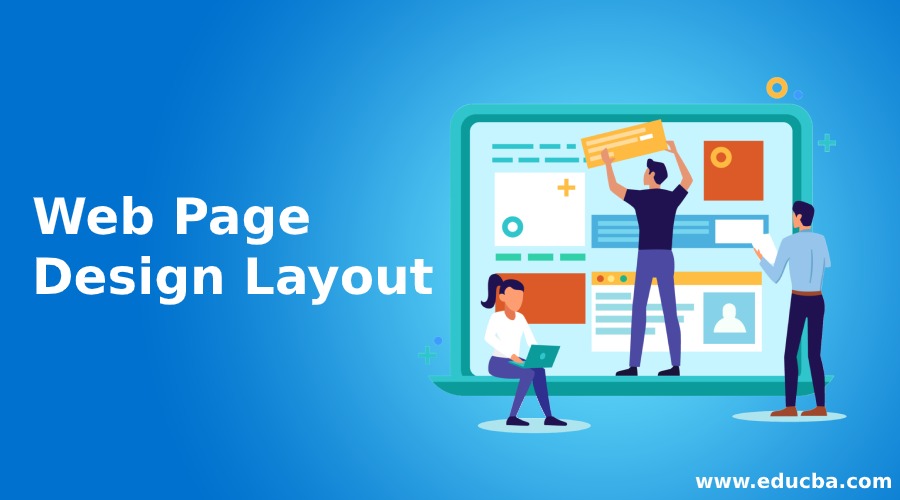 Tips for Web Page Design Layout
There are a lot of things to consider when you are designing and laying out a website. Even the most experienced web page designers make mistakes despite their years of designing, so let's not consider the kind of mistakes that beginners can make.
The following shortlist of ten web page design layout steps covers all essential information that you should know before you begin a new website project or start working with a digital agency, and it also covers what they should focus on during the web page design layout process.`
They cover essential web page design layout aspects like the design of a landing page, as well as general workflow issues for a better functioning website. Following these web page design layout steps, you will be in a better position to create a professional-level web page design layout.
Steps to Create Perfect Web Page Design Layout
Following are the steps: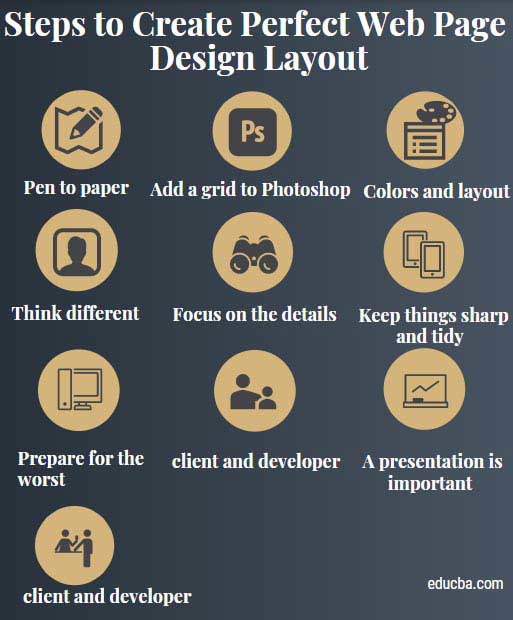 1. Pen to paper
Do not just fire up Photoshop or the web page designing software that you have when you start off a project. This is a common mistake that even experienced designers do before giving a thought to the problems they have to solve. That's right; web page design layout is about solving problems and not just about good looks and aesthetics. Those problems can only be solved with a good, clear hierarchy and layout. Focus on the content, layout, and functionality before you look at color codes and shadows.
When you have to create the look and feel of a project, the first thing you need to do is create a top-end framework that can solve all web page design layout problems. The framework is the user interface that surrounds content, and it helps perform actions on the website and navigate it. The framework also includes bottom and sidebars and other components, as well as navigation elements. Needless to say, you cannot miss such essential bits. Start out your web design project with this perspective, and you will have a clear understanding of the layout and how to design each page.
2. Add a grid to Photoshop and select your typography
Now, you can fire up Photoshop. But before you start designing anything, you need a proper grid, to begin with. No matter how good you are with the web page design layout software, not using a grid will end up in a poor web page design layout, in one way or another. A grid helps structure the page layout in different sections and guides you along with the different screen size requirements. More importantly, it helps create a responsive web page design layout and make a consistent design in terms of spacing and other elements.
Once a web page design grid is set, it is time to get into typeface and colors. This can take a while, but it is also an exciting phase of a web page design project. As a general rule of thumb, it is best not to use more than two typefaces in a website layout. However, this can vary based on different web page design projects; you could stick to one or go wild with several typefaces. No matter what, go for a font that is easy to read, even if there is a lot of text to read. Be more creative with the call to action and titles, and choose big fonts. Also, maintain consistency throughout the website in terms of typography.
3. Colors and layout
Web page Designs can go crazy when they choose colors for a website, but it is best to use a limited set of tones and colors because too much of anything can be bad.  You could be looking at colors right at the stage of choosing typefaces. Explore what colors to use in the UI, text, and backgrounds. Use limited set tones and colors for the general user interface. Apply the colors consistently across the UI based on the functionality of the element. Just look at the layout of popular websites like Vimeo, Quora, and Facebook. Besides the user interface, there should be no color restriction for the graphic details or illustrations, provided that they do not interfere with the website's other components or functionality.
As for web page design layout, the best rule to follow is 'the simpler, the better. Each section has to be essential to the site, with a reason and benefit to the visitor's final outcome. The layout has to be able to highlight the most important content and elements. Keep the number of call-outs on a page to a minimum so that the entire websites work in delivering value to the visitor. A good way to ensure the simplest layout is to start with the most basic one possible and just add elements where necessary.
4. Think different
At this point, you would have some idea about elements that are considered essential to websites but do not be afraid to rethink current conventions. Think about elements considered important right now. For example, do you need a search button? It could help in some cases, but it is redundant in most cases. Web page Design layout conventions and web page design layout patterns are present because they work in some cases. However, they may not work in all cases and may be outdated. Rethink established patterns on a component and think about how you can improve them.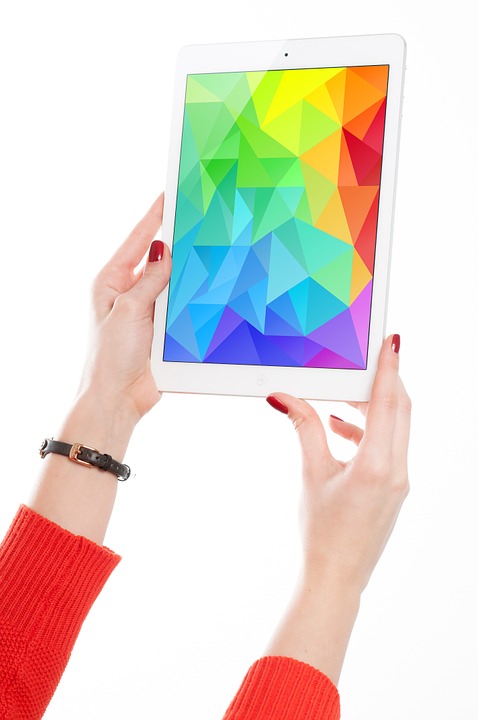 Image source: pixabay.com
Do not limit your rethinking to industry standards or conventions, either. You also have to rethink your own habits and web page design layout patterns. Innovation does not always come from challenging outside conventions; it can also come from challenging yourself with every project. Do not limit yourself to just one or a few ways of working. Examples of various challenges may include a new grid system, new components, or just avoiding certain colors and typefaces.
Recommended courses
5. Focus on the details
Every web page designer worth their salt would emphasize this point, and for a good reason. As the saying goes, 'God is in the details. The smallest details in a website or web page could make a huge difference in the usability of the user.
Something as simple as a small interaction, aesthetic touch or animation could improve the entire website. But these details are essential and will come naturally as you gain more experience. Focus on excellence in each component, and it will all come together to form an excellent complete product. Each component must be designed like it could be the best standalone component of its own. A lot of designers leave parts of their websites for the end and have little regard for them.
6. Keep things sharp and tidy
Keep all the images and content on your website sharp by setting the right contrast between the background/background colors and strokes. Other than aesthetics, you also have to avoid some other common things for a clean and sharp website. Some of the things to avoid when sharpening your output include blurry edges, gradient banding, font rendering options, as well as strokes that badly merge with the background.
These are just some of the simple web page design examples to look out for. Keep looking at your web page design layout in its entirety and see if everything is working well together. Then analyze each component separately and more carefully.
When designing with Photoshop, keep your PSD files clean, no matter how big the project gets and the number of designers that work on the project. Cleaner files make it easier to export various sections and make the web page design layout process faster, as well as work with other designers using shared files.
7. Prepare for the worst, and stay focused
Web page designers are meant to solve problems via different constraints. In terms of web page designs, the constraints can be technical, content-related, or conceptual. When you start and work on a project, do not just think of an ideal scenario but also the worst-case scenario. For instance, the user may be trying to access the website on a four-inch screen running an OS that is more than two updates old. Keep in mind how your website layout will work in different screen sizes, devices, and operating systems.
When you approach a website, you have to web page design it so that the best-case scenario is even in the worst case. As a web page designer, you also have to obsess over the project. Every good designer immerses himself or herself into each project. Make your website a part of your life, and you will end up seeing it with more clarity. You can then identify flaws and problems and eventually change them. As your project matures, so will you as a web page designer. By the end of it, you will learn a lot more with the project than you would if you remained disconnected from it. Moreover, the final output will be much better. If you pour in your sweat and blood into each project, it will definitely show everyone.
8. Establish a good relationship with your client and developer
If you are planning to be a professional web page designer, you will have to see and deal with a lot of clients and web developers. Let's begin with clients because clients always come first.
When you propose an interactive web page design or concept, you have to keep open communications with your client so that both of you are on the same page. Do not stay with a concept for a long time; share it with the client as soon as you can. Once an initial concept is approved, you will get a better idea of what your client wants and align yourself closer to the project. If the concept is not approved, you can gather as much feedback as you want from the client to get a more appropriate concept to the table. In any case, do not wait until you make a detailed concept.
Once your concept is ready and you are out working on the project, you have to develop a good rapport with your developer team. Developers are not just programmers; they are creative too, and they are just as passionate about their work as web page designers are. However, they are often not included in the project from the start and only enter the project once the concept has been decided and their creative inputs are no longer needed. Unfortunately, this process is wrong. Sometimes the best web page design layout ideas come from the least likely sources. Do not discount the creativity of the developer team. Bring them into the conceptualization process at the beginning and make them part of the project from the start. Share your web page design layout concepts with your developers and engage them for better ideas and, ultimately, better coding and execution from their end.
9. A presentation is important, and some ideas may not be
While it is definitely important to create a great website and produce a great project, it is also important to present it well to a client. Even the best web page design layout in the world can be ignored or hated entirely if they are not presented well. Remember, the web page design layout concepts and ideas used for a project may be clear to and your entire team, but they may not be as clear to your client or someone who has become part of the project at a later stage.
On a similar note, you should also remember not to get too attached to all your web page design ideas and web page design layout concepts. Make a strong argument for each of them, but remember to back off if your team or client does not agree with them. Remember that preferences can be subjective; what works well for you may not work at all for the client or developer. As a web page designer, you need to have a firm opinion about your ideas, but you should also be flexible enough to quickly change concepts and ideas if they are not agreed upon by others.
10. Track and monitor progress at every stage and show it to the community
Anyone working in an agency would know the struggle of working on the web page design of a new project while their previous one is being developed or just finished. Contrary to what people may think, a designer's work does not end by just sending the PSD files and style sheet. If you are fully invested in a project, you also have to check in on developers to see if your web page design and interaction ideas are being executed as you planned them, and help them out as needed to ensure that every detail is working just right.
You can also share your work-in-progress components and style sheets with the community of designers. Sometimes the best parts of a project are left out or lost in the archive folder. Once the project is complete and approved by the client to be promoted, you could create a case study with the work in progress and left-out web page designs and components. This can be a huge asset to the community, and you can learn a lot from the feedback.
Related Articles
This has been a guide to the tips for Web page design layout, which are easy to remember. Here in this post, we have studied Steps to create a perfect web page design layout. Here are some articles that will help you to get more detail about the Web Page Design layout, so just go through the link.