Updated May 8, 2023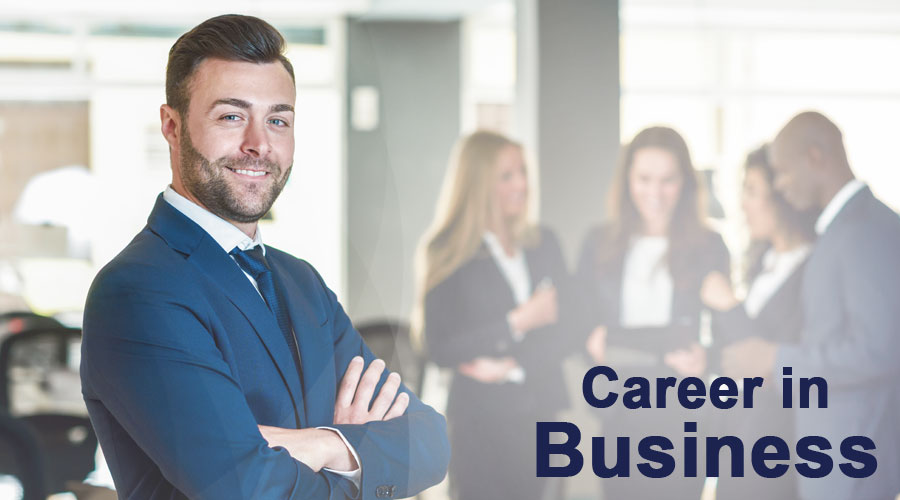 Career in Business
When you start moving your feet (to walk) on the world floor, it is very much likely that you will fall, but the respect in which you will get up will matter the most. As of all, the year you have been part of 2019 is no different. In each year, everybody is looking to make a strategic career move, and moving to the business sector is a good move if you are good at communicating with people, have good intro career skills, and genuinely have a little of common sense. All these things combine, and you are good to jump into the business sector.
For working in the business sector, you just have to single aim. That is how you are going to generate profit for the organization, whether by looking into social media and finding what is trending or going for some specific individual analysis and tracking their demands. These are only a few things that you can do by tracking people's views, but in business, there is much more than just tracking people's views. So let's look into all the aspects of it in detail.
Education Requirement for Making Career in Business
In a business field, to achieve success, the paths are limitless but let us first go through the conventional one. So to be in the field of business, you should first consider taking math's in your school till +2 studies with a bit of focus on communication and computers- to keep in touch with the technical aspect of a business.
Then for your bachelor, you can go for economics, accounts, or any associate degree of business (B.B.A-Bachelor in business administration). And finally, you can reach your destination by getting into of the best Business school by clearing their standardized exam (For getting into IIM's in India there is CAT and for world platform, there is GRE, GMAT, etc.). Then, get an MBA (master degree in business administration with a reputed organization), and things will start to roll for you.
Or
After completing your bachelor, you can directly opt for some professional certification like CBM (certified business manager) or PMP (project management professional). This type of certification will help you to land in the business world directly (at least at entry-level). But with these certifications, you have to be on your toes and keep updating yourself by giving some hours so that your credential will remain current.
Career Path in Business
Basically, when you look into the career path, you will find there are 3 core sectors in which your business acumen will be tested majorly.
Financed: Looking into the financial aspect of a business. To achieve success in this path, you need to have a good understanding of business math and statistics, and accounts are also a must.
Marketing: Looking at the sales aspect of a business. For this sector, you need to have good communication because you have to convince the client to implement your idea in their business; one has to be far-sighted.
Human-Resource: Looking into the workforce management of a business. This is the most important part is here; you have to manage the people that are very valuable to the organization, and the people management person has to be multitasked and know how to prioritize one's work.
You can choose anyone (or others) of them (as per your inclination) because each one of them is unique in itself.
Job Position and Application Area
Now the skills that you gain while pursuing your degree will allow you to start contributing to your or your employers business effectively and quickly. The application to business acumen is limitless; you can build your own model or make work easier for others.
Now a day's data analytics is a major boost and the hottest job of the 21st century. Business acumen and statistics can be mixed to find the trend or waves in data which will indirectly or directly open many gates for employment, as you can see in the case of many companies like Ola, Uber, Oyo rooms, etc.
So some of the positions that we can look for are:
Business Advisor
Business Analyst
Business Development Manager
Business Accountant
Human Resource Management
Sales Management
SalesForce Management etc
Again the list will go on, but it's you who have to check your inclination.
Salary
(The thing that judges your worth in people's market).
As much as we can say about it but we all work for this, So it will be better to look into this framework so that you get a clear picture that what you are getting after pushing yourself this far.
These are the Median Annual salary that you can get (only restricted by your potential):
| | |
| --- | --- |
| Business Career | Median Annual Salary |
| Sales Management | $117,960 |
| Financial Management | $121,750 |
| Human Resources Management | $106,910 |
| Food Service Management | $50,820 |
| Health Care Administration | $83,810 |
| Marketing Management | $131,180 |
Reference: https://www.allbusinessschools.com/business-administration/salary/
Career Outlook in Business
As per a report from the United States Department of labor, employment in the business operation is projected to grow 10% by 2026 (Faster than any other occupation).
Globalization and other worldwide phenomena are surely going to support business all around the world.
In addition, a major surge in data usage will be led to more number of market analysts/business analysts because to understand the customer and product demand, you need a business brain.
Conclusion – Career in Business
It is totally conclusive from here that the business practices are not going to stop in the coming future, they will only grow, And as more and more new implementations are attacking the system, it is just helping in opening more and more gates to this field. Business strategies and analysis is the pivot of any running system, and you cannot run a system without its pivot. So as the innovation continues, they will innovate themselves as well and will always add quality to a firm. We just wanted to add one more point that "business is one of the oldest professions, and it will continue to grow as it has been in the past".
Recommended Articles
This has been a guide to Career in Business. Here we have discussed the education, career path in business, job position, salary and career outlook in Business. You may also look at the following article to learn more-