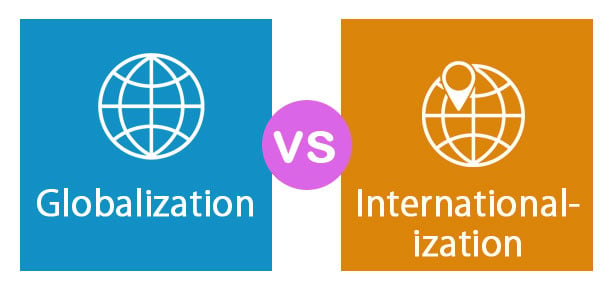 Difference Between Globalization vs Internationalization
Globalization means connecting the economies of the world for free trade and economic policies to integrate the world into the global village. Globalization is at the core in any of the policy planning by the International Monetary Fund (IMF) or United Nations. It is the process of opening the economies of the nation for the other nations and to sync the rules and regulations with other nations. Internationalization means to produce goods or deliver services that have the capability of entering into the international markets and have the standards that are globally accepted. Internationalization means to expand the business and enter into the market of different countries. It is the process in which a business, firm or individual expands and becomes part of the other countries, it may be for goods supply, customer base or such other demand fulfilment.
21st Century is the age of technology which does not have any barrier. It's a century of the world which should not have any constraint, in relation to communication or may be related to trade or commutation or goods movement or it may be related to strategic thinking. In India, from 1991, the wave of the liberal economy started which opened the door for globalization in India. With this, various International brands put their footprints in the Indian Market and many Indian brands started going globally, coming into the limelight of the international market. With these terms like globalization and internationalization were coined by economists and businessmen. Many people are considering both the terms as the same, however, they both globalization vs internationalization are different.
From 1991, India accepted Liberalization, Privatization, and Globalisation, and made the economy open for world-class companies to invite foreign investment in the nation. With these various foreign brands like MacDonald, Google, Citi Group, HSBC Inc, Starbucks, etc. started investing in India and Indian brands like Tata, ITC, Reliance, etc. starts expanding outside India and become an eminent leader in their area of work.
Here, we can see that Globalisation is the result with which free and open trades are end result of global business markets. To achieve this result, various brands started putting their steps outside the nation and started delivering goods and services that are up to the mark of international standards which is nothing but the internationalization of that brand or product.
Head to Head Comparison between Globalization vs Internationalization (Infographics)
Below is the top 7 difference between Globalization vs Internationalization:

Key Differences between Globalization vs Internationalization
Let us discuss some of the major differences between Globalization vs Internationalization:
Globalization is the end result while internationalization is one of the tasks/tools/processes to achieve them.
Globalization is more with the nations and their economies while internationalization is more related to the individual, firm and corporations for doing up their businesses.
Globalization is a process and internationalization is part of the same
Major factors that affect globalization are infrastructural and logistics set up, telecommunications, etc. while internationalization gets affected by cultural tastes and preferences, local traditions, etc.
The major example of Globalisation is Elimination of Visa Obligations, removing tariff and non-tariff trade barriers, liberalizing investment-related obligations, etc. while an example of internationalization is sourcing, producing or selling materials or delivering services from one or more countries, setting up of the branches and subsidiaries in other countries, etc.
Globalization is an economic process as it aims in integrating the economies while Internationalization is an improvisation process as it will lead in expanding of the business across the nations.
Organizations like IMF, World Bank, WTO, etc observe and work to implement globalization while institutions like the EU, APEC, NAFTA, etc boosts internationalization.
Globalization vs Internationalization Comparison Table
| | | |
| --- | --- | --- |
| The Basis of Comparison Between Globalization vs Internationalization | Globalization | Internationalization |
| Task/Result | Globalization is a result which is desired by the global economies | Internationalization is the task/process with which globalization can be achieved. |
| Set and Subset | Globalization is the structure that people want to set up. | Internationalization is part of that structure, hence can be termed as a subset of Globalisation |
| Related to | Globalization is more related to the economies of the nation | Internationalization is more related with the individual, firm or business for their goods and services |
| Factors that affect | Infrastructural setup, telecommunications, logistics, etc. highly affect the globalization process | Cultural tastes and preferences, Local traditions, etc. plays a major role in the internationalization |
| Example | Eliminating 1. visa obligations for visitors, 2. tariff and non-tariff trade barriers, 3. Liberalization of investment regulations etc. | Sourcing, producing and selling materials from one or more countries, set up of branch or subsidiaries in other countries for carrying out business, etc. |
| Process | It is an economic process | It is an improvisation process |
| Organizations handle | International Monetary Fund, World Bank, World Trade Organisations, etc. are handling globalization implementation | European Union, Asia Pacific Economic Cooperation, North American Free Trade Agreement, etc. work for boosting Internationalization. |
Conclusion
In short, Internationalization is related to a firm's movement overseas. While globalization is the rapidly growing integration of communication, financial, as well as a political ideology. Although, internationalization is the process that results in globalization as firm movements could be said to be the cause of globalization.
With the passage of time, Free traders would say we want to become less self-sufficient and more globally integrated for satisfying the consumer needs more adequately. This increased interdependence, in the end, will also eliminate war-related situations which ultimately leads to harmony among the nation. Free trade, specialization, and global integration mean that nations are free to trade. Yet freedom not to trade is surely necessary if a trade is to remain mutually beneficial.
There is a substantial difference between globalization vs Internationalization. Internationalization is to perform at the international standards with our domestic labor, natural resources to compete for the international market. It is an effort with own nation's national labor, capital and resources by operating in domestic as well as an international market but globalization is to integrate the economies with integrity and unity at the globe to use other nation's labor, capital, and resources of all to reach the best results.
Recommended Articles
This has been a guide to Globalization vs Internationalization. Here we also discuss the key differences with infographics and comparison table. You may also have a look at the following articles to learn more –