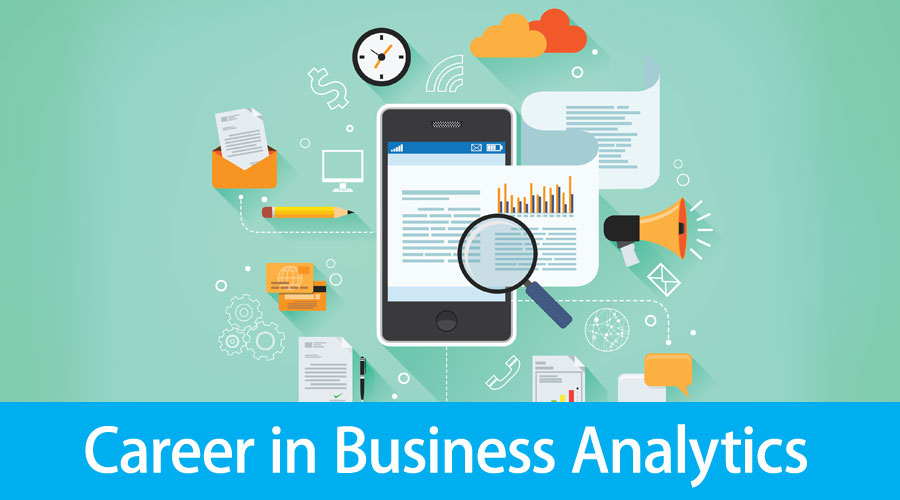 Career in Business Analytics
The following article provides an outline for Career in Business Analytics. Business analytics involves working with large sets of data; this data can be of varied nature like- consumer preferences, what they like-dislike, their buying patterns, and so on. It is used by almost all industries like Banking, telecommunications, FMCG, IT, Auto ancillary, Insurance, and so.
Companies use various statistical and empirical models to derive meaningful conclusions from the data so that it can be used for long-term strategic business decisions. The success of a business depends on its ability to filter through tons of data and derive meaningful and useful inferences from it. Data forms the fundamental crux on which the company takes long-term decisions; below is the list of some top schools abroad and in India known for business analytics.
Abroad:
MIT Sloan School of Management, USA
Imperial College of Business School, UK
University of Texas – Austin McCombs School of Business
ESSEC, Paris
ESADE, Spain
India:
Amity Business School
MIT World Peace University
Lovely Professional University
Narsee Monjee Institute of Management
Welingkar Institute of Management
Education Requirement for Career In Business Analytics
To pursue a career in business analytics and to be eligible to study it, a graduation is a must, preferably in Finance, Engineering, Economics, IT, or any other relevant degree. Some universities do prefer students who have some prior work experience, but it is not mandatory. And depending on the university, various entrance exams will have to be given like GMAT, GRE, CAT, NMAT. Therefore, it is always best to narrow down a few universities that one is interested in and be aware of the prerequisites for that particular university.
Career Path and Job Position
As we mentioned in the introductory paragraph, business analytics is used by various types of industries, and hence a degree in business analytics opens up doors to various industries; this is very beneficial and helpful to a person who is looking to shift industries from his existing industry and explore other industries.
The skills acquired enable an individual to choose the industry and company of his/her choice and give them a lot of flexibility in choosing their employer.
Moreover, after a few years, once a person gathers sufficient experience, he will have plenty of opportunities for growth in the form of better pay and job status because the skills acquired will be applicable for various firms.
Below are some of the reasons for studying and pursuing a career in business analytics
Make a better business decision: When a business is able to get hold of good quality data, it can leverage it to its advantage and take accurate decisions.
Solid understanding of statistical theories: Business analytics will make your quantitative skills very strong; one will build a good understanding of statistical theories like Hypothesis testing, probability, linear and multilinear regression, econometrics.
Strong knowledge of technical skills: One will become well versed in programming languages like R, Advanced Excel, Python, SQL. One needs a good understanding of one or more of these languages as they assist in filtering large tons of data and making work much easier.
Achieving cost saving for the organization by drawing meaningful inferences from data.
Being at the forefront of the industry by analyzing meaningful trends from data.
Aligning operations of the organizations with its strategic objectives.
Easy availability of data: With massive growth and development in the technology sector along with an introduction of social media platforms like Facebook, Twitter, and WhatsApp, there is tons of data that is available cheaply; this is much more efficient than traditional means of collecting and collating data.
Career Positions and Options in Business Analytics
After completion of a business analytics degree, it is expected that a person can quickly sift through and analyze tons of data and come up with a meaningful pattern and trend that can help the company grow its revenue and achieve its strategic goals.
Below is a list of potential positions that a candidate can opt to pursue his or her career in:
Business Intelligence Analyst
Business Insights Analyst
Business Analyst
Commercial Insights Manager
Data Science Manager
Data Engineer
Risk Analyst
Data Analyst
As we can see from above, it is a very diverse list, and such positions are there for various companies across different industries. This more or less guarantees that a person will land up a job after completion of this degree.
Salary (US Data)
Given below is the salary:
| | |
| --- | --- |
| Position | Salary |
| Entry Level Business Systems Analyst | $56,043 |
| Intermediate Level Business Systems Analyst | $71,865 |
| Senior Business Systems Analyst | $86,635 |
| Expert Business Systems Analyst | $100,312 |
| Business Systems Analyst – Consultant | $113,202 |
| Entry Level Business Data Analyst | $54,272 |
| Intermediate Level Business Data Analyst | $70,123 |
| Senior Business Data Analyst | $87,713 |
| Business Process Consultant | $106,234 |
| Business Development Director | $170,307 |
Career Outlook in Business Analytics
As per data obtained from US Bureau of Labour statistics, hiring individuals who have done business analytics is expected to grow approximately 14% from 2014-2024, which is a 14% increase in the span of just 10 years. This clearly indicates that the demand for a business analyst is high, and this is the course to do for the young generation who want to step into the corporate world.
Conclusion
Hence we would like to conclude this article by stating that business analytics is a process of methodical exploration and study of data aided by statistical tools.
Companies need a business analyst to make strategic decisions by studying and filtering the heaps of data.
Companies using data to formulate strategies and study market trends treat their data as a corporate asset and try leveraging it for growth and revenue generation.
And lastly, successful business analytics depends on the quality of data (data should come from reliable sources and not be manipulated), the skills of the business analyst who has a strong understanding of technology and business and an organization committed to data have driven decision making.
Recommended Articles
This has been a guide to Career in Business Analytics. Here we have discussed the education, career path in business analytics, job position, salary, and career outlook in Business Analytics. You may also look at the following article to learn more-