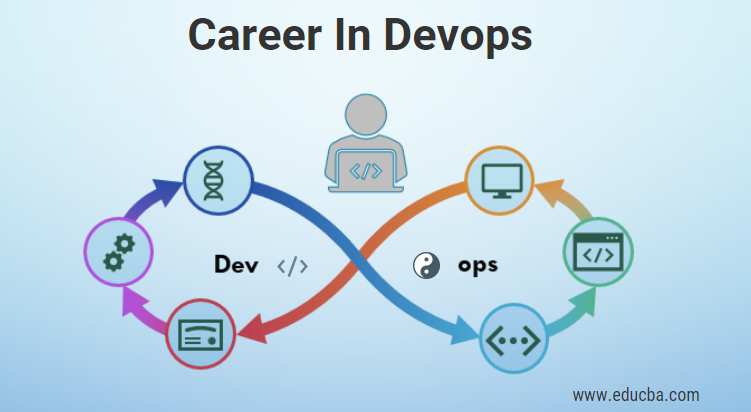 Introduction – Career In DevOps
In this Topic, we are going to learn about Career in Devops. As DevOps is the term used for software development team and operations team to work together. DevOps has many definitions among the different people. The simple way to understand DevOps is the process that is followed to automate the development process and deployment process by removing the dependency and waiting for other teams to work. It is mainly used to continuous integrate the system means the development done at end of the day needs to build and tested as well by other team and deployed in QA, UAT or production environment as required.
DevOps is also known for Continuous integration and continuous deployment (CICD), it is referred to as the part of Extreme programming (XP) in agile methodology. In DevOps, there are a lot of tools is being used from start to end to complete the process and achieve the rapid programming and development, automation testing and deployment.
Education Required For Career in DevOps
The education required for a career in DevOps is a bachelor's degree in engineering. The individual who is having experience in DevOps and have worked on different tools to automate the process. There are varieties of tools available in the market to work on and different organizations have collaboration with tool companies to use their tools and provide it for the betterment of the software development and deployment process.
DevOps skills can be learned on their own with help of online tutorials, videos, and community forums. These tools can be learned by the programmers, managers, architects and even student can start learning different tools to have better experience and speed up the process in field of computer or information technology as there are a lot of applications are getting build daily and the versions of the applications are also available in few hours and to achieve that without affecting the users, DevOps played the crucial role to achieve this.
Career Path in DevOps
The career path for DevOps Engineer is really good ate entry-level position, mid-level position, and senior-level position. The demands of DevOps engineers are increasing day by day. DevOps practice really helps in achieving the high functioning for the large organizations. There are a lot of organizations that are following the CICD process to reduce the failure rate.
DevOps approach helps in deploying the code frequently around 30-35 times faster than other approaches. There is very less chance of deployment fail noticed with help of this approach. A career in DevOps is becoming the future of IT world as it is progressing at a very good rate. There are many people who are working as a freelance in DevOps area and they are earning really good.
Job Positions or Application Areas For Career in DevOps
There are different job positions or application areas available for applying DevOps Engineers. The individual can apply for a System administrator, DevOps engineer, Software tester, Automation Tester, Senior DevOps Engineer, DevOps consultant, Security engineer, Integration specialist, Release manager, DevOps architect.
These are different roles, which can be applied on the basis of the skills. There are numbers of tools available that are used in the DevOps process by the organization to achieve the frequent development, testing, and deployment without any failure. These job positions can be different for a different organization, sometime you will see based on the tool there are a lot of career opportunities available like JIRA administrator, JIRA developer etc.
Salary
The DevOps engineers are getting a good salary in the IT world. The salary for beginners having less than 3 years experience is started around 60K USD per year to 65k USD per year. The mid-level professionals are getting around 70K USD per year to 90K USD per year depending upon the skill. The senior-level professionals are getting around 95K USD per year to 120K USD per year. The freelancers are getting good salaries as well based on their skills and project.
The system administrator has an average salary of around 60K USD per year, the network engineer average salary is around 65k USD per year, the software developer is getting around 70K USD per year. The information technology consultant or DevOps consultant is around 75K USD per year. The DevOps Software engineer is getting around 80K USD per year the senior software engineer in DevOps is getting around 95K USD per year. The DevOps Manager has an average salary of around 100k USD per year. These are highest paid IT jobs in the information technology sector or the large IT organizations.
Career Outlook in DevOps
The career outlook for the DevOps engineers is really good and progressive in future. There are a good amount of large organizations, which are using DevOps strategy. It has been observed that DevOps expertise requirement has been increased from 50 to 75 percent. The organizations are hiring the software developer having experience in any programming language with DevOps experience also. There is a certain increase in a particular role.
It provides the ability to learn new things to DevOps engineer and always ready to scale the things up that helps in leading the organization and work. The career in DevOps provides great exposure from end to end activities handled in software development and deployment process. The best part is one can have expertise in one tool from a wide range of tools and have good career growth in that area.
Conclusion – Career in DevOps
The career in DevOps is really progressive and great future. It has been observed that DevOps brings the revolution in the entire industry of information technology where large applications have been developed and enhanced. The emerging IT industry has to take the development team and operations team together to bridge the gap between them and benefit the large organizations.
It is also said that "DevOps is culture" followed in IT. DevOps make sure in learning, present and explain the things to client and peers. It is difficult to learn DevOps tool and start a career with as compared to other technologies. Once the career started in DevOps then the sky is the limit. The one can achieve what they like to achieve like a good salary, job designation, explore around the globe, travel, and exposure in work at the organization level.
Recommended Article
This has been a guide to Career in DevOps. Here we have discussed the Introduction, Education, Career Path in DevOps, Job Position, Salary and Career Outlook in DevOps. You may also look at the following article to learn more-