Updated June 12, 2023
Introduction to Career In DevOps
A career in DevOps is in high demand for job roles in the IT industry. DevOps professionals help businesses to collaborate on the development and Operation team tasks for faster software delivery. The DevOps professionals are skilled with several tools and technologies for DevOps implementations in the organization. Most organizations have job roles such as DevOps engineer, security engineer, tester, DevOps architect, Release manager, and DevOps evangelist. These are well-paying positions, and the demand for new cloud-based DevOps technology experience professionals is growing. Most organizations implement DevOps to match the industry-standard methodology that increases DevOps career opportunities.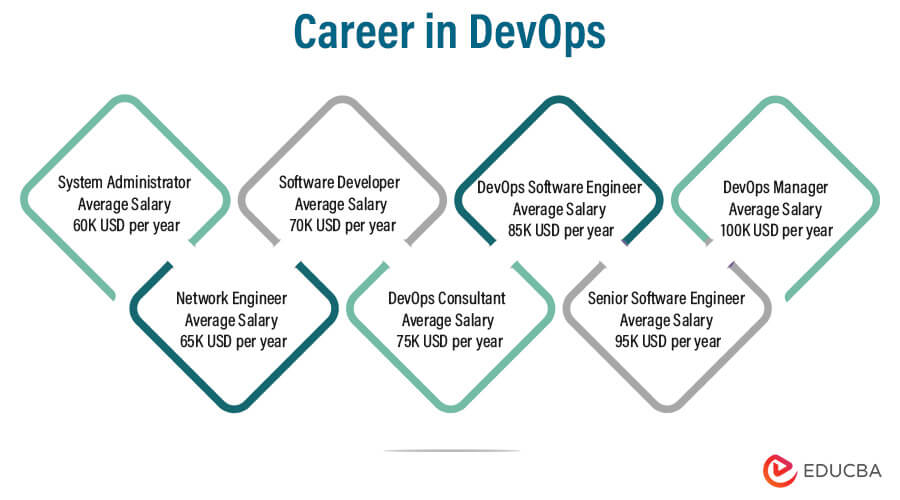 Education Required for a Career in DevOps
A degree in engineering is necessary for a DevOps career. Individuals with DevOps experience who have worked on various tools to automate the process. There are varieties of tools available in the market to work on, and different organizations collaboration with tool companies to use their tools and provide them for the betterment of the software development and deployment process.
DevOps skills learned alone using online tutorials, videos, and community forums. These tools knew by programmers, managers, architects, and even students to have a better experience and speed up the process in the field of computer or information technology because there are a lot of applications built daily, as well as the versions of the applications, are available in a few hours, DevOps played a crucial role in achieving that without affecting the users.
Career Path
The career path for DevOps engineers is excellent at entry-level, mid-level, and senior-level positions. The demands of DevOps engineers are increasing day by day. DevOps practice helps in achieving high functioning for large organizations. There are a lot of organizations that are following the CICD process to reduce the failure rate.
The DevOps approach speeds up code deployment about 30-35 times compared to other methods. There is very little chance of deployment failure noticed with the help of this approach. A career in DevOps is quickly becoming the future of the IT world as it is growing at a very rapid rate. Many people are working as freelance in the DevOps area, and they are earning well.
Job Positions or Application Areas for  a Career in DevOps
DevOps Engineers can apply for a variety of job positions or application areas. The individual can apply for a System administrator, DevOps engineer, Software tester, Automation Tester, Senior DevOps Engineer, DevOps consultant, Security engineer, Integration Specialist, Release manager, or DevOps architect.
These are various roles that are filled based on their skills. The organization uses several tools in the DevOps process to achieve development, testing, and deployment without failure. These job positions can vary depending on the organization; for example, depending on the tool,  a range of career options are available such as JIRA administrator, JIRA developer, etc.
Salary
DevOps engineers are getting a good salary in the IT world. Beginners with less than three years of experience can expect to earn around 60K to 65k USD per year. Mid-level professionals receive around 70K to 90K USD per year, depending on their skills. Senior-level professionals earn around 95K to 120K USD per year. Based on their abilities and project, freelancers are getting good salaries.
The average salary for a system administrator is around 60K USD per year; for a network engineer, it is about 65K USD per year; and for a software developer, it is about 70K USD per year. The average salary for an information technology consultant or DevOps consultant is around 75K USD per year. The DevOps Software engineer earns around 85K USD per year, while the senior software engineer earns around 95K USD per year. The average annual salary for a DevOps Manager is about 100K USD. These are the highest-paid IT jobs in the information technology sector or large IT organizations.
Career Outlook
The future career prospects for DevOps engineers are bright and promising. Numerous big organizations use the DevOps strategy. It observes that the DevOps expertise requirement has increased from 50 to 75 percent. The organizations are hiring software developers having experience in any programming language with DevOps experience also. There is an increase in a particular role.
It provides the ability to learn new things to DevOps engineers and is always ready to scale things up that helps in leading the organization and work. A career in DevOps provides extensive exposure to end-to-end activities handled in software development and the deployment process. The best part is one can have expertise in one tool from a wide range of tools and have a successful career in that field.
Conclusion
A career in DevOps is rewarding and has a bright future. It has been found that DevOps is driving a revolution in the entire information technology industry, where developers are creating and improving large applications. The emerging IT industry must bring together the development and operations teams to bridge the gap between them and benefit large organizations.
According to some, "DevOps is culture" followed in IT. DevOps practices ensure teams effectively learn, present, and explain information to clients and peers. People or learners find it challenging to understand the DevOps tool and start a career compared to other technologies. Once the career develops in DevOps, the sky is the limit. One can obtain what one desire, such as a good salary, job title, global exploration, travel, and exposure to organizational work.
Frequently Asked Questions (FAQs)
Q1. What should I know to become DevOps?
Answer: Learn programming languages: DevOps engineers link databases, debug code written by the development team, and automate procedures despite not usually writing source code. A DevOps engineer should also be familiar with the languages that their team uses to understand existing code, evaluate new code, and assist with debugging. Ruby, Python, and JavaScript are the three most commonly used languages with DevOps tools.
Q2. Why do you want a career in DevOps?
Answer: DevOps careers can begin as a Release Manager, progress to DevOps Test Engineer, DevOps Cloud Engineer, and finally, DevOps Architect. Top companies like Accenture, Barclays, and Facebook are seeking skilled DevOps engineers who are some of the highest-paid professionals in IT today.
Q3. What are the two benefits of DevOps?
Answer: Benefits of DevOps are as follows
Agility for Fast Delivery: The overall increase in agility and efficiency in proactive and reactive responses to business requirements is one of the DevOps benefits for businesses. The only valid strategy is to respond quickly and frequently, which is possible with agility and modularity through DevOps and adaptive IT.
Software Stability and Quality: DevOps ensures that everything is under control—every change seems validated, and everyone understands how each release affects quality. DevOps not only speeds up software delivery, but it also improves stability and quality.
Recommended Articles
We hope that this EDUCBA information on "career in devops" was beneficial to you. You can view EDUCBA's recommended articles for more information.