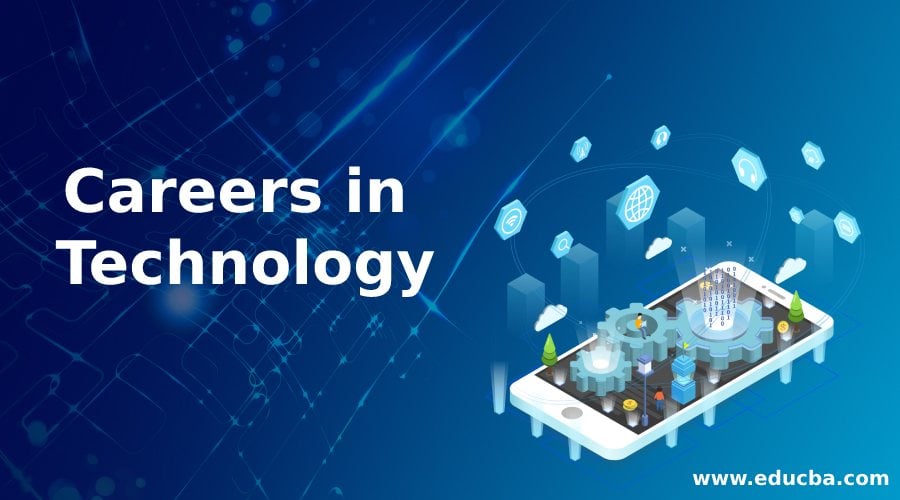 Introduction to Careers in Technology
The following article provides an outline for Careers in Technology. Technology is basically known to be the different types of methodologies used in the implementation of industry-based products and scientific research needs. The term 'Technology' mainly deals with the knowledge and ideas related to the processes which can be implemented to produce the desired outputs. Technology has different impacts of its own as per the current market standards. As per the current market standard, there are different jobs associated with different technologies.
Given below are few advantages of technology:
The main moto for any business technology is to enhance the workflow process and implement better-optimized outputs in a more convenient way.
Another important advantage of technology is its importance in the storage and sharing phenomenon. Technology has been used in many ways to streamline storage information processes. Sharing the same among the important resources is crucial from a business growth and revenue generation perspective.
Nowadays, there is a large growth has been observed in the telecommunication industry with the help of mobile and remote areas connectivity phenomenon. Thus with the help of technology, the communication process becomes more convenient and easier from the industrial growth perspective.
The enhancement of technology, it also enhances the automation approach towards different manual and tedious efforts. Thus, this cost-effective approach also plays a crucial in both technical and economic growths.
Education Required for Career in Technology
Different career paths are established based on different technical skills, and learners need to be educated based on their chosen technical domains. Technology plays an important role in the current software industry.
Graduation: A bachelor's degree is commonly required for setting up careers in technology.
Masters: Masters in applicable technological domains will advance the careers in technology, which adds a big enhancement to your technical knowledge, resulting in a good, highly paid job.
Certifications: Sometimes, few certain certifications also put additional advantages for the concerned technology-based careers.
Career Path in Technology
The below-mentioned two categories below play the most important role in the technology-based career paths.
Software Development Engineers: Software Engineering is an important job category based on the technology-based learning approach and studies. They deal with the different aspects of software analysis and approaches and related development studies.
Software QA Professional: While considering the Software QA professions, it mainly consists of two approaches viz. Manual and Automation.
Manual Testing is basically an approach to manually find out bugs or defects in any software product or application. The benefit of manual testing is that it allows a tester to use different positive and negative scenarios to bring out the insights from a test that an automated testing program might otherwise miss.
On the other hand, Automation Testing uses different tools, scripts, or frameworks to automatically run a set of procedures/methods/test cases to validate any scenario under the scope of any testing.
The conception that automation testing saves more time than a manual can be regarded as both true and false simultaneously. In the case of manual testing, most of the time is used for exploratory and functional testing, where we manually search for errors. Once that process is completed, the manual tester must repeatedly go through the same steps over and over again. But in the case of automation testing, that time is cut drastically. But again, the saved time is used by the work for automation testers in coding the tests and making improvements to these tests repeatedly as enhancements are needed. Also, in the case of automation testing, the cost factors for using different paid tools are also there.
These two are like the two sides of the same coin; if one part believes Manual is the main testing type to validate the product, then the other party always wants to go ahead with Automation by reducing more and more manual efforts. But the truth is both are very important and should go hand in hand to deliver an enriched quality Software Product.
Job Positions
In the area of Technology, there are different roles available in the computer science and software engineering industry to develop careers in technology. There are different roles available in the market like Software Developer, Business Development Professional, Software Analyst, Technical Architect, Software Tester, Senior Software Test Engineer, Lead Test Engineer, etc.
Salary
As per the current industry standards, there are great opportunities present in technology-based domains. Please find below the figures showing the salaries (approximate analysis) of Software Technology, Research and Analytics professionals in India.
| | |
| --- | --- |
| Company | Salary Range (INR) |
| Cognizant Technology Solutions | 478K – 870K |
| Accenture Solutions | 600K – 1000K |
| Tata Consultancy Services | 476K – 750K |
| Tech Mahindra | 634K – 1548K |
| Deloitte | 763K – 1259K |
| Boston Scientific | 590K- 1100K |
| Amdocs | 715K – 856K |
Career Outlook
There are lots of different career paths in the area of Technology-based career paths. As per the current industry standards, different types of computer jobs and endless career paths individuals can take as a technology professional, all of which depend on multiple factors, including specific training, interests, and job requirements and responsibilities.
The open job scopes and requirements based on the Technical domains in the US, Asia Pacific, and Europe are increasing daily in large numbers. There are many technical activities or tasks in large customer-based companies, which can be performed more easily and accurately with the help of technical knowledge and automated tools.
The implemented software applications or products are a great need to the businesses to maintain the customers' content data secured; Software Engineer is the one among the best technological advancements available in the market to provide the best and optimized quality business solutions as per the current industry standards.
Recommended Articles
This has been a guide to Careers in Technology. Here we have discussed introduction, education, skills required, job position, salary, and career outlook in Technology. You may also look at the following article to learn more –