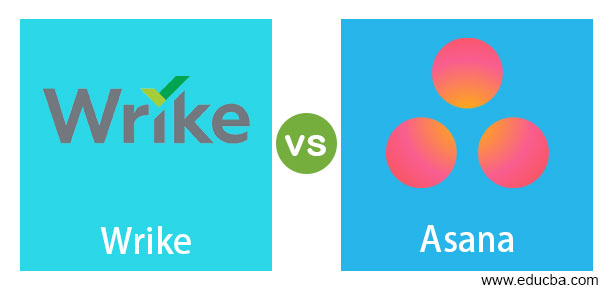 Difference Between Wrike vs Asana
In this article, we would try to understand some perspectives on the basis of differences of 2 of the widely used project management tools and at the end of the article we would try to build out a checklist which will enable you to focus your attention on, in order to adjudge which of this tool will be best suited in the scenario you have with the business. In order to fix on a type of tool one must look at different aspects of the tools keeping in mind what features does it have, how does it price against each other and most importantly, how does it resonate with already existing tools in your business. Hence taking on the challenge to ease out your decision making we bring you the article on differences that will enable you to improve your productivity and efficiency.
Head to Head Comparisons Between Wrike vs Asana (Infographics)
Below are the top comparisons between Wrike and Asana:

Concepts and Terminologies Alert!!
To understand more about the project management tools in specific, it becomes imperative for us to understand what project management is and what are the different features project management brings to the table so that we can understand the differences even better. The pointers of importance are:
Help in the creation of plans and schedules: The tools ensure completeness and easy access to the plans and schedules.
A tool to improve collaboration: Nowadays nothing is impossible over the internet and this tool emphasizes improving the collaboration over internet.
Hassel-less use: With new features coming in, the user should be super easy so that not much time is spent on training.
Way of evaluation: With the new tools, it becomes more important that this tool should, at the end, provide a way to evaluate how the project has passed in the time frame when it was "live" and help improve on further projects.
Key Differences Between Wrike vs Asana
Let us discuss some of the major key differences between Wrike and Asana:
We have had a flavor of a detailed overview of what project management tools looks like and what's the features they are expected to bring. But even before full-fledged jumping into actual differences let's get the intent of these 2 software which is of the prime importance in terms of differences. The intent of Asana is to "Stop using mails, just use Asana", which essentially means that they rely on people coming out of replying to mail threads as it sometimes creates friction in communication. On the other hand, intent of Wrike is to "Work Smarter to work Faster", which essentially means that all the tools required are at one place. It is just like a place where you command, and the "Genie" will enable you in interaction, connection and collaboration during the project. Just for your knowledge Wrike was mentioned as the "Cool Vendor" by Gartner in the genre of Social software and collaboration.
Now coming to the next point of difference and that is on Pricing. Though the pricing strategy is the same, i.e. a free trial, and the other is paid, the restrictions differ in each. Asana is free for 15 users, having limited functionality whereas Wrike is free for 5 users, also with limited functionality. In case one needs to upgrade Asana, the first level is $10.99 per user per month, and in case you need some additional features of advanced integrations and other it rises to $24.99 per user. Asana does provide customized quote for Enterprise edition. For Wrike, if one needs to upgrade, the first level is for 5/10/15 users billed at $9.8 per user per month, one level higher it bills to $24.8 per user per month for users between 5 to 200, and also has customized pack for enterprise edition.
The next point of difference is in the feature of Gantt which is present built-in for Wrike and this allows the managers to easily track the progress. On contrary, Asana doesn't have an in-built capability of any native bar charts, but surely is possible using an external app known as Instagantt, currently available free.
Now coming to the fourth point of difference which is on the lines of integration. Though both Asana and Wrike offers more than 30 integrations, there are a few integrations which are worth discussing as those genres are widely used in the industry. In terms of time tracking Wrike has an in-built functionality of time tracking whereas Asana uses integration with Everhour and Harvest for time tracking. In genre of marketing automation, Wrike is easily integrable with Hubspot whereas Asana gives you the option to integrate with MailChimp and Campaign Monitor. Last genre of difference is in Sales integration, wherein Wrike is integrable to Salesforce and Asana is integrable with Zapier. So with keeping these integrations in mind, it will be easier to decide on which of these tools would fit you the best based on the tools already present with you!
The next difference is in terms of training. There is feasibility of "In-person" training with Asana which is lacking in Wrike.
The last but not the least point of difference is in terms of support. Asana has the following medium when it comes to a point when things get sour and they are, through email support, FAQs, knowledgebase, and troubleshooting videos. In Wrike we have everything as we have of Asana plus addition of phone and live chat support.
Comparison Table of Wrike vs Asana
Let's look at the top comparisons between Wrike vs Asana
Genre
Wrike
Asana
Intention
The intention of Wrike is to "Work Smarter to work Faster" which means that the tools will be present in one place and the platform will be a command center to get your job done.
The intention of Asana is "Stop using mails, just use Asana" which necessarily stops you from replying to email threads anymore and work through interaction on the platform.
Pricing
The free edition is restricted to only 5 users and above that there are different levels of price at a per user basis billed monthly.
The free edition is restricted to 15 users and post that, one would need to pay on a monthly basis at a per-user rate.
Feature
A striking feature of difference is presence of Gantt feature in Wrike as an in-built functionality.
The Gantt feature is absent as an in-built functionality, but has a free external app known as Instagantt.
Integration
In terms of integration Wrike offers:

Time tracking: In-built feature
Marketing: Hubspot
Sales: Salesforce

In terms of integration Wrike offers:

Time tracking: Everhour and Harvest
Marketing: MailChimp and Campaign Monitor
Sales: Salesforce

Training
In person training is missing
In person training is available
Support
Phone and Live chat support present
Phone and Live chat support absent
Conclusion
In conclusion, Wrike and Asana both brings in wide variety of features each suiting the motive behind the formulation of each these tools. It entirely depends now on the business type and the nature of the project on which to pursue as a tool for project management that will uplift the productivity. It would also depend on the existing software in place so that integration is not a challenge, otherwise it would seem like in trying to solve a problem we inadvertently created another problem for us! In a nutshell the strength of Asana is its simplicity and that of Wrike is its capability to make integration between teams and projects "seamless".
Recommended Articles
This is a guide to Wrike vs Asana. Here we discuss the key differences with infographics and comparison tables of Wrike vs Asana. You can also go through our other related articles to learn more –