Updated June 26, 2023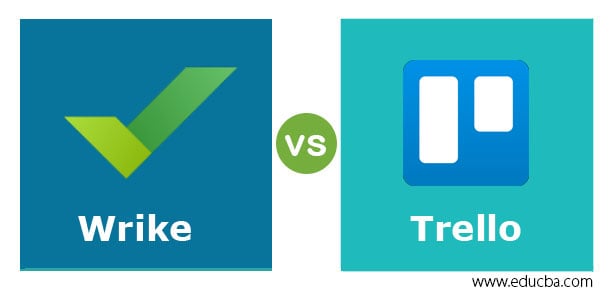 Difference Between Wrike vs Trello
In a scenario when you are reading this article, we assume that you are stuck between the likes of Wrike and Trello from a Project Management tools perspective. Now that you are looking into Project Management Tools, we assume you are facing difficulty managing too many projects at a time. This scenario is real, for sure. You are not the only one feeling the pain of managing many projects at a time and longing for a tool to ease out some of the repetitive and reminder-related tasks.
So here are the two big players in the market of Project management tools that are trusted by many reputable organizations belonging to a wide variety of genres. These products are well known for their user-friendly interface plus having a comprehensive set of features. So, let us set up a fight between them and see who comes up as a winner. In this topic, we are going to learn about Wrike vs Trello.
Head-to-Head Comparison Between Wrike vs Trello  (Infographics)
Below are the top 5 differences between Wrike and Trello.

Key Differences of Wrike vs Trello
In the battle between Wrike and Trello, we would be comparing both tools on different grounds and evaluating them based on the performance of each in the genre and adjudging a winner at the end of the evaluation. In the future, we will look at which tools emerge as the winner and also understand if the win is narrow or wide.
The first genre to compare both the contenders is Features. We would discuss features that Wrike and Trello individually bring into project management. Although the baseline features would be identically the same for both tools as both intend to solve the problem of project management, some additional features differentiate them, and that is what we will talk about here. Wrike allows you to create tasks and sub-tasks. Once created, they can be assigned to people, and dependency can be made. These dependencies will ensure that a task needs to be completed to start the next one and thus allow you to keep a watch on the schedule's progress easily.
In the list of features, Wrike offers users to comment on files and points on videos through a custom proofing feature. On the contrary, Trello has a Kanban board. One can create tasks and subtasks, but dependency management is lacking in Trello, except that the tasks can be labeled with different colors or stickers. The feature of commenting on files is missing from Trello! So, at the end of this round, we would give the point to Wrike for its advanced feature set!
The next genre where the tools will compete is storage. For Wrike, the storage space starts from 2GB, rises to 100 GB in its top plan, and has an attachment size limit of 4 GB. On the contrary, Trello's free plan has an allowance of only 10MB per attachment, but as you pay for the service, the cap is 250 MB, but the number of attachments can be unlimited! For this round, it is merely on the user perspective of the organization, and hence we will call this a tie between the contenders.
The third genre is about the price. Wrike offers free usage for 5 users and posts that the plan starts at $9.8 per user per month, and as you keep increasing the tier, more and more exclusive features start unlocking. On the other hand, Trello has a free option for only some features with no user restriction. As you pay, the limit gets off! You can access all features once you are a paid user. So, for this round, it will be for Trello!
The fourth genre is the ease of use. Starting with Wrike is very simple. You have an easy sign-up process, invite your colleagues for collaboration, and finally set up the workspace to collaborate. Though the usage is easy, the user needs time to get used to it. Trello takes a few minutes to figure out; you will not need any documentation from then on. Just use drag and drop, and it's that easy! This round is in the name of Trello.
The fifth round is on the security and privacy front, the most important for organizations that deal heavily with Intellectual Property! Wrike offers a comprehensive list of security features that protects you from cybercrime. But again, it's only available in the Enterprise plan, which comes much above in pricing. This security includes SAML 2.0, audit reports, TLS v1.2 encryption, and compliance with the EU-US privacy shield! The free plan of Trello offers basic security. As users transition to paid plans, they gain access to additional security features such as Google SSO, restricted domain invites, and more. This round would be tough competition as Trello offers security even at the free price, but the level of protection provided by Wrike is too stringent. So, for all the security-conscious in these cybercrimes, we would give the point to Wrike for this round.
Comparison Table of Wrike vs Trello
Let's see some more differences between Wrike and Trello through a comparison table for clear understanding:
| | | |
| --- | --- | --- |
| Genre | Wrike | Trello |
| Features | One can create tasks and sub-tasks, enabling dependency on them as an added tracking KPI through built-in Gantt charts. Another feature on allowing users to comment on a file uploaded. | Users can create tasks and sub-tasks and use the Kanban feature to track them, but the KPI of enabled dependency is missing in Trello. Also, one can't comment on files uploaded. |
| Storage | Storage space starts from 2GB and rises to 100 GB in its top plan and has an attachment size limit of 4GB | Only 10MB per attachment is allowed in the free plan, but as you pay for the service250, MB is the capping, but the number of attachments can be unlimited! |
| Pricing | Free for the first 5 users. Different tiers of the upgrade, with each upgrade providing added features. It is a bit pricy! | Free without restriction on users. The paid versions are for teams and additional features. Not much pricy! |
| Ease of use | Need to get used to the interaction space. | Drag and drop feature makes it easy, and even documentation is not required. |
| Security | More secure for organizations that are security conscious but at the cost of price. Only available for paid versions | Security is even available in the free version, except for the security features, which are not as advanced as Wrike |
Conclusion
In conclusion, with the above fight, we saw between the 2 contenders, we saw that there was a tie between them, and now it is up to the users to decide which would be the best fit for the type of industry they are dealing in. Wrike is for all those who want better security features and needs high upload volume capability along with cool features and don't mind shelling out a few more bucks! But for those who want to keep it simple and don't need many features, Trello would do the task. Perfect for visual thinkers! Also, an added advantage of Trello is that the feature is even available for Mobile, apart from desktop and cloud!
Recommended Articles
This is a guide to Wrike vs Trello. Here we discuss the Wrike vs Trello key differences, head-to-head comparison with infographics, and a comparison table. You may also have a look at the following articles to learn more –