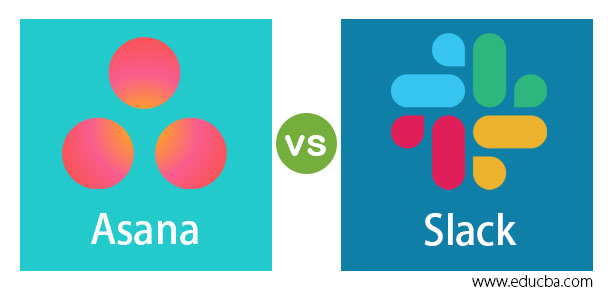 Difference Between Asana vs Slack
The business team tools developed for communication purposes and team management are Slack and Asana. The slack is used to coordinate the team, whereas the Asana serves many ways for communication. Both Asana and Slack are business tools that are deployed to manage the project and the productivity of team members. These tools are developed in the year 2012, but slack gained around eight million active users, where the Asana attracted only thirty-five thousand users with a paid subscription. In this topic, we are going to learn about Asana vs Slack along with the key differences.
Head to Head Comparison Between Asana vs Slack (Infographics)
Below are the top differences between Asana and Slack

Key differences between Asana and Slack
The significant differences such as pricing, configuration, challenges, management and communication features are explained briefly.
1. Estimation of software
Slack and Asana's price range is the same, but the premium subscription models separate the tool from the paid tiers. The open and free version of Asana offers the probability to cumulate to fifteen members in the team. Asana serves the team with the boundless task, conversation, projects as per the service level agreements. Slack's free version is restricted only to ten thousand users of the team for the most recently communicated messages and customized integrations. The reason to update the Asana with around six dollars pay per month versions. The monthly version of Asana includes features such as timeline, advanced search and unbounded dashboards with the projects on the visualized map. The standard version of slack offers unlimited application; message history can be searched.
2. Terms of login
The signing terms of Slack and Asana are simple, which leads to the updated version of tools. Just a mail id is enough to sign in. But slack has many processes in signing up than Asana. Asana provides work mail or even personal mail to log in to the tool.
3. Messaging services
Generally, slack is a communication tool where all of its significant features are associated with chatting options. It allows interacting through threads, channels, and direct messages. But Asana is not developed for communication means but it can enable some minimum conversation policies within tasks, tickets, projects, and teams. By using @mentions, the users can share the views to exchange the comments in chat.
4. Application of software
Blue-chip companies such as Vodafone, Uber, Deloitte, Santander, NASA uses Slack for communication and project management, whereas the Asama is used by Venture, Target, Oracle, Los Angles Times and Airbnb for their business management.
5. Voice call and video call
The paid users are enabled to make a one-to-one call in slack, but the conference option is restricted, which is the required business team option. But the call option is not supported in Asana. But if the team wants to use Asana for voice-over calls, it can integrate with Zoom or some other interacting applications through Zapier.
6. Sharing of files
Upload of the file till 1GB is provided by Slack irrespective of the subscribed pricing scheme. But in Asana, the uploading file is too minimum of only 100MB as an attachment from the system. So if it is needed to share large-sized files, Asana can be integrated with Google Drive or Dropbox.
7. Integrations
Slack provides a maximum of 800 integrations and can be much more than that according to the requirement. Asana can claim 100 integrations but to make more flexibility when it is integrated. If the user wants both Asana and Microsoft teams to operate, then it can join the Asana plugin via the MT app, and there are no changes apart from that. Even though slack has all the communication buttons, it highly lacks some important features for project management. But if there is a need to make some integrations, there are sustaining features to handle the projects and teams much better.
Comparison Table of Asana vs Slack
Now let's draft the comparison in the table below.
| | | |
| --- | --- | --- |
| Attributes | Asana | Slack |
| Login page | Asana arranges the objects and tracks them persistently. The addition of tasks, project, and invite others to join the team. | Slack has better communication and has more advanced features such as a slack bot, innumerable integrations. |
| User-friendly | It is a number of the user interface to operate on worksheets and acts as an effective project management tool. | Slack has an attractive user interface which is easily understandable with key performance indicators. |
| Integrating features | It provides a reasonable number of integrations that make the job chaos-free. Asana possess incorporated slack for the interaction of team members and collaboration of work. | It can be implemented with a humongous application directory such as daily tools, brilliant bot, mandatory application, and communication tools. |
| Given support | It provides live chat support in all working applications. It offers a quick priority option that can be directed to support managers. If the user spends maximum bucks on support, they will get much better security. | Slack doesn't offer any live chat support. But they can provide comprehensive support to the user. |
| Operating Platform | It can be implemented on Windows, macOS, Android, iOS. Asana can be implemented in mobile and can access Inbox, Quick add, my tasks. | Slack can be implemented on Windows, macOS, Android, iOS. It can also be installed on mobile to check the updates and perform all the desktop and laptop activities. |
| Privacy and security | It can be installed with SOC2  type 1 and type 2 with extensible confidentiality, security, availability to users. | It provides HIPAA, FEDRAMP and mandatory compliance regulations. |
| Dashboard | It is provided with extensive features which are now replaced the portfolios to offer the same functionalities. | Slack is an organized tool that can also be customizable according to user requirement. |
Conclusion
Both tools solve many complex tasks to manage communication and productivity, but there is no use in integrating the tools in Asana. Because Asana depends on Slack for internal communication of employee to update the work status, but when Asana is installed separately, still it can support chat communication, but it doesn't offer advanced features like slack. As slack can modulate the conversation to action without the need for integration.
Recommended Articles
This is a guide to Asana vs Slack. Here we discuss the Asana vs Slack Key differences with infographics and comparison table. You may also have a look at the following articles to learn more –